Cherry Toast Recipe
How to Improvise Toast Like a Michelin-Starred Chef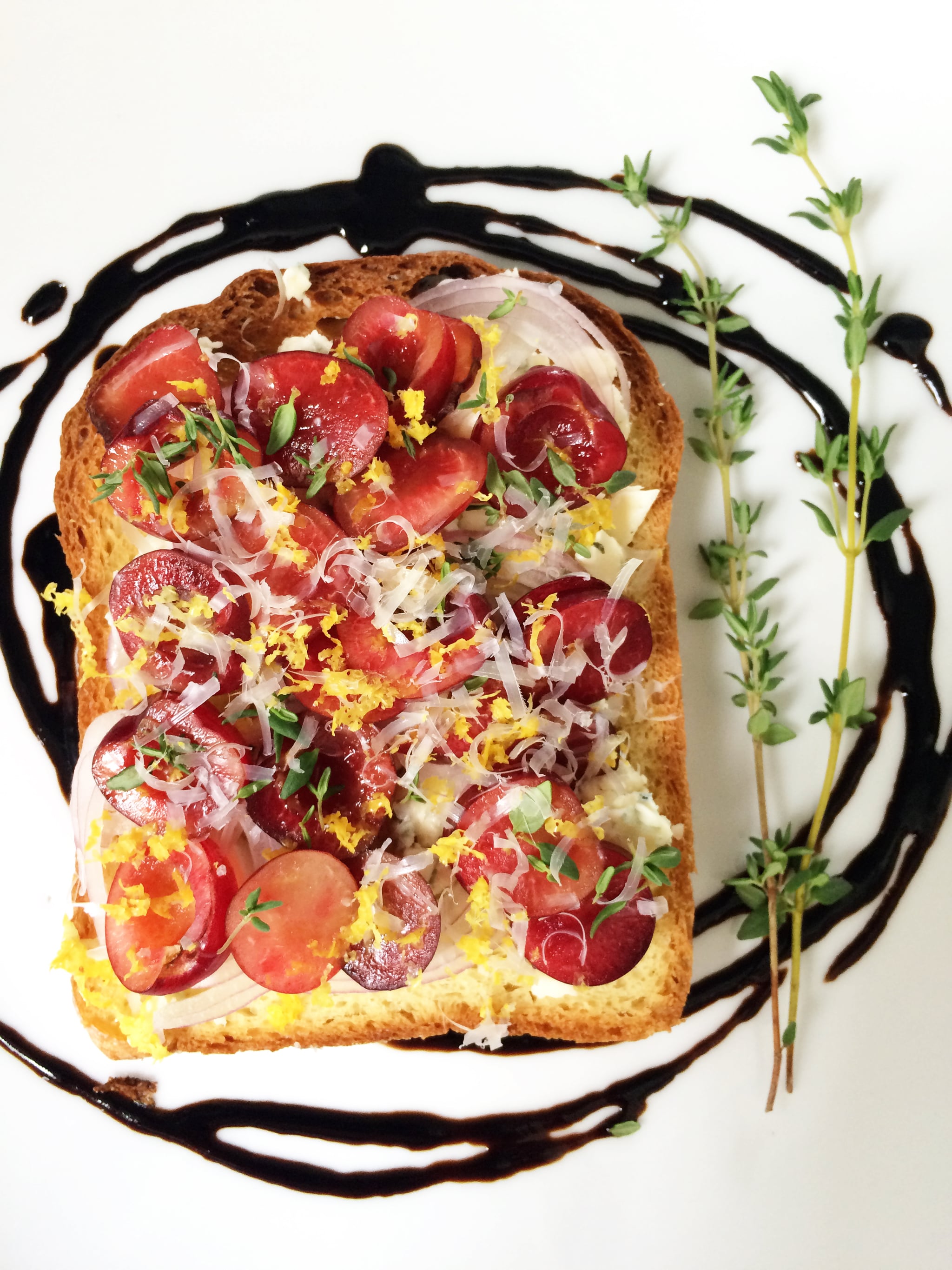 Occasionally when you play with flavors, something magic happens . . . and this cherry brioche toast is what I created while whipping up breakfast one morning. As I rummaged through my refrigerator looking for something to put on a fresh loaf of brioche, my eyes landed on a wedge of Danish blue cheese. Sure, that sounds good! Maybe I could make a savory sandwich with some smoky bacon or roast turkey. That's when I saw that basket of fresh cherries I'd picked up at the farmers market earlier in the week.
Cherries and cheese! Of course! It seemed like a winning combination, but together they were still a little too sweet. The toast needed a bite to it, something to cut through the creamy blue and add complexity to the sweet fruit. I threw in sliced shallots, a little bit of lemon zest to brighten up the fruit, some thyme (which goes well with the lemon), a sprinkle of parmesan, and I had to finish it off with a drizzle of 14-year-aged balsamic vinegar. This was shaping up to be a beautiful morning.
Cherry Brioche Toast
From Nicole Iizuka, POPSUGAR Food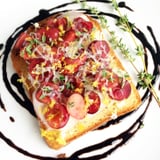 Ingredients
2 slices brioche bread
3 ounces creamy blue cheese, crumbled
1/4 shallot, sliced thin
12 cherries, pitted and sliced
1 lemon, zest
4 sprigs thyme
1 ounce parmesan, shaved
2 teaspoons aged balsamic vinegar
Directions
Toast bread until slightly golden brown. Watch carefully as it will burn quickly.
Evenly crumble a layer of blue cheese on each slice of toast. Top with shallots, cherries, lemon zest, thyme leaves, and a sprinkle of parmesan. Drizzle balsamic on top, and serve warm.
Information
Category

Breakfast/Brunch

Cuisine

North American

Yield

2 servings

Total Time

9 minutes, 59 seconds