Chicken Caesar Kale Mason Jar Salad
Look Forward to Lunch! Chicken Caesar Kale Salad in a Jar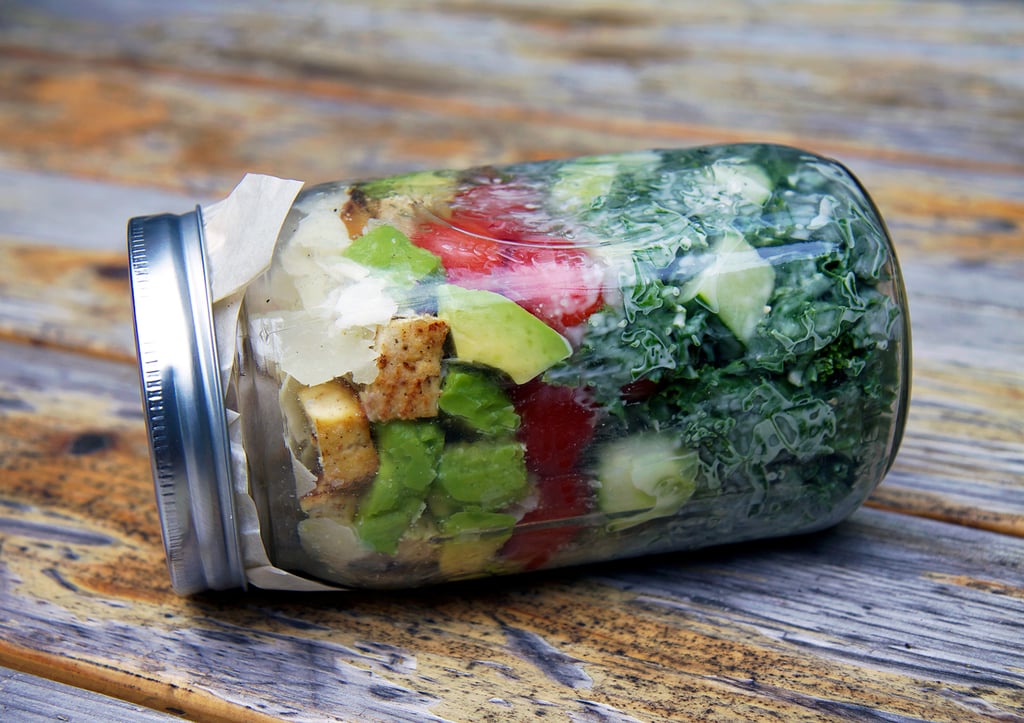 While a simple caesar salad is deliciously traditional, sometimes our favorite recipes could use a little makeover. Don't worry, we wouldn't dare change the robust flavor of the dressing — it's the base of this salad that's getting an upgrade. Bye-bye romaine and hello kale, cucumber, and avocado.
The kale marinates overnight, yielding tender, hearty greens and that delicious caesar flavor you love. Topped with parmesan and grilled chicken, this salad will leave you satisfied and smiling. And because it's served in a mason jar, it's easy to take along to work without the worry of it leaking in your bag.
Chicken Caesar Kale Mason Jar Salad
Adapted from Tartine Bread by Chad Robertson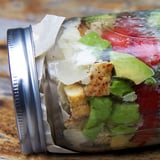 Ingredients
For the croutons:
4 1-inch slices day-old crusty bread, cubed or torn into 1-inch pieces
2 tablespoons extra-virgin olive oil
Kosher salt
1/2 teaspoon herbes de Provence (optional)
For the dressing:
2 lemons
3 small garlic cloves
6 olive-oil-packed anchovy fillets
1 large egg yolk
Kosher salt
2 cups extra-virgin olive oil
For the salad:
2 cups kale, center stems removed and leaves torn into bite-size pieces
1 cup diced cucumber
1/4 cup cherry tomatoes
1/2 avocado, diced
3 ounces grilled chicken, cut into chunks
1 tablespoon parmesan cheese, freshly shaved
Directions
Preheat the oven to 400°F.
Make the croutons: In a medium bowl, toss the bread with the olive oil, a generous pinch of salt, and the herbes de Provence, if using. Spread the bread evenly on a baking sheet, and bake until golden brown and crisp, about 15 minutes. Midway through the baking time, redistribute the croutons if they are coloring unevenly. Allow the croutons to cool.
Make the dressing: Grate the zest from 1 lemon. Cut both lemons in half. Place the garlic, anchovies, and lemon zest in a blender, and blend until a thick paste is formed. Add the egg yolk, a pinch of salt, and a squeeze of lemon juice, and pulse to combine. Blend on low speed while pouring in 1/2 cup of the olive oil drop by drop. The mixture should look thick and creamy, a sign that you are building a stable emulsion. Continuing to blend, begin adding the oil in a slow stream. The dressing should thicken. Periodically stop pouring in the oil and add a squeeze of lemon. Taste the dressing, and add more salt and lemon juice to taste. Add water, a small spoonful at a time, blending to thin the dressing to the consistency of heavy cream.
Make the salad: In a bowl, combine two tablespoons of the dressing with the chopped kale and cucumbers, and toss to coat. Add the kale and cucumbers to a quart-sized wide-mouth mason jar. Add cherry tomatoes, then diced avocado, then the chicken, then the shaved parmesan. Lastly, place a square of parchment paper over top, add the croutons, then seal, and refrigerate.
Shake everything up when you're ready to eat, and enjoy right out of the jar or pour into a bowl.
Information
Category

Salads, Main Dishes

Cuisine

North American

Yield

1 serving

Total Time

19 minutes, 59 seconds