Chocolate Chip Cookie Cake Recipe
The Chocolate Chip Cookie Cake, Perfected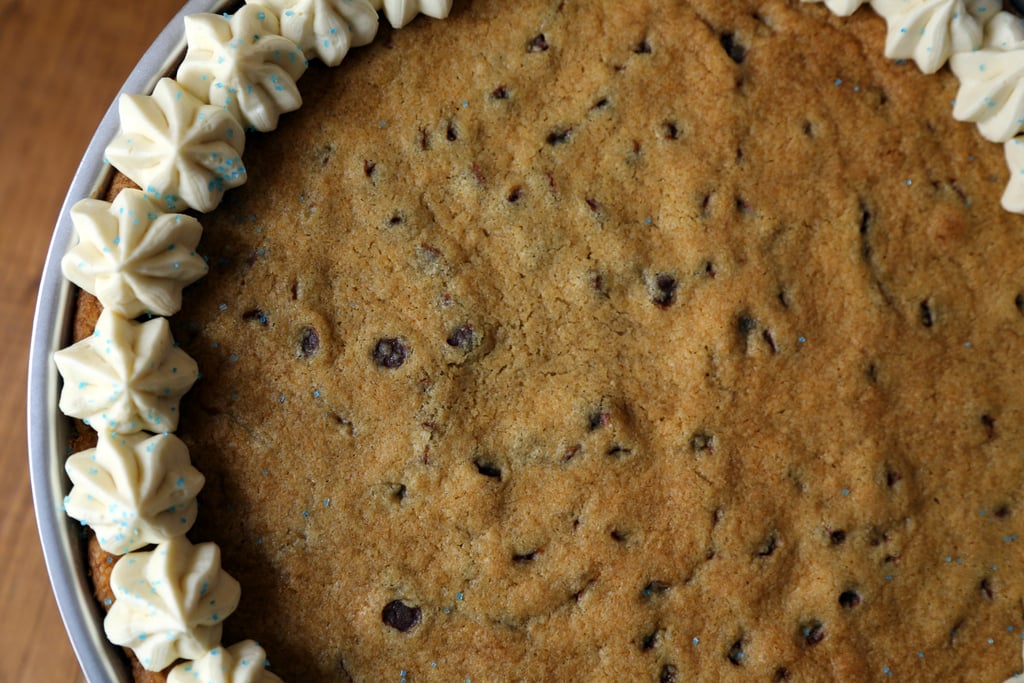 Often it's the most classic of recipes that take the longest to develop. Case in point: the chocolate chip cookie cake. A few months back, my co-worker requested it for his birthday, and I quickly rose to the challenge. The first batch was chewy on the inside and crisp on the outside, but my pie tin wasn't the right vessel, and the cookie cake sunk in the center.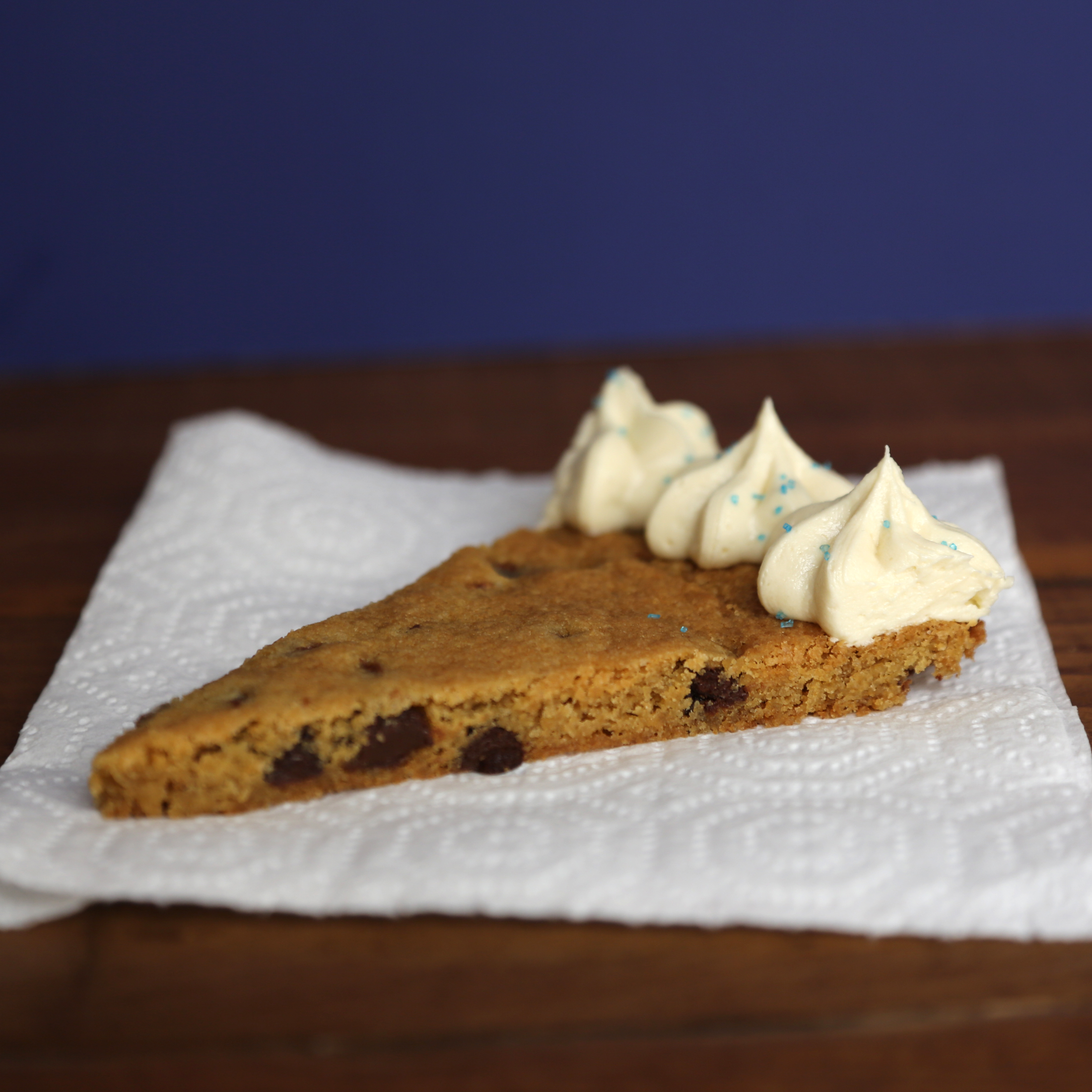 For the second batch, I used a pizza pie pan, which I quickly discovered was not the appropriate baking vehicle, as the cookie dough oozed out the sides at an alarming rate, sizzling on the oven floors and smoking up my kitchen.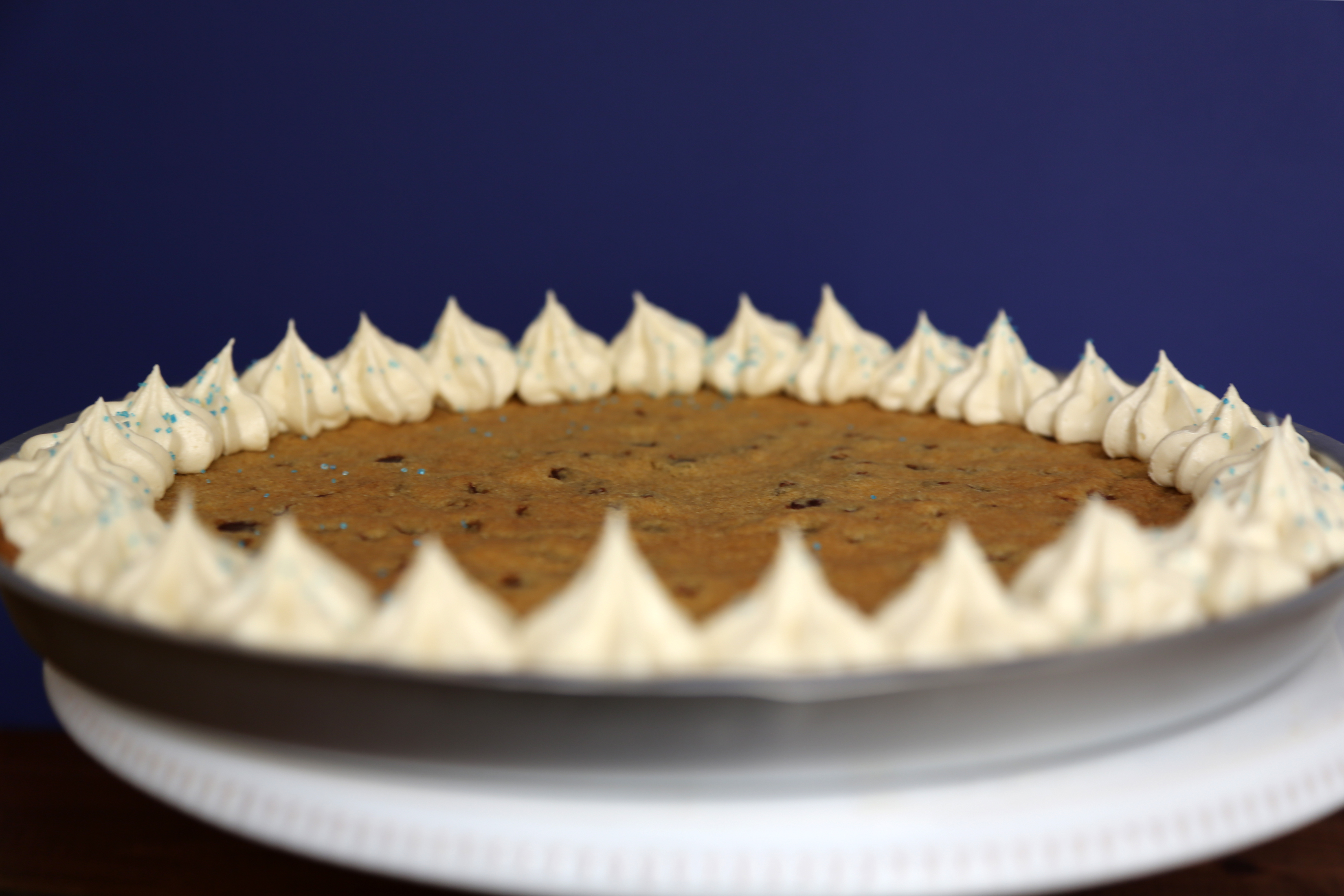 But I held firm to the belief that the third go would be the charm. Sure enough, using a proper cookie cake pan and halving my recipe resulted in a perfect chocolate chip cookie cake that my lucky co-workers demolished before noon.
So, for many reasons, this recipe was a long time in the making, but I think the end result is well worth the laborious process. The secret, I believe, is in the sugar: it's a homemade brown sugar, made with pure cane sugar and molasses. You'll be amazed how robustly flavored and melt-in-your-mouth that cookie cake is, just because you sweetened it with something a little out of the ordinary.
Chocolate Chip Cookie Cake
From Anna Monette Roberts, POPSUGAR Food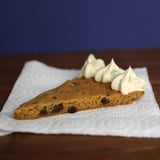 Ingredients
1 stick (1/2 cup) salted butter, softened at room temperature, plus more for greasing
1 cup all-purpose flour
1/2 teaspoon baking soda
1/4 teaspoon salt
3/4 cup granulated sugar (preferably pure cane sugar, like Zulka)
1 1/2 teaspoons molasses, like Grandma's
1 egg
1 1/2 teaspoons vanilla extract
3/4 cup chocolate chips
2 cups frosting of choice (such as cream cheese frosting), for garnish
Sprinkles, for garnish
Directions
Preheat oven to 375ºF. Grease pan with butter. In a small bowl, sift flour, baking soda, and salt together. In another small bowl, mix sugar and molasses together using a fork.
In the bowl of a stand mixer fitted with the paddle attachment, beat butter on medium-high speed until creamy, about two minutes. Add sugar mixture and beat until smooth. Add egg, followed by vanilla extract, and beat until incorporated. Turn down mixer and slowly beat in flour mixture until dough forms. Mix in chocolate chips.
Transfer cookie dough to pan and spread it evenly across, until it reaches the borders. Bake in the oven for 14 minutes, or until golden brown. Cool on a wire rack.
Once cool, decorate cookie cake by piping frosting around the border using a star tip. Garnish with sprinkles.
Information
Category

Desserts, Cookies

Cuisine

North American

Yield

Serves 8 to 10

Total Time

24 minutes, 59 seconds
Image Source: POPSUGAR Photography / Anna Monette Roberts