Chocolate Conversation Heart Cakes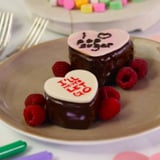 Ingredients
Chocolate cake
3 tablespoons butter, plus more for pan
7 ounces (70 percent cacao) dark chocolate, such as Guittard
7 egg whites, at room temperature
Pinch of cream of tartar
4 tablespoons sugar
4 egg yolks
1 teaspoon crème fraiche
Chocolate ganache
6 ounces (64 percent cacao) dark chocolate, such as Guittard
7 1/2 ounces cream
1 tablespoon corn syrup
2 1/2 ounces butter, room temperature
Raspberry jam, for filling
Fondant, for decorating
Directions
To make chocolate cake: Preheat oven to 375°F. Prepare a 12 x 9 pan with parchment paper. Brush the pan with melted butter. Set aside. In a heatproof bowl set over a pot of simmering water, melt chocolate and butter over low heat. Once melted, turn off heat.
Meanwhile, in a very clean bowl (with no oily residue) of an electric mixer fitted with a whisk attachment, combine room temperature egg whites and cream of tartar. Beat at a medium speed until frothy, then start adding sugar gradually. Whip to a soft peak, then turn off mixer.
To the warmed chocolate mixture, stir in egg yolks and crème fraiche. Remove from boiler, and set on the kitchen counter. Mix one-third of the whipped whites into the chocolate batter. Gently fold in the remaining meringue.
Pour batter into the prepared pan. Smooth out the surface with an offset spatula. Place into oven, and bake for approximately 12 minutes. Cool cake, then flip out onto a clean surface and cut out using a heart-shaped cookie cutter, or another cutter of your choice. Place hearts in the freezer or refrigerator to firm up.
To make chocolate ganache: Place chocolate in a large bowl. Warm cream in a small pot until it starts to simmer. Then pour the cream on top of the chocolate. Let this sit for a few minutes. Add corn syrup. Stir chocolate in the center of the bowl with a rubber spatula until ganache begins to emulsify and become shiny. Add a little ganache to room-temperature butter, and mix well. Then stir butter mixture into ganache. Pour half of the ganache in a pastry bag, and let sit to firm up.
To assemble cakes: On half of the cakes, pipe ganache around the border. Fill with raspberry jam. Top with another heart-shaped cake. Place in the refrigerator or freezer to firm up.
Place the cakes on top of a cooling rack fitted with a baking sheet underneath. Carefully pour ganache over the cakes, and let set. Decorate cakes with heart-shaped fondant.
Information
Category

Desserts, Cake

Cuisine

French

Yield

4 heart-shaped cakes