Cookies and Cream Cheesecake Custard Recipe
Frozen Cookies and Cream Cheesecake Is Way Easier to Make Than Ice Cream
This seriously simple cookies and cream cheesecake "ice cream" from SugarSpunRun is a tasty Summer treat you can make without the firing up the oven.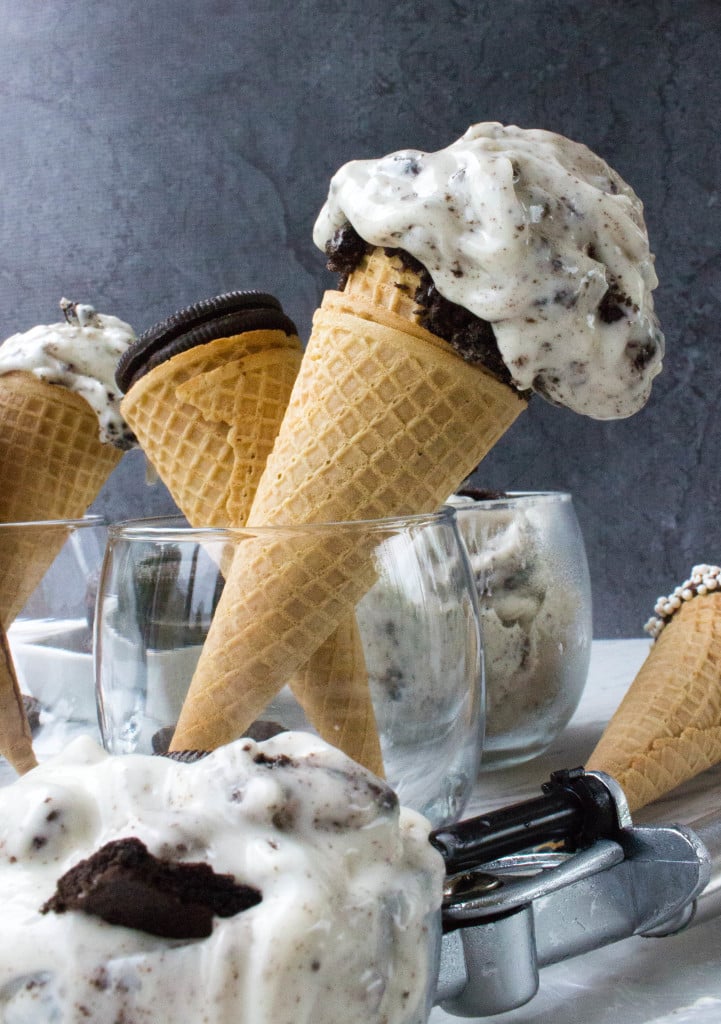 These cheesecake batter ice cream cones are not exactly ice cream at all. Rather, cookies and cream cheesecake batter is frozen and scooped into ice cream cones for an exquisitely rich, portable summertime treat.
The land of the under-baked is my realm. I believe in raw cookie dough and gooey cookies. Fudgy, melting brownies that singe your tongue with dark chocolate bits still hovering near 350 degrees. Stolen spoonfuls of cheesecake batter.
Especially spoonfuls of cheesecake batter.
Which brings me to this post, and this recipe. What you are seeing here is not ice cream. It's cheesecake batter, sweet, eggless batter whipped with heavy cream, stuffed with cookie bits, and frozen until frosty.
The texture is unbelievably soft and creamy, thick but not over-sweet, closer to a frozen custard than to ice cream. When I tasted it, I half-shouted "this is the best thing I've ever made," not even realizing I was talking to myself until my puppy came running into the kitchen to see what all the excitement was about.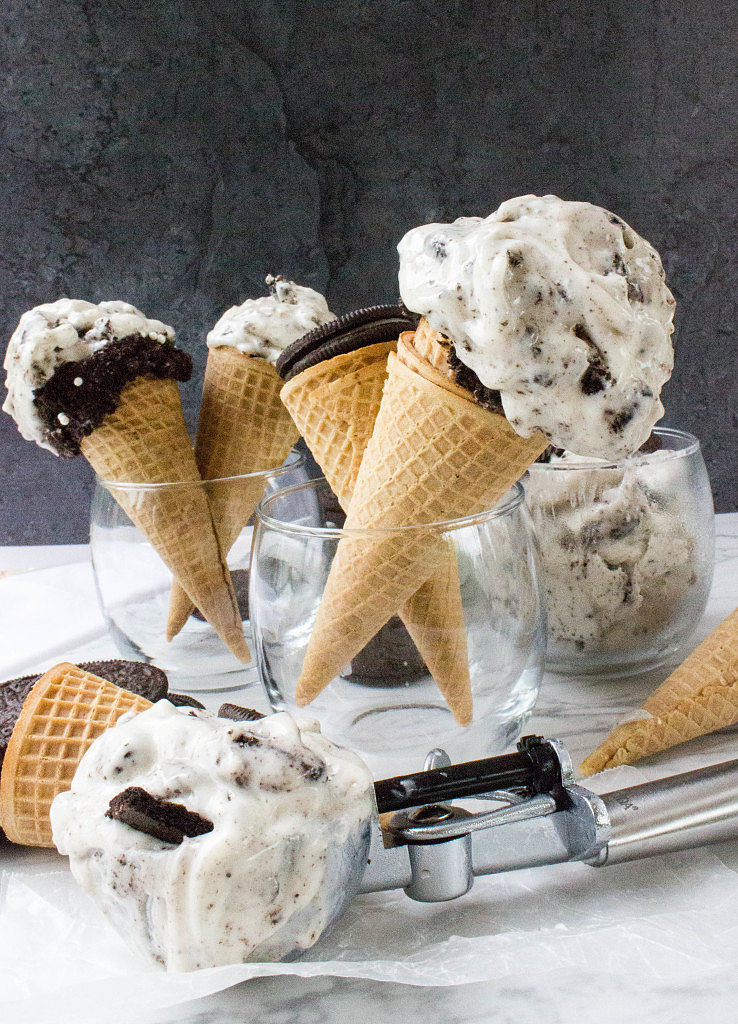 I've had "cheesecake" ice creams in the past and they have always been disappointing: incredibly underwhelming with a meager scattering of spongy bits of cheesecake scattered throughout. What should be an incredible combination of two of my favorite desserts always leaves me wanting more. This cheesecake batter "ice cream" puts those other ice creams to shame.
And it is so unbelievably easy to whip together. The ingredients are few and easy to obtain and the results are almost foolproof, the flavors are perfection. As I said, the texture goes beyond creamy: it is silky smooth with rumbles of cookie chunks and a crisp waffle cone (dipped in chocolate and cookie crumbs, of course). Despite the rich nature of cheesecake, this batter manages to be deliciously rich and sweet without being too heavy or "too much" (the sour cream helps with that — it adds to the tang that you would expect from a cheesecake and keeps this dense, rich treat from being too sugary-sweet).
Zach never hesitates to tell me when he thinks something is too sweet, and he basically ate the whole bowl of frozen batter by himself.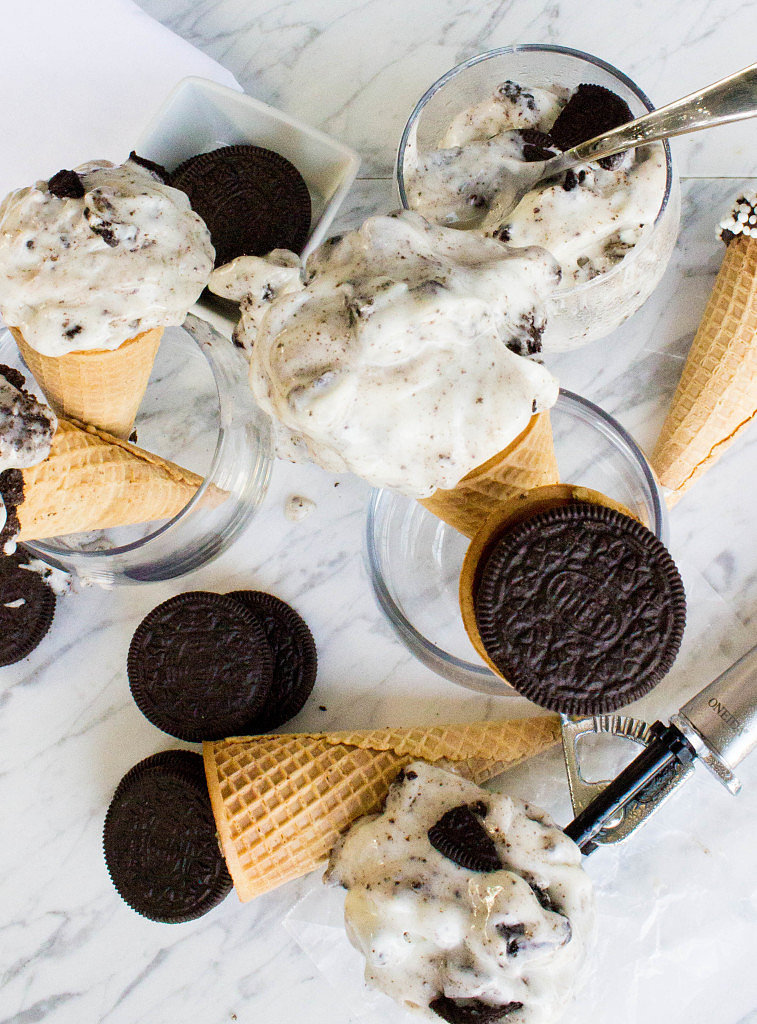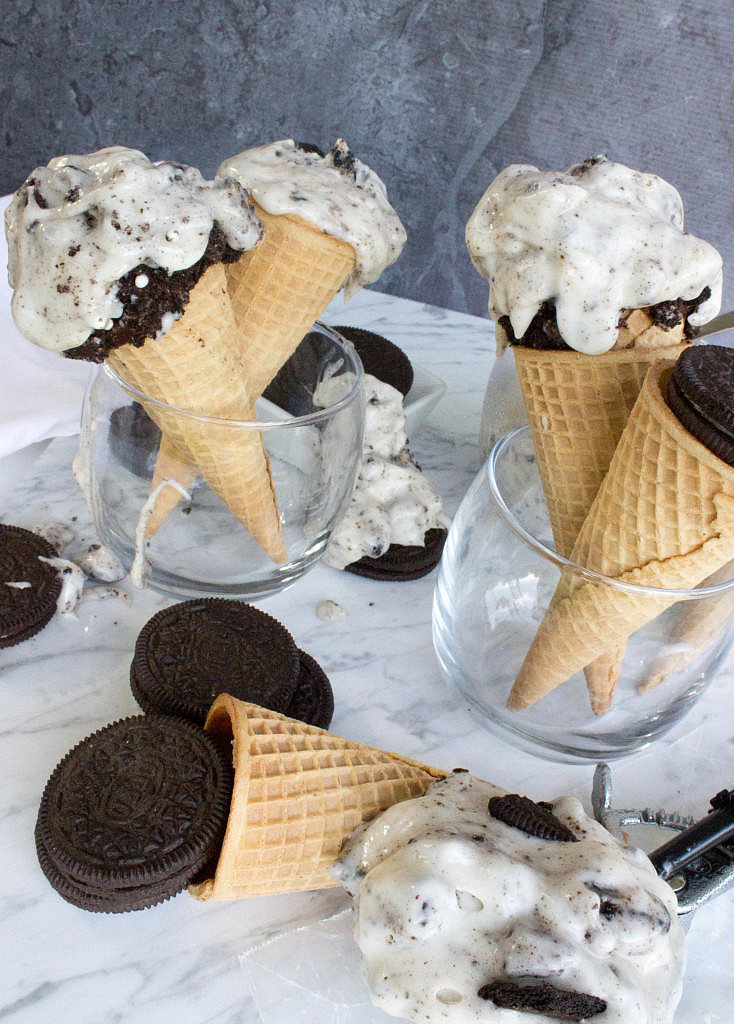 I am skeptical that I'll ever be able to make another cheesecake without succumbing to the temptation to omit the eggs and stick the whole thing in the freezer.
Notes
If you'd like to dress up your waffle cones, you can melt 1/4 cup chocolate chips and dip the rims of the ice cream cones in the melted chocolate then in finely crushed cookie crumbs.
Ingredients
8 ounces cream cheese, softened
1 cup heavy cream
1 teaspoon vanilla extract
1 cup granulated sugar, divided
1/2 cup powdered sugar
1/4 cup sour cream
12 Oreos, crushed into small pieces
Ice cream cones, for serving
Directions
In stand mixer, beat cream cheese until smooth.
Add heavy cream, vanilla extract, 1/2 cup granulated sugar and powdered sugar.
Beat on medium speed, pausing as needed to scrape down sides of bowl with spatula so all ingredients are well incorporated.
Gradually, stir in granulated sugar, increasing speed to high and stirring until the granulated sugar is dissolved (about 2 minutes).
With mixer on low speed, stir in sour cream until combined.
Fold in Oreos.
Pour ingredients into resealable container (or a bread pan and seal with clear-wrap) and freeze overnight or at least 4 hours.
Information
Category

Desserts, Ice cream

Cuisine

North American

Yield

5 servings

Total Time

9 minutes, 59 seconds