Cornbread and Bacon Dressing Recipe
7-Ingredient Cornbread and Bacon Dressing For a Breezy Thanksgiving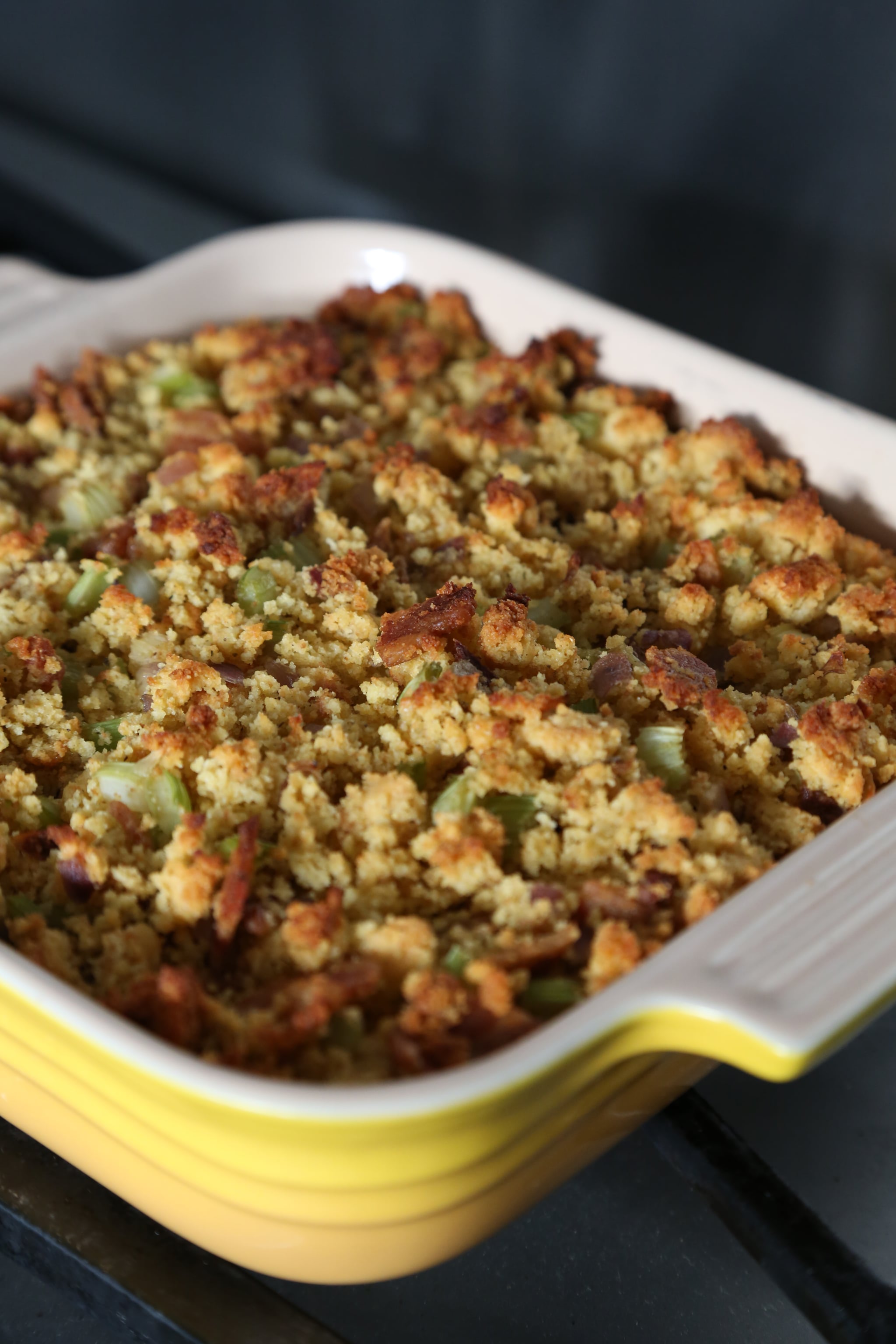 There are few things I love more than cornbread dressing during Thanksgiving, and my family feels quite similarly. My mom prefers it with a hefty dose of Indian curry powder and cayenne. My sister takes hers vegan and gluten-free. As for me? Bring on the bacon! It's typical for our family to have several renditions of cornbread dressing at the table. This year, I wanted to simplify things, so I developed a cornbread dressing that only calls for seven ingredients. Many people shy away from making cornbread dressing, because it involves baking up cornbread. However, I'm here to tell you that as a person always on the lookout for a killer cornbread mix, Marie Callender's cornbread mix is my new favorite. It's fluffy, sweet, and only calls for one ingredient — water. So no more excuses. Let there be bacony cornbread dressing!
Cornbread and Bacon Dressing
From Anna Monette Roberts, POPSUGAR Food
Notes
Make this casserole ahead of time. Complete up to step 6 of the recipe, then tightly wrap the casserole dish in foil followed by plastic wrap and freeze for up to 3 months. Once you are ready to bake, remove the plastic wrap and bake (with foil) for 45 minutes. Remove foil and bake for another 30 minutes, or until casserole appears golden brown and crispy on the top and is heated through.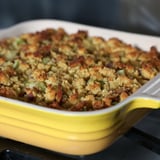 Ingredients
1 (1-pound) package cornbread mix, like Marie Callender cornbread mix
6 slices of bacon, cut into 1/2-inch pieces
1 shallot, cut into small dice
2 celery ribs, cut into small dice
1 teaspoon poultry seasoning
2 eggs, whisked
1/2 cup vegetable or mushroom broth
Directions
Cook cornbread according to package directions. Remove from pan and allow to cool.
While cornbread cools, cook bacon in a 375°F oven until desired crispiness reached. Drain the bacon on a paper towel, and reserve bacon grease. Once bacon is cool to touch, crumble it into small pieces.
In a sauté pan, heat pan over medium-high heat, then heat 2 tablespoons bacon grease. Cook shallots until translucent, about 2 minutes. Add celery and cook until tender, about 2 minutes. Add poultry seasoning and cook until fragrant, about 1 minute. Remove from heat, and transfer to a plate to cool.
Grease a 9-inch square casserole dish with bacon grease.
Once all components are cool to room temperature, crumble cornbread into a large bowl. Add bacon and vegetables, and stir. Stir in eggs. Stir in enough vegetable broth to make mixture moist but moldable.
Transfer to casserole dish, and bake in a 375°F oven for 1 hour, or until casserole sets and top appears golden and crispy.
Information
Category

Side Dishes, Stuffing/dressing

Cuisine

North American

Yield

Serves 6
Image Source: POPSUGAR Photography / Anna Monette Roberts