Delicious Vegetarian Thanksgiving Main Dish
Your Family Will Fight For a Bite of This Vegan Main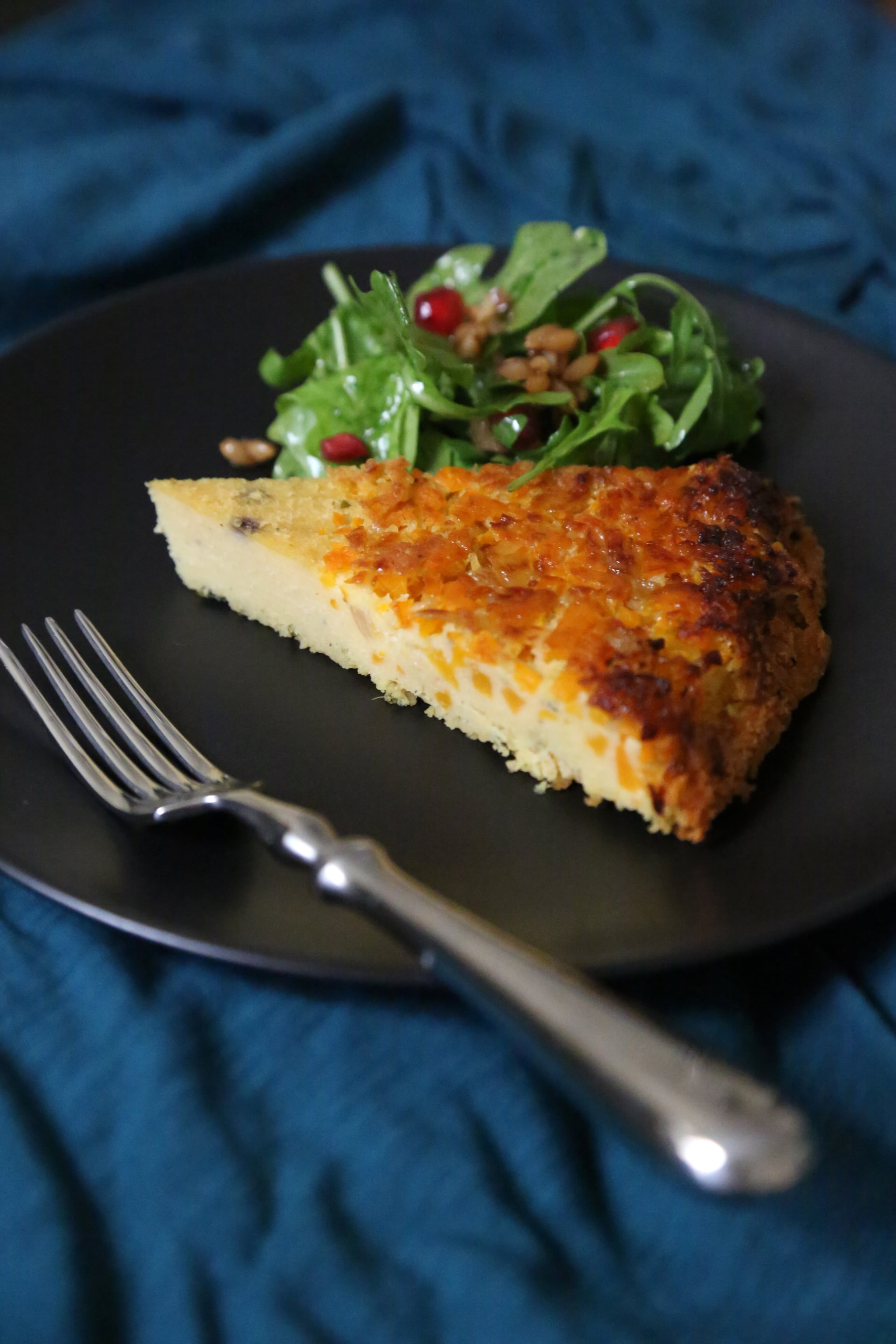 Tal Ronnen, the vegan chef of LA's Crossroads restaurant, went to my culinary school (woo! Natural Gourmet Institute pride!), so of course I had to pick up his latest cookbook ($21) and tackle one of his gourmet recipes. This butternut squash farinata caught my eye. I had never heard of farinata, but it's basically like a dense vegan frittata made from protein-rich chickpea flour. Don't let the long recipe discourage you — everything is really easy to make and, best of all, can be made ahead of time.
I was concerned the farinata would be like a bland polenta slab, but the butternut squash and shallot caramelize on the edges of the farinata, giving it enough textural and flavor contrast to keep you going back bite after bite. The true star of this dish is the pomegranate vinaigrette, which has officially become my favorite Fall salad dressing. Pomegranate syrup, a must for the recipe, is at once powerfully tart and umami-rich. You'll definitely want to serve the dressing on the side, so you can drizzle a few extra tablespoons over the farinata. Just writing about this dish makes me anxious to whip it up again (probably tonight since the craving is intense), which means this recipe is sure to become a staple at your Thanksgiving table, especially if you or a loved one are vegan/vegetarian.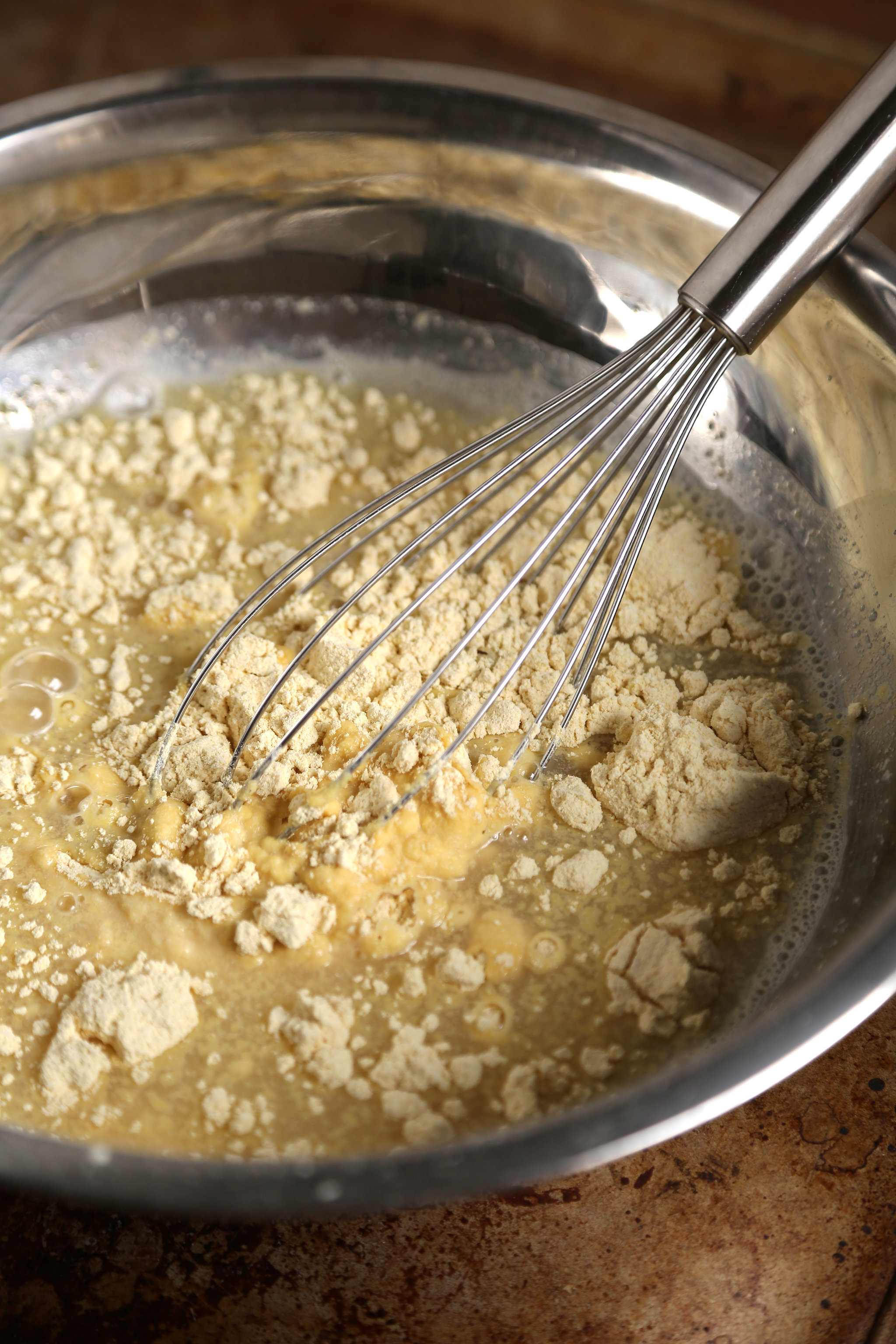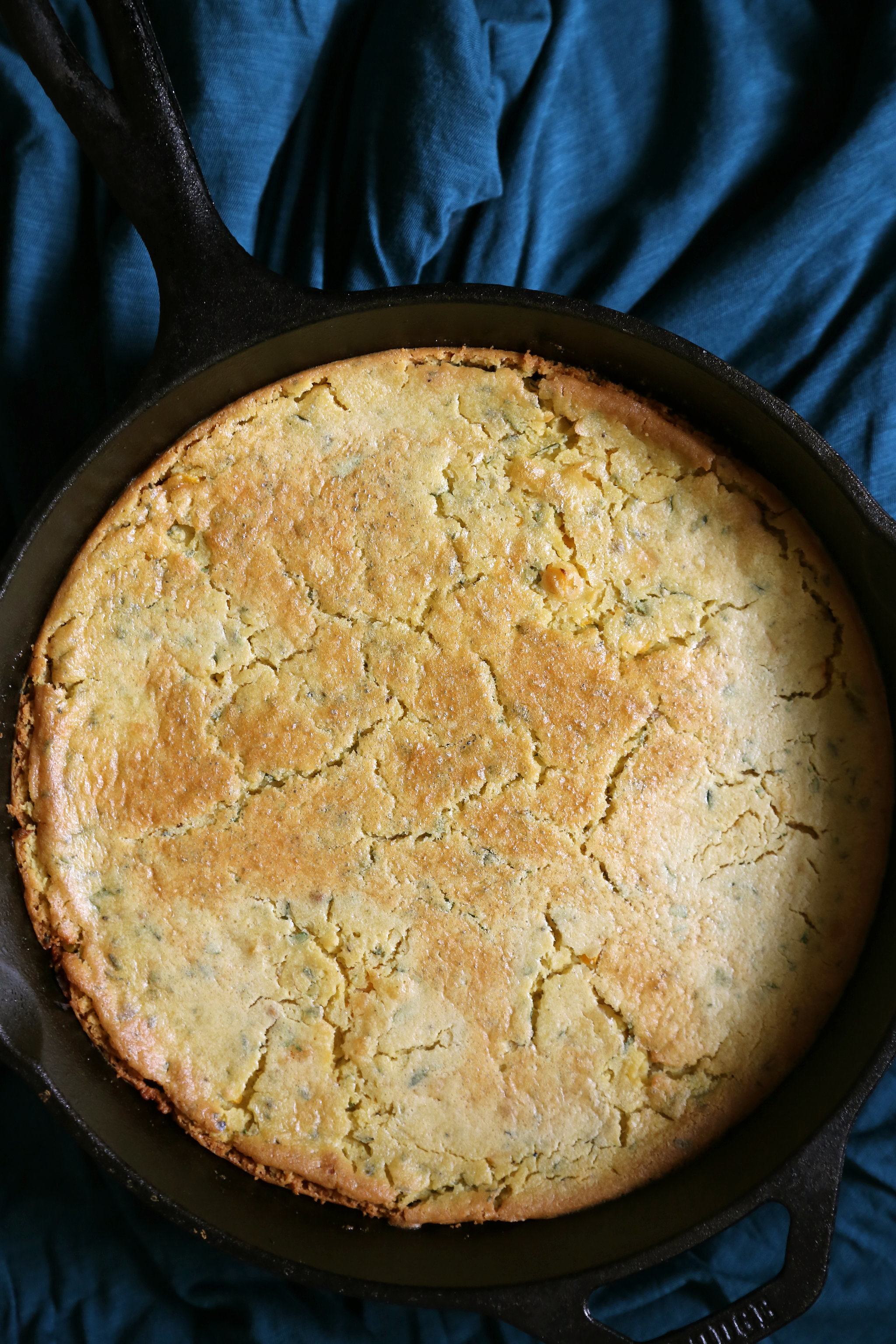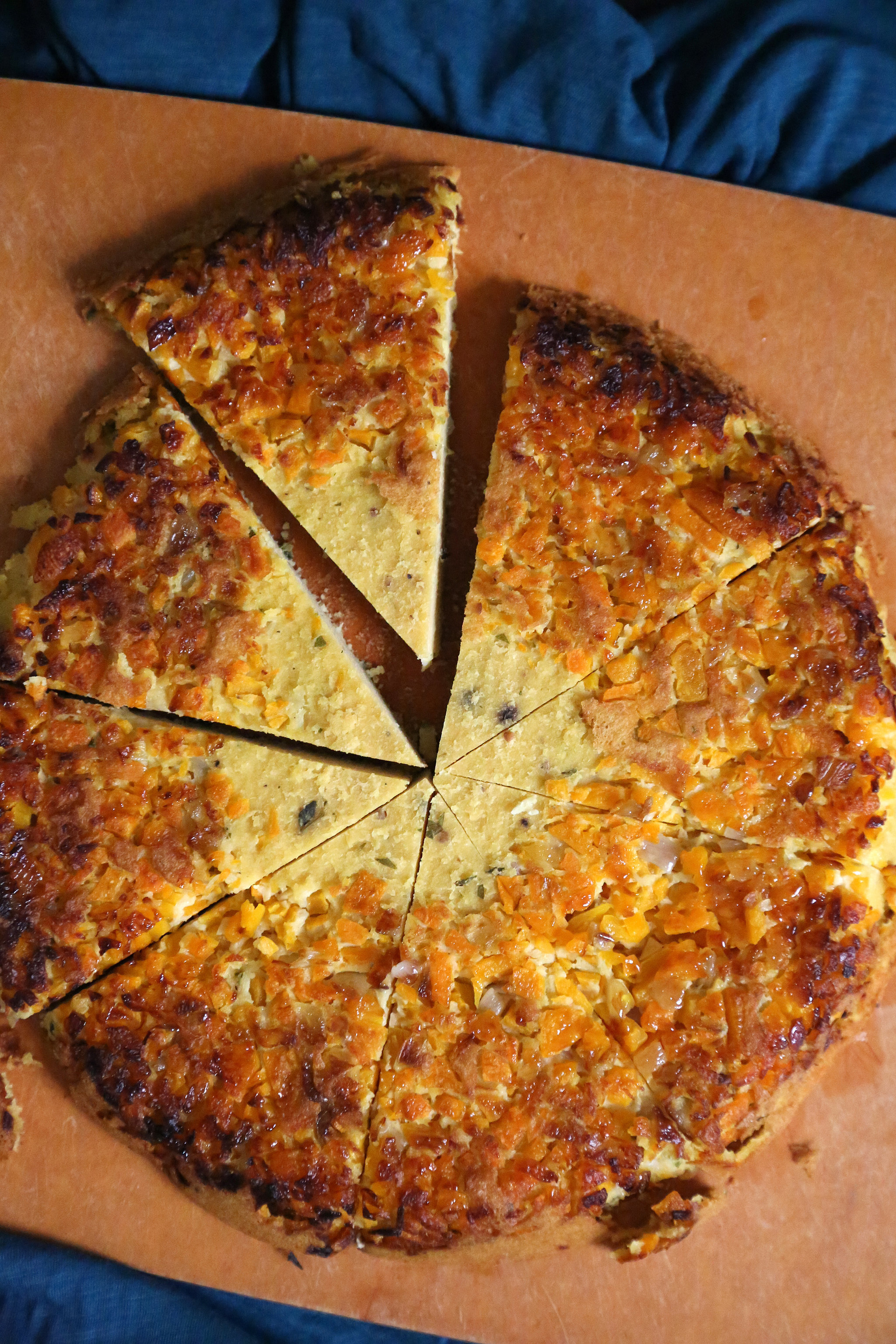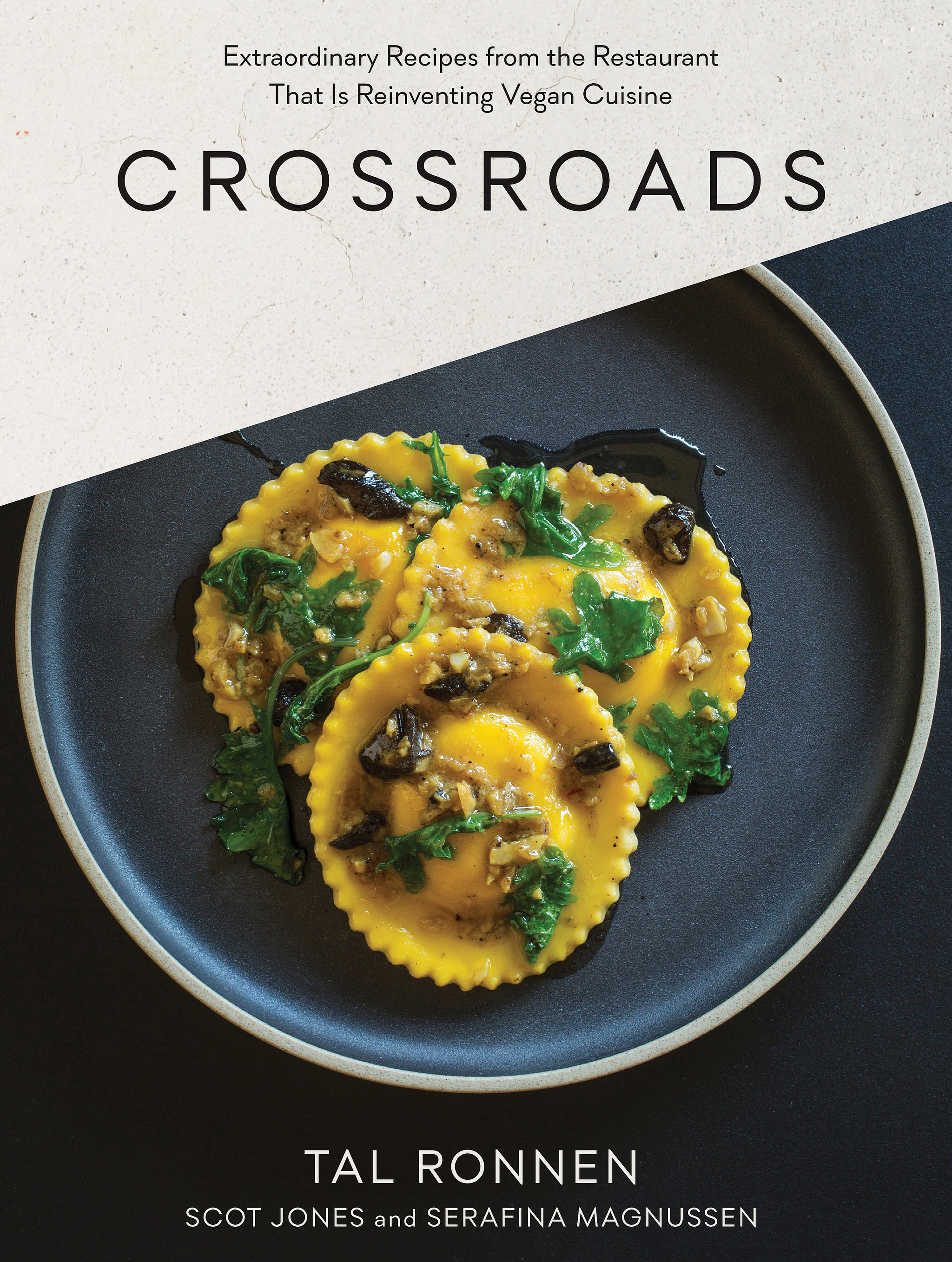 Butternut Squash Farinata With Arugula Salad and Pomegranate Vinaigrette
Excerpted from Crossroads by Tal Ronnen with Scot Jones (Artisan Books). Copyright © 2015.
Notes
Farinata is a rustic Italian bread made from chickpea flour that is often enjoyed as street food in Tuscany and Liguria. Typically baked in a hot cast-iron skillet, farinata has a golden, crisp outside and a soft, cakey center.
My friend Renee Frigo, who makes the award-winning Lucini olive oil, introduced me to farinata when she launched her Cinque e' Cinque brand of chickpea flour. When I tasted it, I realized that farinata is much more than a simple bread—it can be a nutty-tasting canvas for endless toppings: here a hearty winter salad of farro and arugula, dressed with a tart pomegranate vinaigrette.
When you make the farinata, letting the batter rest results in a more complex flavor and less gritty texture. But if you're in a hurry, just let it sit while you preheat the oven and prepare the rest of the ingredients. Chickpea (or garbanzo bean) flour can be found in Italian markets and some grocery stores (Lucini's Cinque e' Cinque is available at Whole Foods). If you will be storing the flour for more than a month, keep it in the freezer to prevent it from turning rancid.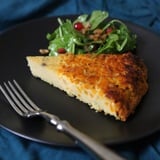 Ingredients
Farinata
1 1/2 cups chickpea (or garbanzo bean) flour, such as Lucini or Bob's Red Mill
2 cups filtered water, at room temperature
5 tablespoons extra-virgin olive oil
4 fresh thyme sprigs, leaves stripped from the stems and chopped (about 1 teaspoon)
2 fresh flat-leaf parsley sprigs, leaves stripped from the stems and chopped (about 2 tablespoons)
3/4 teaspoon kosher salt, plus more to taste
1/4 teaspoon freshly ground black pepper, plus more to taste
1 tablespoon Earth Balance butter stick
2 cups finely diced butternut squash
1 shallot, minced
Salad
8 lightly packed cups baby arugula
2 cups cooked farro*
1/2 cup Pomegranate Vinaigrette (recipe follows)
Kosher salt and freshly ground black pepper
Pomegranate Vinaigrette (Makes 1 cup)
1/4 cup pomegranate molasses**
1/4 shallot, minced
Finely grated zest and juice of 1 lemon
Kosher salt and freshly ground black pepper
1/2 cup extra-virgin olive oil
1 tablespoon finely chopped fresh mint
1 tablespoon finely chopped fresh flat-leaf parsley
2 tablespoons pomegranate seeds
*Farro is similar to wheat berries but better all around, as far as I'm concerned. I'm crazy about its hearty nuttiness and firm but chewy texture. Popular since the golden days of ancient Rome, this healthful whole grain stands up to everything from salads to soups. It is a rich source of vitamins and nutrients, as well as protein and fiber. Farro is available in most grocery stores and health food stores. Look for the semi-pearled variety, which allows for speedier cooking. Toasting farro in a dry pan before cooking makes the flavor extra nutty. I cook farro just like pasta, uncovered, in plenty of boiling salted water, and then drain. Some packages call for cooking farro like rice, tightly covered in a measured amount of water until the water is absorbed, but I
find this method makes it a bit mushy.
**Pomegranate molasses is a thick reduced syrup of pomegranate juice that has a tart and fruity flavor. A gorgeous deep reddish purple, the molasses is found in Mediterranean and Middle Eastern markets, and it keeps almost indefinitely in the refrigerator. If pomegranate molasses is not available, pour 2 cups pure pomegranate juice into a small pot, put over medium-low heat, and boil until the juice has reduced to 1/4 cup and is thick and syrupy, about 20 minutes. Let cool.
Directions
To prepare the farinata: Whisk together the flour and water in a mixing bowl until smooth and free of lumps. Add 3 tablespoons of the oil, the thyme, parsley, salt, and pepper and whisk until the mixture is the consistency of pancake batter. Cover and let the batter stand for at least 1 hour at room temperature, or up to 2 hours if you have the time.
When ready to bake the farinata, preheat the oven to 425°F.
Whisk the batter again to bring it back together. Put a 10-inch cast-iron or other heavy ovenproof skillet over medium heat and add the butter substitute and the remaining 2 tablespoons oil, swirling the pan to coat. When all the butter substitute has melted, add the squash and shallot and cook, stirring, until soft, about 4 minutes. Season with salt and pepper.
Spread the squash and shallot evenly in the skillet and pour the batter over it. Carefully transfer to the hot oven and bake for 30 minutes, or until the farinata is no longer wet in the center and the edges are browned and pulling away from the sides of the pan. Remove the farinata from the oven and cool in the pan for 10 minutes.
To make the vinaigrette: Whisk together the pomegranate molasses, shallot, and lemon zest and juice in a small bowl. Season with salt and pepper. Slowly whisk in the oil until emulsified. Stir in the mint, parsley, and pomegranate seeds. This sweet-tangy vinaigrette marries well with peppery greens like dandelion. Leftovers will keep for 4 days covered in the refrigerator.
To serve: Flip the farinata onto a cutting board and cut into 8 wedges.
Combine the arugula and farro in a mixing bowl. Drizzle with the vinaigrette, season with salt and pepper, and toss gently with your hands.
Place a wedge of farinata in the center of each salad plate. Top with the salad, making sure to distribute the pomegranate seeds evenly. Spoon any extra vinaigrette on top so it soaks into the farinata.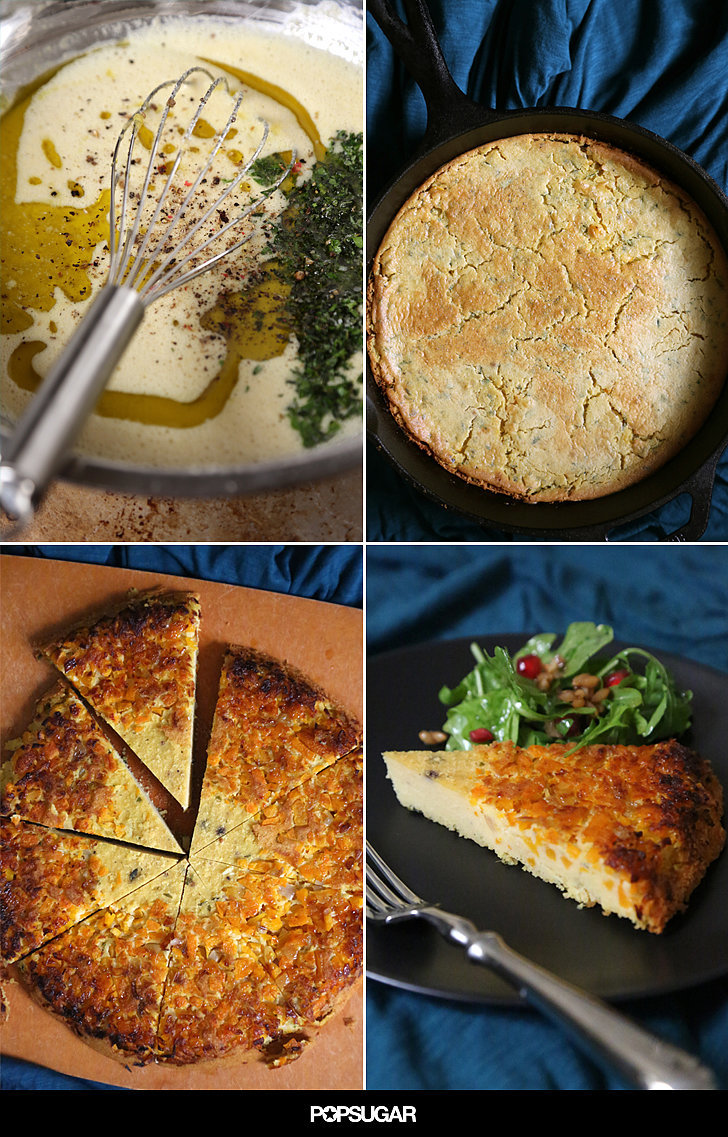 Information
Category

Main Dishes, Beans

Cuisine

Italian

Yield

8 servings
Image Source: POPSUGAR Photography / Anna Monette Roberts