Source: POPSUGAR Photography / Sarah Lipoff
Notes
The complete recipe takes three days to prepare — one for making the dough and butter block, another for making the ganache and laminating the dough, and a third for proofing, shaping, and frying the Cronuts.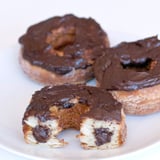 Ingredients
Ganache
Follow these easy directions
Pastry Dough
3 3/4 cup bread flour
1 teaspoon salt
1/3 cup sugar
1 tablespoon plus 1 1/2 teaspoon instant yeast, can substitute with active dry yeast
1 cup water
1 egg white
8 tablespoons butter
1 tablespoon heavy cream
Butter Block
18 tablespoons butter
Sugar Coating
1 cup superfine sugar
1 teaspoon cinnamon
Directions
For the pastry dough
Combine the bread flour, salt, sugar, yeast, water, egg white, butter, and cream in a stand mixer fitted with a dough hook. Mix until combined. If you don't have a stand mixer (like me!), use a hand mixer to blend the ingredients, then turn out and knead until the dough comes together.
Place dough in a lightly greased bowl then cover with plastic wrap pressed directly on dough to prevent a skin from forming. Let dough rise for 2-3 hours until doubled in size.
Remove dough and press down then roll into a 10-inch square on a flour-dusted piece of parchment paper. Place on a sheet pan and tightly cover with plastic wrap. Refrigerate overnight.
For the ganache
Follow these directions, and then tightly cover and store in the fridge until you make the Cronuts.
How to laminate the pastry dough
Remove the pastry dough from the fridge along with the butter block. Place the dough on a lightly floured surface and then position the butter block in the center at an angle, like a diamond. Fold over the edges and pinch, creating a wrapped square.
With even pressure, roll the dough until it doubles in size.
Now fold the dough in half horizontally, and then in half again vertically, creating a square of folded dough.
Place in fridge for 30 minutes then repeat steps 2 and 3. Refrigerate overnight.
To make the Cronuts
Remove the dough from the fridge and roll until it is around a 17-by 8-inch rectangle. Now use a 3-inch round circle cookie cutter and a 1-inch round to make the shape of the Cronuts. Place on a parchment-lined sheet pan and let rise for 2 hours.
Heat 64 ounces of vegetable oil to 350ºF and then fry in small batches, flipping after 90 seconds.
Drain on a paper-towel-lined plate and let cool to room temperature.
Using a piping bag fitted with a head, press into the Cronut in four spots from the top and fill with the ganache. Or you can skip this step and use the ganache simply as a frosting.
Roll the sides of the Cronuts in the sugar coating then finish by frosting with the remaining ganache.
Information
Category

Breakfast/Brunch

Cuisine

North American

Yield

12 Cronuts

Total Time

1 day, 23 hours, 59 minutes, 59 seconds
Image Source: POPSUGAR Photography / Sarah Lipoff