Easy Chicken Parmesan Recipe
An Easy Chicken Parmesan Recipe That Would Make Your Grandmother Proud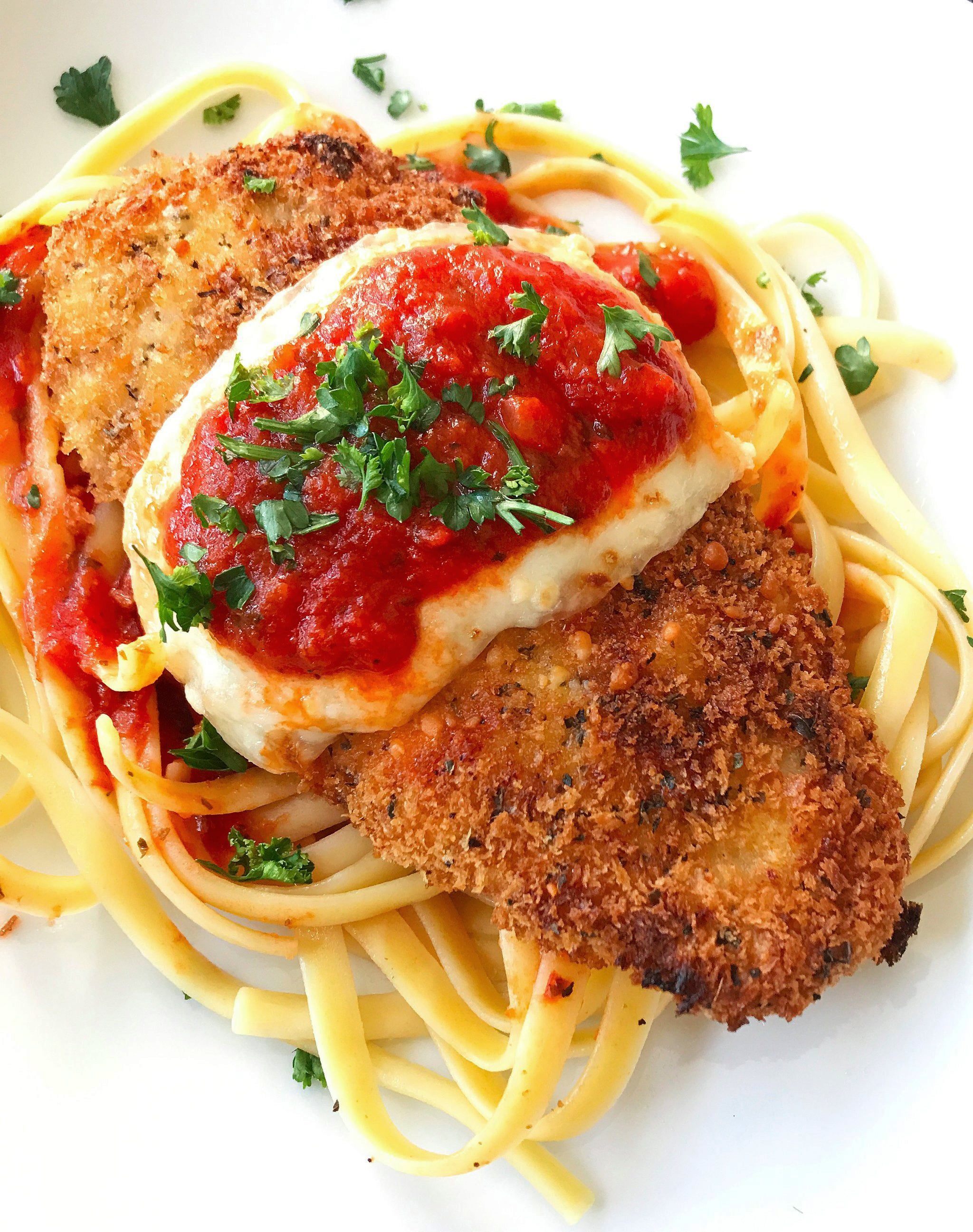 My upbringing was filled with the smell of Italian bread crumbs and the sound of sizzling olive oil, in part thanks to this chicken Parmesan recipe. I grew up on chicken Parmesan and have a special place for it in my Italian-food-obsessed heart. Among other cooking tips I learned from my mom, this is a recipe I still turn to in my 20s when I want something satisfying and comforting that reminds me of home.
Trust me when I say I've eaten my fair share of chicken Parmesan, and this recipe checks all the important boxes. The first rule of chicken Parm is that it should be crispy, not soggy. People often bake the chicken on top of a layer of sauce, but in my opinion, that undoes all the work you just did to get the exterior browned and crispy. I prefer not to add the sauce until the very end, ensuring each bite is crunchy, cheesy, and benefiting from the flavor of the tomato sauce. This recipe also calls for fresh mozzarella cheese, which, despite the dish's name, is even more important than the Parmesan cheese. Skip the bagged, shredded mozzarella cheese and look for the log instead — the stringy cheese pull in the end makes it all worth it.
The chicken will come out of the oven piping hot and bubbly, ready to be served with a side of your choice. Make your grandmother (and yourself!) proud by making an easy yet elegant and classic meal that you'll want to turn to in times of your own comfort-food needs. Is it dinnertime yet?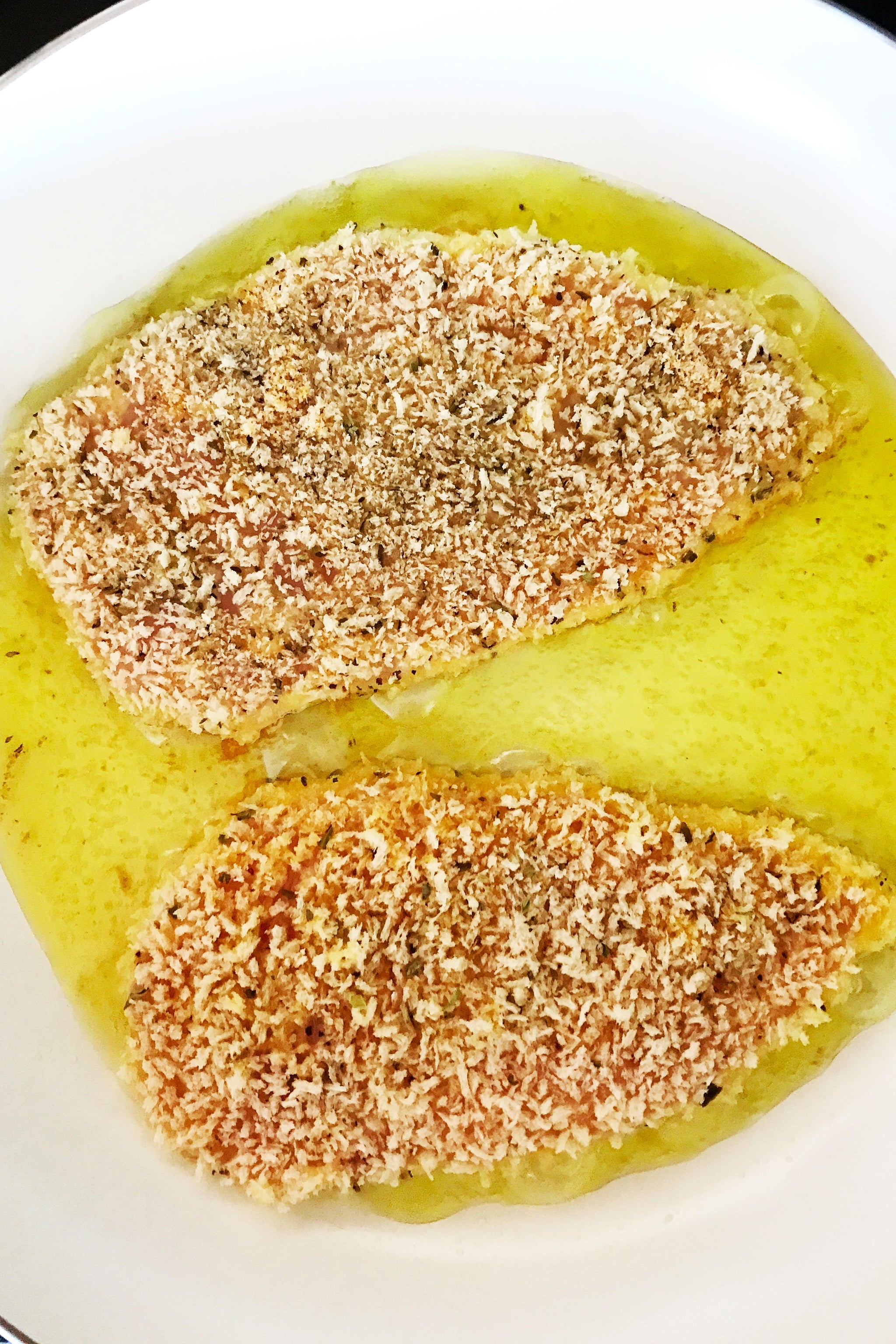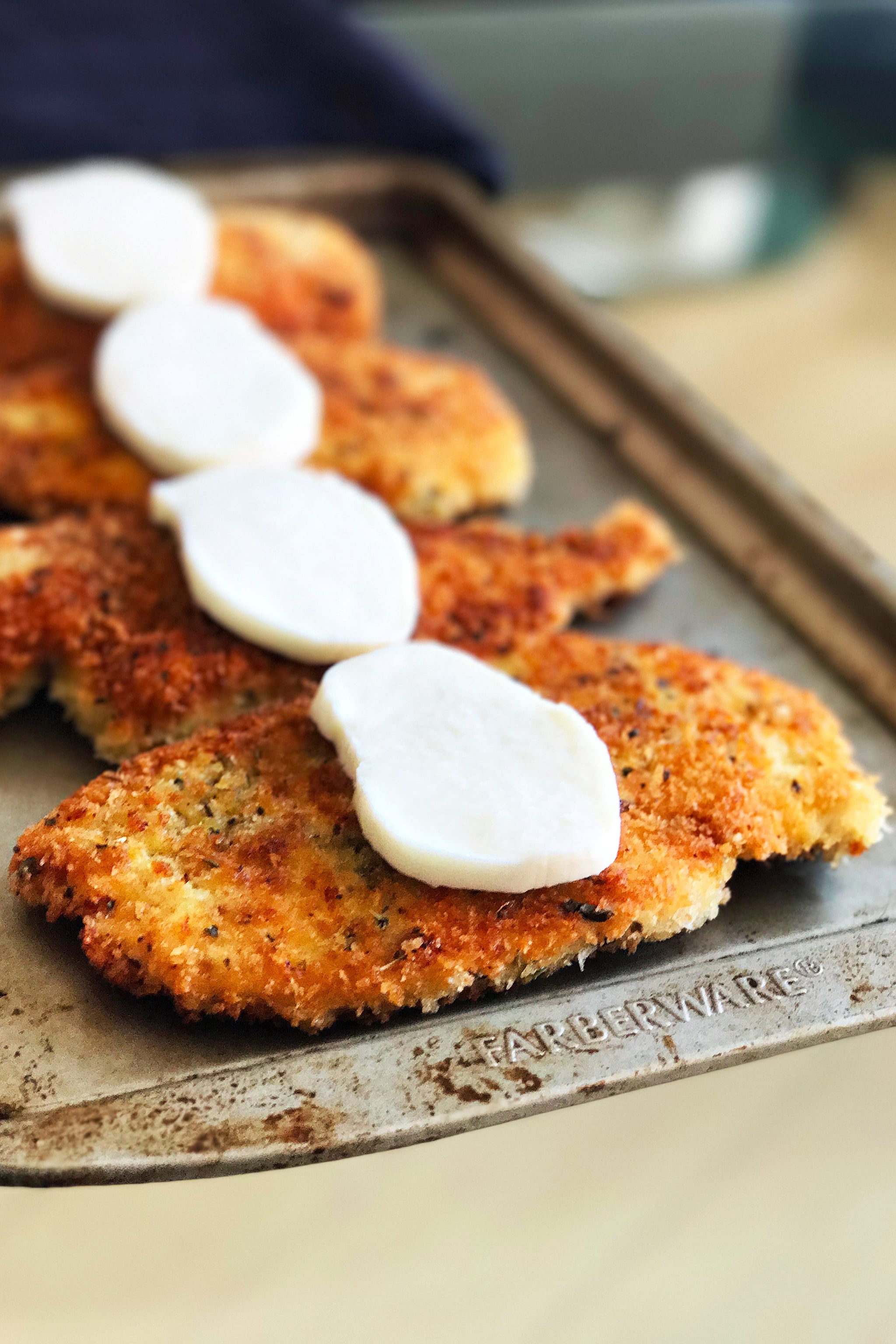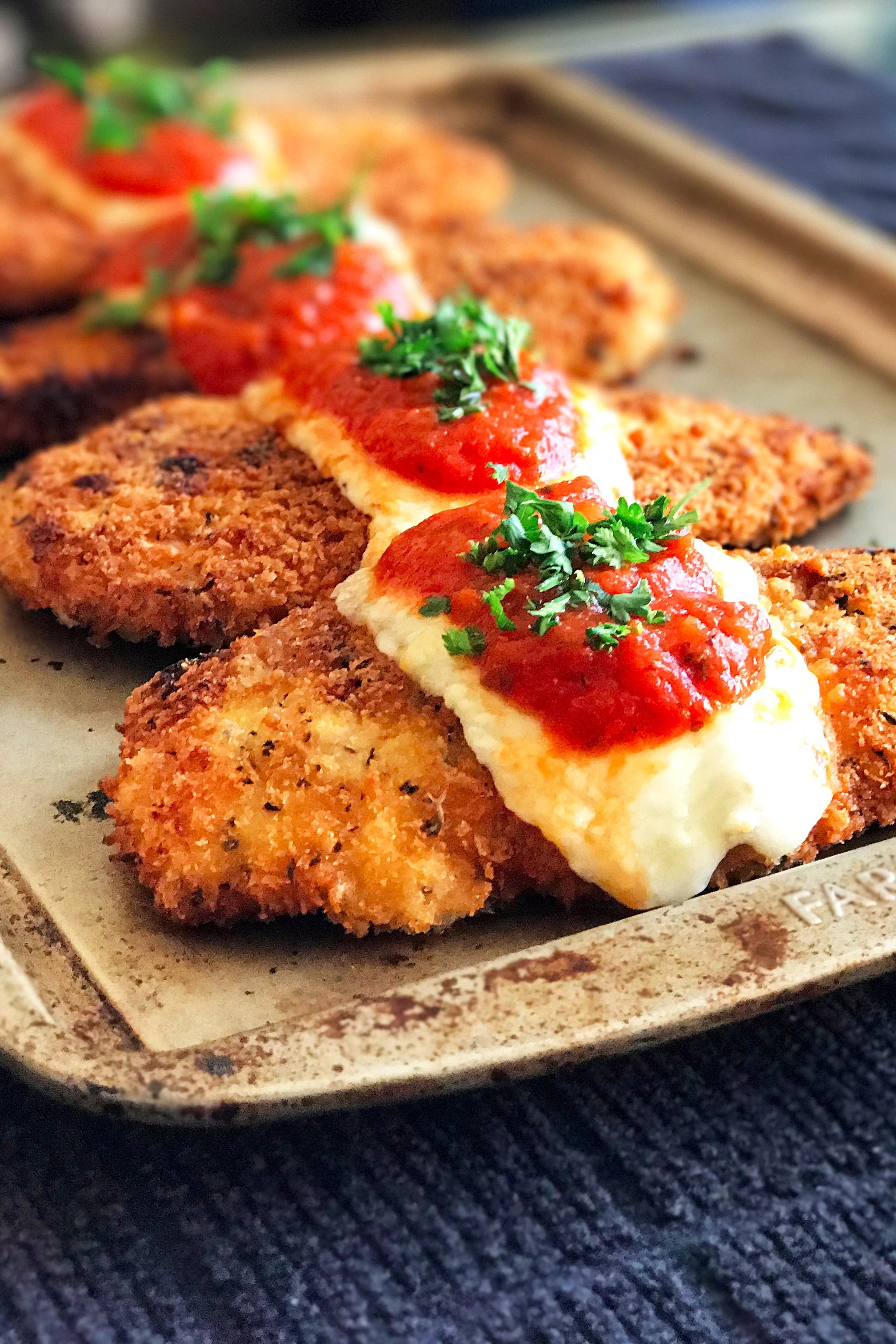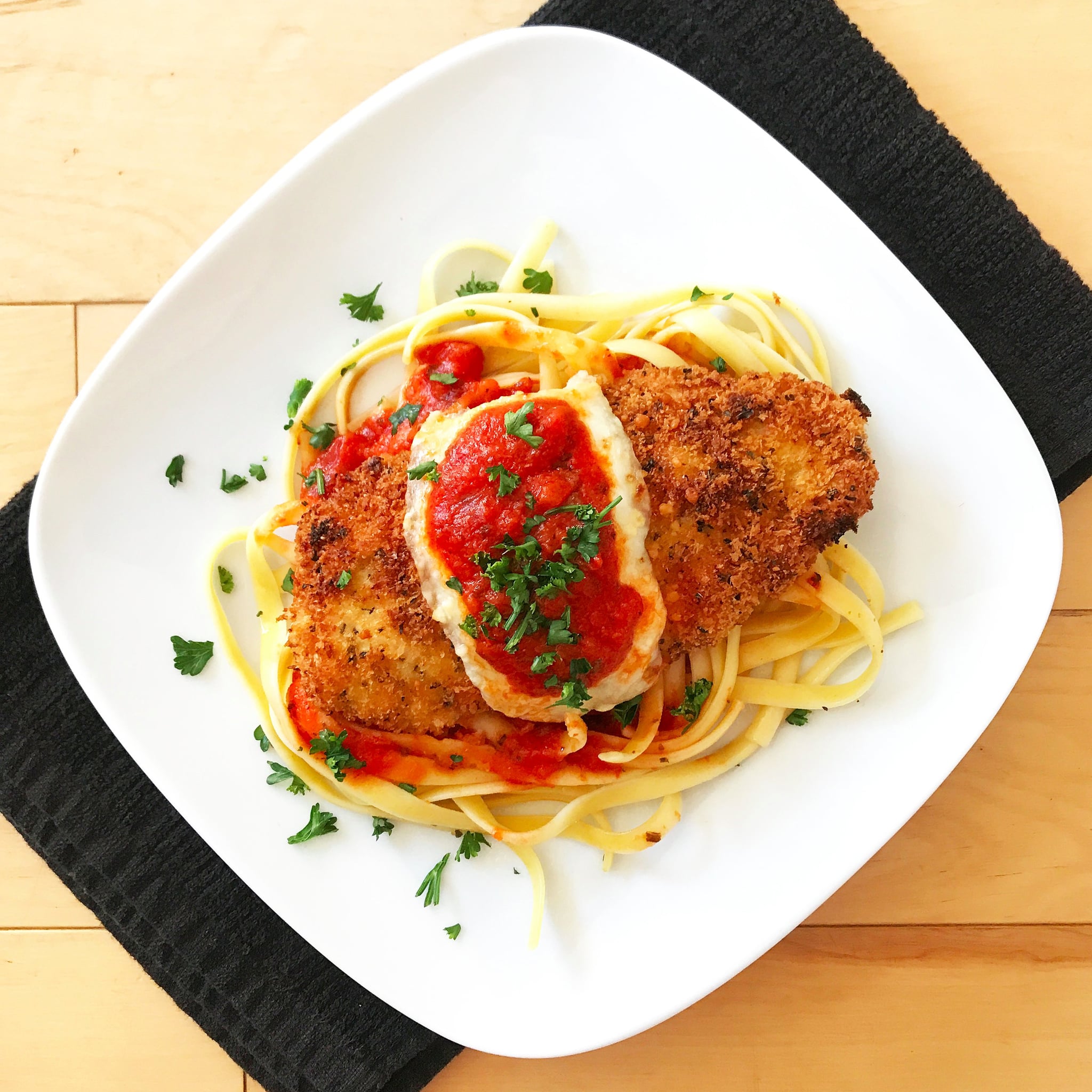 Chicken Parmesan
From Erin Cullum, POPSUGAR Food
Notes
This chicken Parmesan can be served with pasta, roasted vegetables, or a green salad.
Don't miss the step of flattening the chicken — it's important! This allows the chicken to brown evenly in the skillet and to cook all the way through. A meat mallet is the best (I have this $18 meat tenderizer from Williams Sonoma), but a rolling pin will work. As my mom would say, put some elbow grease into it.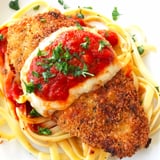 Ingredients
2 boneless, skinless chicken breasts, halved lengthwise
Salt
Pepper
1 cup panko breadcrumbs
1 teaspoon dried basil
1 teaspoon dried oregano
1 teaspoon garlic powder
1/2 cup all-purpose flour
1 large egg
1/4 cup olive oil, plus more as needed
4 ounces fresh mozzarella cheese, preferably sliced from a mozzarella cheese log; I used Trader Joe's presliced mozzarella
4 tablespoons parmesan cheese, plus more for serving
1 cup tomato sauce, homemade or store-bought, warmed
Fresh parsley for garnish, optional
Directions
Preheat broiler.
Place each of the chicken breast halves in between two pieces of plastic wrap and pound thin using a meat mallet or a rolling pin. Season both sides of chicken liberally with salt and pepper.
Combine the panko bread crumbs with dried basil, dried oregano, garlic powder, 1/2 teaspoon salt, and 1/4 teaspoon pepper on a plate or in a shallow bowl.
Set up the breading assembly line by lining up the flour on a plate, the egg whisked in a bowl, and the breadcrumb mixture. Coat one chicken breast in the flour, shaking off excess, coat in egg, and then coat in breadcrumbs on each side, pressing gently to stick the breadcrumbs all over. Repeat with remaining three chicken breasts and set aside.
Heat 1/4 cup olive oil in a nonstick skillet over medium to medium-high heat until hot but not smoking, about 5 minutes. Place two chicken breasts into the oil and cook, undisturbed, for three minutes. Use tongs to flip the chicken and cook another three minutes. Transfer to a paper-towel-lined plate or cooling rack to drain. Repeat with the other two chicken breasts, drizzling in another tablespoon of olive oil if necessary.
Place chicken on a baking sheet, and top each piece with a slice of fresh mozzarella cheese. Sprinkle one tablespoon Parmesan cheese over each. Place in broiler and broil for five minutes, until the cheese is melted and bubbly. Remove from the oven and check to make sure the internal temperature has reached 165°F.
Top each piece with one tablespoon warmed tomato sauce and chopped fresh parsley, if using. Serve hot, with more tomato sauce and Parmesan cheese if desired.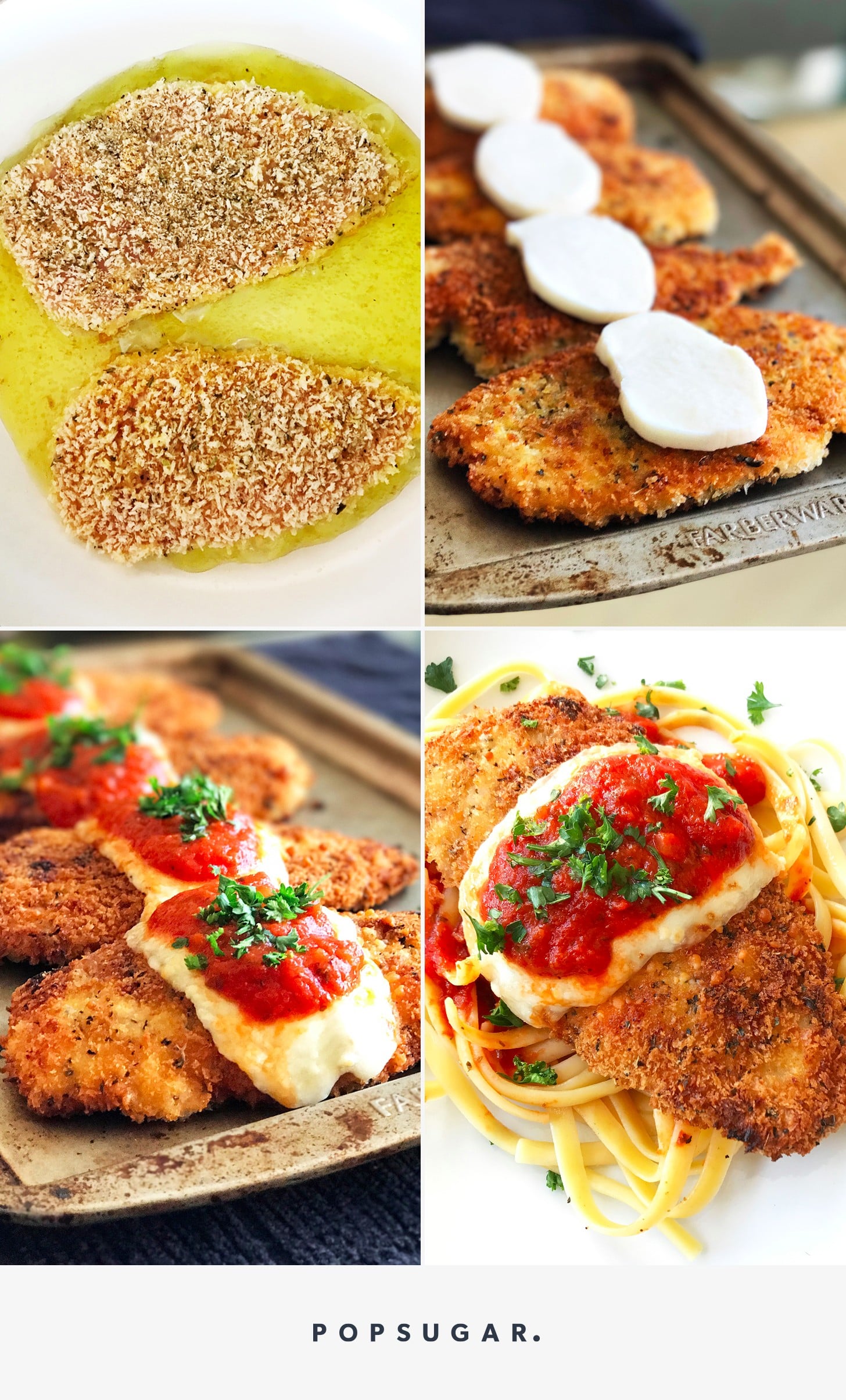 Information
Category

Main Dishes

Cuisine

Italian

Yield

4 servings
Image Source: POPSUGAR Photography / Erin Cullum