Easy Grilled Calamari Recipe
A Simple Grilled Calamari Recipe You (Yes, You!) Can Make at Home
As POPSUGAR editors, we independently select and write about stuff we love and think you'll like too. If you buy a product we have recommended, we may receive affiliate commission, which in turn supports our work.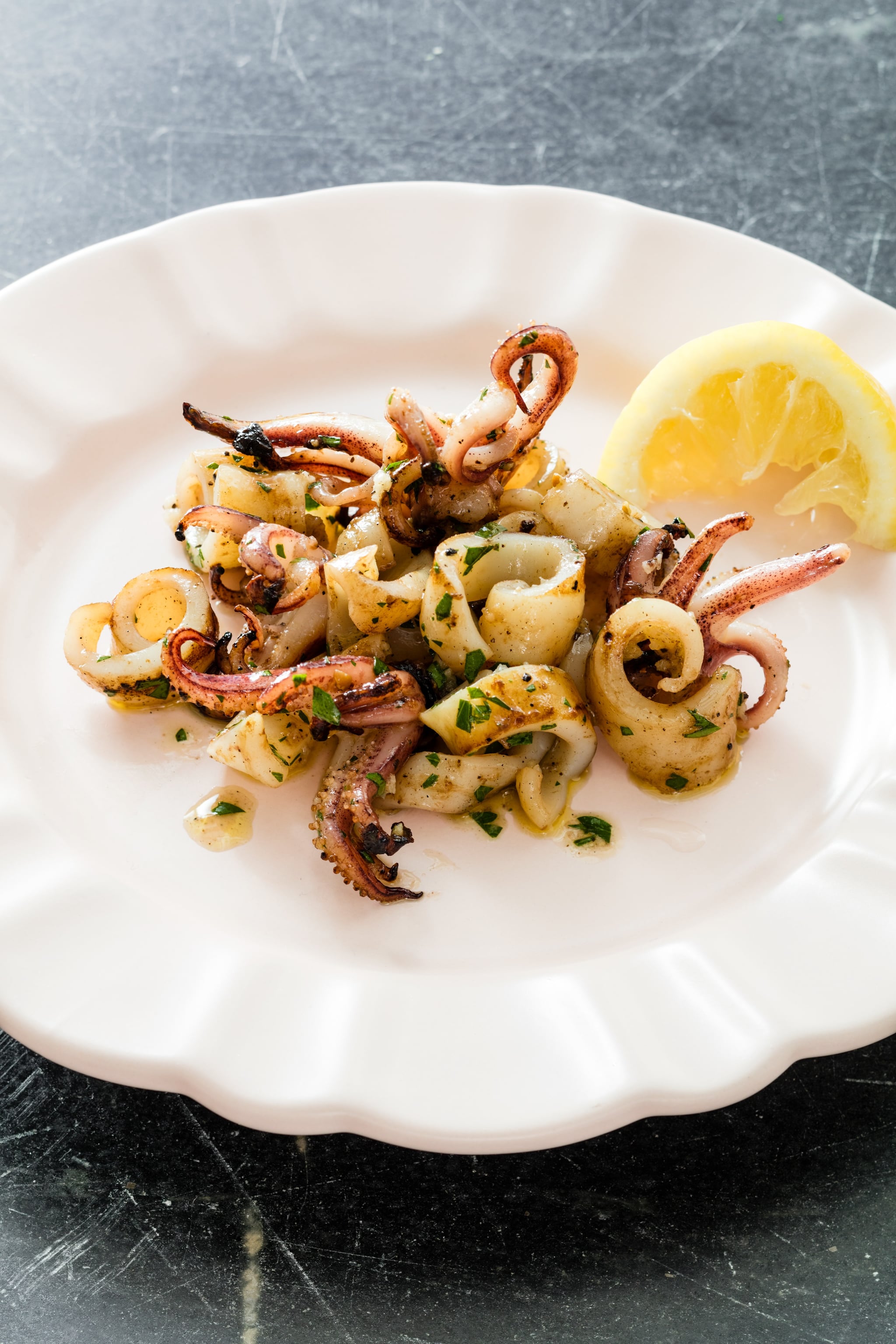 While most of us are familiar with eating calamari (aka battered and fried squid) in restaurants, cooking squid at home may seem downright daunting. That is, until you pick up a copy of The Complete Mediterranean Cookbook by America's Test Kitchen. The cookbook covers techniques for perfecting squid so it turns out beautifully tender and not gummy or overcooked. This particular recipe includes everything you need to know as a beginner, including how to prep the squid, using none other than kitchen shears! Though squid may sound unfamiliar enough, rest assured that it's tossed in very familiar ingredients: olive oil, lemon juice, parsley, and garlic season the protein.
Looking for more great America's Test Kitchen recipes? Sign up for a free trial of America's Test Kitchen's 2-week all-access membership. Membership includes recipes (tested by 60,000 at-home cooks!), unbiased equipment and ingredient ratings, innovative techniques, and how-to videos every month.
Notes
Why this recipe works: With the country's thousands of miles of coastline, it's no surprise that fresh seafood is a mainstay of Greek cuisine, an abundance of which is squid. We loved the idea of simple grilled squid tossed with a lemony vinaigrette. To promote maximum browning and even cooking, we found it best to slit the squid bodies lengthwise and then open them to create a single plank so these squid "steaks" would lie flat on the grill; skewering the tentacles prevented them from falling through the grates. Good charring can't occur if there's moisture in the squid, but if the squid is cooked for too long it becomes rubbery and tough. By quickly brining the squid in an alkaline solution of baking soda, salt, and water, we ensured that the proteins tenderized before hitting the grill. Then we layered the squid between dish towels to help dry any excess moisture, giving our ideal char marks a head start. A superhot grill setup helped us get tasty browning while our squid remained tender. Be sure to use small squid (with bodies 3 to 4 inches in length) because they cook more quickly and are more tender than larger squid. You will need 2 metal skewers for this recipe.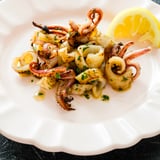 Ingredients
5 tablespoons extra virgin olive oil
1 tablespoon lemon juice, plus lemon wedges for serving
2 teaspoons minced fresh parsley
1 garlic clove, minced
Salt and pepper
1 pound small squid
2 tablespoons baking soda
Directions
Combine 3 tablespoons of the oil, the lemon juice, parsley, and garlic, and 1/4 teaspoon pepper in large bowl; set aside for serving.
Using kitchen shears, cut squid bodies lengthwise down one side. Open squid bodies and flatten into planks. Dissolve baking soda and 2 tablespoons salt in 3 cups cold water in large container. Submerge squid bodies and tentacles in brine, cover, and refrigerate for 15 minutes. Remove squid from brine and spread in even layer in rimmed baking sheet lined with clean kitchen towel. Place second clean kitchen towel on top of squid and press gently on towel to blot liquid. Let squid sit at room temperature, covered with towel, for 10 minutes.
Toss squid with remaining 2 tablespoons oil and season with pepper. Thread tentacles onto two 12-inch metal skewers.
For a charcoal grill: Open bottom vent completely. Light large chimney starter mounded with charcoal briquettes (7 quarts). When top coals are partially covered with ash, pour evenly over half of grill. Set cooking grate in place, cover, and open lid vent completely. Heat grill until hot, about 5 minutes.
For a gas grill: Turn all burners to high, cover, and heat grill until hot, about 15 minutes. Leave all burners on high.
Clean cooking grate, then repeatedly brush grate with well-oiled paper towels until black and glossy, 5 to 10 times. Place squid bodies and tentacles on grill (directly over coals if using charcoal), draping long tentacles over skewers to prevent them from falling through grates. Cook (covered if using gas) until squid is opaque and lightly charred, about 5 minutes, flipping halfway through cooking. Transfer bodies to plate and tent loosely with aluminum foil. Continue to grill tentacles until ends are browned and crisp, about 3 minutes; transfer to plate with bodies.
Using tongs, remove tentacles from skewers. Transfer bodies to cutting board and slice into 1/2-inch-thick strips. Add tentacles and bodies to bowl with oil mixture and toss to coat. Serve with lemon wedges.
Information
Category

Main Dishes

Cuisine

Greek

Yield

Serves 4
Image Source: Daniel J. Van Ackere / America's Test Kitchen