Giant Ghirardelli Chocolate Cupcake
Giant Ghirardelli Chocolate Cupcake
From Ghirardelli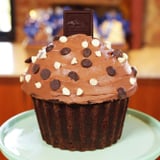 Ingredients
For the Cupcake:
2 boxes Ghirardelli Double Chocolate Brownie Mix
4 large eggs
2/3 cup vegetable oil
1 1/2 cups water
1/4 cup all-purpose flour
1/4 cup Unsweetened Ghirardelli Cocoa Powder
2 tsp. baking powder
For the Chocolate Whipped Cream:
1 bag of semisweet chocolate chips
2 1/2 cups heavy whipping cream
1/3 cup whole milk
Directions
For the Cupcakes:
Preheat oven to 350˚F. Grease your pan well.
Measure out the oil and water.
Add the oil, water, and eggs into the mixing bowl.
Measure out the flour, cocoa powder, and baking powder.
Add the brownie mix to the mixing bowl with the liquid ingredients.
Add the flour, cocoa powder, and baking powder to the mixing bowl.
Using a paddle attachment, mix the ingredients together until well mixed. Scrape with a spatula halfway through mixing.
Pour the batter into the top of the cupcake mold first until about 2 centimeters from the top.
Add the rest of the batter into the base of the cupcake mold.
Bake the cake for approximately 50-60 minutes.
For the Chocolate Whipped Cream:
Measure out the chocolate into a heat-resistant bowl.
In a small saucepan, bring the heavy whipping cream and whole milk to a boil.
Once the heavy cream and milk come to a boil, pour over the chocolate.
From the center of the bowl, begin whisking in a circular motion out toward the edges of the bowl.
Mix until the mixture is homogeneous and the chocolate has melted.
Pour into a container and leave overnight in the refrigerator.
The next day, pour the contents into a mixing bowl and whip until it reaches stiff peaks.
Assembly:
Once the cake is fully baked, removed the cake while it is still a little warm.
Allow the cake to cool completely.
Once the cake has cooled completely, cut off the top of the base so that it is completely flat.
Next, cut off the bottom of the top, to make the bottom completely flat.
Put a small amount of chocolate whipped cream on top of the base. Place the top onto the base, with the tip facing up.
Pipe the remaining whipped cream on top of the cupcake. Smooth out the edges if desired.
Decorate with 60% chocolate chips and white chips.
Information
Category

Desserts, Cupcakes

Cuisine

North American

Yield

1 cupcake

Total Time

59 minutes, 59 seconds