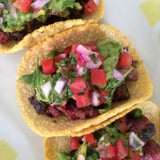 Ingredients
For the carne asada:
1/3 cup cumin seeds
6 jalapeño chilies, stemmed, cut in half, and seeded if desired
4 cloves garlic
2 teaspoons salt
2 tablespoons freshly ground black pepper
1/2 cup freshly squeezed lime juice
3 bunches cilantro
1 1/2 cups extra-virgin olive oil
3 pounds skirt steak, trimmed of excess fat
For the salsa fresca:
4 medium ripe tomatoes, cored, seeded, and finely diced
1/4 red onion, minced
2 jalapeño chilies, stemmed, seeded if desired, and minced
1 bunch cilantro, leaves only, chopped
2 tablespoons freshly squeezed lime juice
3/4 teaspoon salt
1 pinch of freshly ground black pepper
For the guacamole:
5 ripe California avocados, preferably Hass
6 tablespoons chopped cilantro
1 medium red onion, diced
4 jalapeño chilies, stemmed, seeded, and finely diced
3 tablespoons freshly squeezed lime juice
1 1/2 teaspoons salt
1/2 teaspoon freshly ground black pepper
16 4-inch corn tortillas, warmed
Directions
To make the carne asada:
Lightly toast the cumin seeds in a dry medium skillet over low heat just until the aroma is released, about 5 minutes. Transfer the seeds to a blender. Add the jalapeños, garlic, salt, pepper, and lime juice, and puree until the cumin seeds are finely ground. Add the cilantro and olive oil, and puree until smooth.
Cut the steak into 6 equal-sized pieces. Using your hands, generously cover the meat all over with marinade, and roll each piece up into a cylinder. Arrange the rolled steaks in a shallow pan, and pour on the remaining marinade. Cover, and marinate in the refrigerator for 12 to 24 hours.
About 30 minutes before cooking, remove the meat from the refrigerator. Unroll the steaks and place them on a platter. Heat the grill or broiler to very hot.
Cook the steaks just until seared on both sides, 3 to 4 minutes per side for medium rare. (Or panfry in a hot cast-iron skillet lightly coated with oil.) Transfer the cooked steaks to a cutting board and let them rest for 3 to 5 minutes. Then slice across the grain into diagonal strips, and then dice. (Tough yet flavorful steaks like this should always be cut across the grain, so that no one bite will contain too much muscle.) Serve immediately on corn tortillas, topped with salsa fresca, and guacamole.
To make the salsa fresca:
Combine all of the ingredients in a mixing bowl. Stir, and toss well, and serve. Store in a covered container in the refrigerator no more than 1 day.
To make the guacamole:
Cut the avocados into quarters. Remove the seeds, peel, and place in a mixing bowl. Mash with a potato masher or fork until chunky. Add the remaining ingredients, and combine with a fork. Serve immediately.
Information
Category

Main Dishes, Beef

Cuisine

Mexican

Yield

16 tacos