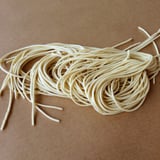 Ingredients
1 cup hot water
2 tablespoons kansui
1 teaspoon salt
3 1/2 cups 00 flour or unbleached all-purpose flour
Potato starch
Directions
Stir together the hot water, kansui, and salt in a medium bowl until dissolved.
Put the flour into a food processor fitted with the dough blade; pulse a few times. With the machine running, drizzle in about 3/4 cup of the kansui mixture toward the edge of the food processor. Stop to squeeze the dough and incorporate any clumps of dry flour. Continue mixing in the water 1 teaspoon at a time just until the dough forms small, distinct balls that, when squeezed, meld into a smooth mass. Knead by machine for 3 minutes, then finish kneading by hand for 2 minutes.
Shape the dough into a smooth square, wrap in plastic, and let rest for at least 1 hour or refrigerate for up to 1 day. Remove from fridge, and allow to come to room temperature before rolling out.
Cut the dough into four even pieces with a knife. Using a pasta machine, pass each piece through the rollers, starting with setting 1 and working through to setting 5. Coat the dough sheets well with potato starch to prevent sticking, and then pass noodles through the thin-width cutters. Dredge the noodles evenly with more potato starch.
Cook immediately for 1 minute in a large stockpot filled with boiling salted water, or wrap well and refrigerate for up to 3 days.
Information
Category

Pasta, Main Dishes

Cuisine

Japanese

Yield

24 ounces uncooked noodles, or 6 servings