Homemade Sauerkraut
First-Time Fermenter? Try This Easy Sauerkraut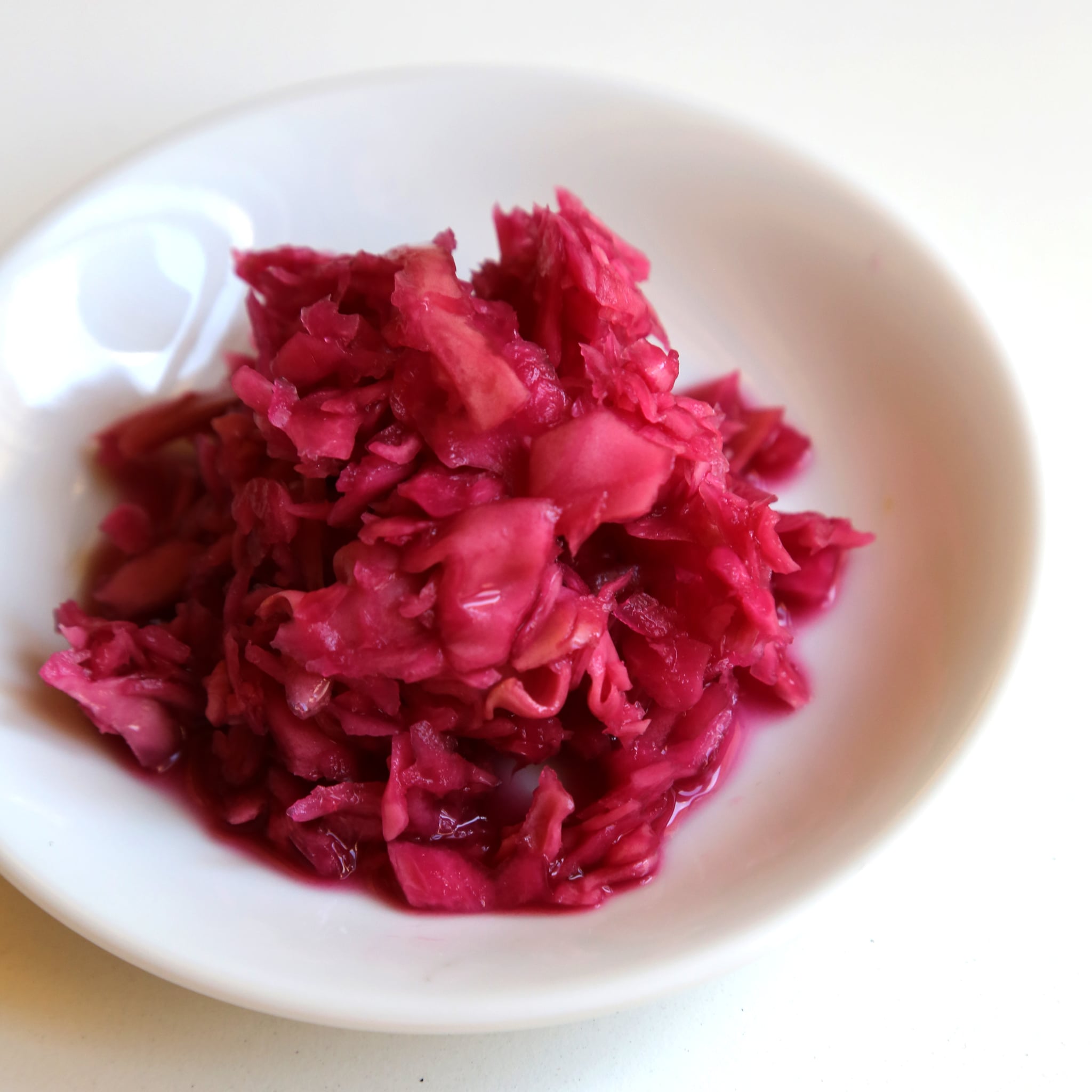 I may be a whiz in the kitchen, but a green thumb I am not: a few weeks ago, I managed to kill a succulent over the course of a weekend (I thought those things were bulletproof!). This Summer, I bought a few houseplants; the twiggy remains now lay sadly outside my window. And remember the great wall of mushroom? So when it came to fermentation, I thought there was no chance I could successfully and safely ferment food — until now.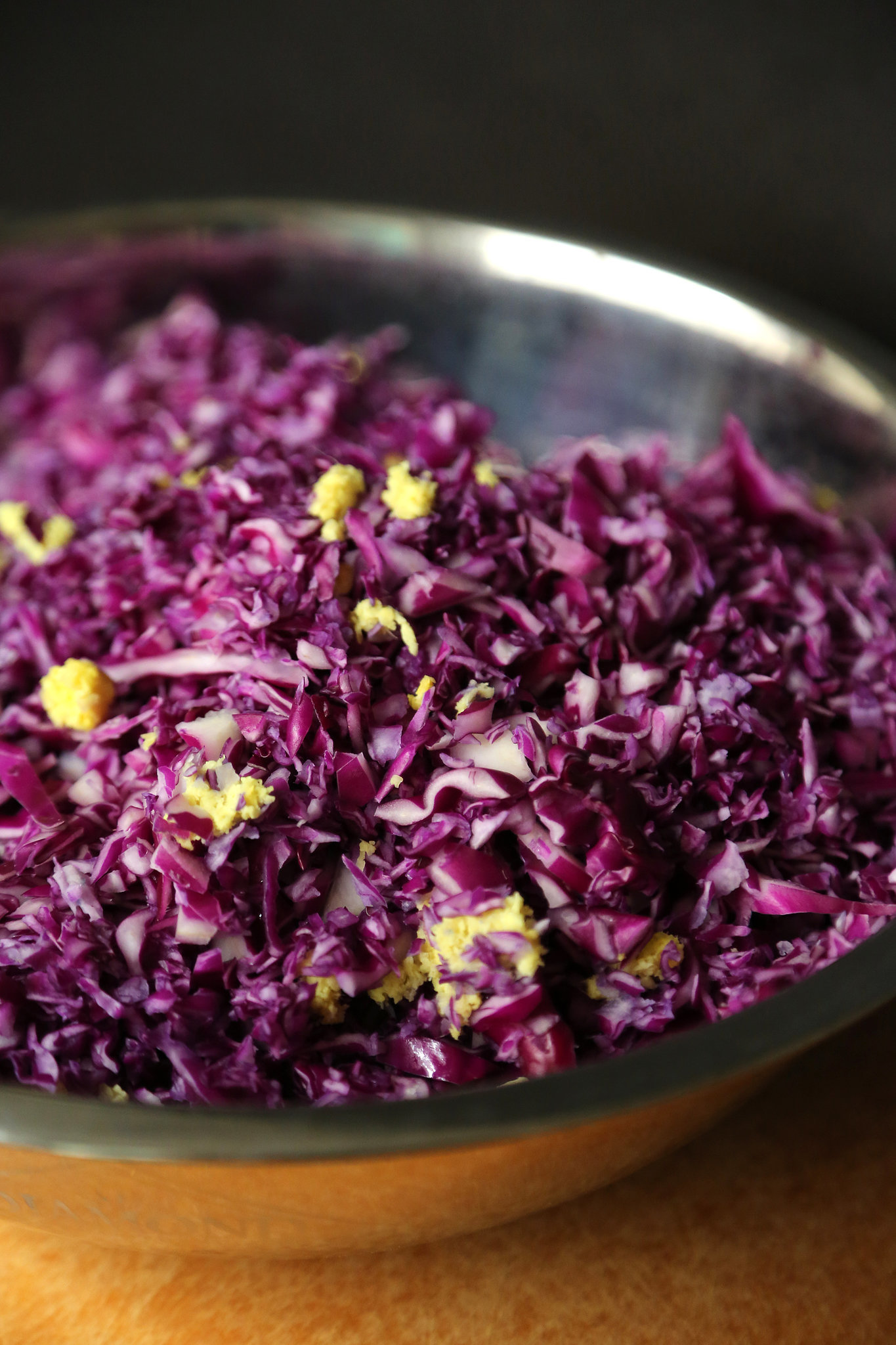 For years, I've eyeballed Kimberly Snyder's recipe for a "probiotic and enzyme salad," aka homemade sauerkraut. I figured that if I attempted it, I would just end up fermenting myself to death à la botulism. The written recipe seemed easy — almost suspiciously easy. Were there left out details that would aid in my demise? But my complete and utter craving for fermented kraut and resistance to spending $10 a jar for the stuff in grocery stores inspired me to roll up my sleeves, sterilize my jars, and do this thing anyway.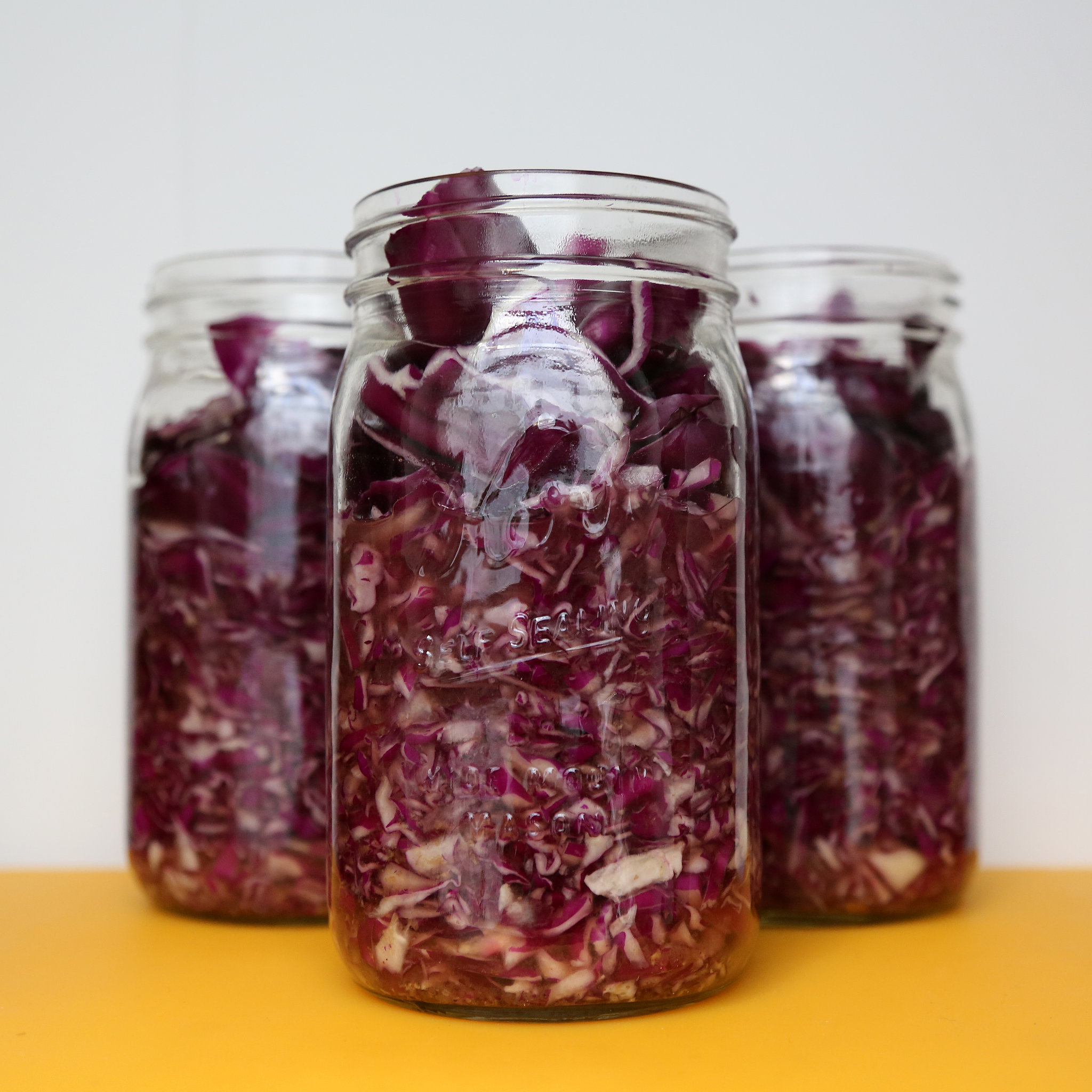 Before you begin, read, reread, and triple read the recipe and follow each step, including the jars used. The first time I made this, I didn't follow the directions and filled the sauerkraut in whatever glass jars were lying around my house. The repurposed honey jars that I used leaked, and the end product tasted funk-mented, not sauerkraut-y.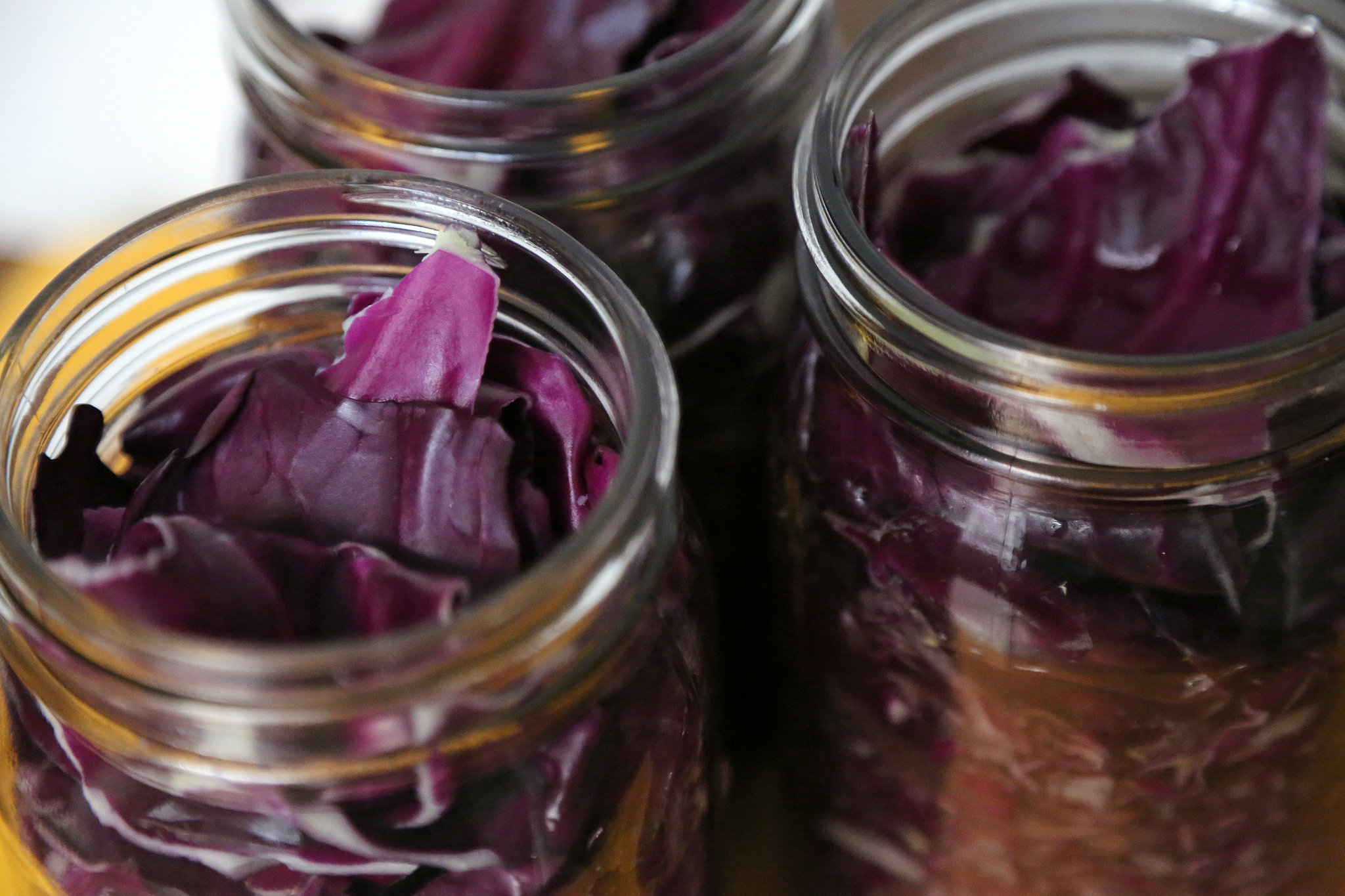 But the cabbage that fermented in Mason jars (with proper lids) turned out fine. After fermentation, I seasoned the kraut with a hefty pinch of salt to bring out its awesome cruciferous flavor. Simply sprinkle a generous amount on top of the sauerkraut, screw on the cap, shake to let the salt dissolve, and then unscrew and keep seasoning and tasting until it's right.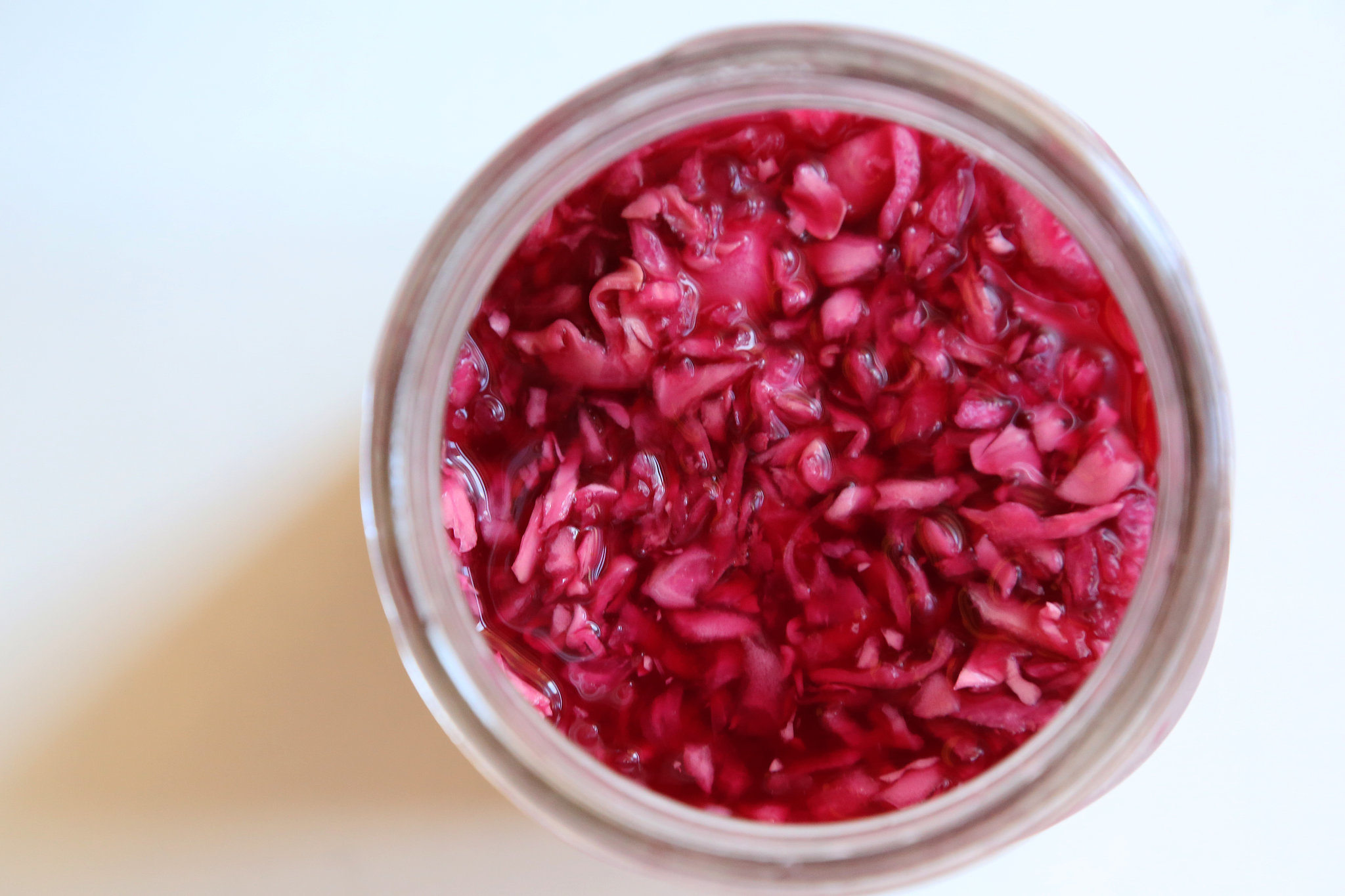 Once the sauerkraut is finished fermenting, it's a vibrant pink. Try sauerkraut with eggs in the morning, on sandwiches or salads for lunch, and as a side condiment in any Asian fare. Once you've finished the jar, don't toss the liquid! Drink it plain (if you're into pickle juice) or use it as the vinegar in salad dressings.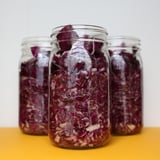 Ingredients
4 (24-ounce) or 3 (32-ounce) glass canning jars with metal seals and lids
1 medium head red cabbage
4 inches fresh ginger, peeled and grated
1 tablespoon unpasteurized miso paste
Salt, to taste
Directions
To sterilize jars: Wash jars, metal seals, and lids in soapy water, then rinse. In a deep stock pot or pressure cooker, cover the jars with enough water so they are completely covered. Bring to a boil, and sanitize for 10 minutes. Turn off heat and remove jars, seals, and lids. Allow everything to cool while preparing the salad.
To prep sauerkraut: Remove six outer leaves from the cabbage and set aside, intact. With the remaining cabbage, shred in a food processor or on a box shredder. In a large mixing bowl, combine shredded cabbage and ginger.
In a blender, blend 4 cups of water with miso paste until smooth. Stir into bowl with shredded cabbage until well mixed. Divide cabbage and liquids between the cooled, sterilized glass jars. Use a wooden spoon to tightly pack in the cabbage. Leave at least 2 inches of room at the top of each jar (it will expand as it ferments). Tightly roll up the outer cabbage leaves and place them inside the jars to fill the 2-inch spaces. Wipe the outer neck of the jars clean with hot water to clean up any spillage. Screw lids tightly onto jars.
To ferment: Place jars in a cool, dark spot in the pantry for 5 days. The room temperature should be 65ºF to 70ºF. If it is slightly colder, wrap a towel around each jar. Bubbling in the jars is a sign that the jars are fermenting properly. After 5 days, remove the outer cabbage leaves and discard. Transfer the jars to the refrigerator (to slow down the fermentation process). Once cool, unscrew the lids, salt each jar to taste, and enjoy. Once the seal has been broken on each jar, the salad will keep refrigerated for up to 1 month.
Information
Category

Vegetables, Side Dishes

Cuisine

North American

Yield

About 12 cups