Kale and Onion Egg Muffins
Grab-and-Go Egg Muffins Make Breakfast a Breeze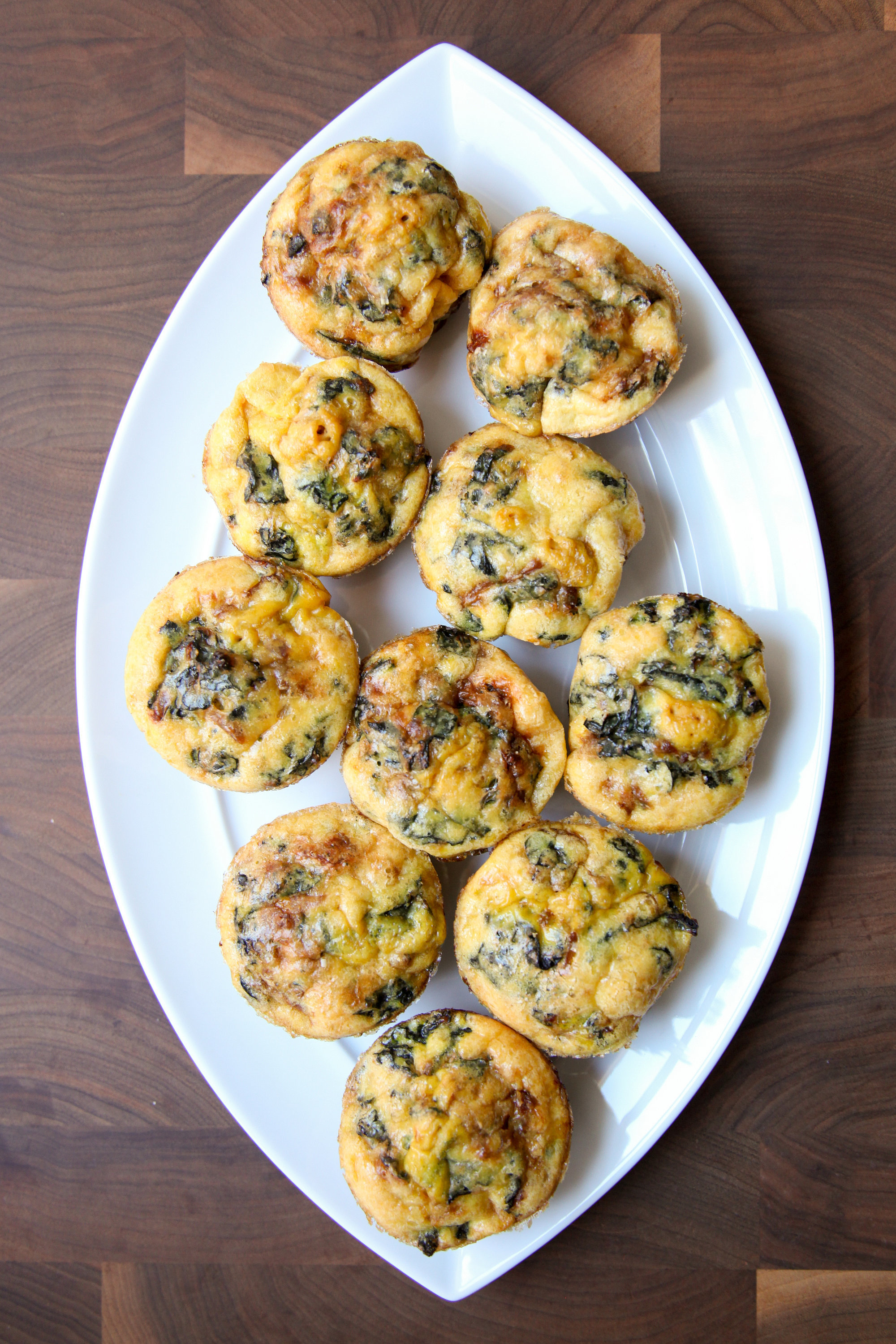 Few breakfasts are quite as satiating and satisfying as eggs, but during the week it can be challenging to carve out enough time to poach a couple to runny-yolked perfection or whip up a veggie-packed scramble. Those sorts of mornings call for something of the grab-and-go variety, like these umami-rich kale, caramelized onion, and gouda mini frittatas (aka egg muffins).
This combination of slightly bitter kale, deep-dark caramelized onions, and nutty cheese adds a big dose of flavor to the eggy frittata base. Yes, caramelizing onions takes time — don't believe any recipe that claims they'll be done in 20 minutes — but it's a mostly unattended process that can be accomplished while puttering around the kitchen doing other things, and their umami-bomb qualities are well worth it. Aside from the onions, it's a relatively speedy recipe, and, since the muffins reheat so well and can even be frozen, they're a great candidate for weekend meal prep.
When your fridge (or freezer) is stocked with a batch of these, breakfast is as simple as tucking two into a resealable plastic bag, tossing that in your work bag, and reheating them in the office. Compared to a bowl of cereal, it's a no-brainer choice.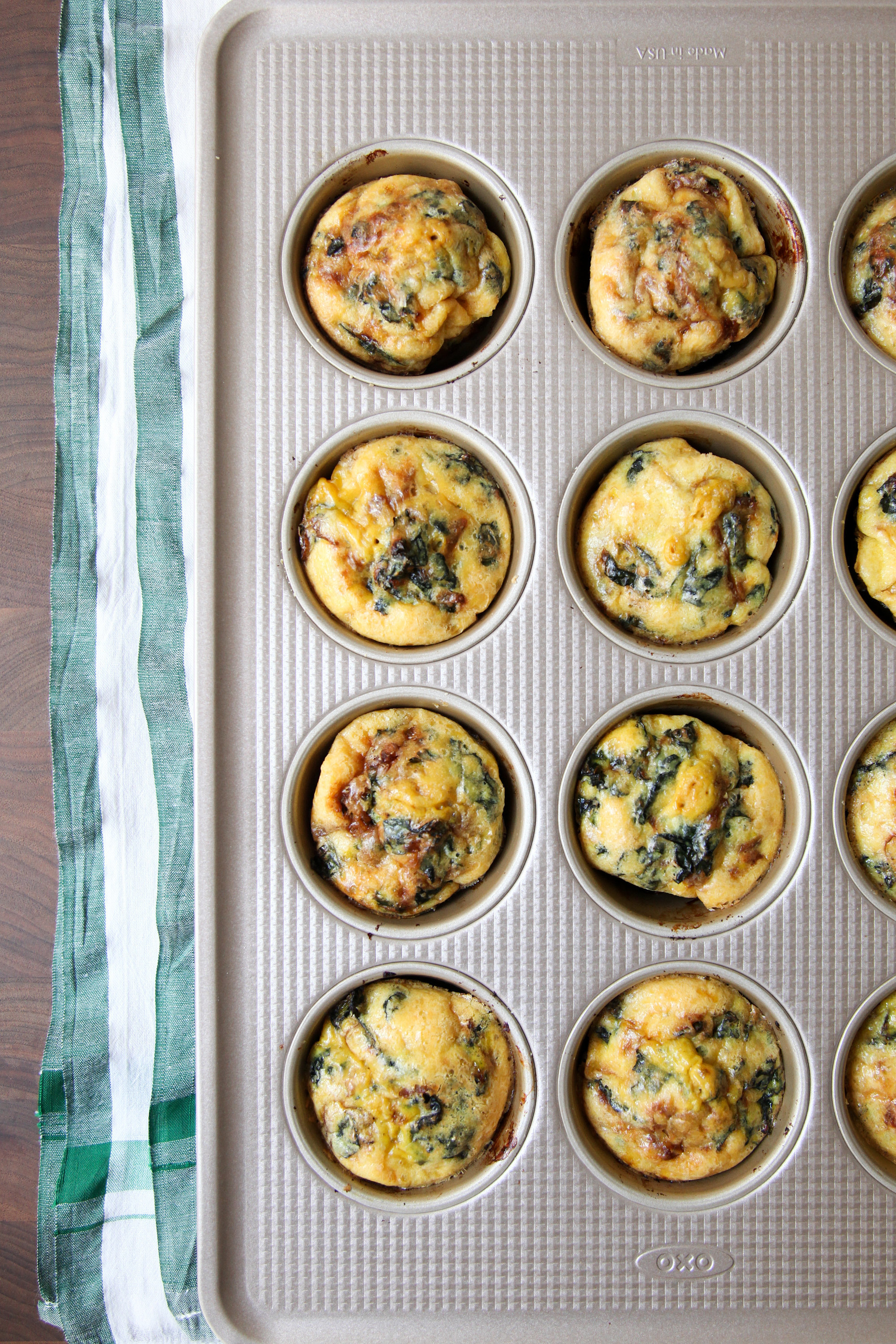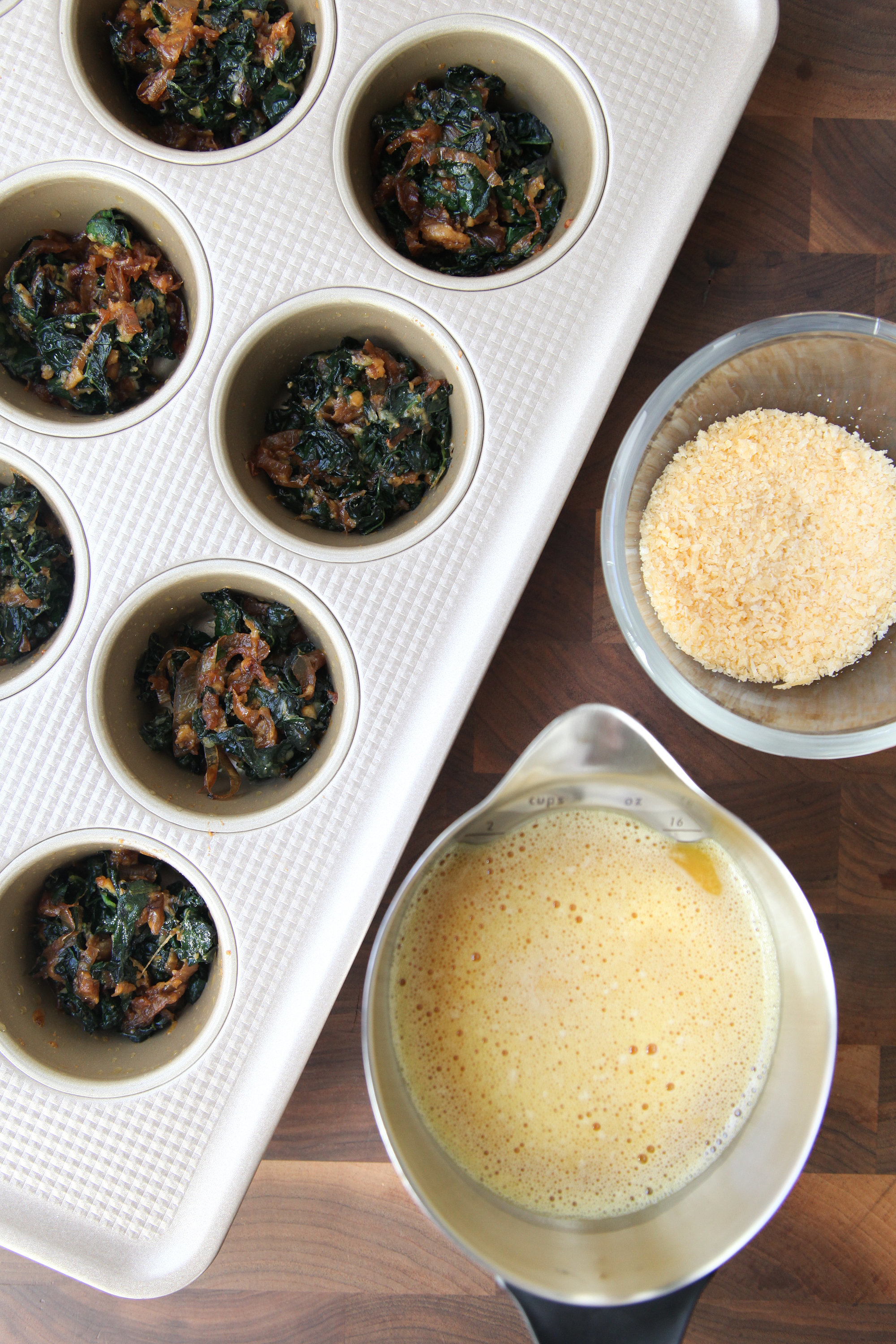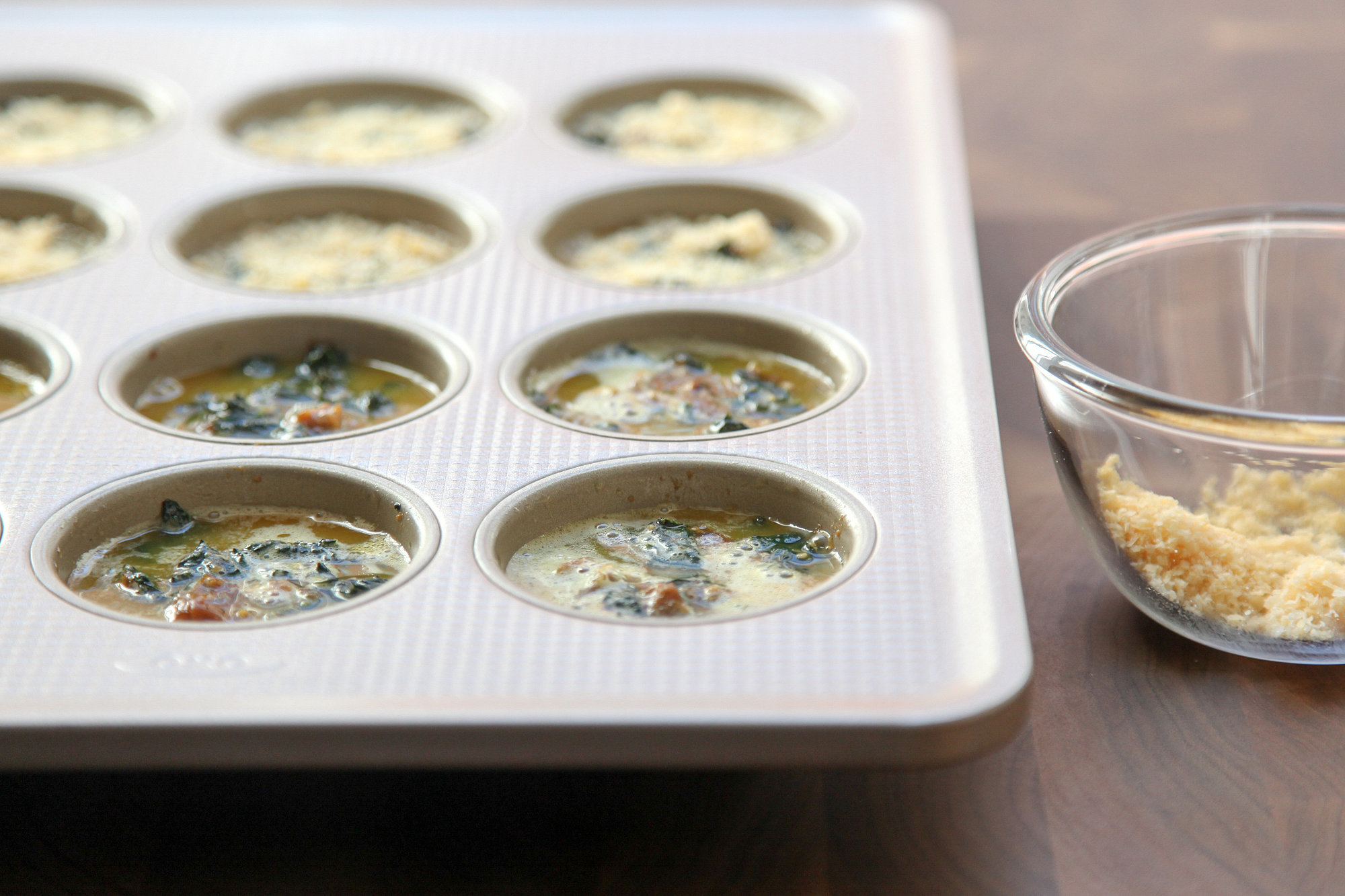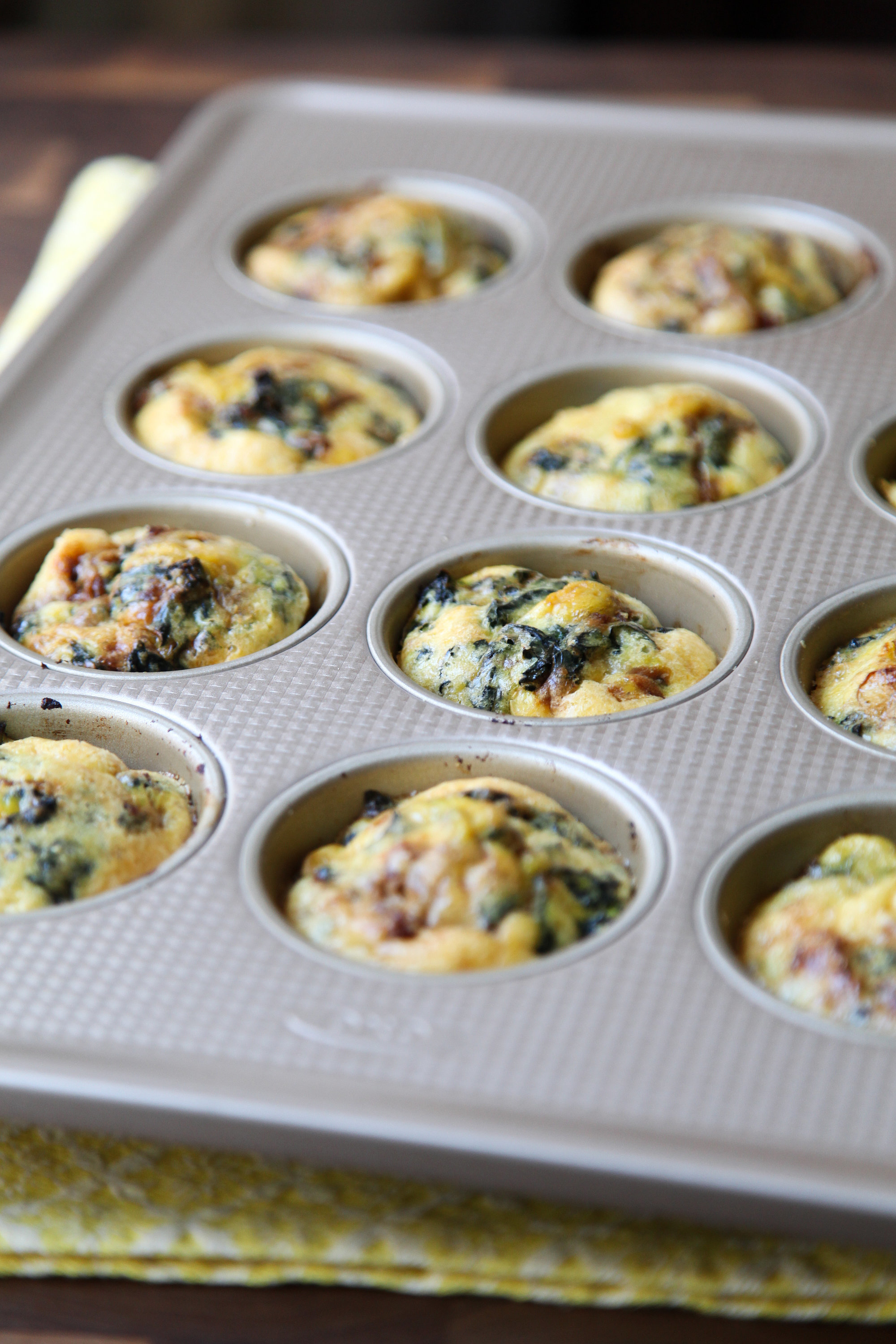 Kale, Caramelized Onion, and Gouda Egg Muffins
From Nicole Perry, POPSUGAR Food
Notes
If you have already-caramelized onions, substitute a heaping 1/2 cup. Once cooled, store the muffins in an airtight container; they can be refrigerated for up to a week, or frozen for up to a month. Reheat for a few minutes in a 350ºF oven or toaster oven until warmed through (if frozen, thaw overnight in the fridge before reheating).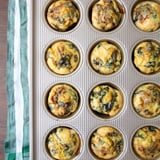 Ingredients
1 tablespoon plus 1 teaspoon extra-virgin olive oil, divided, plus more for greasing the muffin tin
2 medium yellow onions, thinly sliced into half-moons
Kosher salt
1/2 teaspoon balsamic vinegar
1 large bunch lacinato kale, stemmed and cut into 1/2-inch-wide ribbons
1 cup grated aged gouda, divided
8 large eggs
Directions
Preheat the oven to 375°F. Grease a 12-cup standard muffin tin with olive oil.
In a large skillet, heat 1 teaspoon olive oil over medium-high until just shimmering. Add the onions and 1/2 a teaspoon salt, stirring to evenly coat the onions with oil. Keep cooking, stirring the onions occasionally and adjusting the heat (if necessary) to accommodate slow, even browning. As the onions cook, scrape up any brown bits that begin to form on the bottom of the skillet. (Add a splash of water to deglaze, from time to time.) Keep cooking until the onions are slumped, have dramatically shrunk in volume, and are deep-caramel brown. Season with about 1/2 teaspoon balsamic vinegar, and transfer to a medium mixing bowl.
Wipe out the skillet, and heat the remaining 1 tablespoon olive oil over medium-high heat until shimmering, but not smoking. Add the kale, a generous pinch of salt, and cook, stirring occasionally, until bright green and somewhat wilted, 2-3 minutes. Add the kale to the caramelized onions. Cool for 10 minutes, then add 3/4 cup gouda, tossing everything together with tongs to evenly distribute the filling ingredients.
Divide the caramelized onions, kale, and cheese between the muffin tin wells.
Whisk together the eggs and 1/2 teaspoon salt in a measuring cup, until no streaks of yolk remain. Carefully pour the egg mixture into the muffin tin wells, filling each well about 3/4 full. Sprinkle the remaining 1/4 cup gouda on top of the muffins.
Bake for 18-22 minutes, rotating halfway through, or until puffy, cooked through, and golden on top.
Cool for 2-3 minutes, then remove from the muffin tin (run a butter knife around the muffin if it's stubborn). Serve hot or at room temperature.

Information
Category

Eggs, Breakfast/Brunch

Cuisine

North American

Yield

12 egg muffins; about 6 servings
Image Source: POPSUGAR Photography / Nicole Perry