Chrissy Teigen's Cacio e Pepe Recipe
This Cacio e Pepe Recipe Is Hiding in Chrissy Teigen's First Cookbook, and It's Seriously Good
As POPSUGAR editors, we independently select and write about stuff we love and think you'll like too. If you buy a product we have recommended, we may receive affiliate commission, which in turn supports our work.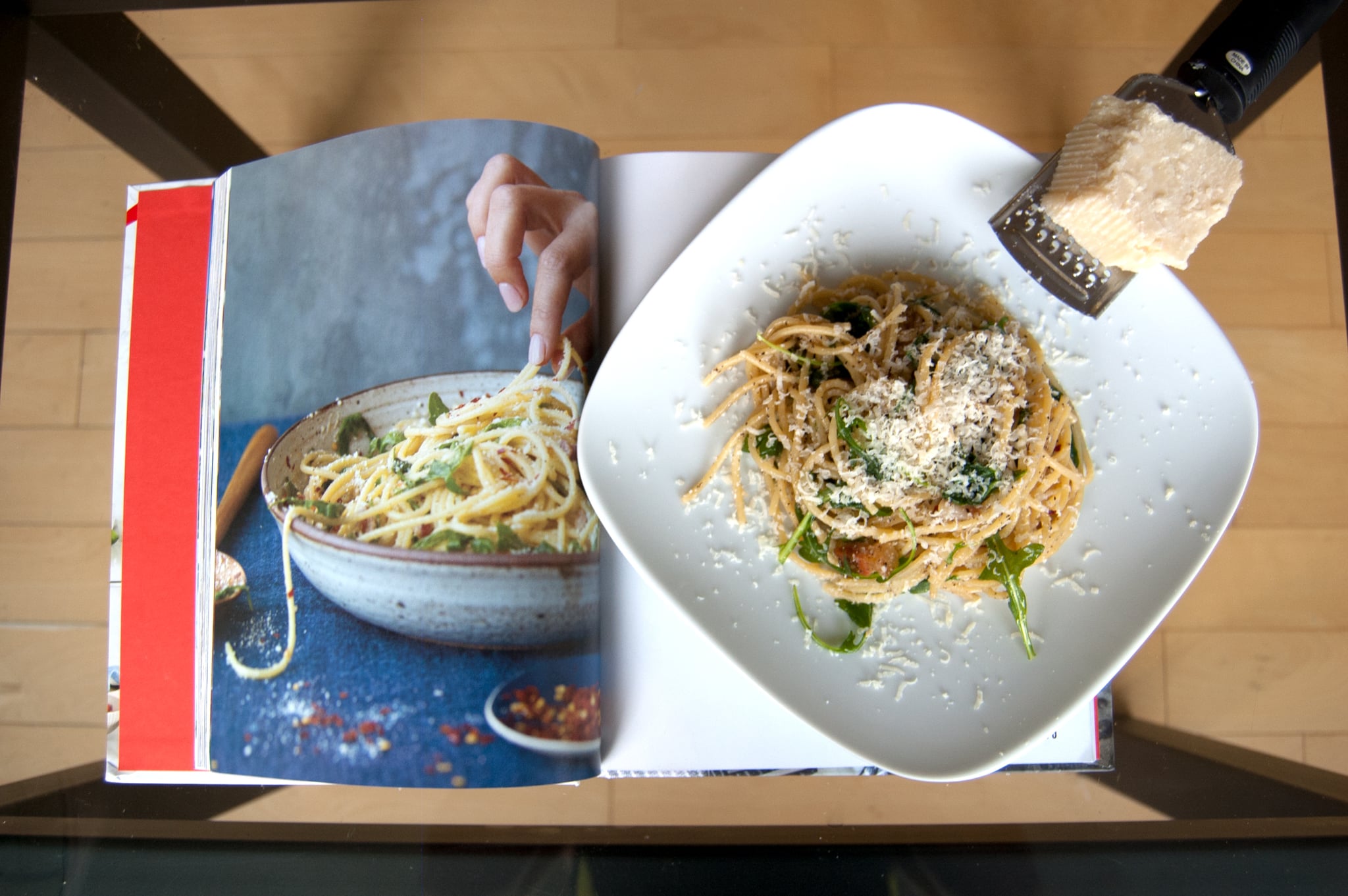 This Lemony Arugula Spaghetti Cacio e Pepe is one of the most popular recipes from Chrissy Teigen's first cookbook, "Cravings" ($16), and it's easy to understand why.
Traditional cacio e pepe, which hails from Rome and literally translates to "cheese and pepper," is typically made with just four simple ingredients: pasta, butter, pepper, and cheese. The classic isn't wanting for anything, but if you'd like to add even more complex flavor, Teigen's cacio e pepe recipe gives it a slight twist. It's like a combination of spaghetti aglio e olio (spaghetti with garlic and olive oil) and cacio e pepe . . . plus pancetta, because pancetta makes everything better.
Teigen has said on Instagram that this recipe is one of her "top five in the book," and I'm not kidding when I say it's going to become one of my top pasta recipes — and pasta is my favorite food in the world. The crispy pancetta adds salty goodness, the heavy amount of black pepper and red pepper flakes makes it spicy, and the lemony-cheesy-garlicky sauce is light and indulgent at the same time.
Drooling yet? Check out the easy spaghetti cacio e pepe recipe from "Cravings" below.
— Additional reporting by Haley Lyndes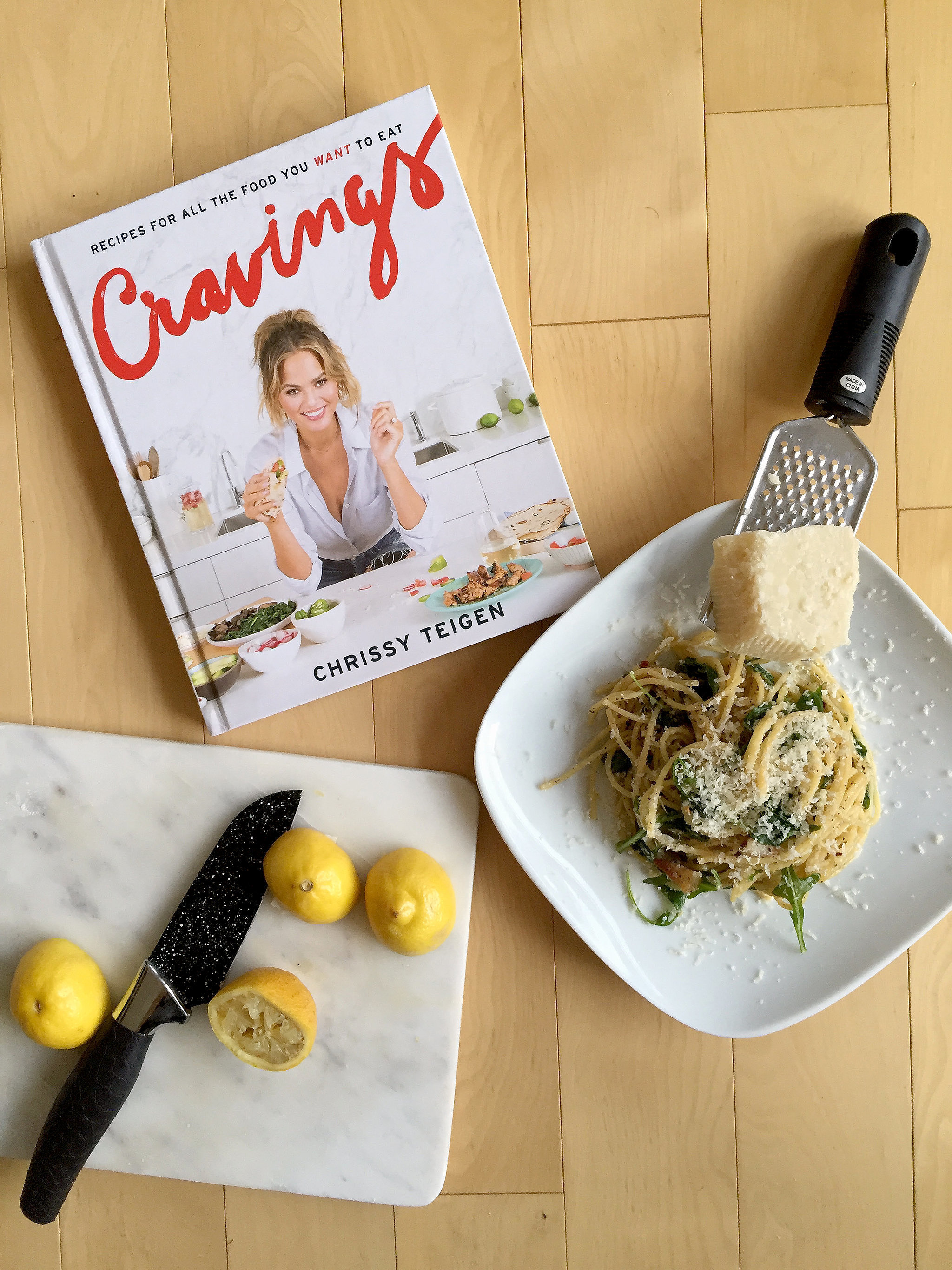 Lemony Arugula Spaghetti Cacio e Pepe
From Cravings by Chrissy Teigen
Notes
Some say love conquers all, but I say cacio e pepe does. It's true, John and I fell for each other and got married in Lake Como, Italy, but it's also where I became a slave to this pasta dish, which is super peppery and cheesy and is basically the boss of me whenever I make it. At first I was a little worried: Since I first tasted it when I was all gooey-romancey in Italia, would it weather the trip home? DID I HAVE PASTA GOGGLES ON? Thankfully, I adore it as much now as I did then — even more, actually.
Which is a good thing to be able to say about pasta recipes as well as husbands.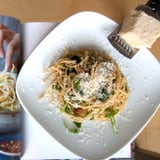 Ingredients
Kosher salt
12 ounces dried spaghetti
1/4 pound (about 3/4 cup) pancetta or bacon, finely diced
1/4 cup extra-virgin olive oil
3 tablespoons (about 4 big cloves) minced garlic
1 teaspoon red pepper flakes, plus more to taste
2 teaspoons freshly ground black pepper, plus more to taste
1/4 cup fresh lemon juice
1 1/2 cups freshly grated Parmigiano-Reggiano cheese, plus more for serving
3 cups baby arugula
Directions
In a large pot of heavily salted boiling water, cook the spaghetti to al dente according to the package directions. Reserve 1 cup of the pasta water (it comes in handy), then drain the pasta.
Meanwhile, in a large skillet, cook the pancetta over medium-high heat until crisped, 7 to 9 minutes. Add the olive oil, then add the garlic, red pepper flakes, and black pepper and cook until fragrant, about 1 minute.
Add the lemon juice to the skillet, then toss in the drained pasta and toss to coat. Add the Parm and toss, adding the pasta water, a couple of tablespoons at a time, just to help the cheese coat the pasta. Add the arugula and toss until it wilts, about 1 minute. Season to taste with additional salt, lots of black pepper, and red pepper flakes. Serve with more Parm.
Reprinted from Cravings: Recipes For All the Food You Want to Eat. Copyright © 2016 by Chrissy Teigen. Published by Clarkson Potter/Publishers, an imprint of Penguin Random House LLC.
Information
Category

Pasta, Main Dishes

Cuisine

North American

Yield

Serves 4

Total Time

24 minutes, 59 seconds
Image Source: POPSUGAR Photography / Erin Cullum