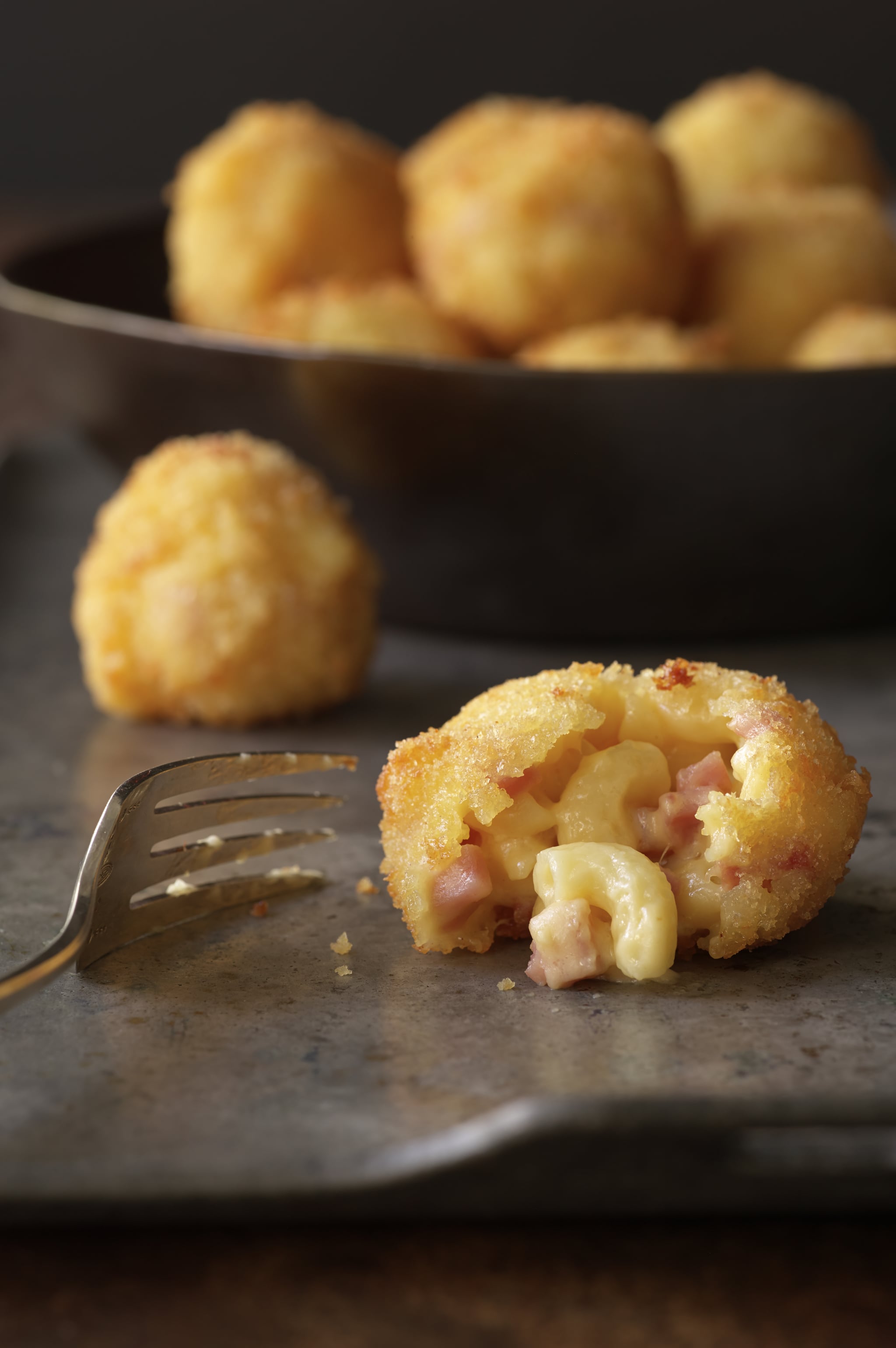 There's no denying a big bowl of bubbling macaroni and cheese is what every dreary afternoon calls for, but take that basic recipe and give it a bit of a spin with these mac 'n' cheese bites that are pretty much comfort-food overload. Each bite has a buttery crunch followed by ridiculously ooey-gooey goodness.
Notes
These delicious bites can be wrapped and frozen for up to 1 month.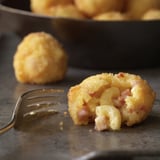 Ingredients
Vegetable oil spray
1 tablespoon plus 2 teaspoons kosher salt
8 ounces elbow macaroni
1 tablespoon unsalted butter
1 tablespoon plus 1/2 cup all-purpose flour
1 cup whole milk, warmed, plus 2 tablespoons
1 cup (4 ounces) shredded chipotle Gouda
2 1/2 cups (10 ounces) shredded yellow sharp cheddar
3/4 cup sour cream
6 ounces cooked ham, cut into small dice
1 cup (4 ounces) shredded Italian Fontina
1/2 teaspoon freshly ground black pepper
1/2 teaspoon white pepper
3 large eggs
1 1/2 cups panko breadcrumbs
Canola oil, for frying
Directions
Spray a 9-by-13-inch baking dish with vegetable oil spray.
Bring a large pot of water to a boil. Add 1 tablespoon of the salt and the macaroni, and cook until tender but still al dente. Drain the macaroni in a colander.
Make a roux by melting the butter in a large saucepan over medium heat. Whisk in 1 tablespoon of the flour, and cook, whisking constantly, for 2 minutes. Whisk in the warm milk and continue stirring until the sauce thickens slightly. Add the gouda and 1 cup of the cheddar and stir until melted.
Pour the cooked macaroni, cheese sauce, sour cream, ham, 1 1/2 cups cheddar, the fontina, 1 teaspoon salt, and the white pepper into a large bowl, and mix well. Taste for seasoning. Pour the macaroni and cheese into the prepared dish. Cover with plastic wrap, press down, and refrigerate for at least 2 to 3 hours or overnight, until the macaroni is chilled, firm, and set.
Mix the remaining 1/2 cup flour, 1 teaspoon salt, and black pepper together in a shallow bowl. In another shallow bowl, whisk the eggs and the remaining 2 tablespoons milk together. Put the breadcrumbs in a third shallow bowl. Remove the chilled macaroni and cheese from the refrigerator and slice into 36 pieces. Roll each piece into a 1- to 1-1/2-inch ball, about the size of a golf ball.
Dredge each ball in the flour mixture, dip into the beaten egg mixture, and then dredge in the breadcrumbs, making sure to coat completely during each step. Refrigerate the bites while heating the canola oil for deep-frying.
Heat the oil in a deep fryer to 350°F. Or, clip a deep-frying thermometer to the side of a heavy, deep pot. Add 2 inches of oil and heat on medium-high heat until the temperature reads 350°F. Using a slotted spoon, add 8 to 10 balls to the hot oil and fry until golden brown, about 3 minutes, turning them halfway through cooking. (Cook the bites in batches, or the oil won't stay hot and they will be soggy rather than crisp.) Using a slotted spoon, remove the fried bites and place them on paper towels. Fry the remaining bites. Serve immediately.
Information
Category

Pasta/Noodle, Side Dishes

Cuisine

North American

Yield

36 bites