Marinated Eggplant With Tahini
Don't Let Summer Pass Without Trying This Side Dish
Like many, I gobbled up Yotam Ottolenghi and Sami Tamimi's cookbooks Plenty and Jerusalem. Plenty's spicy mango and cabbage slaw is a particular favorite of mine . . . So as soon as I heard that the duo would be releasing a US edition of Ottolenghi (their first cookbook), I preordered a copy. Fast-forward to over a year later when a mysterious package arrived on my desk. Inside was the best sort of surprise: the long-awaited, much-pined-over volume. I tabbed page after page (think sumac- and za'atar-crusted roast chicken and a salad of peaches paired with speck and orange water), but I kept flipping back to this tahini-drizzled eggplant recipe.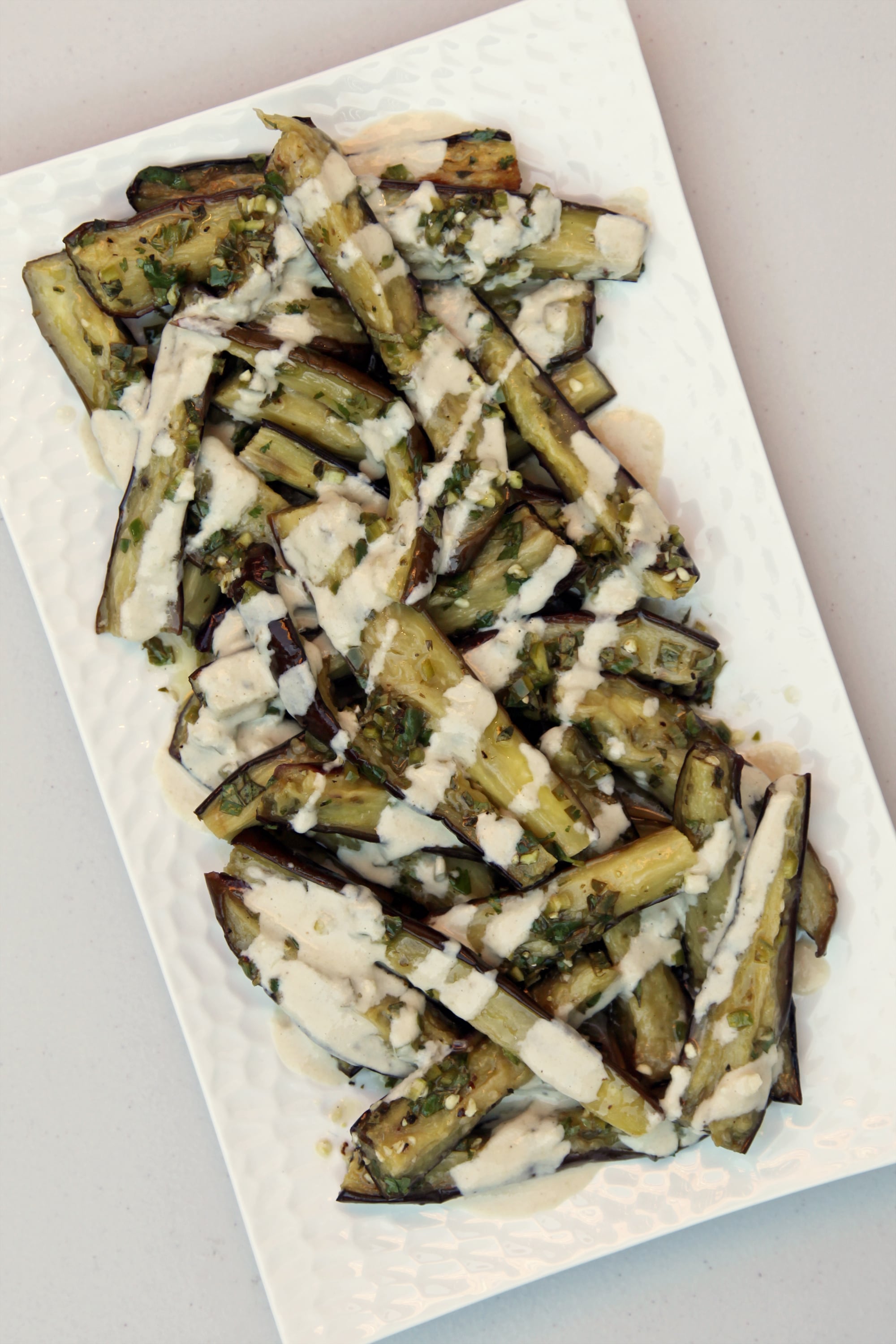 Lush, tender, and brightly flavored, this eggplant side is a perfect introduction to the cookbook and the style of recipes housed within. In less than 24 hours, I devoured the entire platter — with no help from others needed. Try it out for yourself and you'll understand why.
Notes
This dish is as good, if not better, the second day.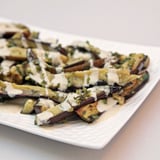 Ingredients
3 medium Japanese eggplants
Extra-virgin olive oil
Kosher salt
Freshly cracked black pepper
1 jalapeño, finely chopped
2 tablespoons finely chopped cilantro
2 tablespoons finely chopped oregano
1/2 cup freshly squeezed lemon juice, divided
3 cloves garlic, divided
2/3 cup tahini
Directions
Preheat the oven to 425°F. Trim the stalk end off the eggplants, then cut each eggplant in half widthwise. Cut the fat lower pieces lengthwise in half and then cut each half into 3 wedges. Do the same with the thinner pieces, but cut each half into 2 wedges. You should end up 30 similar-size pieces with skin on their curved side.
Place the eggplant pieces on a large baking sheet. Brush on all sides with plenty of olive oil and season generously with salt and pepper. Roast the eggplant for 15 to 18 minutes, until they are golden brown and totally soft inside.
Meanwhile make the marinade by whisking together the jalapeño, herbs, 3 tablespoons lemon juice, 4 tablespoons olive oil, 1 teaspoon salt, and 1/4 teaspoon black pepper in a medium mixing bowl until smooth. Add a crushed garlic clove.
As soon as the eggplants come out of the oven, add them to the marinade, gently tossing to coat completely. Leave them to marinade at room temperature for at least 2 hours before serving. You can store them in the fridge for up to 2 days at this stage, but make sure you don't serve the eggplant cold; if refrigerating take them out of the fridge for at least 1 hour before serving.
While the eggplant marinades, make the tahini sauce by whisking together the tahini, 2/3 cup water, 5 tablespoons lemon juice, 2 minced garlic cloves, and 1/2 teaspoon salt until smooth.
To serve, arrange the eggplant wedges on a plate then drizzle with the tahini sauce.
Information
Category

Vegetables, Side Dishes

Cuisine

Mediterranean/Middle Eastern

Yield

Serves 6 as a starter
Image Source: POPSUGAR Photography / Nicole Perry