Middle Eastern Cauliflower Couscous Recipe
Cauliflower Couscous Will Become Your Go-To Summer "Grain"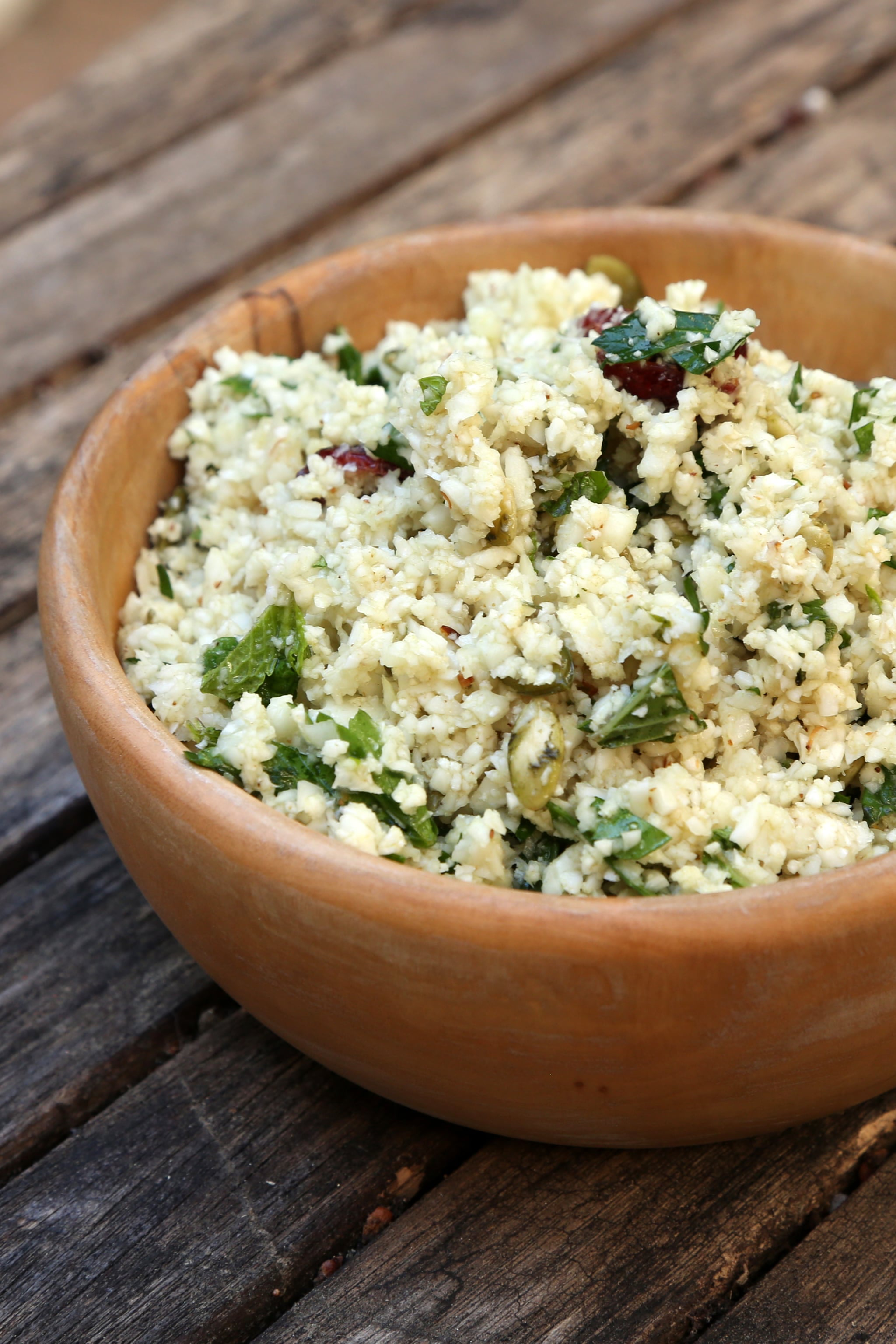 As predicted by Pinterest, cauliflower is the It vegetable of the moment, as it is increasingly becoming the blank canvas for healthy versions of our favorite comfort foods. Pizza crust, "steak", and even "rice" can be made with cauliflower as the base, and now we have cauliflower couscous from Seed + Salt, a vegan, gluten-free restaurant in San Francisco.
Traditionally, couscous is made up of semolina (wheat flour) granules that are steamed to create a fluffy rice; however, this cauliflower version is made entirely from processed cauliflower pieces. While the cauliflower couscous can be cooked, it's quite tender and fluffy when served raw. I imagine this being a staple in my household when the warmer months hit, and I can't fathom turning on my stovetop. This particular recipe makes for a filling lunch or can be served as a side dish for picnics or outdoor entertaining.
Cauliflower Couscous
From Ariel Nadelberg, Seed + Salt executive chef
Notes
Pulverizing cauliflower into "couscous" is a great way to make a delicious grain-free salad. It can be toasted in oil or served raw, plus tastes great with any combination of herbs and veggies. This recipe is a take on traditional couscous flavors with the inclusion of golden raisins, toasted pumpkin seeds, cumin, and mint. We also add ground sumac, an essential Middle Eastern spice with a tart flavor reminiscent of lemon.
Editor's note: If you cannot find golden raisins, sub in regular raisins or another dried fruit of your choice. I used dried cranberries.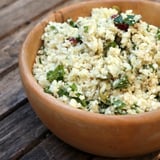 Ingredients
1/2 cup pumpkin seeds, toasted
1 large head cauliflower
2 tablespoon lemon juice
1/4 teaspoon cumin
1/4 teaspoon sumac
3 tablespoons olive oil
1/2 bunch mint
1/2 bunch parsley
1/4 cup golden raisins
Pinch of salt and pepper
Directions
Preheat oven to 350°F.
Toss pumpkin seeds with a touch of oil, salt, and pepper. Toast on a baking sheet for 7-8 minutes or until golden.
Cut cauliflower into quarters, trim out the hard inner core, and break into smaller florets with a knife or hands. Fill a food processor half way, and, using one-second pulses, pulse the florets until reminiscent of couscous granules. Repeat until all the cauliflower has been processed. Pour contents into a large bowl.
To make the vinaigrette, add the lemon juice, salt, fresh ground pepper, cumin, and sumac. Stir to dissolve the salt. Slowly whisk in olive oil. Taste and adjust seasoning if needed. Set aside.
Add herbs, golden raisins, and pumpkin seeds to the cauliflower. Add the vinaigrette and toss until everything is completely coated. Taste and adjust seasoning. Refrigerate until ready to serve.
Information
Category

Side Dishes

Cuisine

North American

Yield

5 cups
Image Source: POPSUGAR Photography / Anna Monette Roberts