One-Pot Chickpea Biryani | Thug Kitchen
Thug Kitchen Promises Its One-Pot Indian Dish Is Fast as F*ck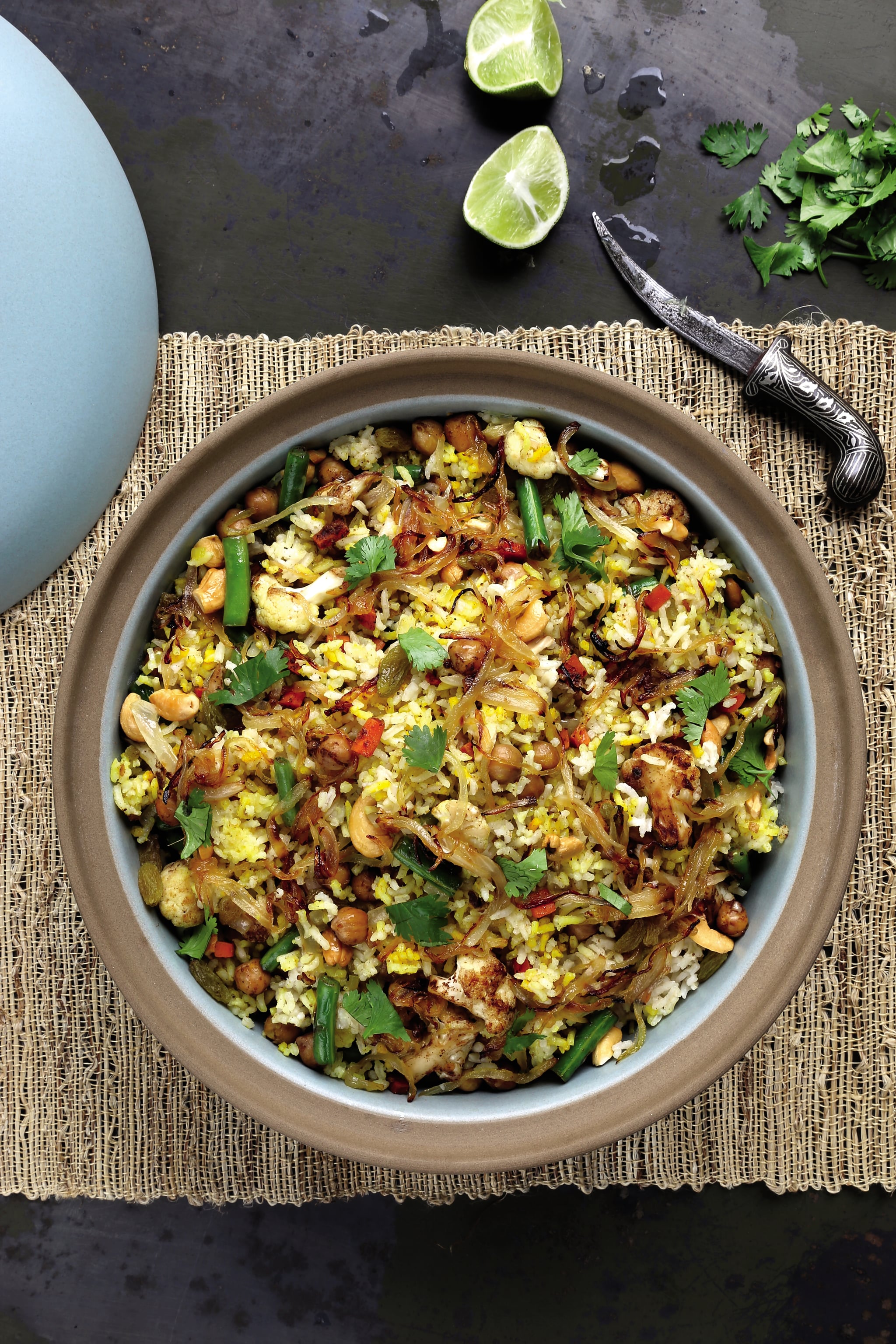 The vegan bloggers/expert cussers behind Thug Kitchen have released their third cookbook: Thug Kitchen 101: Fast as F*ck ($27), and it's a mesmerizing, meat-free mecca of burritos, pasta dishes, and other one-pot delights you can whip up on the fly. Allow this chickpea biryani to be your gateway into the cookbook. Let it be known: this is no bullsh*t assemble-and-serve type of recipe. You'll caramelize and spice your way to one-pot nirvana. Garnish the loaded pot with chopped cilantro and toasted nuts, and step back to glorify your exceptional work before diving in, pot first.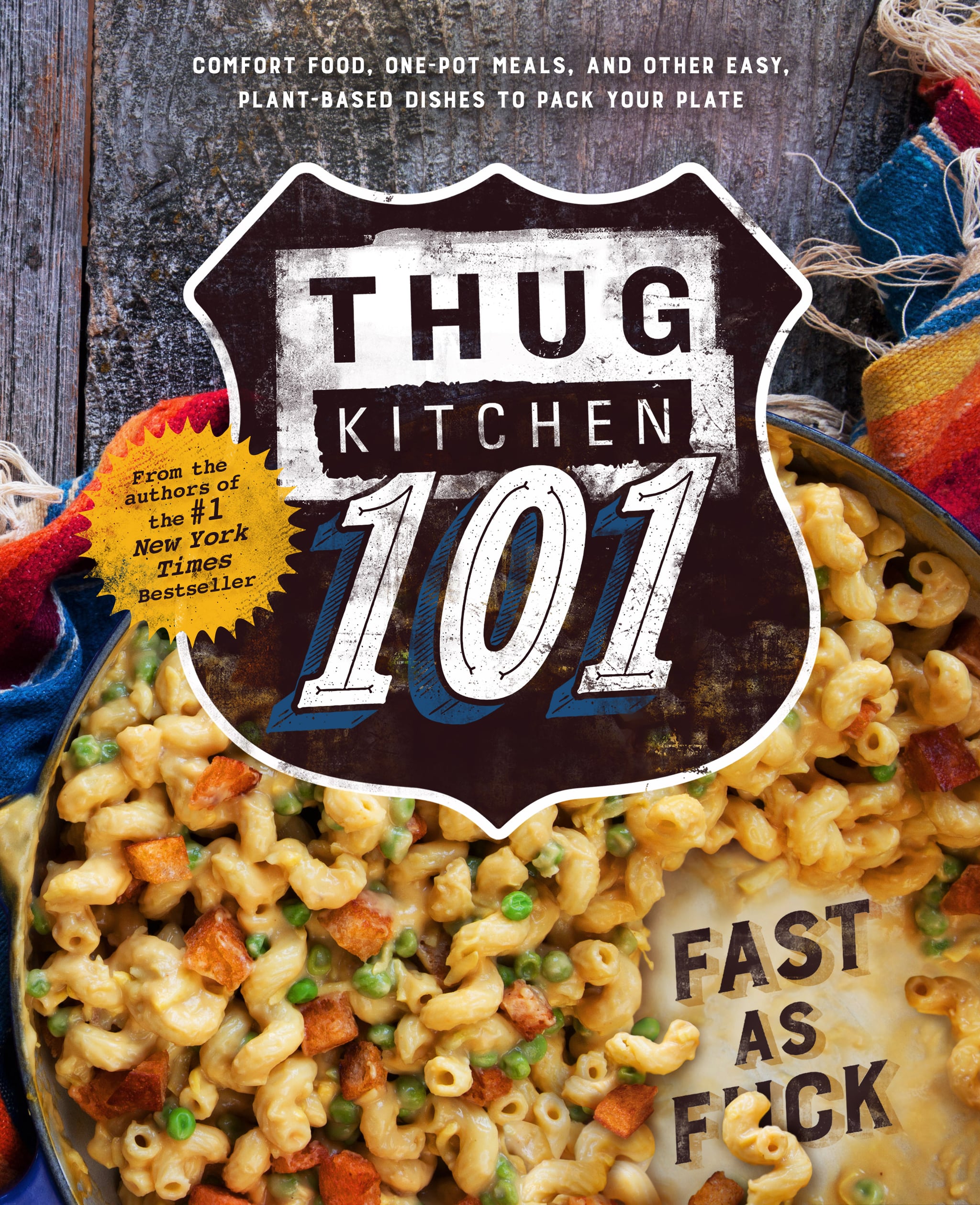 One-Pot Chickpea Biryani
From Thug Kitchen 101: Fast as F*ck
Notes
One-pot meals are where it's at. Fast, easy, and, best of all, minimal dishes. Especially if you eat straight out of the pot you cooked everything in, like a goddamn genius.
Ingredients
Veggies:
2 tablespoons coconut oil
1 large yellow onion, halved
2 cups cauliflower, chopped
1 cup green beans, chopped
1 carrot, chopped
1 1/2 cups cooked chickpeas
1 teaspoon garam masala*
1 clove garlic, minced
2 teaspoons fresh ginger, minced
Rice:
1 tablespoon coconut oil
2 cups basmati rice
1 cinnamon stick
1 bay leaf
1 teaspoon garam masala*
1 teaspoon fresh ginger, minced
1 clove garlic, minced
4 cups vegetable broth
1/4 teaspoon ground turmeric** mixed with
1 tablespoon water
1/4 cup cashews or almonds, chopped
1/4 cup golden raisins
Chopped cilantro for topping
* WTF? Don't freak out. Garam masala is just a badass spice blend that is as popular as f*ck. It has all kinds of sh*t like cinnamon and cardamom in it, and once you have it, you'll use it on everything. You can find it with the spices at any well-stocked grocery store, on the Internet, or at any Indian grocer in your area. Totally worth the buy.
** We used the turmeric to give the rice its signature occasional yellow grains of rice without spending the extra cash on the traditional saffron. If you don't already have turmeric though, don't bother with this shit. It's just for looks.
Directions
Cook the veggies: In a large soup pot, warm up 1 tablespoon of the coconut oil over medium heat. Add the onions and sauté until they start to brown all over, about 7 minutes. Remove them from the pot and set those bastards aside.
In that same pot, heat the remaining 1 tablespoon oil over medium-high heat. Toss in the cauliflower, green beans, and carrot and sauté that shit around until they start to soften up and get browned in a few spots, about 5 minutes. Fold in the chickpeas, garam masala, garlic, and ginger and cook for another minute to get the spices all mixed up. Remove from the heat, remove all the veggies from the pot, and set them off by the onions.
Make the rice: In that same damn pot, warm up the coconut oil over medium heat. Add the rice, cinnamon, bay leaf, garam masala, ginger, and garlic and sauté that shit until the spices start to smell all delicious, about 1 minute. Add the veggie broth and bring it all to a simmer. Reduce the heat to low, cover, and cook until the rice is tender and the liquid has evaporated, 15 to 20 minutes. Sprinkle the turmeric mixture over about half of the cooked rice and let it sit with the heat off for a minute to absorb.
To serve, fluff the rice with a fork, fold in the veggies, three-quarters of the onions, the nuts, and raisins. Top with some cilantro and the rest of the onions and serve that shit up right away.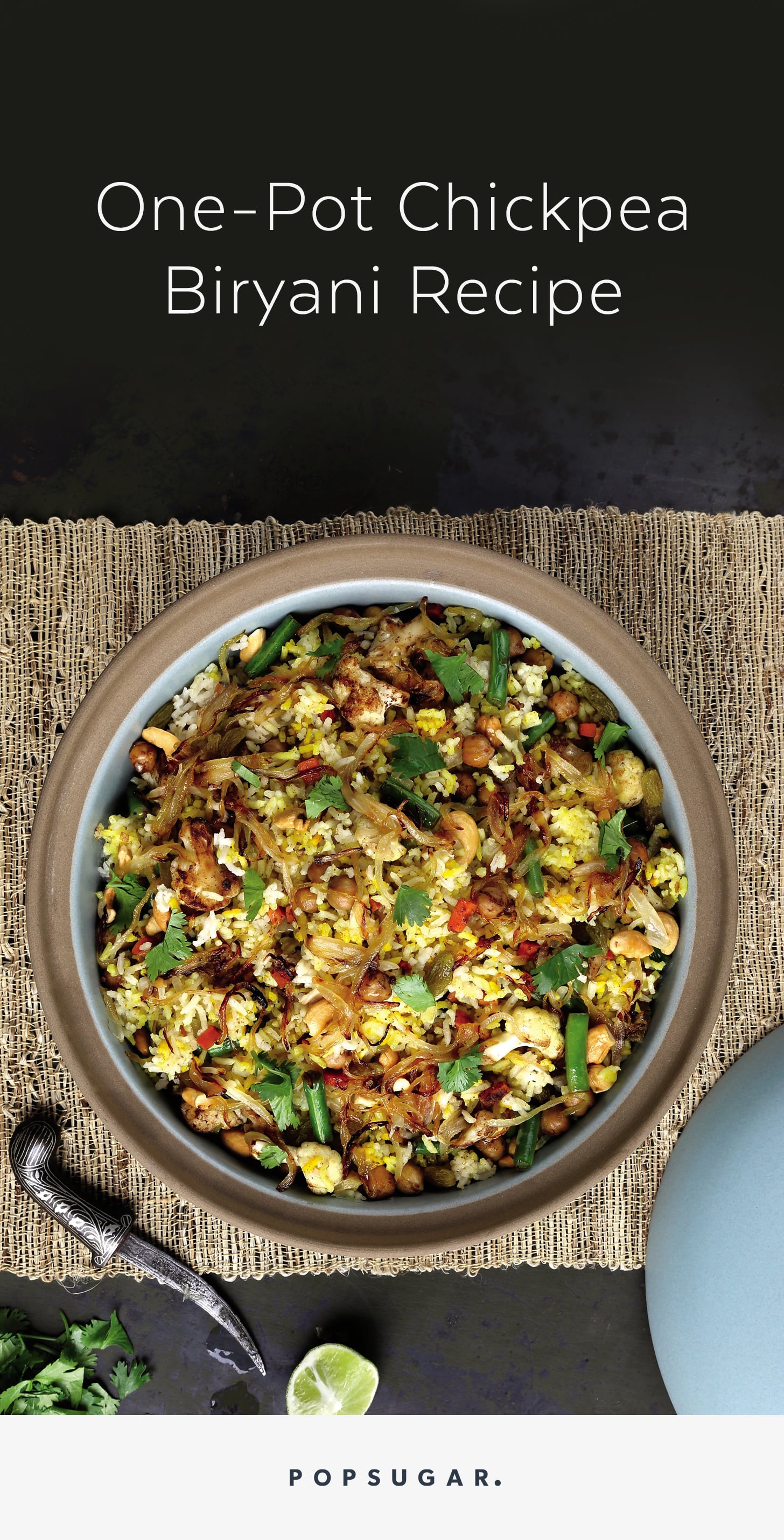 Information
Category

Rice, Main Dishes

Cuisine

Indian

Yield

4 to 6 people

Total Time

34 minutes, 59 seconds