Pasta Carbonara With Leeks and Sun-Dried Tomatoes
Fast and Easy Dinner: Pasta Carbonara With Leeks and Sun-Dried Tomatoes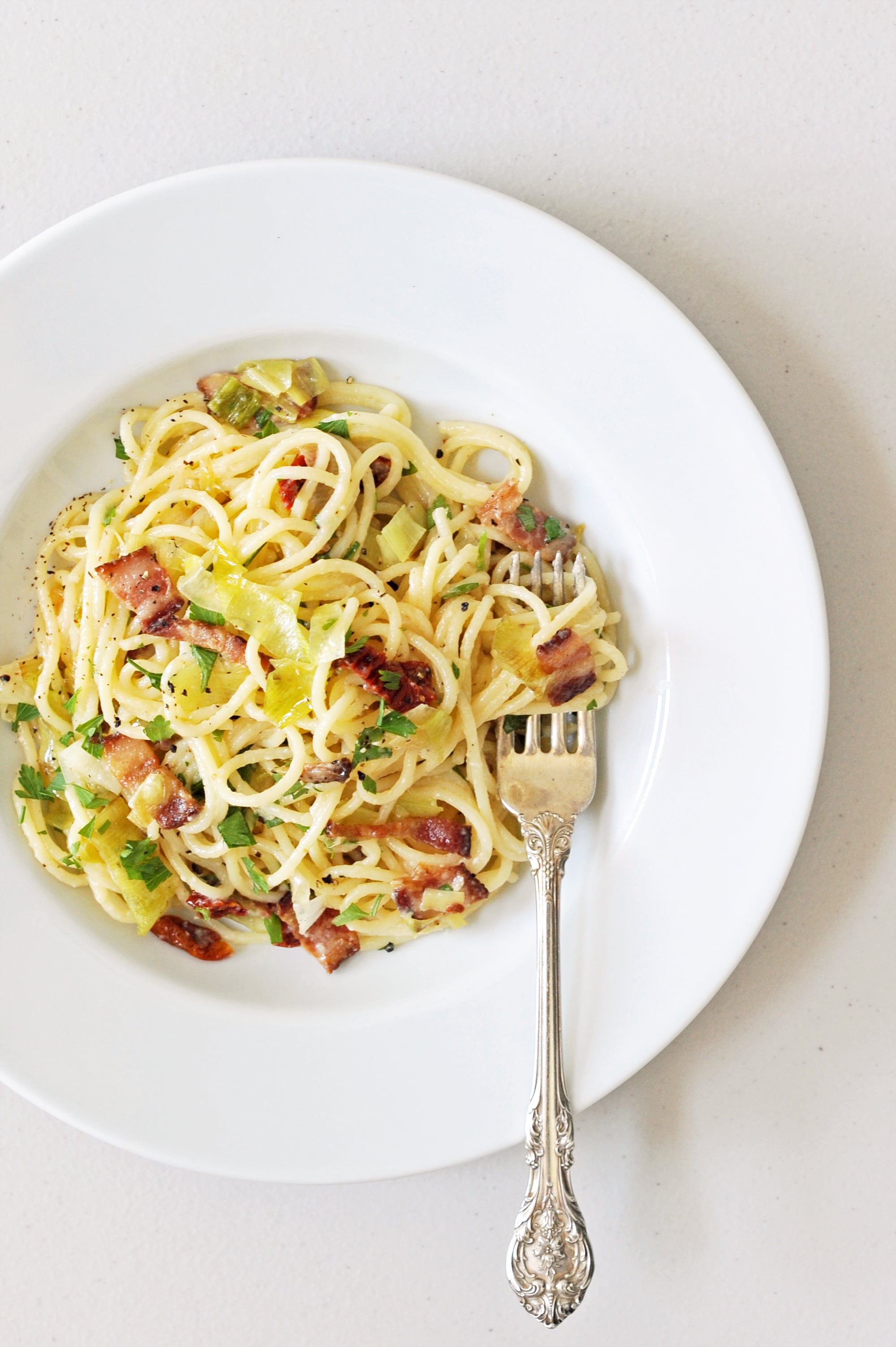 In its classic preparation, pasta carbonara is immensely comforting but a hair heavier than I typically crave this time of year. To make this fast and easy dish Summer-friendly, I add fresh flavor in the form of grassy, slightly sweet leeks, a hefty handful of parsley, and a few slivers of candy-sweet sun-dried tomatoes.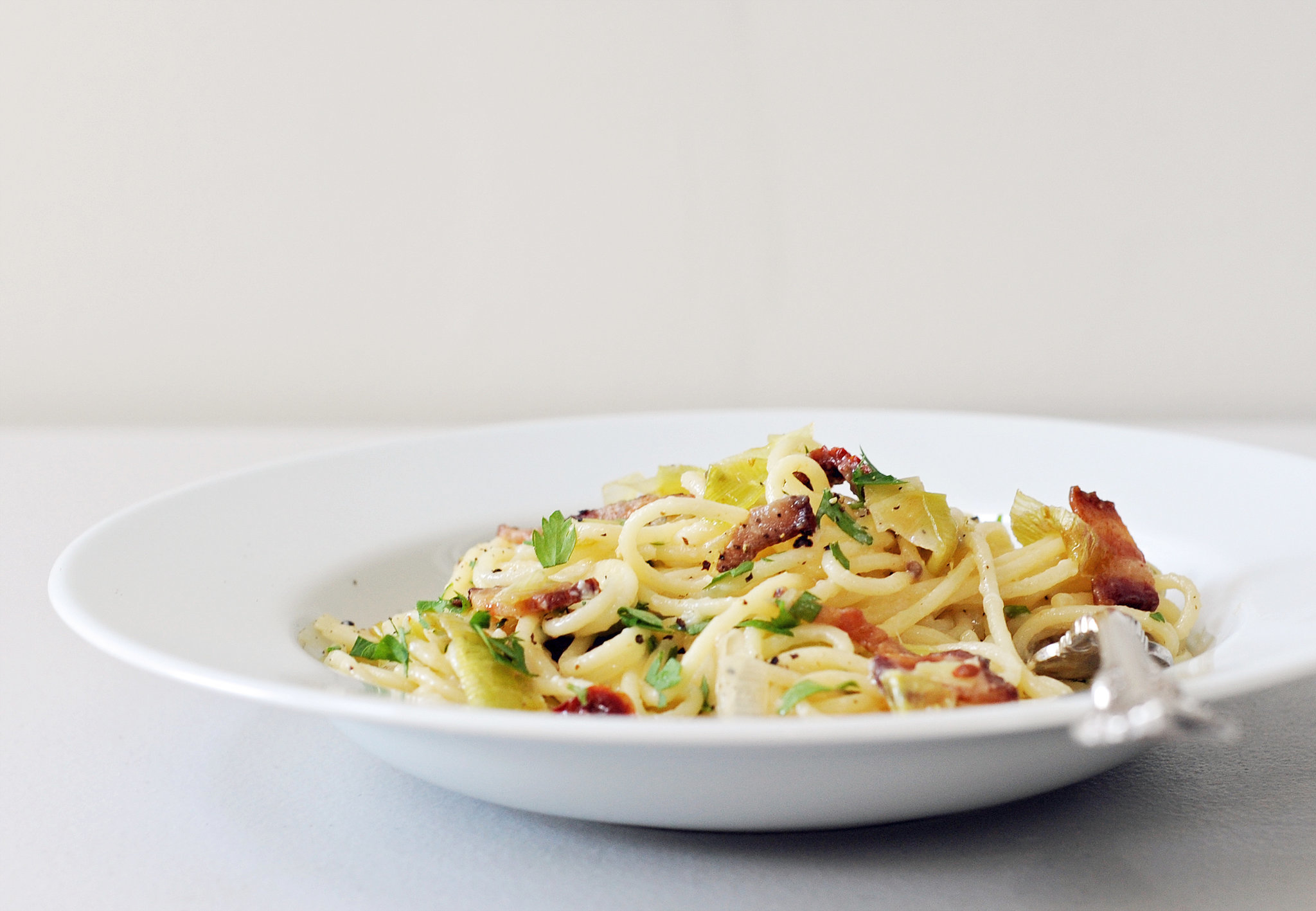 Thin wisps of leeks take to browning in a bath of bacon drippings magnificently, without tacking on more than a couple minutes of prep time, keeping this fresh take on an old friend firmly in the weeknight-dinner camp. Carbonara purists will balk at this suggestion (if they haven't already), but I've even been known to wilt down a bunch of kale, in ribbon form, alongside the leeks for a bulked-up, greener iteration — consider this recipe a template for experimentation.
Pasta Carbonara With Leeks and Sun-Dried Tomatoes
From Nicole Perry, POPSUGAR Food
Notes
Substitute Italian guanciale for the bacon, if you can find it.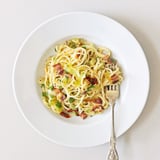 Ingredients
3/4 pound thickly cut bacon, cut into 1/2-inch-wide strips
3 medium leeks, thinly sliced and cleaned
Kosher salt
1 pound spaghetti
3 eggs
1/2 cup parsley, minced
3/4 cup sun-dried tomatoes, cut into 1/4-inch-wide strips
Freshly grated parmesan cheese, for garnish
Freshly cracked black pepper, for garnish
Directions
Add the bacon to a large, straight-sided skillet or Dutch oven, and cook over medium-low heat, stirring occasionally, until the bacon is crisp and the fat has rendered out. Transfer to a paper-towel-lined plate with a slotted spoon, leaving the bacon drippings behind.
Add the leeks and a pinch of salt to the bacon fat, and cook over medium heat, stirring occasionally, until the leeks have softened and begun to brown. Remove from the heat.
Meanwhile, bring a large pot of generously salted water to a boil. Cook the spaghetti until al dente.
While the pasta cooks, whisk the eggs until frothy in a large mixing bowl. Using tongs, immediately add the cooked spaghetti to the eggs, tossing vigorously to coat, and simultaneously cook the egg.
Add the leeks, bacon, parsley, and sun-dried tomatoes to the pasta, and toss to evenly distribute.
Divide among the plates, and top each portion with parmesan cheese and pepper.
Information
Category

Pasta, Main Dishes

Cuisine

Italian

Yield

4-6 servings