Pear-Cranberry Deep-Dish Pie Recipe From Magnolia Journal
Joanna Gaines Shares the Pie She'll Be Making This Season
POPSUGAR is excited to present this pear-cranberry deep-dish pie recipe, which appeared in the first issue of Magnolia Journal, a quarterly magazine by Chip and Joanna Gaines.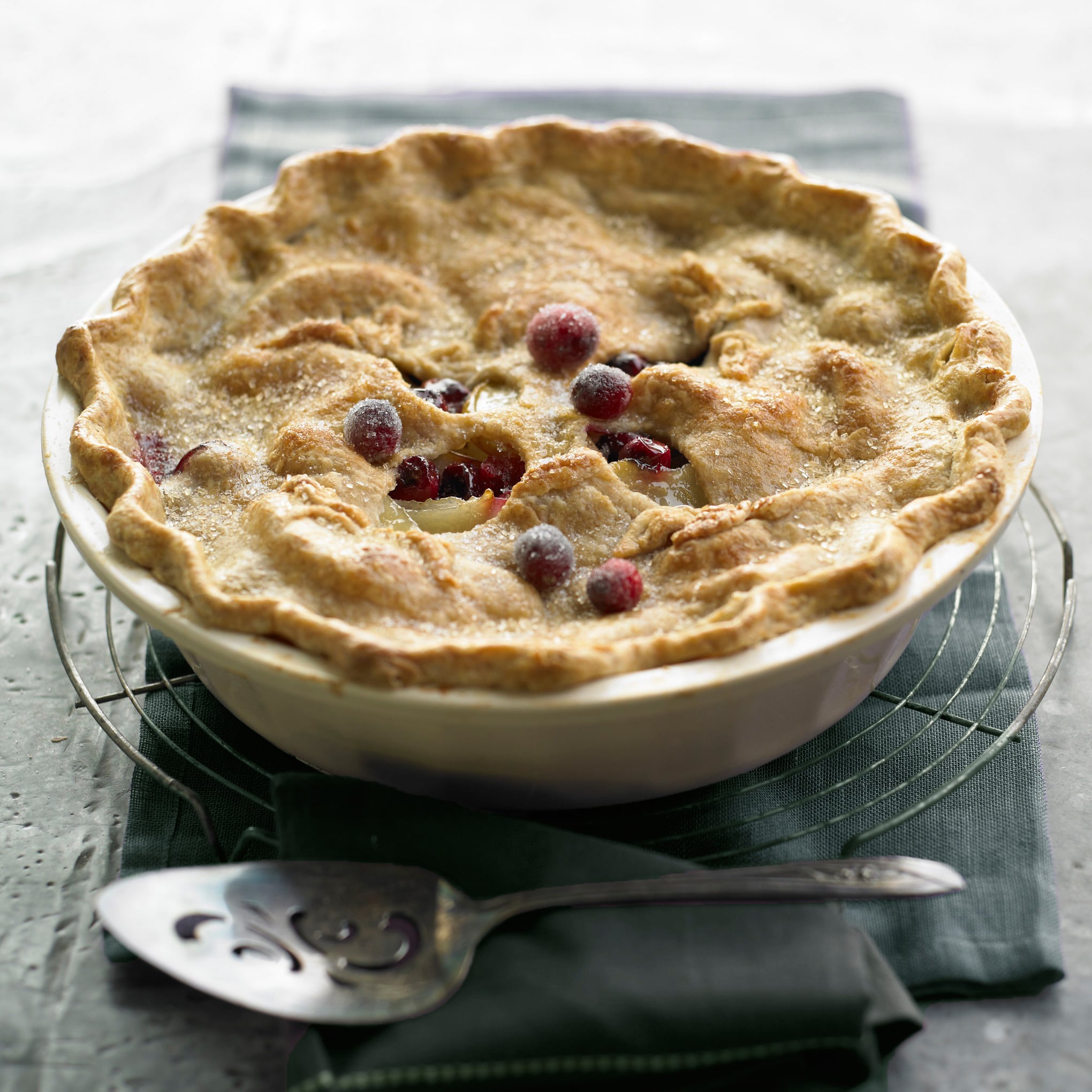 If you have followed along with us for any period of time, you probably know by now that I have a bit of a sweet tooth. I just opened a bakery to feed the habit! Though I really enjoy all sorts of desserts, there's something about pies that just feels right, reminding me of a simpler time. There's no need to be intimidated about making your own pie crust, I promise! I find it so therapeutic to work with my hands, shaping the dough. Also that sweet aroma! And then ultimately the satisfaction of serving up the delicious fruit of your labors. Worth the effort every time.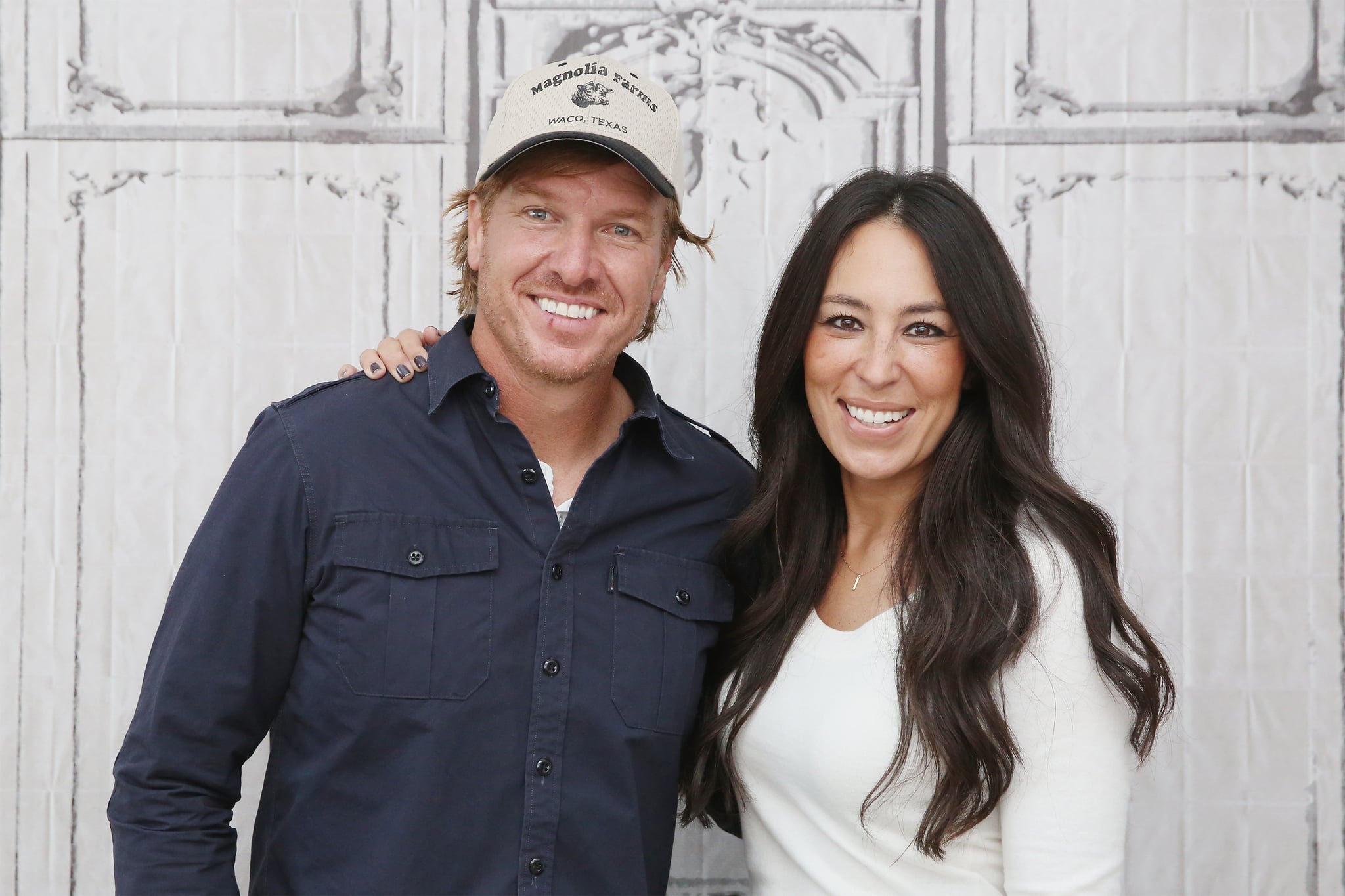 Notes
Pastry for double-crust pie:
In a large bowl, stir together 2 1/2 cups all-purpose flour and 1 teaspoon salt. Using a pastry blender, cut in 1/2 cup shortening and 1/4 cup butter until pieces are pea size. Sprinkle 1 tablespoon ice water over part of the flour mixture; toss gently with a fork. Push moistened dough to side of bowl. Repeat with additional ice water, 1 tablespoon at a time (1/2 to 2/3 cup total), until all the flour mixture is moistened. Gather mixture into a ball, kneading gently until it holds together. Divide dough in half. Shape each portion into a ball.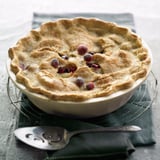 Ingredients
1/2 cup granulated sugar
2 tablespoons all-purpose flour
1/4 teaspoon ground nutmeg
1/4 teaspoon ground ginger
6 ripe, yet still firm pears, cored and sliced (2 to 2 1/2 pounds total)
1 cup fresh or thawed frozen cranberries
See pastry for double-crust pie recipe
1 tablespoon milk
Coarse sugar, for sprinkling
Sugared cranberries, for garnish (optional)
Directions
Preheat oven to 375°F. In an extra-large bowl, combine granulated sugar, flour, nutmeg, and ginger. Add pear slices and cranberries; toss gently to coat.
Prepare pastry for double-crust pie. On a lightly floured surface, use your hands to slightly flatten one pastry ball. Roll it from center to edges into a circle 13 inches in diameter. Fold the pastry into quarters. Unfold the pastry into a 9-inch deep-dish pie plate. Ease pastry into plate without stretching it. Transfer pear mixture into the pastry-lined pie plate. Trim pastry even with pie plate rim.
Roll remaining ball into a 12-inch-diameter circle. Using cookie cutters, cut a few small shapes from center of the pastry. Set shapes aside. Place pastry circle on filling; trim to 1/2 inch beyond edge of plate. Fold top pastry under bottom pastry. Crimp edge as desired. Brush top of pastry and dough cutouts with milk. Place cutouts on pastry, being careful not to cover openings. Sprinkle with coarse sugar.
Place pie plate on a foil-lined baking sheet. If desired, sprinkle with coarse sugar. Bake 65 to 70 minutes or until filling is bubbly. Cool on a wire rack. Serve warm. If desired, garnish with sugared cranberries.
Information
Category

Desserts, Pies/Tarts

Cuisine

North American

Yield

10 servings

Total Time

2 hours, 14 minutes, 59 seconds