Prosciutto Grilled Cheese With Pumpkin Butter Recipe
The Coziest 5-Ingredient Fall Dinner For One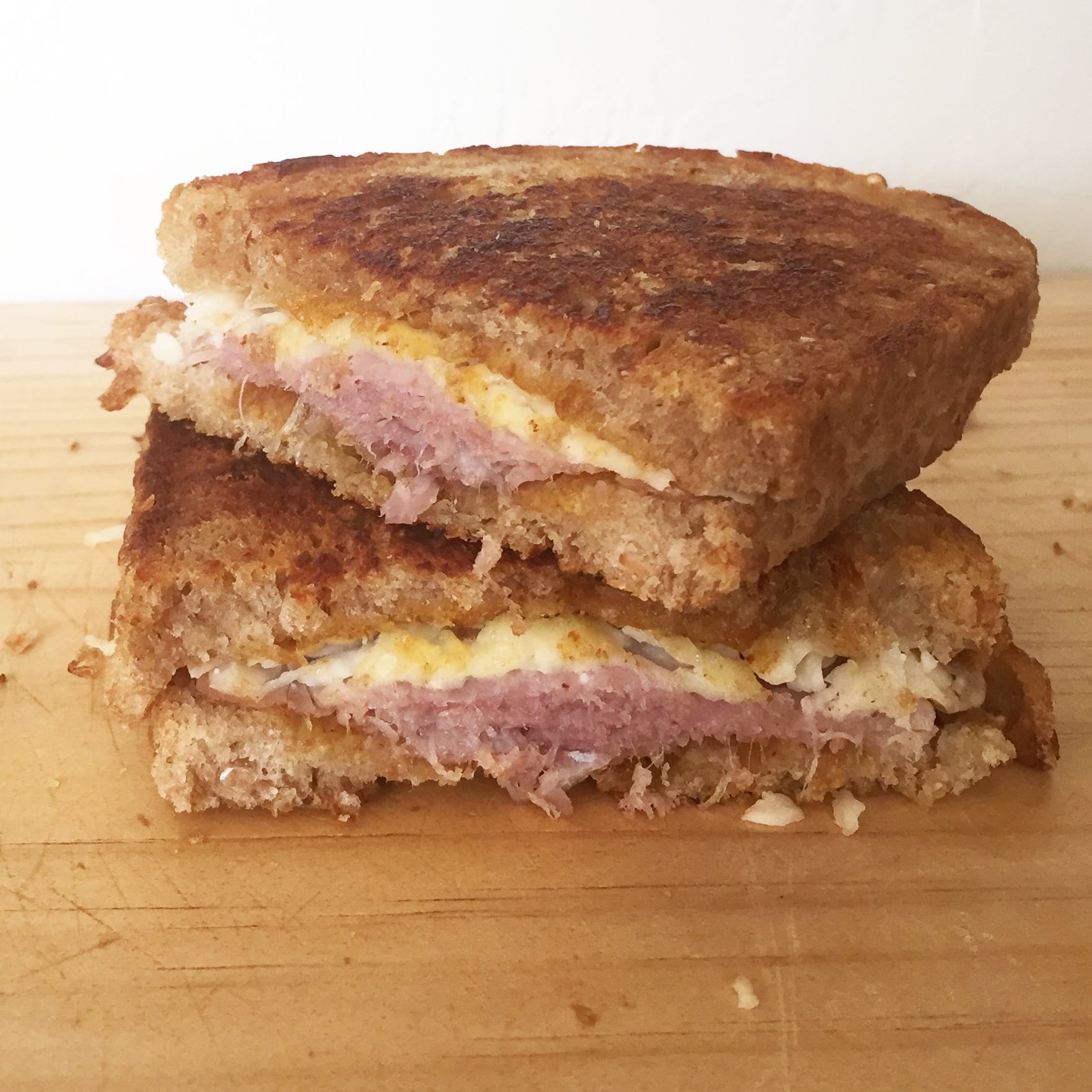 Prosciutto (a thinly sliced Italian ham), pecorino (like parmesan but made with sheep's milk), and . . . pumpkin butter? This grilled cheese recipe has an unexpected flavor combination that works surprisingly well, and it just might become your new favorite Fall meal for one. A thin layer of pumpkin butter cuts through the saltiness of the prosciutto and pecorino cheese, and each bite delivers a perfect ratio of crunchy, gooey, salty, and sweet. Just like the other recipes in The Hungry Fan's Game Day Cookbook by Daina Falk, from Mediterranean nachos to Kentucky tomato bourbon soup, this is a classic with a twist that's guaranteed to make every game day better, no matter who's winning.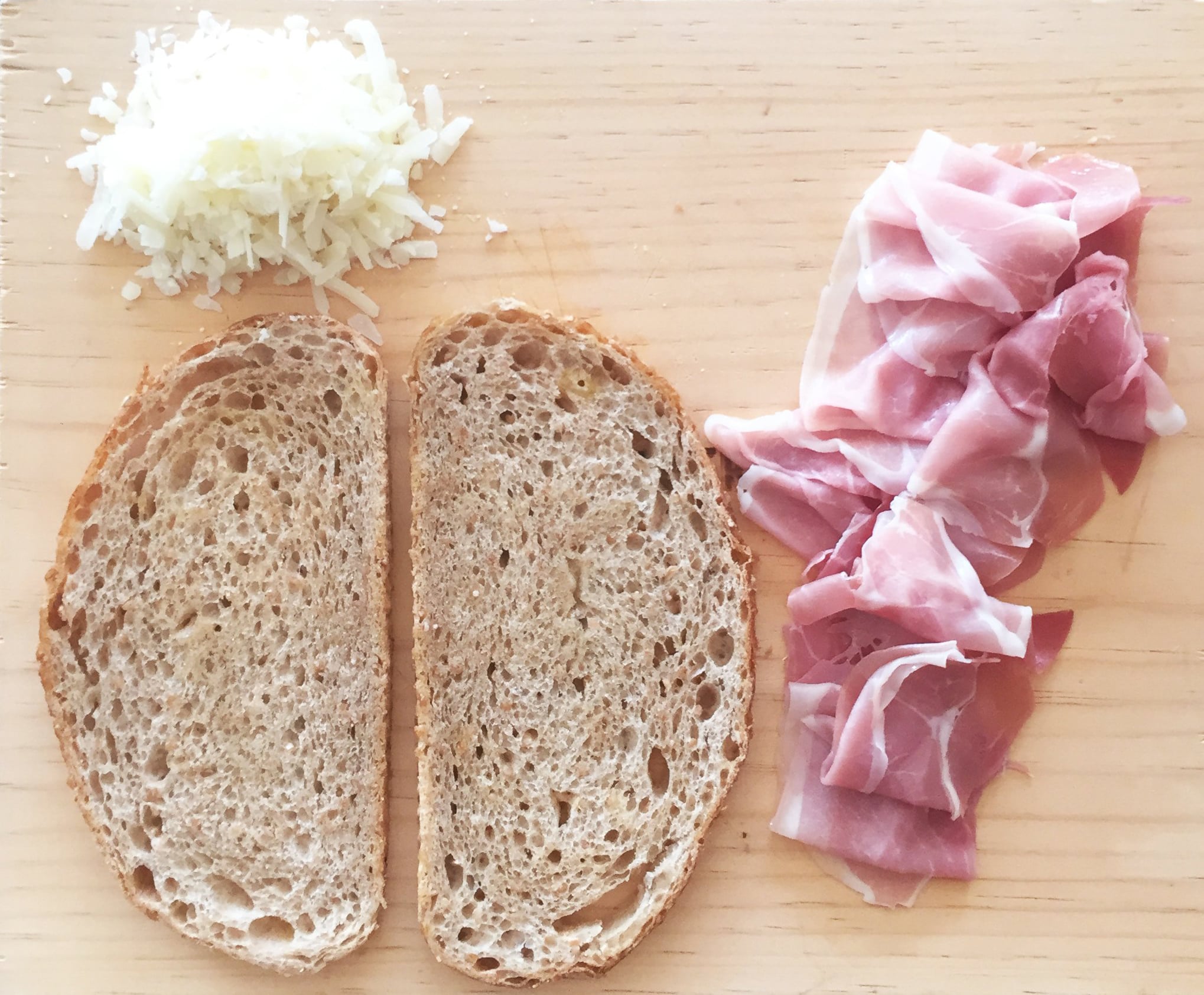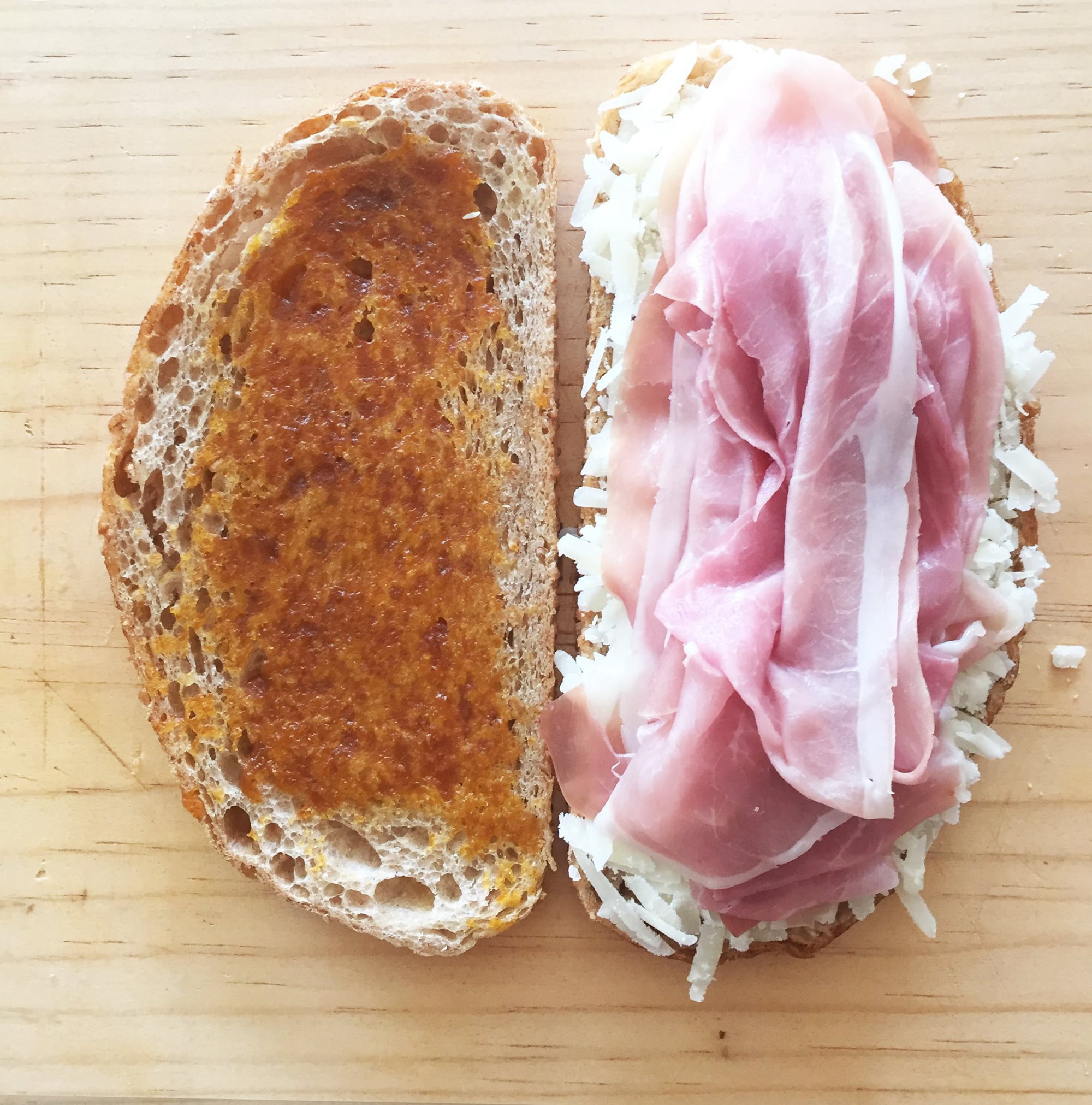 Although the recipe calls for slices of pecorino, I opted to shred the cheese because pecorino doesn't get as melty as softer cheeses. Covering one of the slices of bread with a generous amount of shredded cheese ensures it melts evenly as it sizzles in the skillet. You can make your own pumpkin butter or use your favorite store-bought version. I used an organic maple pumpkin butter from Sprouts, and I loved the hint of maple paired with the other spices. I also highly recommend using salted butter for the bread, because it's my firm belief that a perfectly crisp grilled cheese begs to be slathered in salted butter. Make this grilled cheese once and you're sure to come back to it when you need a fast and easy recipe for cozy Fall evenings.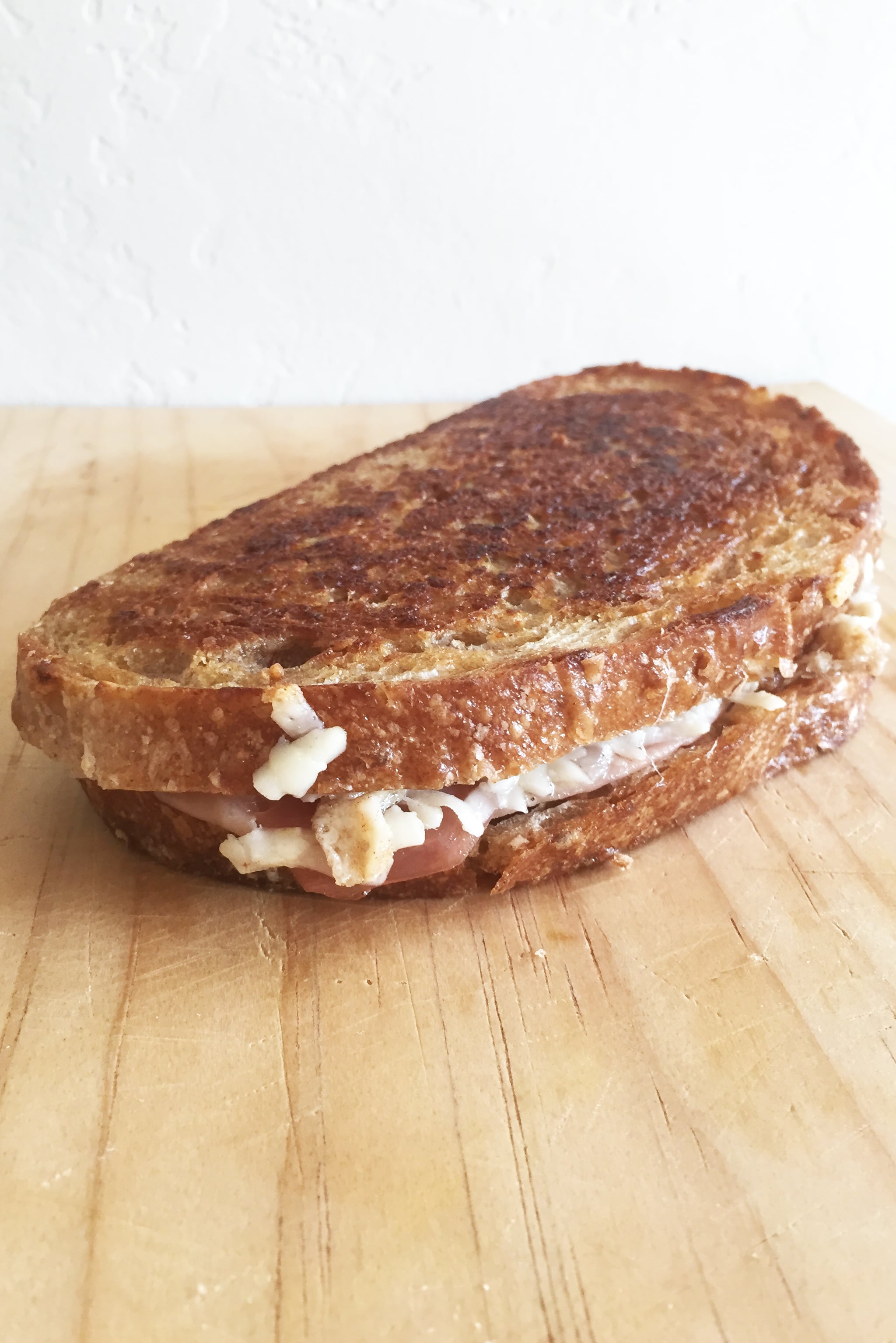 Notes
This may be one of the weirder flavor combinations you'll find in this book. Pecorino and prosciutto are a brilliant yet unoriginal combination. But adding pumpkin butter to it? Yeah, that's a little different. The pecorino and prosciutto are both so deliciously salty, and the sweetness of the pumpkin butter nicely cuts the saltiness. Give it a whirl and see what you think! Hopefully you'll agree with me that this is the perfect seasonal, ooey, gooey, salty version of a grilled cheese sandwich to serve for the start of football season (and, incidentally, the start of Fall)!
Ingredients
2 slices bread (I like French wheat sourdough)
1 tablespoon butter, plus more for cooking, optional
1 tablespoon pumpkin butter (to make your own, see page 249)
Enough slices of Pecorino-Romano to fully cover an entire slice of bread
6 slices Italian prosciutto
Directions
Butter the top part of one piece of bread. Place in a nonstick skillet, butter-side down, over medium for one minute, then flip over and toast on the other side for another minute. Repeat with the other slice of bread.
Layer the grilled cheese as such: bread, pumpkin butter, cheese, prosciutto, and the top piece of bread (buttered-side up). At this point, you can cook your sandwich over medium in a toaster oven, on a grill, or in melted butter on your griddle, being sure to brown both sides, one to two minutes per side, until crispy. Serve immediately.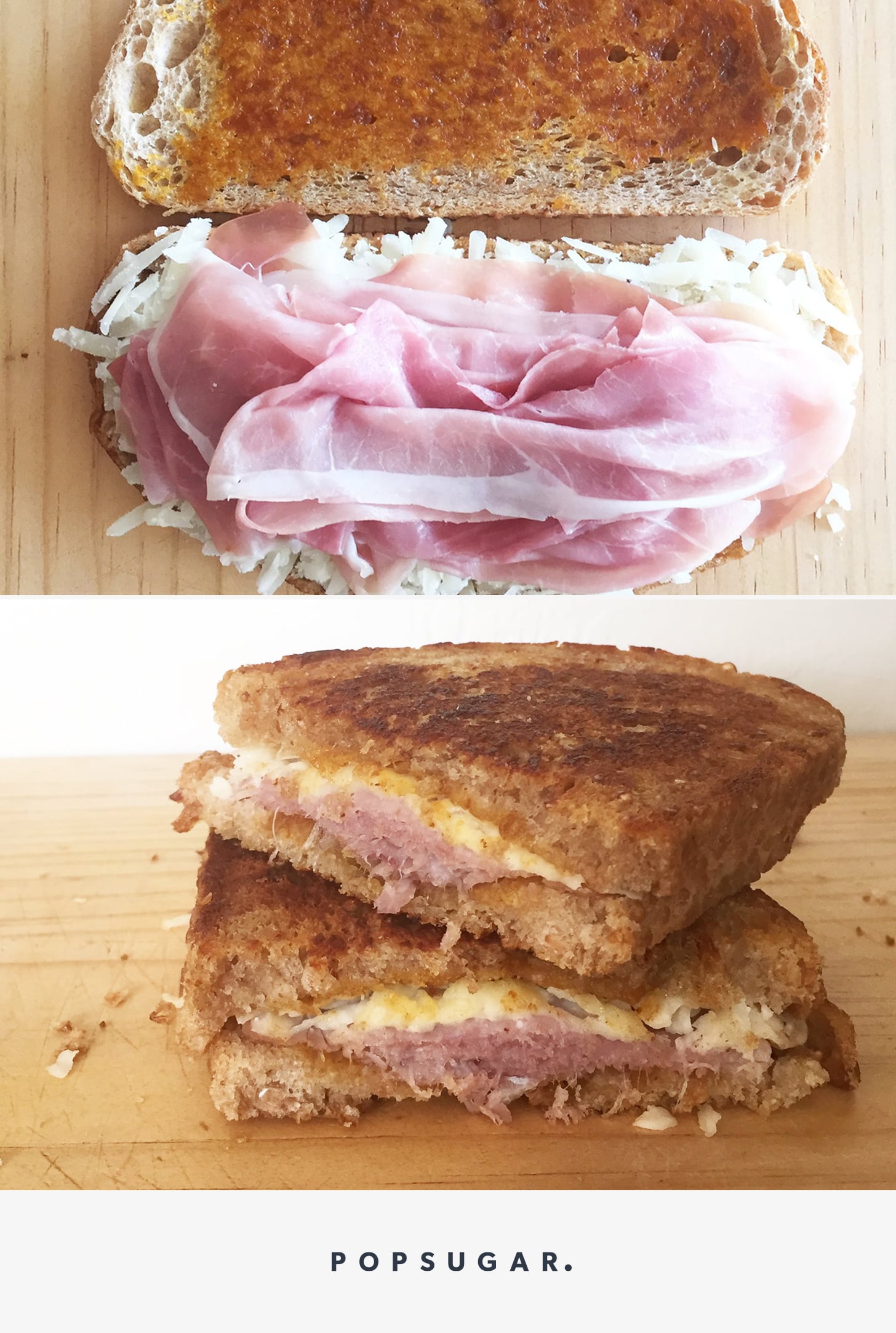 Information
Category

Main Dishes, Sandwiches

Cuisine

North American

Yield

Makes 1 Sandwich
Image Source: POPSUGAR Photography / Erin Cullum