Pumpkin Football Hand Pies
Notes
Don't want to buy a cookie cutter? Freehand a 2-1/2-inch football shape on a piece of sturdy paper, cut it out, and use it as a template. To make cinnamon sugar, whisk together 1/4 cup granulated sugar with 1 tablespoon cinnamon.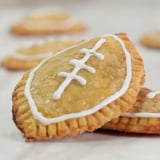 Ingredients
1 cup pumpkin puree
3/4 cup brown sugar, packed
1/2 teaspoon cinnamon
1/4 teaspoon nutmeg
1 tablespoon heavy cream
1 egg
2 tablespoons water
1 package refrigerated pie crust
Cinnamon sugar, for garnish
1 bag cookie icing
Special supplies:
2-1/2-inch football cookie cutter
Directions
Preheat the oven to 350ºF. Line a half-sheet pan with parchment paper.
Make the filling: In a bowl, mix together the pumpkin, brown sugar, cinnamon, nutmeg, and heavy cream until smooth.
In a small bowl, whisk together the egg and water to make egg wash.
Make the pies: Roll out the dough on a flat surface, and use the football cookie cutter to cut out 18-22 footballs. Arrange half of the footballs on the prepped half-sheet pan, and put 1 tablespoon of pie filling onto the center of each football. Brush the edges of the dough with egg wash, and then cover each football with a second piece of football-shaped dough. Gently press the pieces of dough together, then crimp with a fork to seal.
Brush the tops of the footballs with the egg wash, and sprinkle with cinnamon sugar. Using the tines of a fork, prick each pie four times to allow steam to vent while they bake. Bake for 10-12 minutes, or until lightly browned. Cool for 5 minutes, and then decorate the footballs with cookie icing.
Information
Category

Desserts, Pies/Tarts

Cuisine

North American

Yield

9-11 hand pies