Ramen-Crusted Chicken Wings
Ramen-Crusted Chicken Wings
From Nicole Iizuka, POPSUGAR Food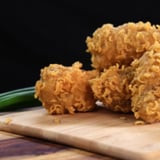 Ingredients
1 pound chicken wings
For the dry batter:
2 teaspoons kosher salt
1/4 cup cornstarch
1/2 teaspoon baking powder
For the wet batter:
1/2 cup cornstarch
1/2 teaspoon baking powder
1/2 cup all-purpose flour
2 teaspoons kosher salt
1/2 cup cold water
1/2 cup vodka
1 packet ramen seasoning
2 packages Top Ramen, crumbled
1 quart vegetable, peanut, or canola oil
For the dipping sauce:
1 teaspoon sriracha
2 tablespoons rice vinegar
1 tablespoon scallions, finely chopped
Directions
Rinse chicken wings in cold water, and pat dry.
Mix together dry batter ingredients in a bowl, and set aside. Mix together wet batter ingredients in a separate bowl. Break apart the dry ramen into a third bowl. You want the pieces to be small enough that they will stick to the chicken but large enough that they still have their shape.
Heat the oil in a heavy-bottomed Dutch oven or electric deep fryer to 350°F. Line a half-sheet pan with paper towels.
Working in small batches, dredge the chicken wings in the dry batter. Shake off any excess, and dip the wings in the wet batter. Brush off any excess batter with a food-safe brush.
Fry the wings for 5 to 6 minutes, turning occasionally for even browning. Let the wings drain on the paper-towel-lined half-sheet pan. Repeat with the remaining wings.
Dip the par-cooked wings back in the wet batter, and brush off any excess batter. Coat the wings in the crumbled ramen.
Fry for an additional 2 to 3 minutes or until the outside has browned and is crisp.
Meanwhile, mix together the sriracha, rice wine vinegar, and scallions. Serve the wings hot with the dipping sauce.
Information
Category

Poultry, Appetizers

Cuisine

North American

Yield

2 to 3 servings