Recipe For Bacon and Egg Breakfast Tart
Bacon and Eggs All Tarted Up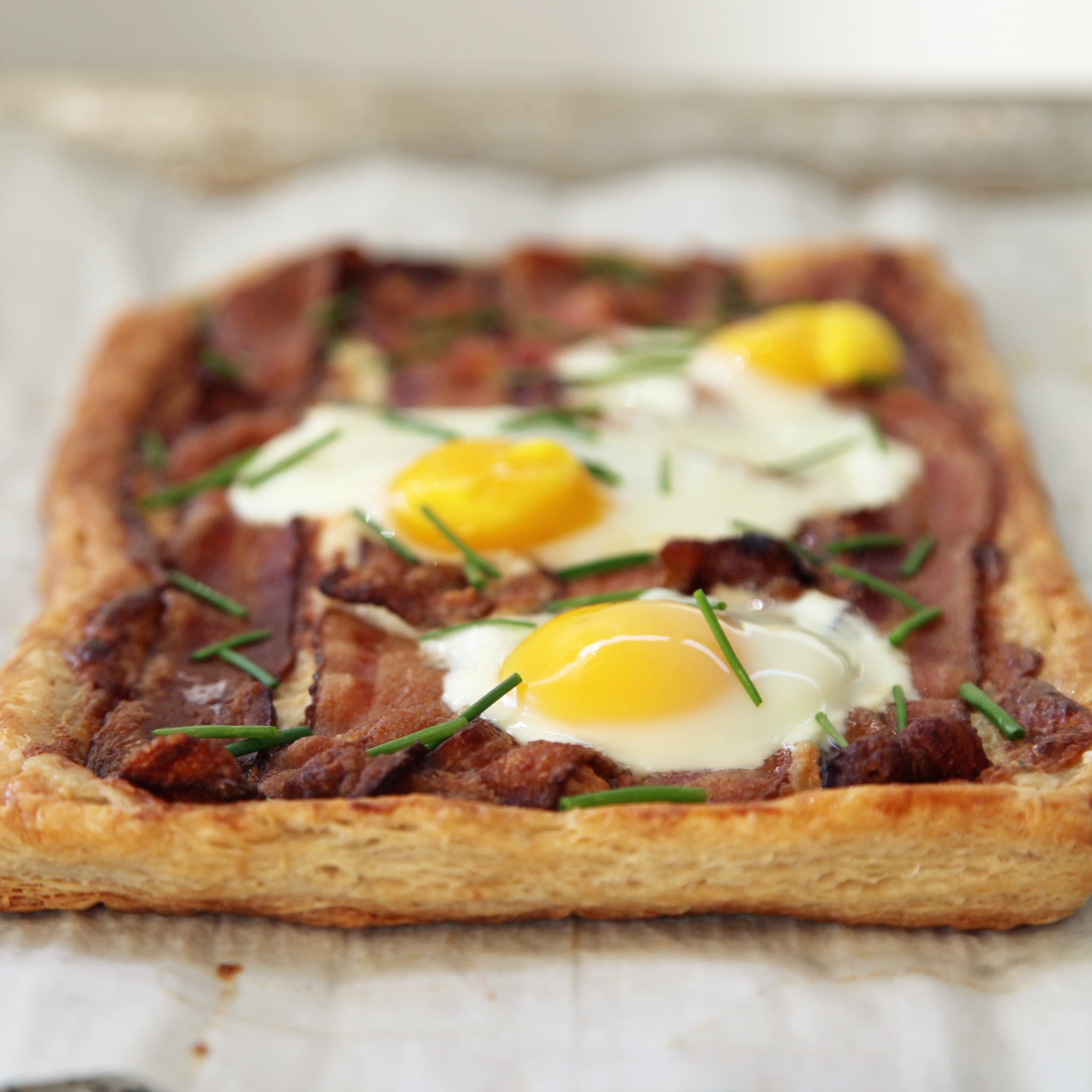 Eggs can be a tricky thing to cook for a crowd; seriously, don't even bother making scrambled eggs or omelets for more than a couple people, unless you get off on stressing over things. So I'm always on the lookout for brunch-ready, low-fuss ways to cook the morning staple, and this elegantly rustic tart qualifies and then some.
This tart combines the familiar trappings of breakfast (crisp bacon and runny-yolked eggs) with luxe ingredients (tangy crème fraîche, butter-rich puff pastry, and nutty Gruyère) for a wholly-on-point brunch dish. Seriously, do I need to elaborate further? It's a mother-effing bacon, egg, and puff pastry tart, people!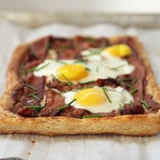 Ingredients
1 sheet puff pastry dough
1 egg, lightly beaten with 1 teaspoon water
3 ounces crème fraîche
2 ounces shredded Gruyère cheese
Salt and freshly ground pepper, to taste
8 bacon slices, cooked until crisp
3 eggs
10 fresh chives, snipped into 1/2-inch lengths
Directions
Thaw the puff pastry dough according to the package instructions.
Preheat oven to 425°F. Line a half-sheet pan with parchment paper.
On lightly floured surface, roll out the puff pastry to 1/4-inch thickness and cut into a 10-by-8-inch rectangle. Transfer the pastry to the prepared baking sheet. Using a paring knife, score a border 1/2 inch in from the edge of the pastry. Using a fork, prick the center of the pastry. Brush the border with the egg wash and refrigerate for 15 minutes.
In a small bowl, stir together the crème fraîche and cheese, and season with salt and pepper (it may not need salt).
Spread the crème fraîche mixture on the pastry, keeping the border clean. Lay the bacon on top, slightly overlapping the slices. Bake the tart for 14 minutes, rotating the baking sheet halfway through baking.
Remove the baking sheet from the oven, and place it on a level heatproof surface. Using a fork, prick any large air pockets in the pastry. Crack the eggs onto the tart, spacing them evenly over the pastry. Bake until the egg whites are set and the yolks are still soft, 7 to 10 minutes.
Transfer the tart to a platter, garnish with the chives, and serve immediately.
Information
Category

Eggs, Breakfast/Brunch

Cuisine

North American

Yield

Serves 4-6
Image Source: POPSUGAR Photography / Nicole Perry