Rhubarb Galette
Taste the Essence of Rhubarb in a Simple Galette
If you've never cooked, tried, or had anything to do with rhubarb, then this is the perfect introduction. Rhubarb is a pink-hued vegetable that looks similar to celery stalks. It's incredibly tart, so many cooks opt to tone it down by mixing it with sweet fruits like strawberries.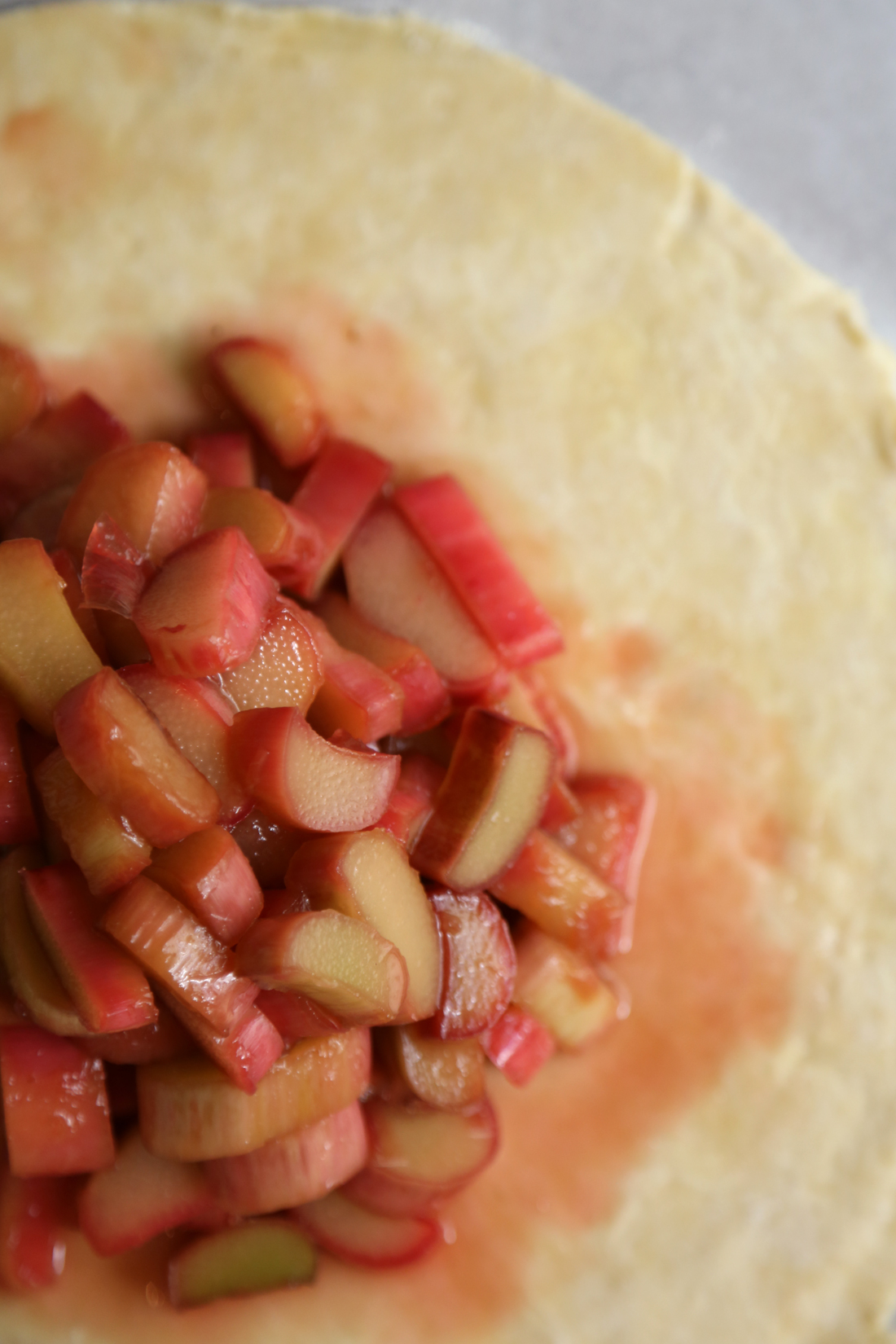 However, this rhubarb galette does not try to hide its identity. A sprinkling of sugar and a buttery crust are all that is needed to complement and soften rhubarb's mouth-puckering tendencies.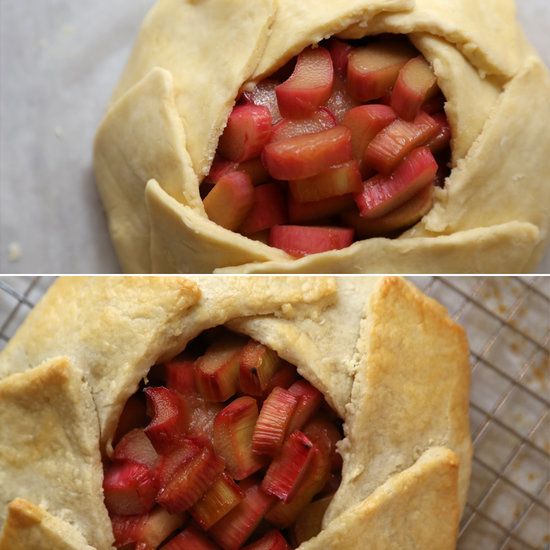 Wrap the rhubarb filling in a pure butter pie crust, then bake the galette until the crust turns golden brown and the tips of the rhubarb begin to char.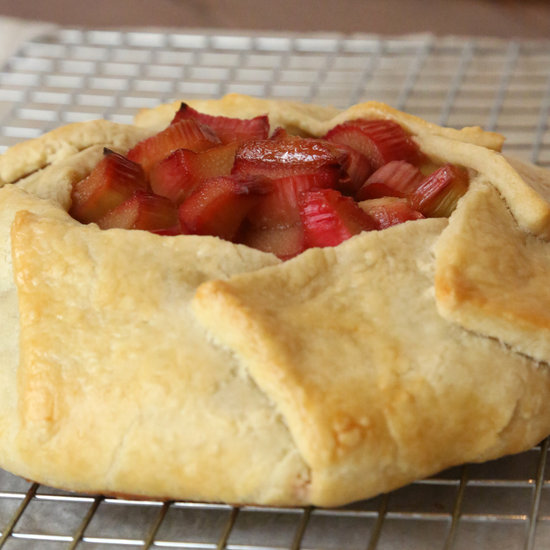 The hardest part is allowing the galette to cool once it's out of the oven. Like letting steak rest after cooking it, the same applies to the galette. Cooling it enables the juices to seep back into the fruit and lets those fruit juices thicken slightly.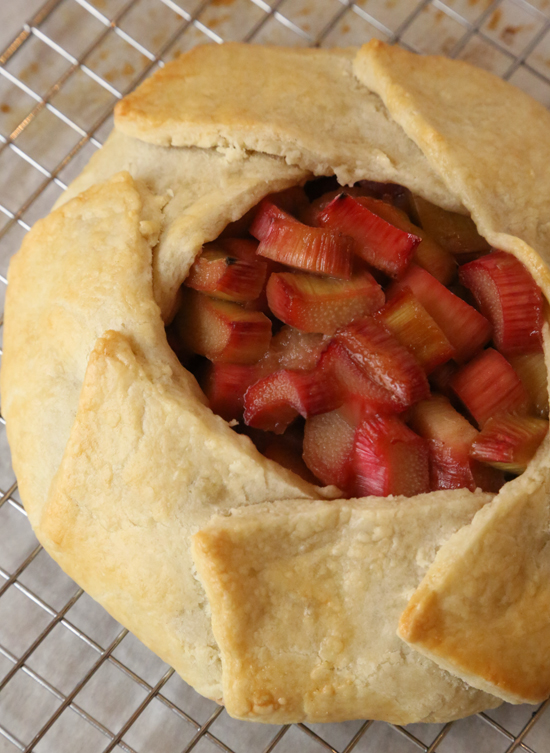 The galette's beautiful, swirled pattern makes it an eye-popping centerpiece for breakfast or brunch. Serve it at the table so everyone can watch the pink, gelatinous juices seep out from the center. The crumbly crust yields to a tender, tart filling that many described as tasting like the "essence of rhubarb."
Keep reading for the recipe.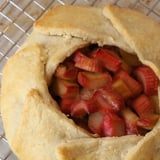 Ingredients
For galette crust:
1 1/2 cups all-purpose flour
1/2 teaspoon salt
1 stick cold, salted butter, cut into cubes
1/4 to 1/2 cup ice-cold water
For rhubarb filling:
4 large rhubarb stalks, cut in 1/2-inch slices
1/2 lemon, juiced
1 tablespoon salted butter
1/2 cup sugar
1 teaspoon vanilla extract
For baking:
1 egg, whisked
Directions
To make galette crust: Whisk flour and salt together in a large mixing bowl. Add cubed butter to flour mixture, cutting the flour with a pastry cutter (or rubbing it in with your fingertips). Keep working the butter into the dough until dough looks sandy. Drizzle in cold water, 1 tablespoon at a time. Gently work water into the dough with a rubber spatula or a wooden spoon until it becomes shaggy but relatively cohesive. Knead dough with your hands until a rough ball forms. Flatten into a disk shape, cover in plastic wrap, and and chill for 30 minutes to 1 hour.
To make rhubarb filling: Place sliced rhubarb in a bowl with lemon juice. Heat a sauté pan over medium-high heat, and melt 1 tablespoon of butter. Add rhubarb and cook until softened, about 2 minutes. Add sugar and continue to cook until sugar has melted, about 2 minutes more. Quickly remove rhubarb from heat and transfer into a cold metal bowl. Stir in vanilla extract, and set aside to cool.
To assemble: Remove galette crust from refrigerator and roll out until 1/8-inch thick. Turn a 9-inch pie pan upside down on top of pie crust, and cut around the edges to form a perfect 9-inch circle of dough. Place a piece of parchment paper on a rimmed cooking sheet. Transfer dough circle to the parchment paper on the rimmed cooking sheet. Drain the liquidy syrup from the rhubarb pieces before transferring the fruit onto the center of the dough circle. Reserve the rhubarb syrup for other recipes (like homemade soda or cocktails).
Use a sharp knife to score 8 petal-shaped pieces around the dough (as if cutting pizza slices), stopping at 1/2-inch before the rhubarb filling. Fold each petal toward the center of the rhubarb filling to create a fan-like shape. When you reach the last petal, tuck it under the first petal piece to maintain the fanned-out shape. Make sure the dough is snug and there are no holes around the bottom (for the galette juices to escape while cooking). Coat the dough evenly with egg wash; refrigerate for 30 minutes.
Preheat oven to 375ºF. Remove dough from fridge and bake for 30-35 minutes, or until crust is golden brown and rhubarb filling is bubbling. Transfer and cool on a cooling rack before slicing and serving.
Information
Category

Desserts, Pies/Tarts

Cuisine

North American

Yield

Serves 6-8