Ribollita Vegetable Soup Recipe
The Italian "Secret Soup" Recipe Everyone Needs to Master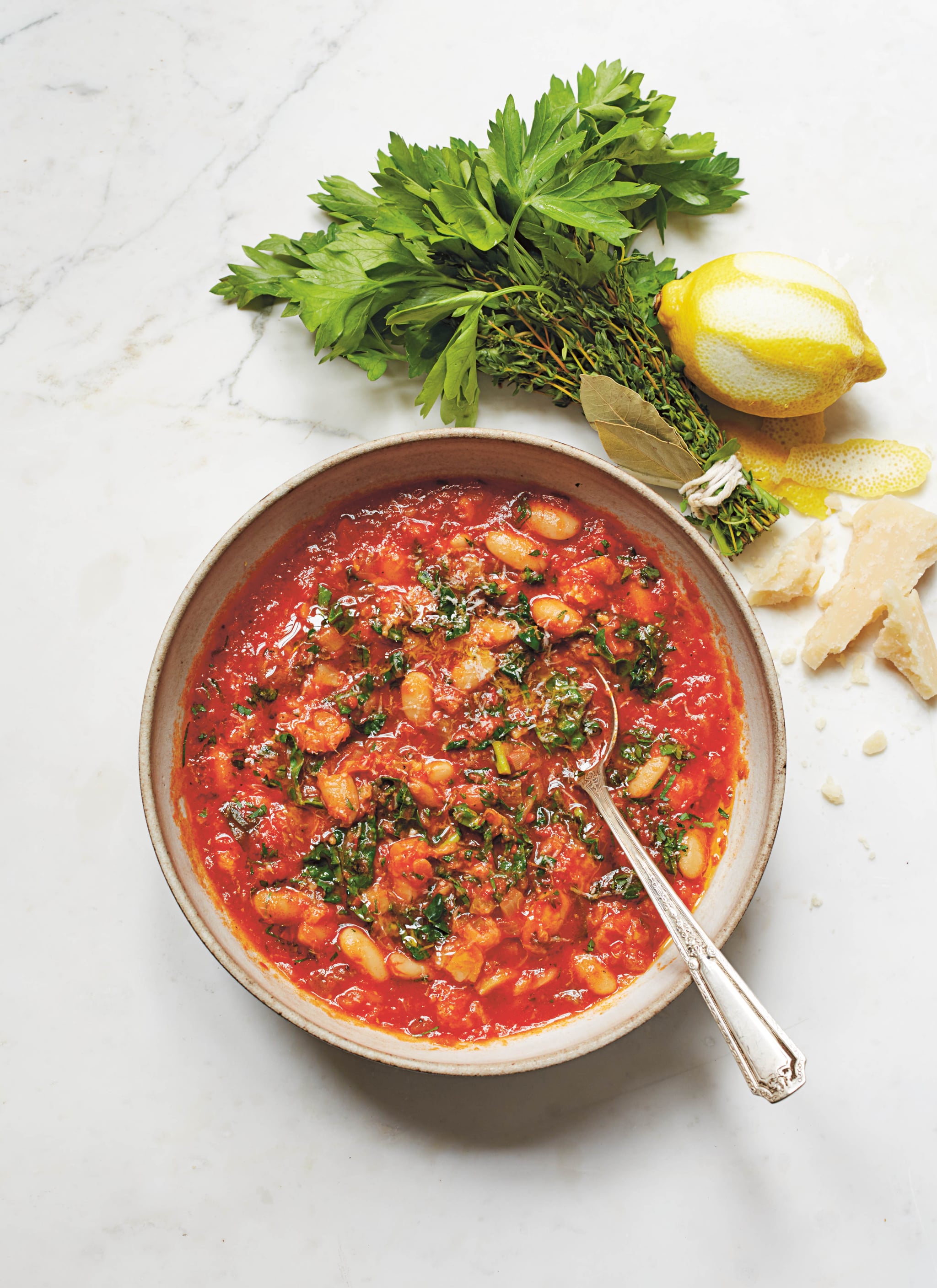 Ribollita, a classic Italian dish made with beans, tomato sauce, parmesan, and bread, becomes particularly memorable thanks to the homemade vegetable stock. This recipe, from The Haven's Kitchen Cooking School by Alison Cayne ($23), is comfort food at its most sophisticated.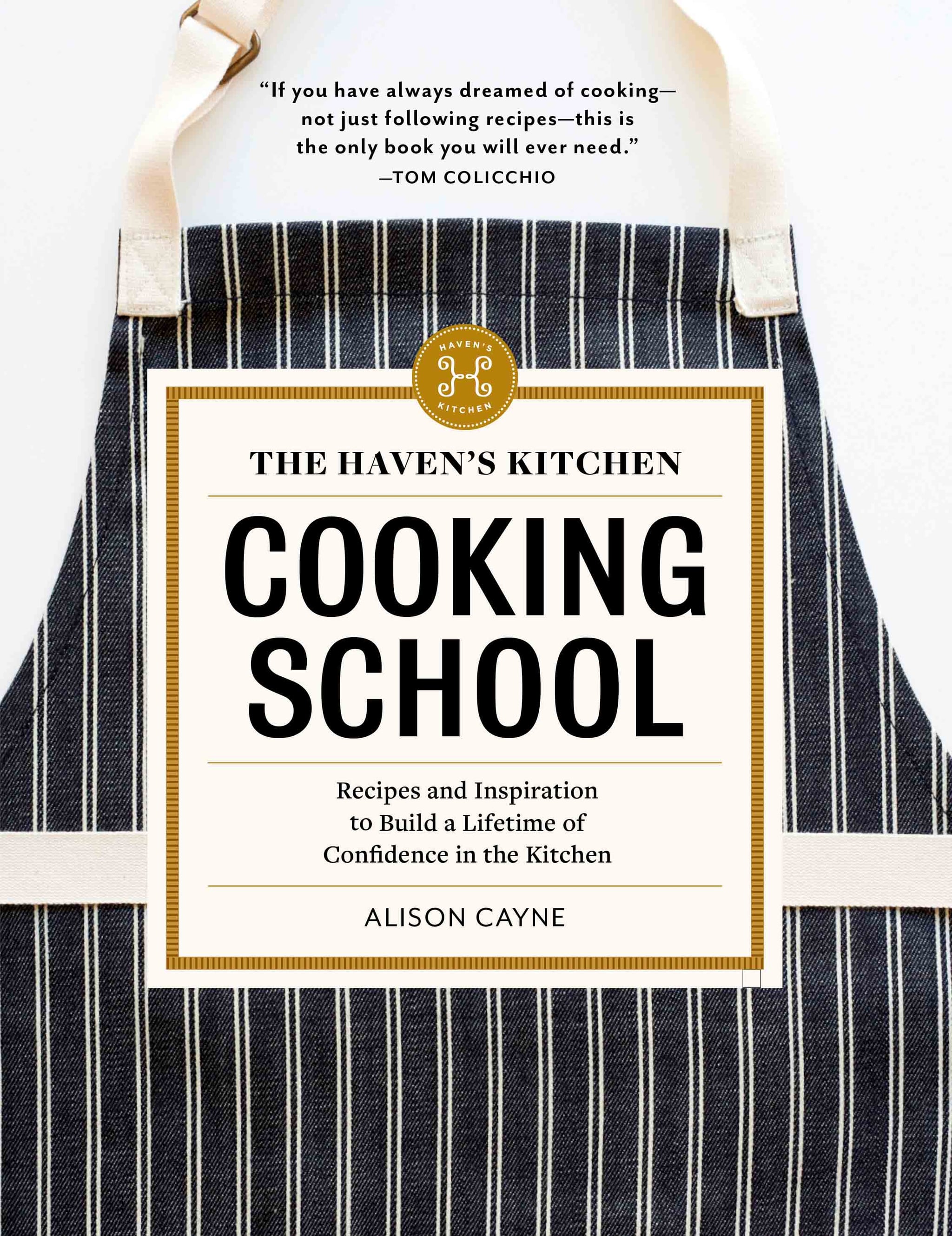 Notes
Two seemingly disparate things are able to comfortably coexist: everyone's grandmother can have a "secret" soup recipe and every one of those recipes likely follows a similar fundamental pattern. This ribollita recipe illustrates one such pattern, as it shows how to build a soup from the bottom up, beginning with a foundation of sautéed aromatics and gradually adding depth of flavor, texture, and color with other ingredients.
This vegetable stock is one of our secrets to making great soups. Use it as your liquid for a deeper, more flavorful soup. Make a big pot of it when you have a free afternoon. Let it cool until lukewarm. Line a jug or pitcher with a 1-quart ziplock freezer bag, ladle the stock into the bag, and seal it. You should be able to fill four bags. Freeze them for up to six months by laying them flat in the freezer. That way, defrosting them takes less time.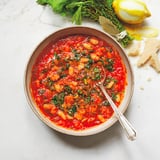 Ingredients
Stock:
3 celery stalks, chopped
3 carrots, chopped
1 large onion, chopped
1/2 fennel bulb, chopped
1 tablespoon extra-virgin olive oil
4 garlic cloves, smashed
1/4 bunch of flat-leaf parsley
5 thyme sprigs
1/2 teaspoon black peppercorns
2 bay leaves, preferably fresh
Soup:
Extra-virgin olive oil
2 celery stalks, diced
1 yellow onion, diced
1 fennel bulb, diced
Fine sea salt
2 large garlic cloves, minced
9 cups homemade vegetable stock
1 (28-ounce) can crushed tomatoes
2 bay leaves
5 thyme springs and 5 flat-leaf parsley sprigs tied together with twine
1 cup dried cannellini beans, soaked overnight, or one 15-ounce can cannellini beans
2 or 3 pieces of Parmigiano-Reggiano rind, each a few inches
Pinch of red pepper flakes
Freshly ground black pepper
3 slices of stale country-style bread, cut into 1/2-inch cubes and toasted (about 2 cups)
1 small bunch lacinato (aka dinosaur, aka Tuscan) kale, stemmed and chopped
Chopped flat-leaf parsley, for garnish
1 lemon
Directions
For the stock: In the bowl of a food processor fitted with the metal chopping blade, pulse the celery, carrots, onion, and fennel until the mixture is chunky with pea-sized bits.
Place a large stockpot over medium heat. Add the olive oil and heat until it begins to shimmer. Add the vegetable mixture and cook, stirring occasionally, for 3 to 5 minutes.
Pour in 4 quarts water. Add the garlic, parsley, thyme, peppercorns, and bay leaves. (The stock will be strained later, so a sachet is not necessary.) Bring to a boil over high heat, and then simmer over low heat for 45 minutes.
Set a fine-mesh sieve or a colander lined with a kitchen towel or cheesecloth over another large pot and strain the stock. This step takes the murkiness out of the stock, which gives it a nicer mouthfeel and also extends the stock's shelf life. Discard the pulp. If not using it immediately, let cool to room temperature, and then pour into freezer bags or lidded containers, cover, and refrigerate or freeze. Tightly sealed, the stock will keep for 5 days in the refrigerator and up to 6 months in the freezer.
For the ribollita: Heat a large Dutch oven or stockpot over medium-high heat. Pour in enough oil to cover the bottom of the pan. When the oil is warm, add the celery, onion, and fennel. Season with salt and cook, stirring occasionally, until the onion is translucent and aromatic, 4 to 5 minutes. Add the garlic and cook until the garlic has softened, about 1 minute.

Cooking Notes
Soups that have a brothy base like ribollita are best when you build a foundation by sweating aromatics: a medley of celery, onion, fennel, and garlic.

Add garlic later; it cooks more quickly because it is minced.

Add the stock, crushed tomatoes, bay leaves, herb bundle, dried beans (if using canned beans, you'll add them later), Parmigiano-Reggiano rinds, and red pepper flakes. Season with salt and black pepper. Bring to a simmer and cook on low heat, stirring frequently to prevent the rinds from sticking to the bottom of the pot, for 30 to 45 minutes.

Cooking Notes
Layering flavor is the key to a soup that satisfies all of your senses. Here you build the flavor into the broth with aromatics, a savory liquid, herbs, and, in this case, the cheese rind.

Note that you add the soaked dried beans at this point because they take longer to cook; canned beans get added later. Dried beans will add more starch to the ribollita and you'll end up with a thicker dish, but canned beans offer the desired texture as well.

Add the bread cubes or croutons (and canned beans, if using) and simmer until the bread has absorbed the broth, the beans are soft and plump, and the soup begins to thicken, 20 to 30 minutes.

Cooking Notes
Build texture and body into the soup with the beans and bread.

Stale country-style bread is a key ingredient here. Preferably, use a day-old bread like ciabatta. Toasting the bread helps it keep its texture. Because canned beans are precooked, you want to add them at this stage so they will not get too mushy.

Add the kale and continue to simmer until the greens are just cooked, about 5 minutes.

Cooking Notes
Hearty greens like kale hold up to the heat of soup, retaining their texture and color.

Taste the soup and add more black pepper and salt, if needed. Discard the cheese rinds, bay leaves, and herb bundle.

Cooking Notes
Always taste your soup before serving.

Serve each bowl of soup garnished with some chopped parsley and a squeeze of lemon juice.

Cooking Notes
Parsley is so much more than a frilly garnish. The flat-leaf variety used here adds color and flavor. Finish the soup with a squeeze of lemon; it offers a hint of acid, bringing the whole bowl together.
The best soups have a finisher to top off the bowl.
Excerpted from The Haven's Kitchen Cooking School by Alison Cayne (Artisan Books). Copyright © 2017.
Information
Category

Soups/Stews, Stock/Broth

Cuisine

Italian

Yield

8 to 12 servings
Image Source: 2017 © Con Poulos