Sauteéd Mushrooms With Thyme and Poached Eggs
An Umami-Rich Mushroom Dish to Eat Any Hour of the Day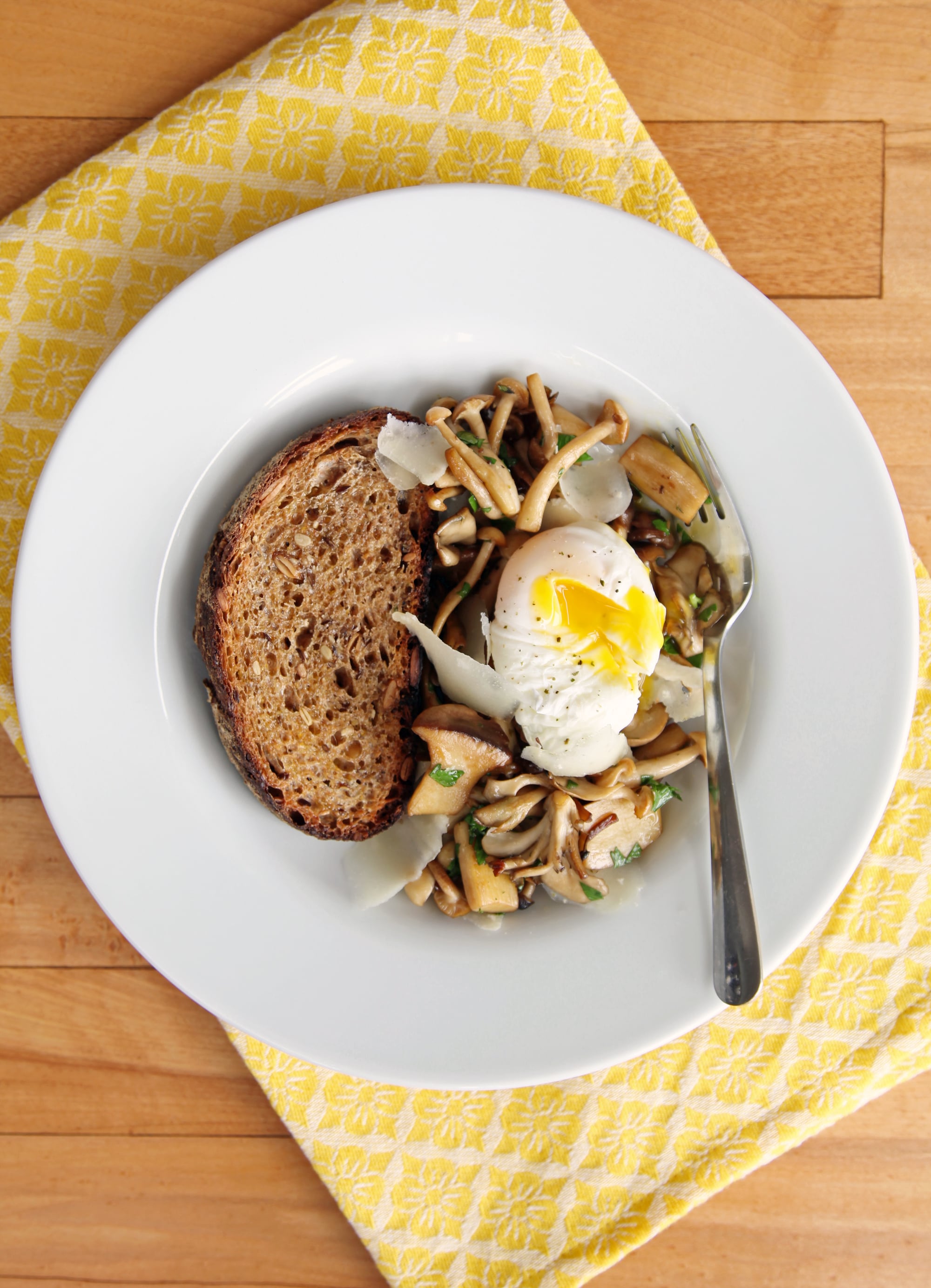 I'm a big fan of putting a bird an egg on it — the it being a bed of vegetables, such as spicy sautéed garlic kale, roasted asparagus with miso butter, or a classic Lyonnaise salad. Few gustatory delights can rival breaking the yolk of a perfectly poached egg and watching its golden contents ooze forth, and this simple addition instantly transforms a plate of veggies from side dish to standalone meal.
In this, my latest egg-topped obsession, creamy yolk adds lushness to a bed of herb-flecked, sherry-glazed mushrooms, for a meal that's as at-home at breakfast as it is at dinner (unless you're one of those weird breakfast-for-dinner haters). As this recipe is farmers market inspired (its from the pages of Gabrielle Langholtz's The New Greenmarket Cookbook), feel free to use whatever mushrooms and fresh herbs look great at your market. I used a mixture of oyster, trumpet, and maitake mushrooms and a combination of thyme and parsley.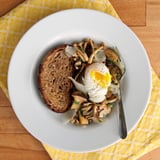 Ingredients
1/4 cup white vinegar
1/4 cup salt
2 large eggs
2 tablespoons extra-virgin olive oil, plus more for drizzling
12 ounces mixed mushrooms, cut into 1-inch pieces
1 tablespoon sherry vinegar
Kosher salt
2 tablespoons chopped fresh herbs, such as parsley, thyme, chives, basil, dill, or mint
Shaved parmesan
Freshly ground black pepper
Toast, for serving
Directions
Fill a medium stockpot with water, add the white wine vinegar and salt, and bring to a low simmer. Crack an egg in a shallow bowl. Swirl the water to create a vortex. Tip the egg into the center, and simmer until the white is completely set and the yolk is runny, 2-3 minutes. Remove with a slotted spoon, blot dry with a paper towel, and repeat the process with the second egg.
Heat the oil in a large sauté pan over medium-high heat until very hot. Add the mushrooms and a pinch of salt, and sauté until caramelized but juicy, 6-7 minutes. Add the vinegar to the pan, toss the mushrooms to coat, and cook until the pan is dry, about another minute. Toss with fresh herbs; season to taste with salt.
Plate the mushrooms in two wide, shallow bowls, and arrange the poached eggs on top. Garnish with shaved parmesan and black pepper. Serve with toast.
Information
Category

Eggs, Breakfast/Brunch

Cuisine

North American

Yield

Serves 2