Scrambled Eggs With Mushrooms and Goat Cheese
How to Make Weekend-Worthy Eggs For Breakfast All Workweek Long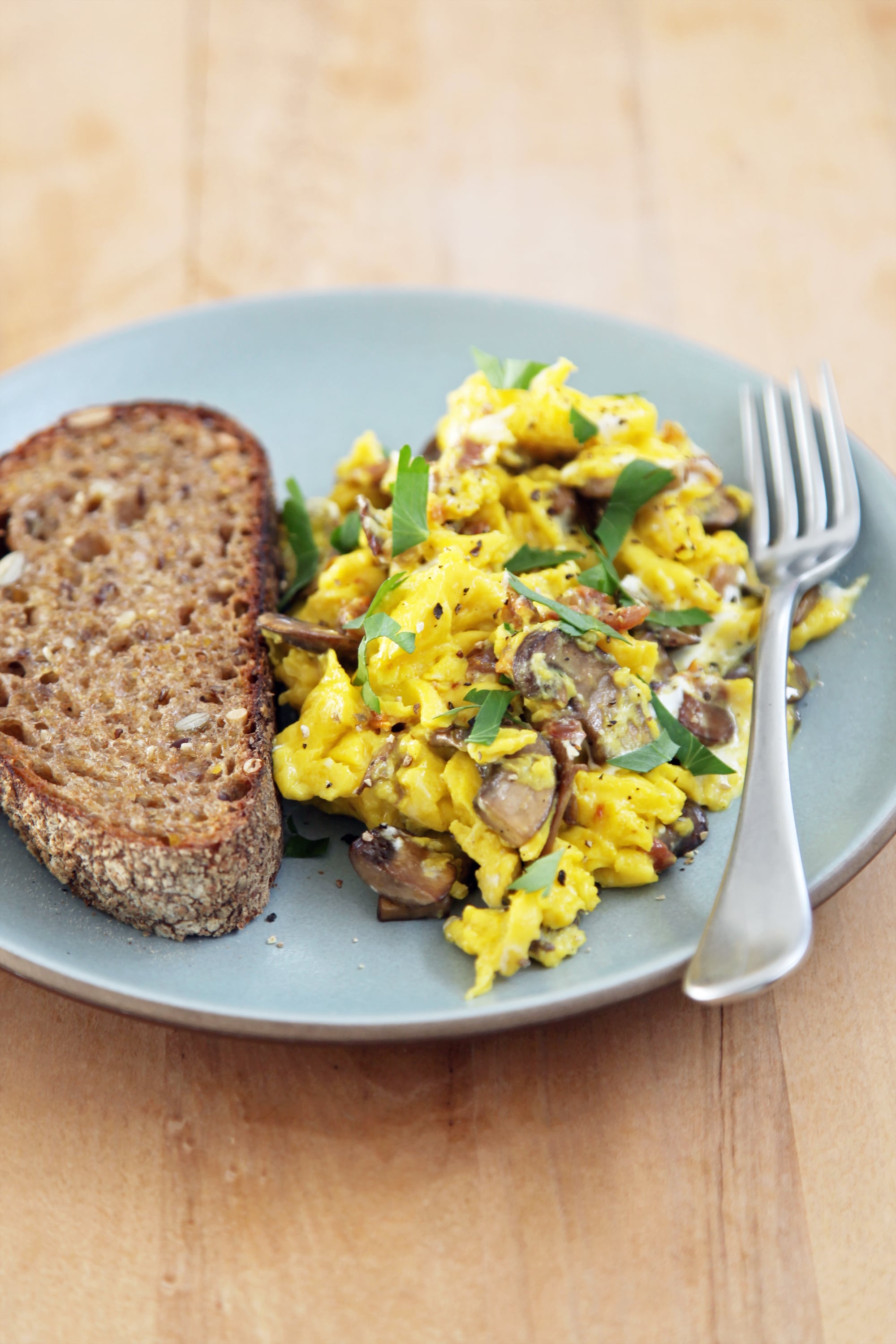 One of my favorite combinations is mushrooms and eggs, particularly in a creamy, perfectly cooked scramble. The dilemma: how to enjoy this combination at breakfast more often, even on busy weekdays. (I, like most people, don't have more than about 10 minutes to make breakfast before work.)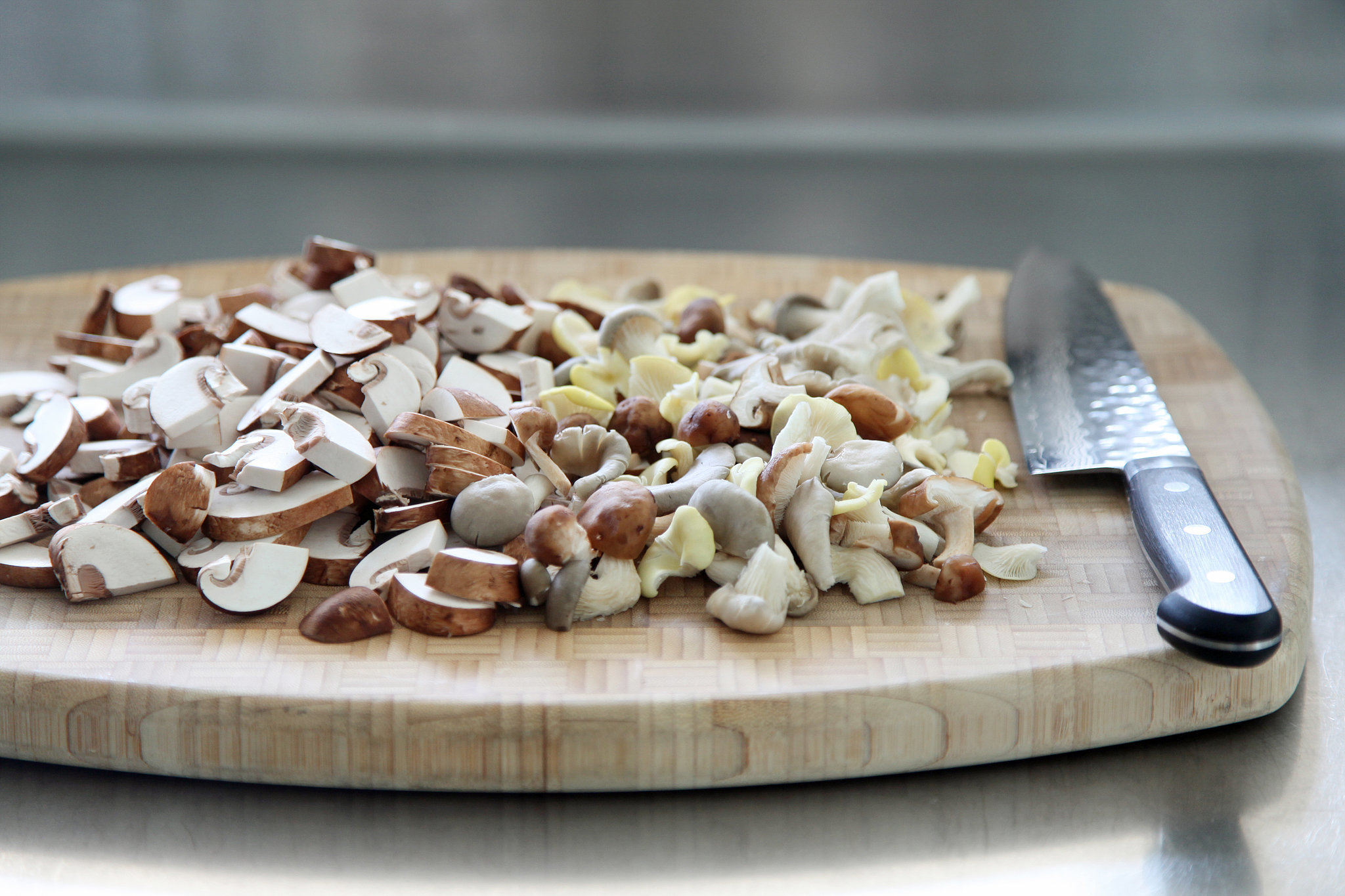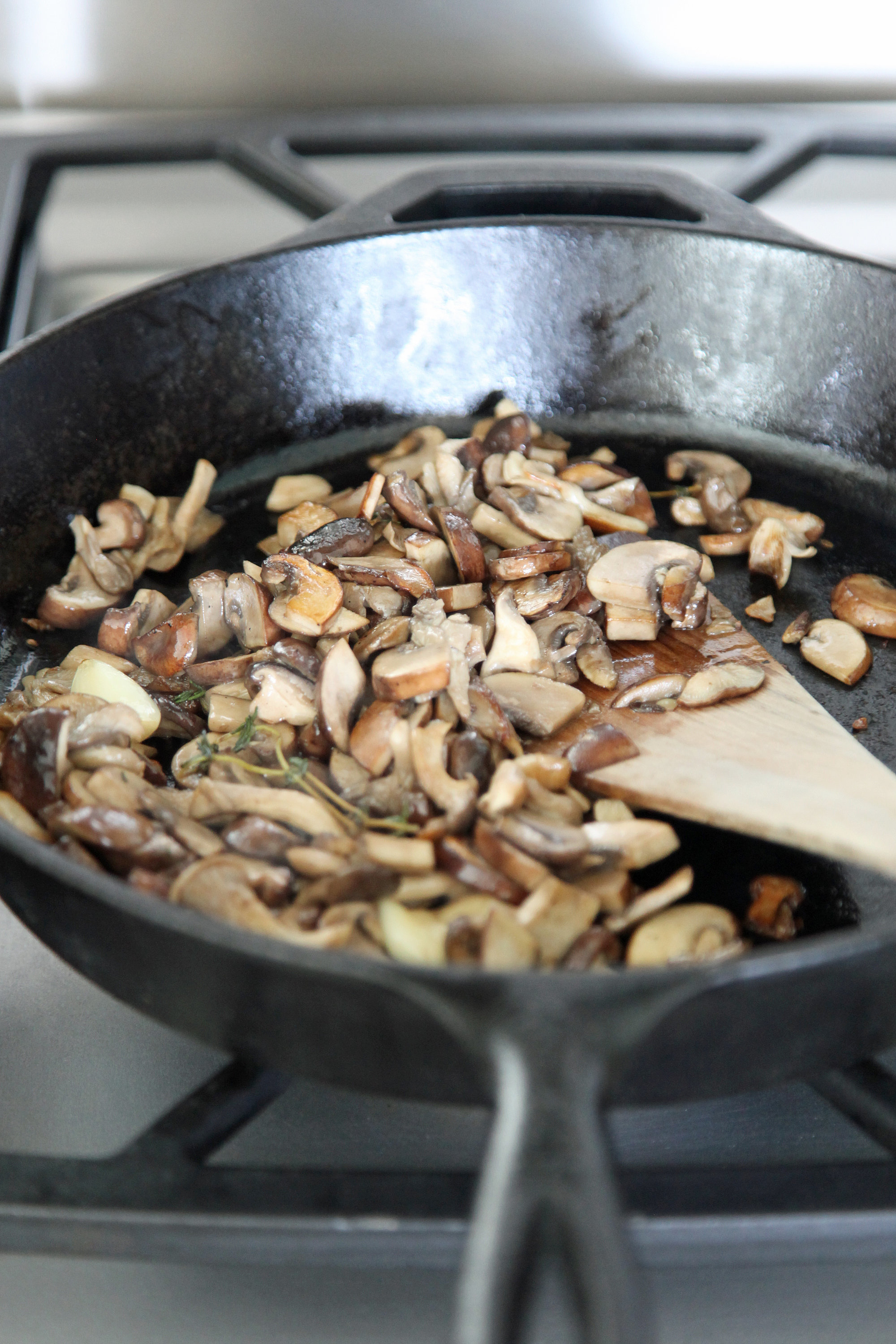 The solution: rather than sauté mushrooms to order each morning, I like to cook up a big batch on the weekends — properly browning mushrooms takes time — and dip into my supply throughout the week. Come Monday morning, basically all I have to do to make this luxe scramble is chop up a sun-dried tomato, beat some eggs, and get to cooking.
The resulting recipe is absolutely weekend-worthy while coming together in about five minutes (if that).
Scrambled Eggs With Wild Mushrooms, Sun-Dried Tomatoes, and Goat Cheese
From Nicole Perry, POPSUGAR Food
Notes
Since wild mushrooms like oyster, shiitake, and king trumpet mushrooms are pricey, I typically use about half an assortment of those and half budget-friendly cremini mushrooms.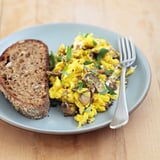 Ingredients
For the mushrooms:
1 tablespoon extra-virgin olive oil
2 small garlic cloves, smashed
2 sprigs thyme
1 pound assorted wild mushrooms, such as oyster, shiitake, king trumpet, and cremini, chopped
Kosher salt, to taste
A splash of sherry vinegar
For each serving of eggs:
2 large eggs
Scant 1/8 teaspoon kosher salt
1/2 tablespoon extra-virgin olive oil
A heaping 1/4 cup cooked mushrooms
1 sun-dried tomato half, finely chopped
1 tablespoon fresh goat cheese, crumbled
Freshly cracked black pepper, to taste
Chopped fresh parsley, for garnish, optional
Toast, for serving, optional
Directions
Cook the mushrooms: Add oil, garlic, thyme, mushrooms, and salt to the largest skillet you have (I like to use a 12-inch cast-iron skillet). Turn the heat on to medium-high and cook, stirring occasionally, until the mushrooms are tender and golden brown. Deglaze with sherry vinegar, season to taste with salt, discard garlic and thyme. Cool to room temperature before transferring to an airtight container and refrigerating.
Cook the eggs: Beat together the eggs and salt in a small mixing bowl until homogenous and frothy.
Add the olive oil to a medium nonstick skillet, heat for about 30 seconds over medium-high heat, then add the mushrooms and sun-dried tomatoes, and cook for 1 minute, stirring occasionally. (This is not to cook the vegetables but rather to heat them up.) Once the pan and vegetables are hot, add the egg and cook, stirring constantly for 30 seconds to 1 minute or until the egg looks not quite soft-cooked. (The residual heat from the skillet will continue to cook the eggs.) Remove from the heat, add the goat cheese, stir to combine, and transfer to a plate. Finish with pepper and a sprinkling of parsley. Serve with toast.

Information
Category

Eggs, Breakfast/Brunch

Cuisine

North American

Yield

About 1 1/2 cups mushrooms; enough for 5 servings
Image Source: POPSUGAR Photography / Nicole Perry