Slow-Cooker Bolognese Sauce Recipe
Slow-Cook Your Way to a Luxe Italian Supper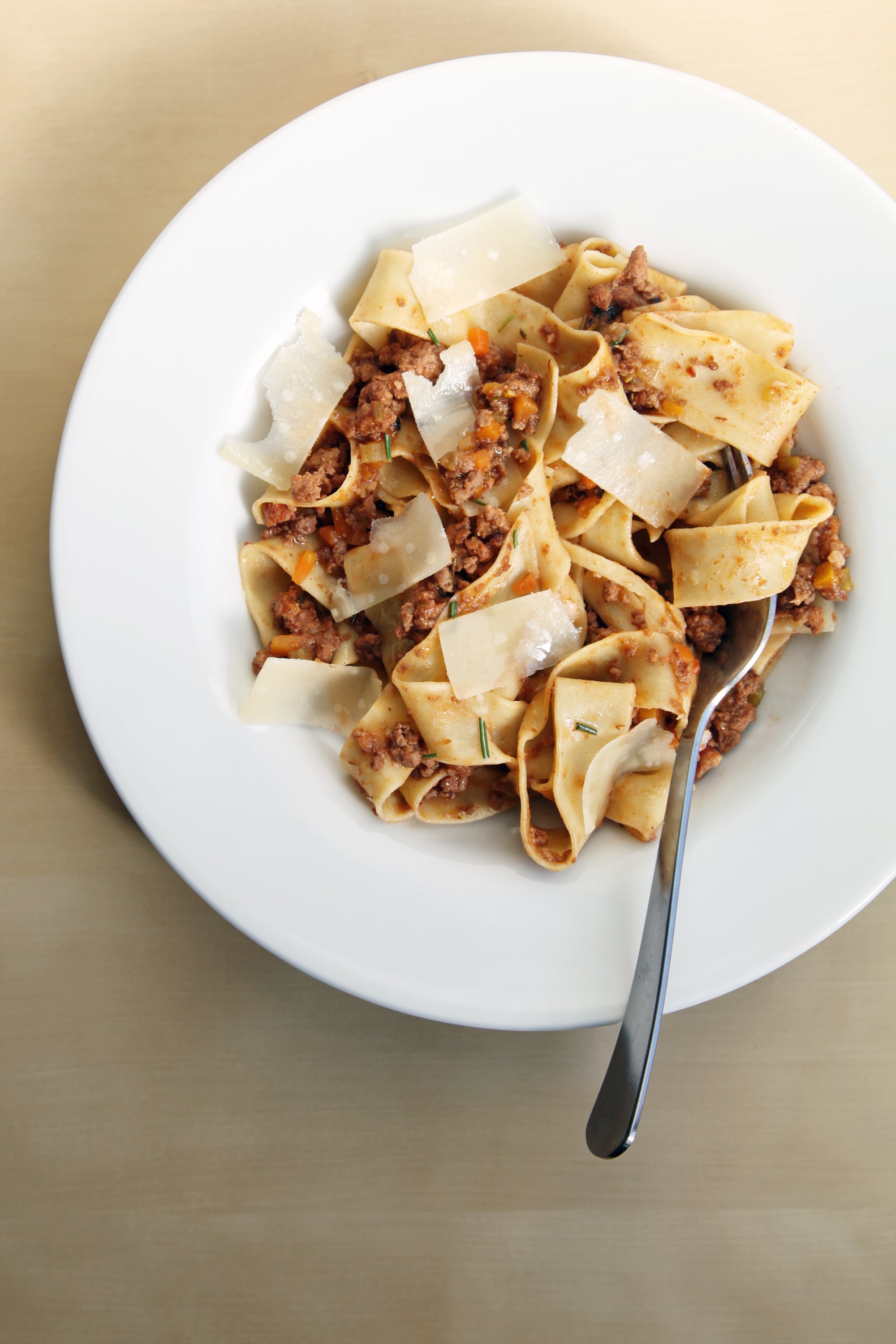 To be upfront, this isn't one of those slow-cooker recipes that instructs you to throw everything in a pot, set it, and forget it. It demands a bit more respect (and a bit more work) from you than that. What it is is a recipe for supper success, as once you've invested the initial time to chop and brown all of the ingredients — about an hour of meditative work — you can go about your merry day knowing that you'll return to a luxe dinner.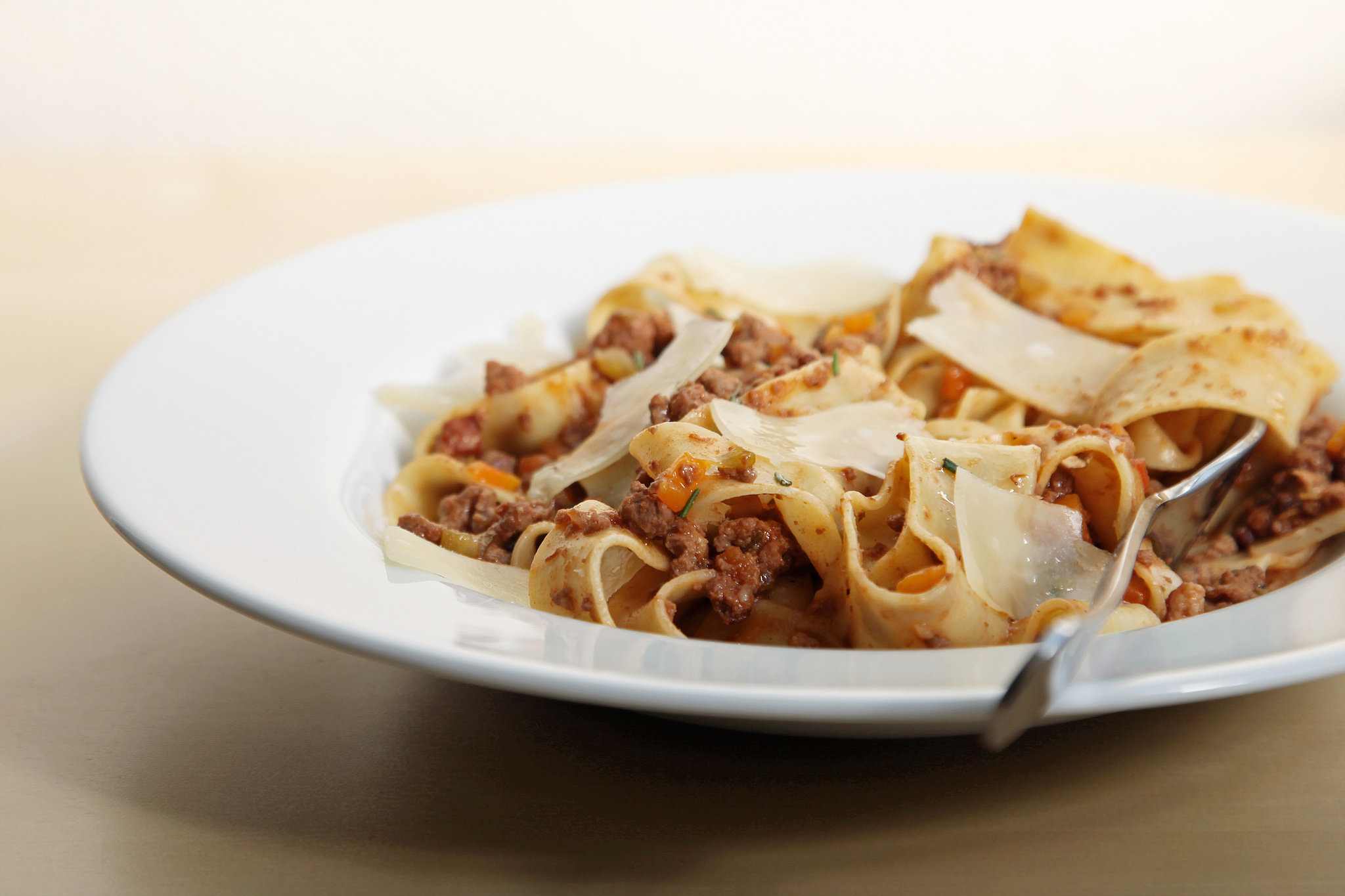 Tossed with pappardelle and sprinkled with parmesan shavings, it's a dish that'll woo both you and whoever you're so kind as to share it with. And, unless you're cooking dinner for a crowd, it's generous with leftovers; tuck an airtight container of sauce in the freezer and rest easy knowing you have a stash of dinner gold to dip into whenever you need a pick-me-up in the midst of a busy week.
Notes
Meatloaf mix is equal parts ground beef, pork, and veal. If you can't find ground veal, use equal parts ground beef and pork, or all beef.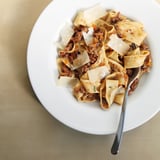 Ingredients
1/4 cup dried porcini mushrooms
2 slices white sandwich bread, crusts removed
1 cup whole milk
Scant 3 cups meatloaf mix, at room temperature
2 teaspoons coarse salt, plus more to taste
15 grinds black pepper
2 tablespoons unsalted butter
1/2 pound pancetta, coarsely chopped
1 cup finely chopped shiitake or cremini mushrooms
2 cups finely chopped carrots (about 4 medium)
1 cup finely chopped celery (about 4 stalks)
1 cup finely chopped red onion (about 1 small)
1 tablespoon finely chopped garlic
1 teaspoon freshly ground nutmeg
1/2 cup tomato paste (about 5 ounces)
1/4 cup all-purpose flour
1 cup dry red wine, such as Cabernet Sauvignon
3/4 cup canned diced tomatoes, with juice
1/2 cup chicken stock
2 tablespoons minced rosemary leaves
Red wine vinegar, to taste
1 pound pappardelle pasta, cooked according to the package directions
Grated parmesan cheese, for serving
Extra-virgin olive oil, for serving
Directions
Add the dried mushrooms to a small bowl and cover with very hot water; let sit for 15 minutes, then drain and finely chop. In a large bowl, mash the bread and milk together until a smooth paste forms. Gently knead in the ground meat, salt, and pepper, and mix well.
Add the butter to a large straight-sided, heavy-bottomed skillet and heat over medium-high heat. When melted, add the pancetta and sauté until browned, about 8 minutes. Transfer the pancetta to a large mixing bowl and pour off all but 2 tablespoons of the fat from the pan. Cook about half of the ground meat mixture until browned; transfer to the bowl with the pancetta. Repeat with the remaining ground meat. Add the fresh porcini and cook until softened, about 2 minutes. Stir in the dried mushrooms, carrots, celery, onions, garlic, and nutmeg. Sauté until the vegetables are slightly softened and aromatic, about 3 minutes. Add the tomato paste and the flour, and cook until the flour is no longer visible, no more than 1 minute. With the pan off the heat, carefully add the wine. Then return the pan to high heat and stir well, scraping the bottom of the pan with a wooden spoon to release any food bits. Cook for 2 minutes, then stir in the tomatoes and stock, and cook for another minute. Pour into the slow cooker and add the browned meat; stir to combine.
Cover the slow cooker and cook on low until the meat has cooked through and the sauce is aromatic and very flavorful, about 6 hours. Spoon the fat off the surface, stir in the rosemary, break up the meat more with a fork, and season to taste with salt and vinegar.
To serve, toss the sauce with the pasta and garnish with parmesan and a drizzle of olive oil.
Information
Category

Main Dishes, Beef

Cuisine

Italian

Yield

11 cups sauce
Image Source: POPSUGAR Photography / Nicole Perry