Slow-Cooker Taco Soup
Forgo Tacos For a Slow-Cooked Taco Soup
I live on the fourth floor of an apartment complex, and countless times as I return home from work, I walk up my staircase to catch a whiff of the garlicky spaghetti sauce that my first-floor neighbor is cooking, only to go up another flight to find out that my second-floor neighbor is baking roast beef tonight. And what's for dinner on the third floor? Cumin- and coriander-heavy Indian curry, no less. By the time I reach my apartment, my mouth is salivating but my heart is heavy, for a bubbling, aromatic pot of dinner isn't waiting beyond my door . . . until now!
Slow-cooked foods are making a comeback, and for good reason: a minor investment (some models will only set you back 20 bucks), minimal prep, and an afternoon of unattended simmering is all it takes to pull together a delicious meal. The preparation for this recipe shouldn't take longer than 30 minutes, so you can easily throw it together as you're making breakfast. Let it simmer away as you go about your day, and then, as if magic, you'll return home to a powerfully intoxicating, hearty-as-hell taco soup. I promise the scent will drive your neighbors crazy. It's payback time!
Slow-Cooker Taco Soup
From Anna Monette Roberts, POPSUGAR Food
Notes
If you don't have a slow cooker, cook it in a soup pot over the stovetop at the lowest heat setting. Be sure to keep the lid on and check on it every half hour or so. If you're planning to leave the slow cooker unattended, make sure to follow the manufacturer's directions, and cook it on the low setting.
Try garnishing a bowl with crumbled tortilla chips, sliced avocado, chives, or cilantro for added flavor and texture.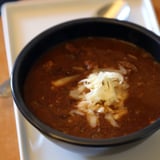 Ingredients
1 onion, thinly sliced
2 garlic cloves, minced
2 (15-ounce) cans black beans, drained
1 (7-ounce) can diced green chiles
2 tablespoons chili powder
1 1/2 teaspoons cumin
1 pound ground beef
1 (15-ounce) can tomato sauce
12 ounces wheat ale
2 cups chicken broth
Salt and pepper, to taste
Shredded sharp white cheddar cheese, for garnish
Directions
In a five- to six-quart slow cooker, combine onion, garlic, black beans, green chilies, chili powder, cumin. Place ground beef on top of vegetables. Pour in tomato sauce, wheat ale, and chicken broth.
Cover, and cook on high for six hours (or on low for eight hours). Halfway through the cook time, mash up the ground beef into bite-size pieces. If you've left the slow cooker unattended, simply mash up the ground beef when you return home. Salt and pepper to taste. Garnish with shredded cheese.
Information
Category

Main Dishes, Beef

Cuisine

North American

Yield

4-6 servings

Total Time

8 hours, 29 minutes, 59 seconds
Image Source: POPSUGAR Photography / Anna Monette Roberts