Spiced Carrot Soup With Roasted Chickpeas and Tahini
A Spiced Carrot Soup You'll Actually Crave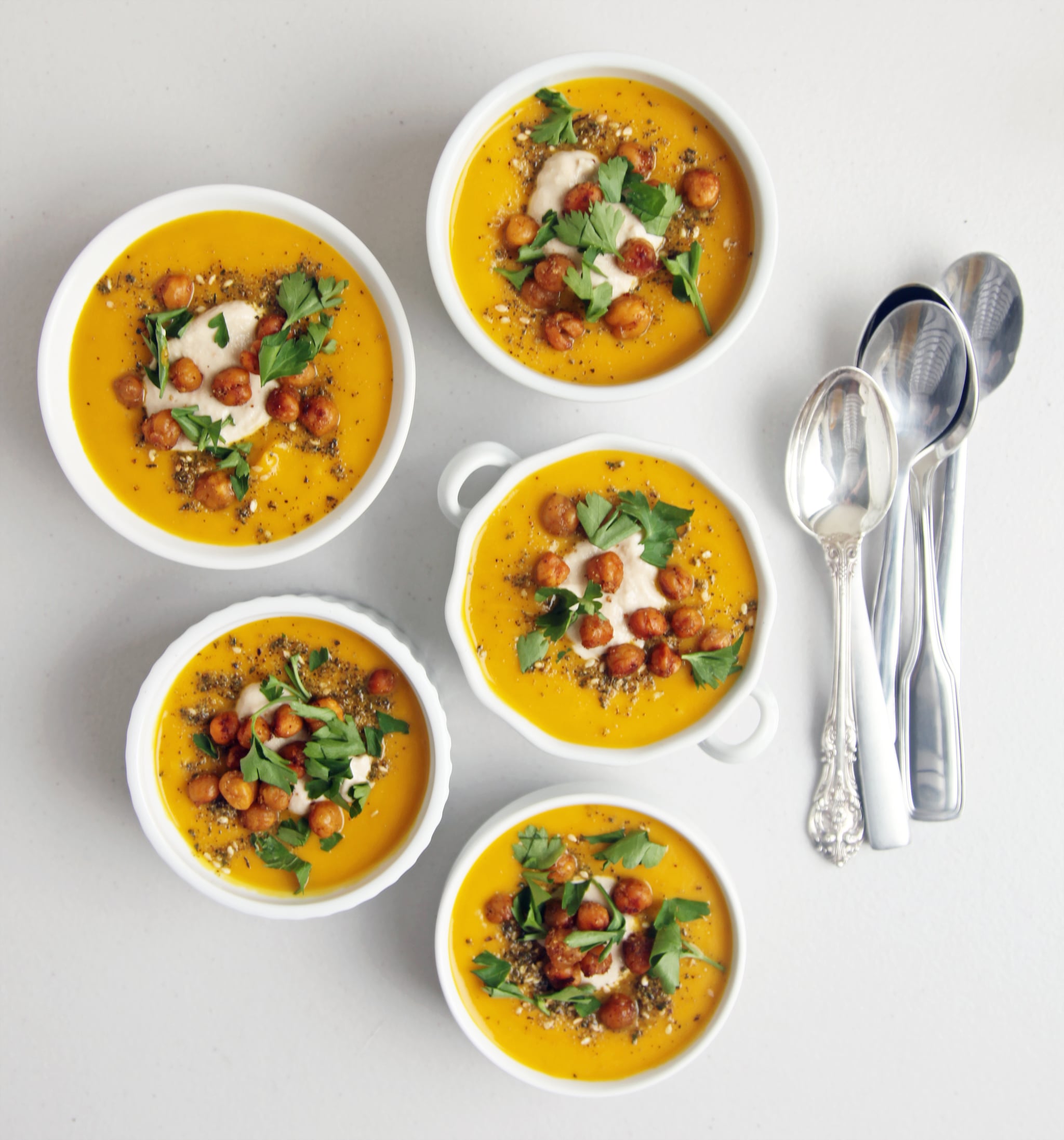 I've sung pureed soup's praises before, and I'll sing them again: few foods are more satisfying, nourishing, and leftovers-friendly while still allowing room for experimentation and intrigue. This Middle Eastern spiced carrot soup is no exception. Creamy without using cream and garnished with all matter of excellent nibbles, it's the sort of soup that is worthy of a light meal in and of itself.
A quick word on the garnishes: I know what you're thinking — four components for one soup . . . isn't that a hair excessive? In short, no. Spiced chickpeas, a tahini-lemon dollop, dukkah, and parsley make the soup the lovely dish it is by providing loads of textural and flavor contrast, while adding minimal time and effort to the recipe.
Spiced Carrot Soup With Crispy Chickpeas and Tahini
Adapted from Smitten Kitchen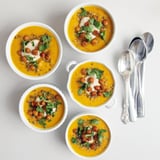 Ingredients
For soup:
2 tablespoons extra-virgin olive oil, plus more to taste
2 pounds carrots, peeled and thinly sliced
2 leeks, thinly sliced and cleaned
6 garlic cloves, peeled and smashed
1/4 teaspoon ground coriander
1/2 teaspoon ground cumin
Kosher salt, to taste
Pinch of red pepper flakes
4 cups vegetable stock
Sherry vinegar, or another acid, to taste
For garnish:
3 tablespoons tahini
2 tablespoons freshly squeezed lemon juice
2 tablespoons water
Dukkah, za'atar, or sesame seeds for garnish
About 1 3/4 cups spicy roasted chickpeas
2 tablespoons flat-leaf parsley, coarsely chopped
Directions
Heat the olive oil in dutch oven or stock pot over medium heat. Add the carrots, leek, garlic, coriander, cumin, 1 teaspoon salt, and pepper flakes, and sauté, stirring occasionally, until they begin to brown, about 15 minutes.
Add the vegetable stock, scraping the bottom of the pot to deglaze any browned bits, bring to a boil, and then reduce to heat to maintain a simmer. Simmer for about 30 minutes, or until the carrots are fork-tender.
Meanwhile, whisk together the tahini, lemon juice, water, and a pinch of salt in a small bowl till smooth. Set aside.
Blend the soup until smooth, either using an immersion blender or by carefully transferring to a blender in batches.
Season the soup to taste with olive oil, salt, and sherry vinegar.
Ladle the soup into bowls, and garnish each bowl with a dollop of the lemon-tahini mixture, a pinch of dukkah, za'atar, or sesame seeds, roasted chickpeas, and chopped parsley.
Information
Category

Soups/Stews, Cream

Cuisine

North American

Yield

Serves 4-6
Image Source: POPSUGAR Photography / Nicole Perry