Sriracha Deviled Eggs
Gail Simmons Gives Us Another Reason to Obsess Over Sriracha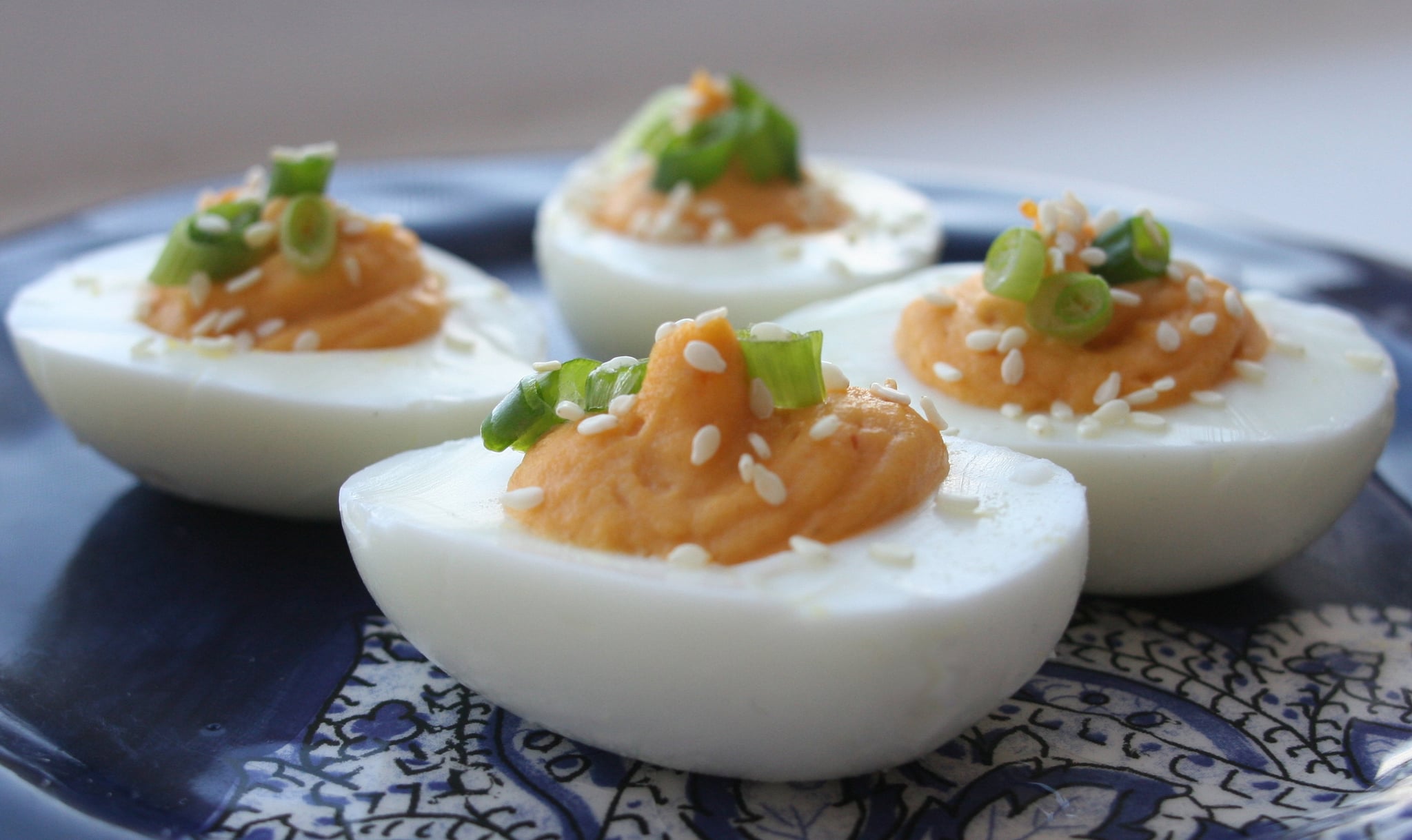 Gail Simmons has wowed us with her kale smoothies and fish tacos, and now she's written up another recipe we're scrambling to post to our Pinterest boards: sriracha deviled eggs. Gail plays up the Asian flavors with sesame oil, sriracha, and rice wine vinegar, and she adorns the tops with scallion and sesame seeds. All we can say is . . . thank you Gail for giving us another all-too-delicious way of incorporating sriracha into game-day foods.
Spicy Sriracha Deviled Eggs
By Gail Simmons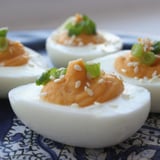 Ingredients
8 large organic eggs
1/3 cup mayonnaise
2 teaspoons toasted sesame oil
1 tablespoon sriracha hot sauce
1 teaspoon rice wine vinegar
1/8 teaspoon kosher salt
1 scallion, finely sliced
1 tablespoon toasted sesame seeds
Directions
Add eggs to a medium saucepan and cover with cold water. Place over high heat and bring to a boil. Once boiling, shut off heat and leave eggs to sit in the hot water for 12 minutes. Remove eggs from pan and gently place in an ice water bath until fully cooled.
Peel and discard shells. Carefully cut eggs in half lengthwise and scoop yolks into a mixing bowl. Reserve white halves on a serving platter.
Add mayonnaise, sesame oil, hot sauce, vinegar, and salt to the yolks and mash them together with a fork. When everything is well-combined, use a whisk to smooth and whip the mixture.
Place in a piping bag or sealable quart bag, cutting off one of the bottom corners, and pipe mixture into the bowl of each egg white. Garnish each with a few sliced scallions and a pinch of toasted sesame seeds. Serve immediately.
Information
Category

Snacks

Cuisine

North American

Yield

16 halves