Tyler Florence Roasted Beets and Kale Pesto Recipe
Tyler Florence's Perfect Pesto Has a Sneaky Ingredient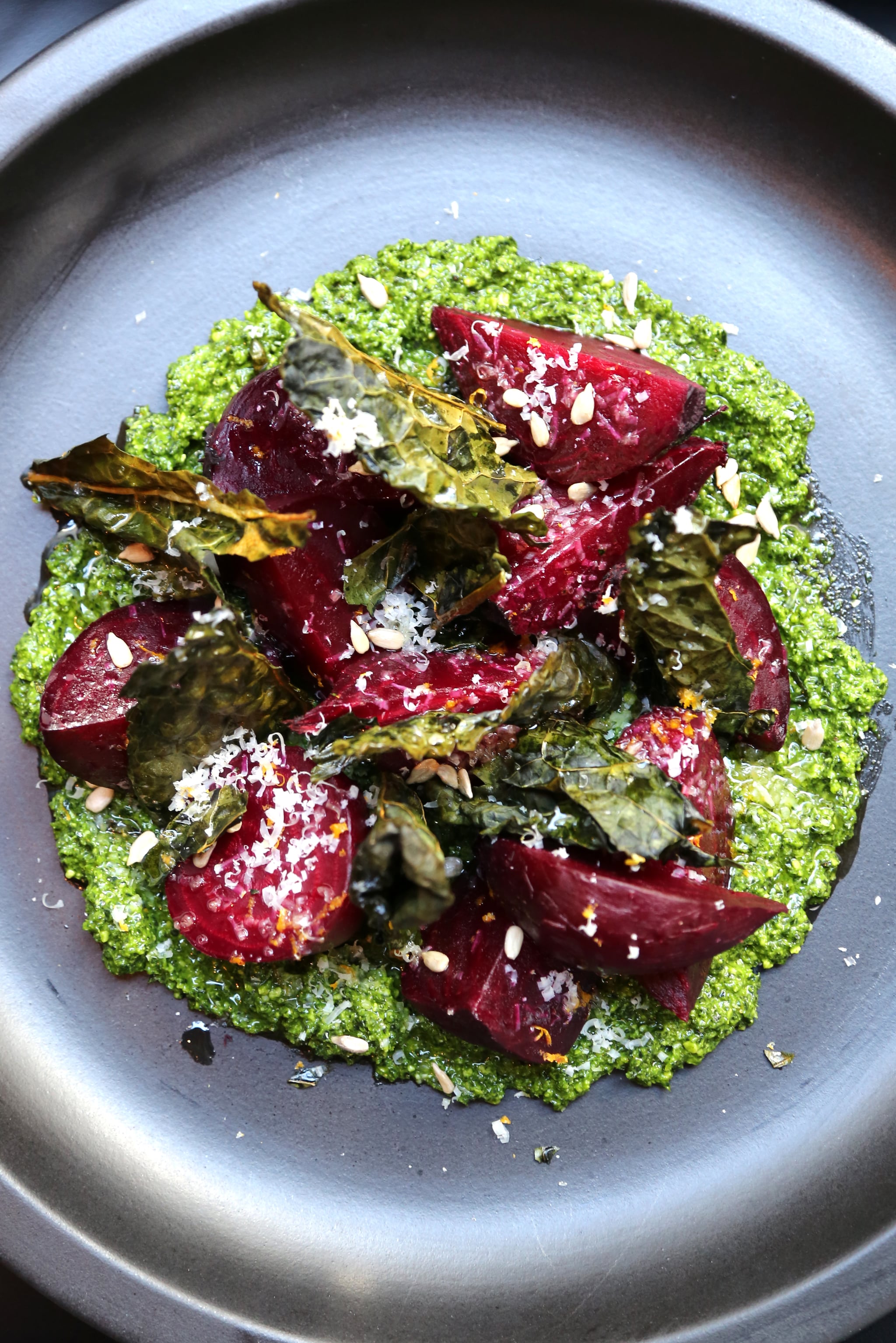 If anyone knows California cuisine, it's chef Tyler Florence. The Food Network host lives in the picturesque county of Marin in Northern California and owns acclaimed restaurant Wayfare Tavern in San Francisco. His roasted beets with kale pesto is a vegetarian side dish that's just as crowd pleasing as it is colorful, and he provided the recipe so that you can bring the California-inspired, produce-driven dish to your home, no reservations required.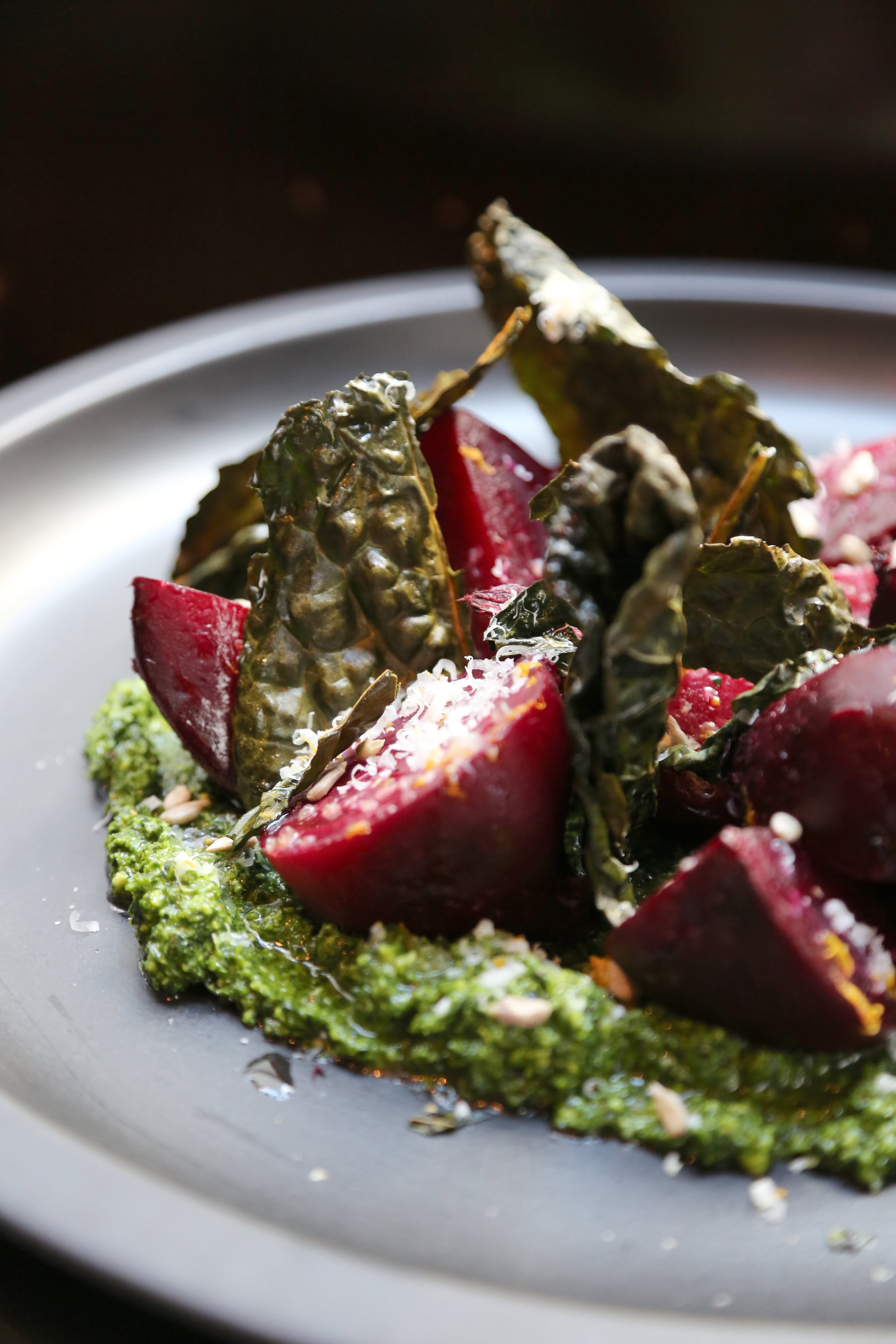 I know beets aren't everyone's favorite vegetable, but those deep-red gems are only half the star of this recipe; the pesto is the real standout. If you're a fan of traditional basil pesto, you're guaranteed to love this upgraded version, and you can put it on everything from pasta to chicken. Thanks to its secret ingredient — sunflower seeds rather than pine nuts — the consistency is even richer and more buttery, and the kale provides a hearty texture that basil lacks. Packed with plenty of olive oil, parmesan cheese, garlic, and lemon juice, this pesto will even convert kale-haters. The next time you want to impress your guests (or yourself), whip up this chef-approved recipe.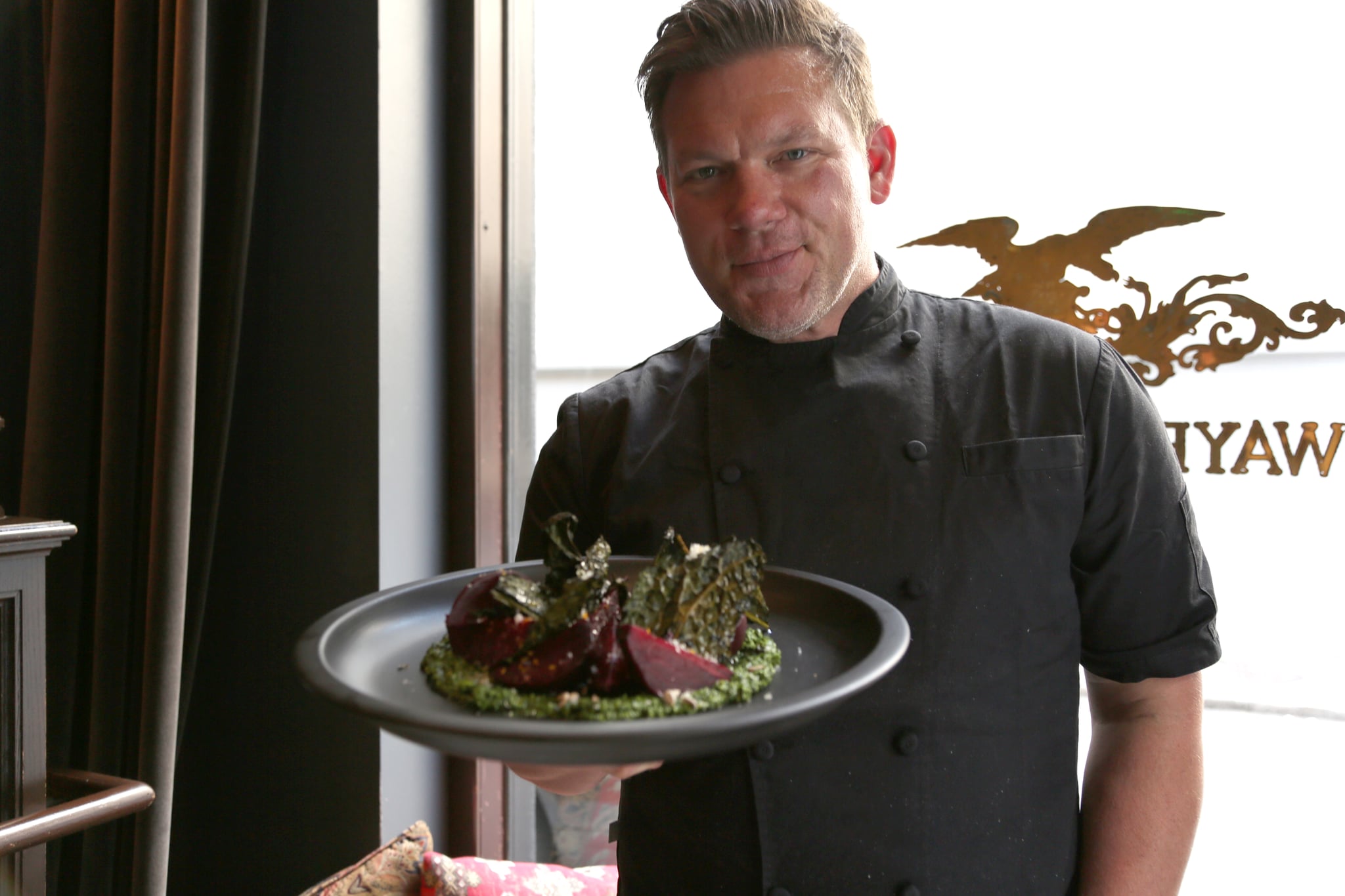 Roasted Beets With Kale Pesto
From Tyler Florence
Ingredients
2 bunches medium red beets
Kosher salt
Fresh cracked black pepper
10 sprigs thyme
3/4 cup extra virgin olive oil
2 bunches dino kale
1/4 cup sunflower seeds, plus 2 tablespoons for garnish
3 garlic cloves
2 oranges, 1 sliced
Juice of 1/2 a lemon
2 tablespoons water
1/4 cup parmesan cheese, shredded
Directions
Preheat oven to 400°F.
Trim the tops of the beets and rinse to remove any dirt. In a large bowl, toss the beets with 1/4 cup olive oil, 2 teaspoons salt, thyme, and 1 orange sliced. Make a pouch out of foil, and pour the mixture into it and seal completely. Place pouch on a sheet tray and put into the oven for 35-45 minutes, or until fork tender.
While the beets are cooking, prepare the pesto and the crispy kale chips.
Toss 8 kale leaves with 3 tablespoons olive oil, lay flat on a sheet tray, and bake until crispy, about 8-10 minutes. Remove and let cool on paper towels.
Remove the tough stems from the kale and discard; if necessary, rinse and pat dry. Rough chop the kale and place into a food processor with the sunflower seeds, garlic, and shredded parmesan cheese. With the processor running, drizzle in 1/2 cup olive oil and process until smooth; if necessary, add the water. Season with salt, pepper, and lemon juice.
When the beets are fork tender, remove, and let cool enough to handle. Peel the skins off of the beets using a paper towel, and cut into quarters.
To assemble, spoon the pesto onto a serving platter and arrange beets on top, and garnish with sunflower seeds, shredded parmesan cheese, crispy kale chips, and zest of 1 orange.
Information
Category

Side Dishes

Cuisine

North American
Image Source: POPSUGAR Photography / Erin Cullum