Vegan Coconut Lemon Jam Cake
This Vegan Version of Icebox Cake Is a Definite Crowd-Pleaser
If you've never had icebox cake, then you are seriously missing out. What could be better than dessert that stacks cookies on top of one another and glues them together with frosting? The answer to that is "nothing." This vegan icebox cake recipe from The Kitchy Kitchen is even better since everybody at the party can enjoy it!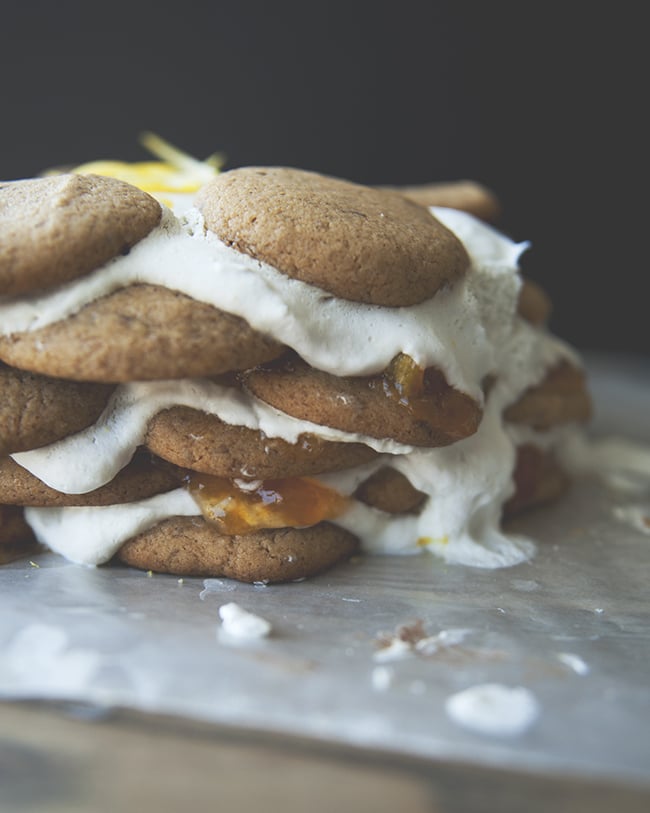 Icebox cake is one of my favorites. It's so easy to make and always a crowd pleaser. To make this vegan version, I made crispy vegan cookies, though you're welcome to replace with your favorite store-bought brand. The whipped coconut cream is so delicious, and you can mix and match your favorite jam. Enjoy!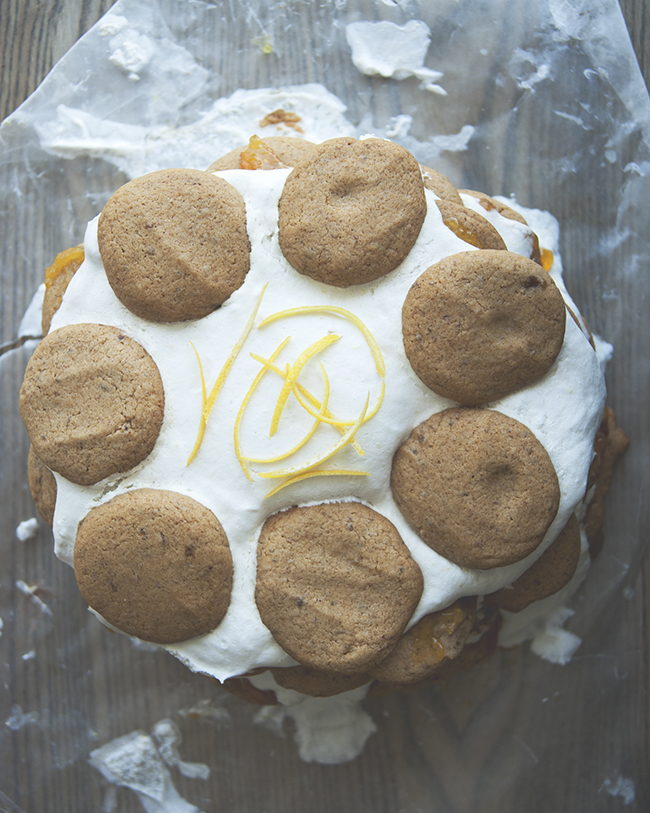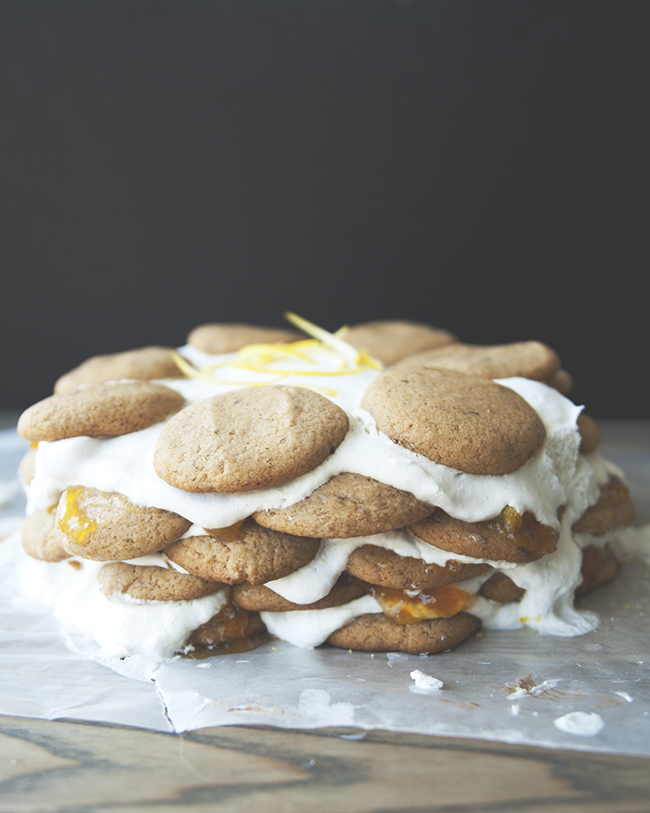 Notes
I built mine on a 10-inch cake platter.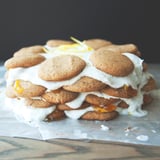 Ingredients
For the coconut whipped cream:
3 to 4 cans coconut milk (full fat is necessary, I used Native Forest)
3 tablespoons agave nectar or maple syrup
1 tablespoon vanilla extract
For the vegan vanilla cookies:
3 flax eggs (2 tablespoons flax + 5 tablespoons water)
3/4 cup vegan butter, softened
9 tablespoons golden syrup (or dark corn syrup)
6 teaspoons vanilla extract
3/4 cup almond butter
1 1/2 cups brown sugar
1 1/2 teaspoons salt
1 1/2 teaspoons baking soda
4 1/2 cups gluten-free flour
3/4 teaspoon xanthan gum
For the cake:
1 1/2 cups peach jam
1 teaspoon lemon zest
Directions
For the coconut whipped cream: Set the cans in the fridge overnight so that the coconut-fat solids separate from the coconut water. Open the cans and carefully pour out the thick coconut cream. With an electric whisk, beat the cream, agave, and vanilla extract on high until peaks form, about 2-3 minutes. You want the peaks to be very stiff, since this is supporting your whole cake.
For the vegan vanilla cookies: In a large mixing bowl, prepare flax eggs by mixing flax and water and letting rest for 5 minutes.
Add softened vegan butter, golden syrup, vanilla extract, almond butter, brown sugar, salt, and baking soda, and beat on low with a mixer, or vigorously whisk. Add gluten-free flour and xanthan gum to the rest of the ingredients and stir with a wooden spoon. Stir until well combined. Your dough should hold its shape when pressed, but not feel dry. Cover and chill dough for at least 1 hour, preferably overnight.
Preheat oven to 350°F.
Form dough into 1-inch balls, then flatten with your thumb on a cookie sheet, leave about 2 inches for spreading. Bake for 10-12 minutes or until they appear only slightly browned on the edges. They'll continue firming up as they sit on the pan. Let the cookies cool completely on the pan.
To assemble icebox cake: On a large plate or serving platter, spread 1 tablespoon coconut whipped cream on the bottom to anchor cake to plate. Top with cookies in a circular pattern, about 8 or 9 inches wide.
Using a spatula, cover cookies evenly with coconut whipped cream, then top with cookies. Top the next layer with jam. Repeat until you have 5 or 6 layers of cookies. Refrigerate overnight (this is necessary! It makes the cookies soft and cake-y). Garnish with lemon zest if you like. Slice and serve.
Information
Category

Desserts, Cake

Cuisine

North American

Yield

Serves 20