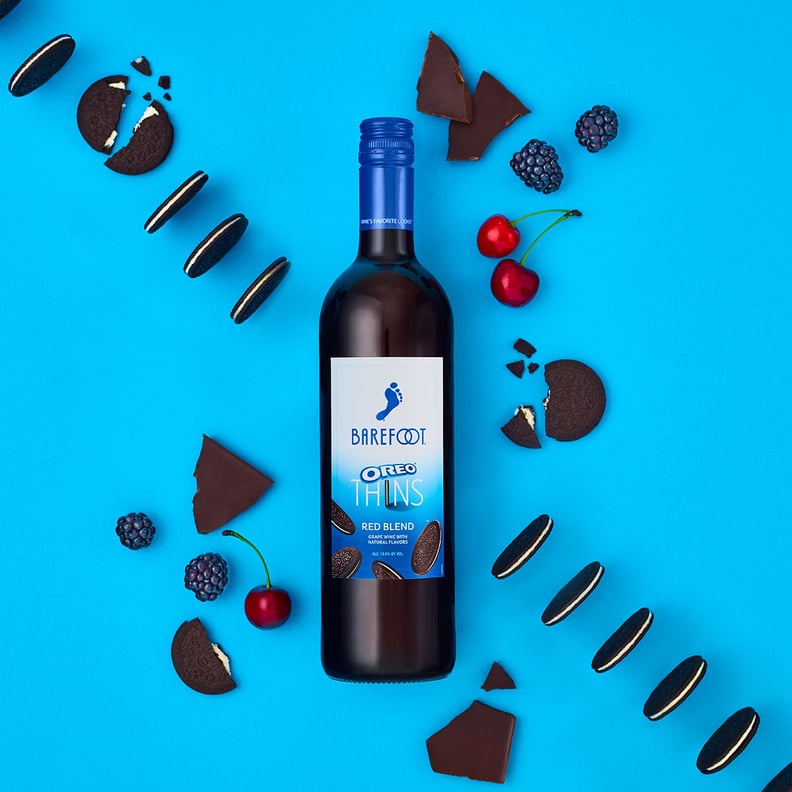 Courtesy of Oreo Thins
Courtesy of Oreo Thins
As POPSUGAR editors, we independently select and write about stuff we love and think you'll like too. If you buy a product we have recommended, we may receive affiliate commission, which in turn supports our work.
There are some things you just wouldn't expect to go together, but they do: red and pink, Kim Kardashian and Pete Davidson, and Oreos and wine. Leave it to 2021 to usher in all things unexpected. Barefoot Wine and Oreo collaborated on a special release just in time for the holidays, and unsurprisingly, it's sweet as can be. The Barefoot x Oreo Thins Red Blend wine was conceived as a way to fully bridge the gap between two desserts most people love. "Everyone knows that red wine pairs well with chocolate, but OREO THINS and America's most-loved wine, Barefoot Wine, are collaborating to take this classic combination to a whole new delicious level," Oreo Thins brand manager Sydney Kranzmann said in a press release shared with POPSUGAR.
But it's unlike the award-winning Barefoot wine you're probably used to — in a good way. When trying to describe what the Barefoot x Oreo Thins Red Blend tastes like, the obvious comes to mind: like alcohol-infused chocolate. In short, it's a little weird, but it's surprisingly good. Allow me to explain.
Barefoot x Oreo Thins Red Blend Wine Review
The Barefoot x Oreo Thins Red Blend wine combines Malbec, Petite Sirah, and Teroldego, and its scent immediately packs a punch. After swirling it around in my glass and lifting it to my nose, I was immediately transported to what I can only describe as a wine cellar with a chocolate factory in the back. Notes of oak and dark berries, like blackberry and cherry, certainly poke through, but it's the Barefoot x Oreo Thins wine's notes of cocoa and cream that really stunned me, mostly because I didn't know what to expect from a wine and chocolate combo.
Tasted alone, the Barefoot x Oreo Thins wine throws you for a bit of a fun loop, in my opinion. I immediately tasted the familiar grape and berry taste of a classic red blend, but a couple seconds later, the sweet but rich cocoa flavor kicked in. The taste, if you're not expecting it, does take some getting used to, but I'd be lying if I said I wasn't reaching for a second (or third or fourth) sip. The true test of the Barefoot x Oreo Thins Red Blend's flavor, however, is experienced when you sip the wine right after finishing an Oreo Thin cookie. Swishing the wine around your mouth as the taste of cookies and cream lingers amplifies the taste of the chocolate in a way that you don't get from the cookie or the wine alone, making the combination seem like even more of a treat. Overall, the Barefoot x Oreo Thins Red Blend's taste is sweet but full. It's also surprisingly filling, so I can't say I'd be ready to guzzle it all back-to-back, but I'd certainly reach for this combo on a cold night in.
Where to Buy the Barefoot x Oreo Thins Red Blend Wine
You can purchase the limited-edition Barefoot x Oreo Thins Red Blend wine ($25) exclusively on the Barefoot Wine website starting on Thursday, Dec. 9. The wine is available in giftable bundles containing two 750-milliliter bottles of the Barefoot x Oreo Thins Red Blend and a package of Oreo Thins. This collab will, unfortunately, only be available while supplies last, so set an alarm to get your hands on the sweetest treat you'll try yet.