Girls' night in is one of the best ways to connect with your friends and enjoy some good eats. That's why we partnered with OREO Thins for this post.
You made it through the week and now it's time to indulge as a reward. And if you're like me, that means delicious food and drink — and good friends. Invite your girls over for a night of hanging out with sweet pairings that put a twist on the typical wine and crackers. Set up a cookie and wine bar for sampling the flavor combinations then determine a winner. Everyone will love sipping and savoring while catching up.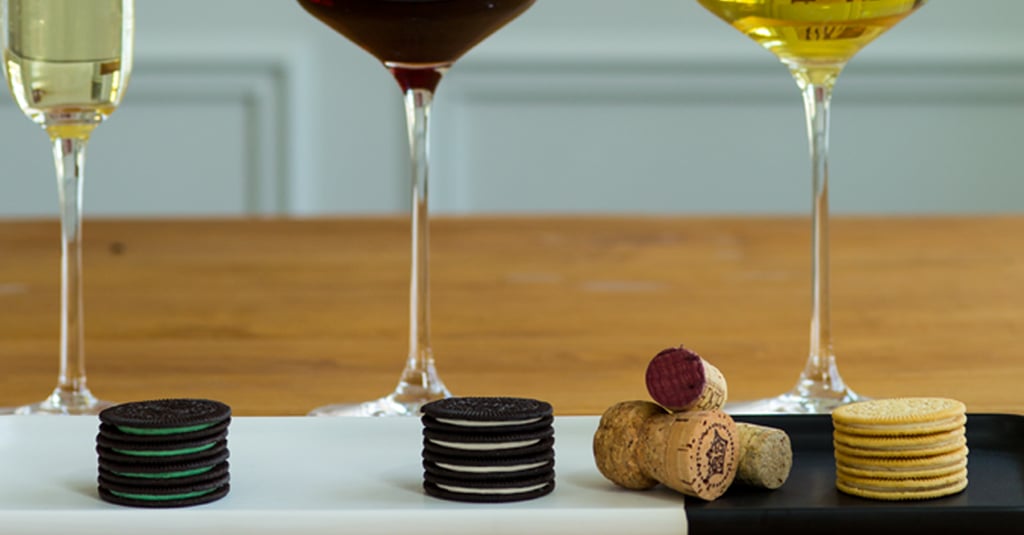 Source: POPSUGAR Studios
Mint + Sparkling White Wine: Stack up Mint OREO Thins cookies and serve alongside a sparkling white wine. The mint plays with the brightness of the wine while lighting up your taste buds. Mint is a natural partner with wine, adding an earthy flavor to the drink. And a sparkling beverage is just so fun — and gets the party started.
Chocolate + Red Wine: This pairing bumps up the flavor of the wine without overpowering it. Opt for a brighter red so the tastes don't end up fighting over each other. Enjoying a sip with a bite of a chocolate OREO Thins cookie is a delicious way to relax with friends.
Vanilla + Chardonnay: Chardonnay is so lovely when paired with vanilla, which counterbalances the oakiness of the wine while pulling out the undertones of fruit. The combination creates a creamy aftertaste that's so smooth, and it's even smoother when you have a Golden OREO Thins cookie to pair it with. Keep the wine chilled while everyone is taste testing so that it stays crisp and fresh.
More From OREO Thins
Image Source: POPSUGAR Studios