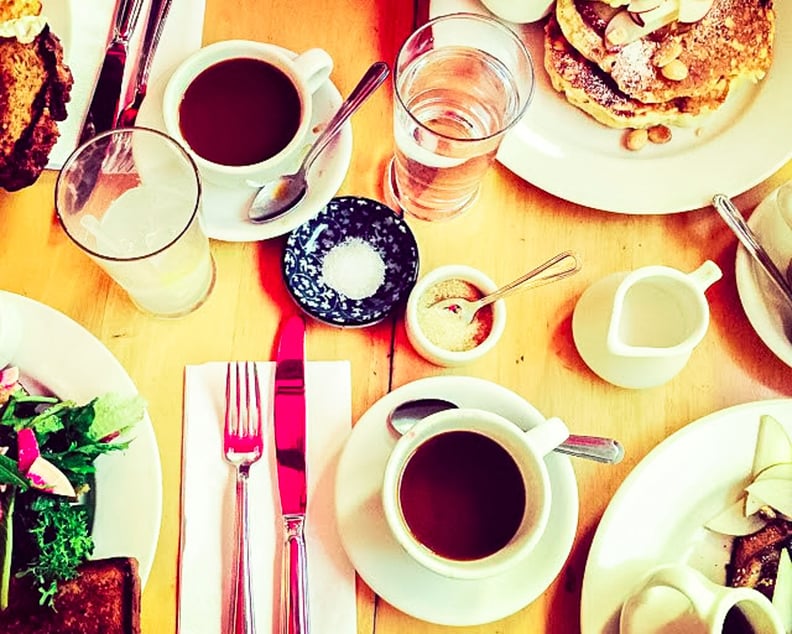 Kathryn M.
Kathryn M.
From mile-high stacks of pancakes and savory classics like eggs Benedict to bottomless mimosas and endless drips of coffee, there is no debating brunch is the most important meal of the weekend. And in New York City, it's kind of a big deal. In fact, brunching is practically a hobby. But with a sea of midday dining options spanning across five bustling boroughs, it can be quite the daunting task narrowing down just one.
Yet, have no fear, because if there was one thing I became while living in the Big Apple, it was a self-proclaimed brunchaholic. There, I said it. Through countless weekends of trial and error, I was able to sniff out the best deals, the best mouth-watering tastes, and, of course, the best places with killer brunch vibes. So if you're in the city and seeking the best of the best — you know, the best places for bagels, pancakes, french toast, waffles . . . the list goes on — I've got you covered. Ready to get your brunch fix?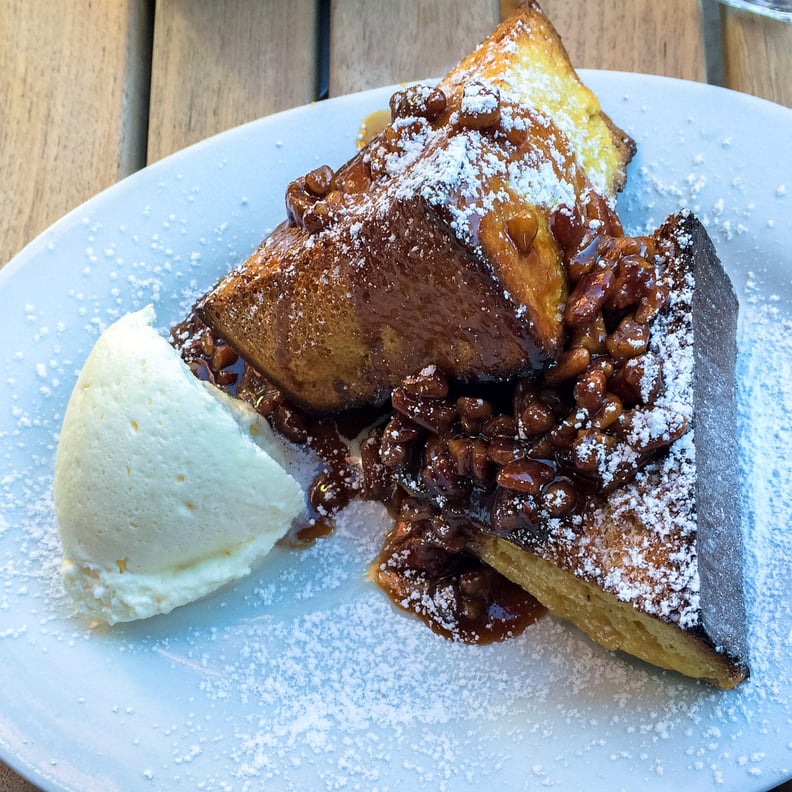 Best Spot For French Toast: Buttermilk Channel
Four words: pecan pie french toast. It's OK if your mouth is already watering. Don't worry, mine is, too. The food at Buttermilk Channel tends to do that to people. While this quaint eatery located in the heart of Brooklyn offers a wide variety of comfort food, trust me, order the french toast. Soaked in bourbon and molasses and topped with toasted pecans, is it even a question?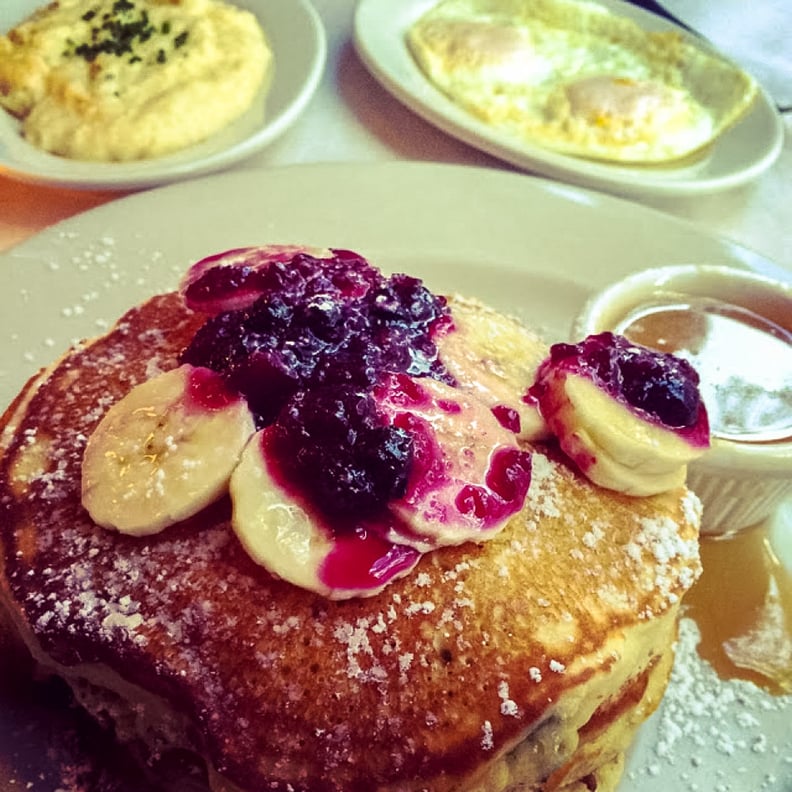 Best Spot For Pancakes: Clinton Street Baking Company
When I first heard how people would wait in line for upwards of three hours for Clinton Street Baking Company's pancakes, my jaw dropped. I mean, I am an avid fan of hotcakes, but waiting three hours? Eh, I couldn't do it.
But if other people were willing to wait, I knew these pancakes had to be worth it. I then put on my Nancy Drew thinking cap, did some online investigating, and uncovered this place actually serves breakfast all day. Aha! I made the strategic move to go for an early dinner instead, and guess what? I didn't wait a single minute and was able to devour the stack of pancake magic in peace. So if you can postpone your brunch for a couple of hours, I would highly recommend it!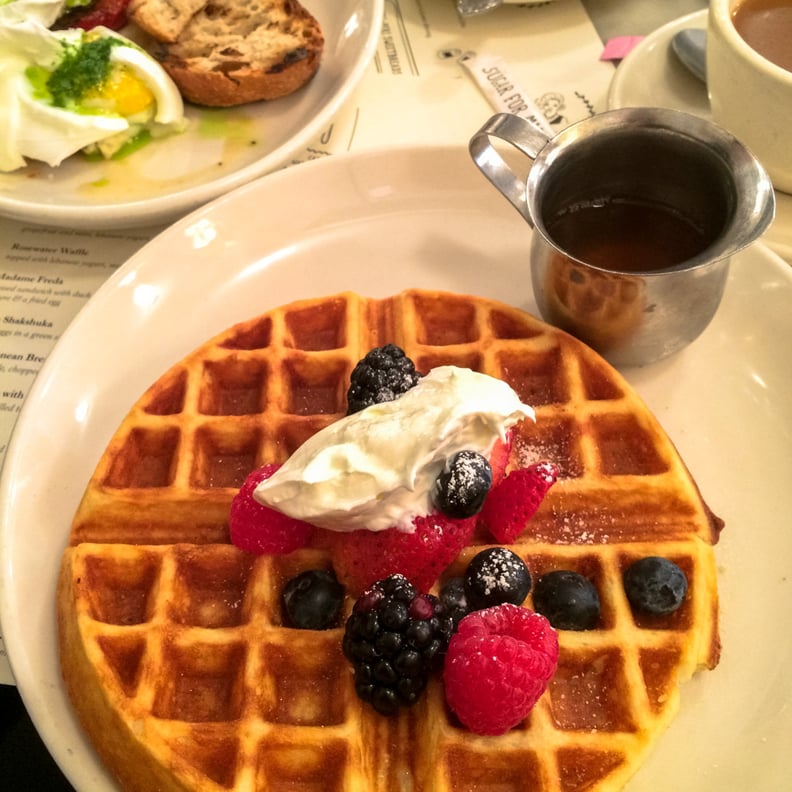 Best Spot For Waffles: Jack's Wife Freda
At Jack's Wife Freda, you'll first fall in love with the adorable customized sugar packets. But then the waffles will be delivered. And you'll wonder if you've suddenly entered into utopia. They're that good. "What makes these waffles that good?" you might be wondering. Well, they aren't just any ole waffles. These are rosewater waffles, topped with Lebanese yogurt and mixed berries and drizzled with honey syrup. Need I say more?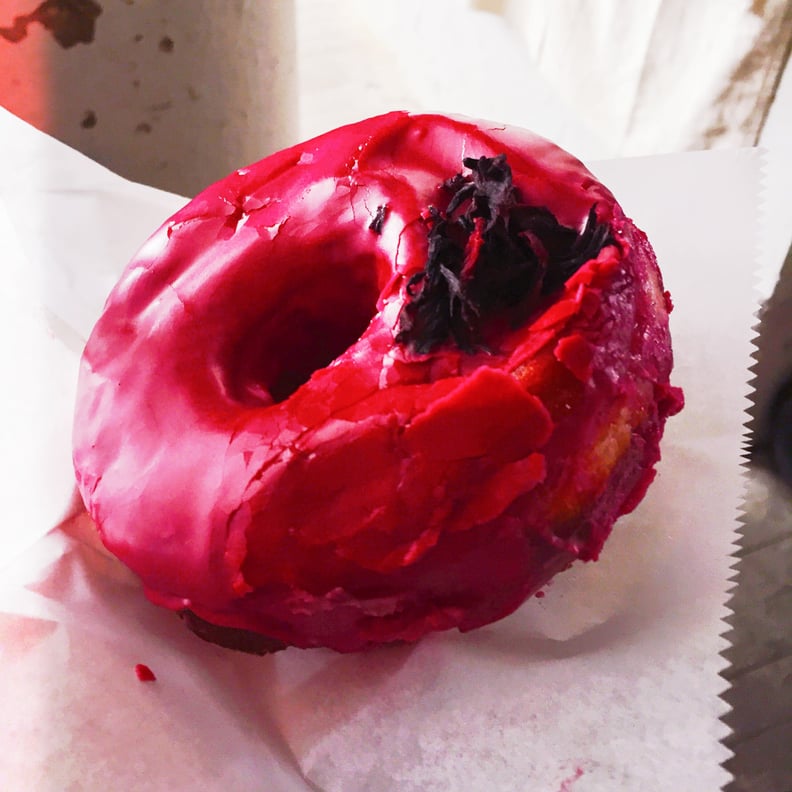 Best Spot For Doughnuts: Dough
Think: gigantic circles of pillowy dough glazed in decadent flavors and rolled in unique textures. That lovely image you just painted in your mind is exactly what you'll find at Dough.
This gourmet shop's secret is that the doughnuts are made with a brioche-type dough. And because these sweet treats are handcrafted in small batches throughout the day, freshness is guaranteed. But be warned: one bite is all it takes to be forever hooked. Don't blame me if you start having nonstop cinnamon sugar, toasted coconut, or mocha almond crunch dreams!
Best Spot For Bagels: Olde Brooklyn Bagel Shoppe
It's no surprise that during my time in New York City, I ate a LOT of bagels. It's only natural, right? Cinnamon raisin with cream cheese, please! Yet no matter how many places I tried and how many cinnamon-raisin bagels I devoured, in my mind there was never any competition. The Olde Brooklyn Bagel Shoppe crafts the best bagels, hands down.
And the best part about? The bagels are practically the size of your head. Oh, and the taste? As you can imagine, it's divine. Crispy on the outside and chewy on the inside. If you happen to be a cream-cheese-lover, your taste buds are about to thank you because this place has an overwhelming number of delicious choices.

Best Spot For Special Occasions: The Loeb Boathouse in Central Park
Brunch is a special meal in itself because it is filled with mouthwatering food. But let's say you're looking to make it even more special. Maybe you're visiting the city for the first time. Or you have friends and family in town. Or you simply want to celebrate life. Whatever the special occasion might be, The Loeb Boathouse is the place to go. Not only is the food delicious and the service warm and friendly, but with a prime lakeside view in the middle of Central Park, you couldn't imagine a more beautiful setting if you tried.
Best Spot For Breakfast Pastries on the Go: Balthazar Bakery
Iconic for its traditional French fare of breads and pastries, the Balthazar Bakery is a SoHo institution and is the perfect spot for treating yourself while on the go. Whether you're looking for an elegant pastry to start your day or a freshly baked loaf to feast on for the week, you're in for a delightful experience at this beloved bakery.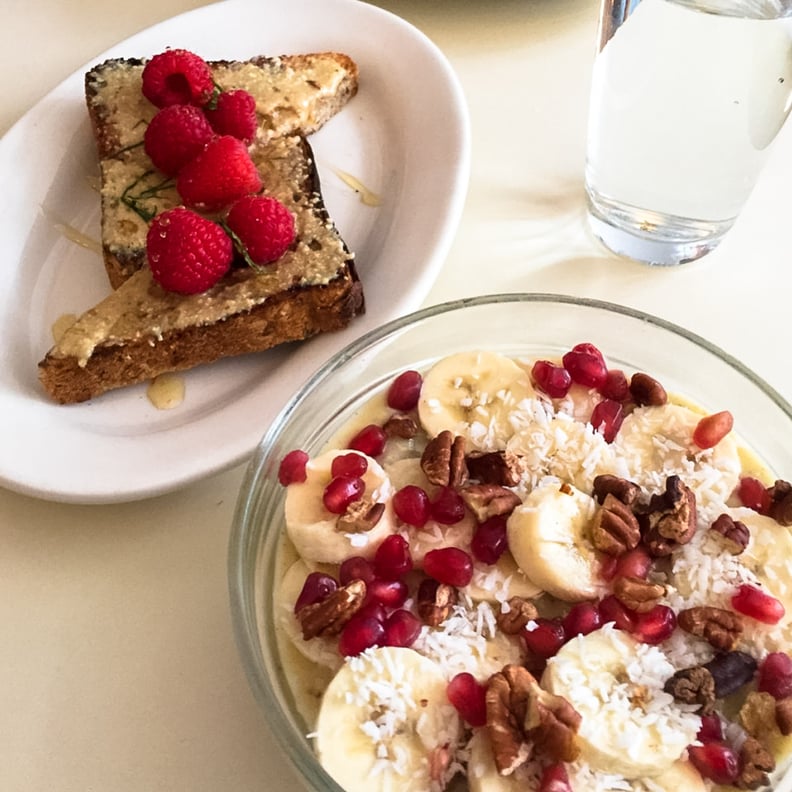 Best Spot For Oatmeal: Dimes
I know oatmeal has a tendency to rank pretty low on the totem pole when it comes to brunch, but hear me out, OK? As someone who eats oatmeal almost every morning — I'm a creature of habit — one bite of this hearty meal at Dimes and I promise you'll be a porridge fanatic, too.
Located in the heart of Chinatown, this eclectic, health-conscious brunch spot serves up some of the best oatmeal I've ever tasted. As well as a mean egg sandwich. And acai bowls. Oh, and scrumptious slices of "love" toast. Pretty much everything on the menu is flavorful. What makes Dimes even more of an enjoyable place to grab a bite is knowing the prices are on point, too.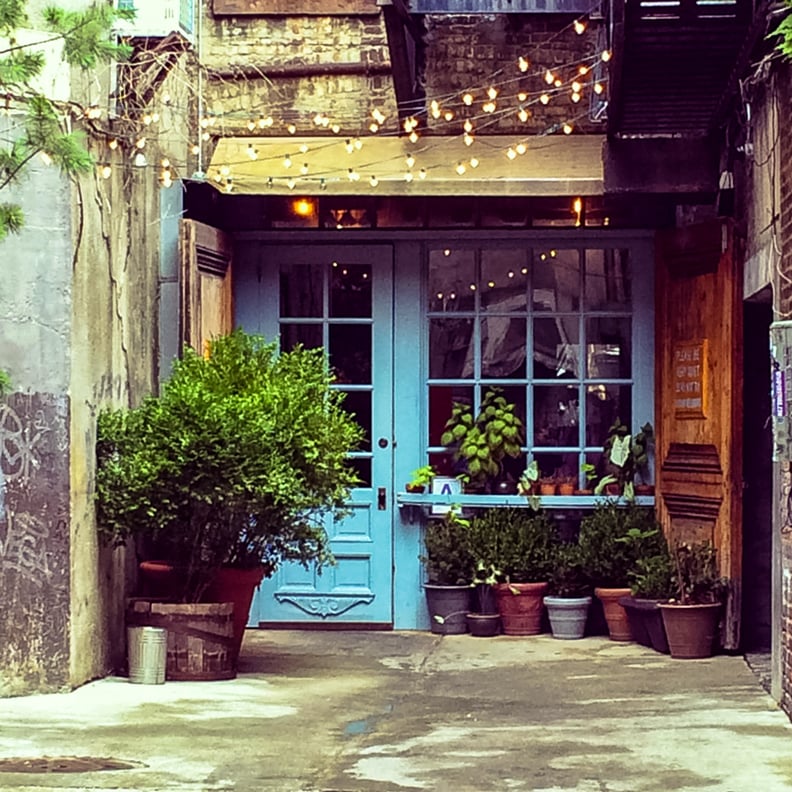 Best Spot For Coziness #1: Freemans
Tucked away in a narrow alley, Freemans is truly one of New York City's most precious hidden gemstones. With its twinkling lights and bright blue door, the facade practically screams charming. The enchantment continues as you walk through the threshold and feast your eyes on the Colonial tavern decor. If you're wondering about the food, well, it's just as appealing. Buttermilk pancakes, poached eggs, smoked trout; you simply can't go wrong, no matter what you order.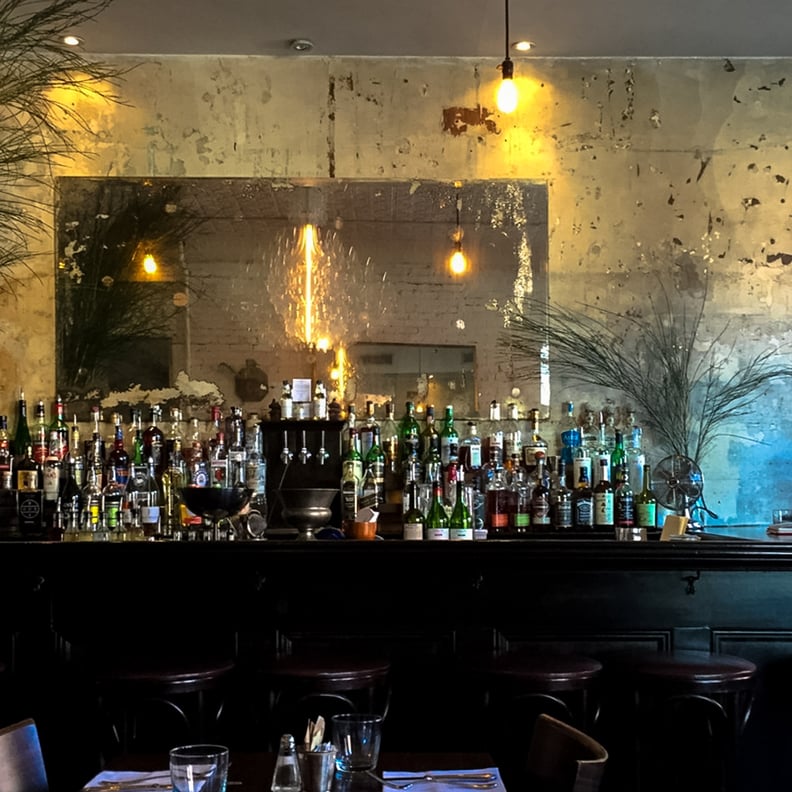 Best Spot For Coziness #2: James
Nestled cozily in the bottom of a beautiful Brooklyn brownstone in the quaint neighborhood of Prospect Heights, James houses a romantic sort of charm with a fantastic brunch menu. Because the chefs take great pride in their relationships with local farmers, the food selection is an array of locally inspired, seasonal dishes.
And get this: some of the herbs are even grown upstairs on the roof. I mean, can it get more farm-to-table than that? As far as recommendations go, there is no question — you've got to order the lemon-ricotta pancakes. Did I mention they come with blueberry syrup?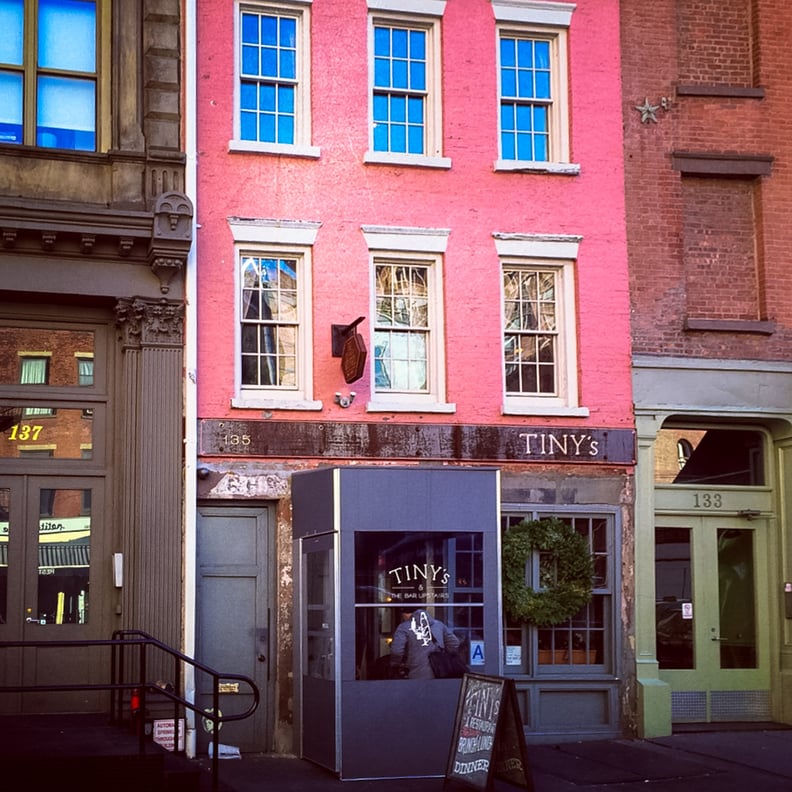 Best Spot For Coziness #3: Tiny's
How can you not fall in love with a blush-colored pink building? If you ask me, Tiny's is one of the most adorable little nooks in all of the city. The crackling fire burning in the back room combined with the dimly lit, rustic setting makes for an extracozy brunch. Not to mention there is also a teeny-tiny bar upstairs churning out bubbly mimosas. Come to this lovely spot if you're seeking a warm-hearted atmosphere and an extragood time.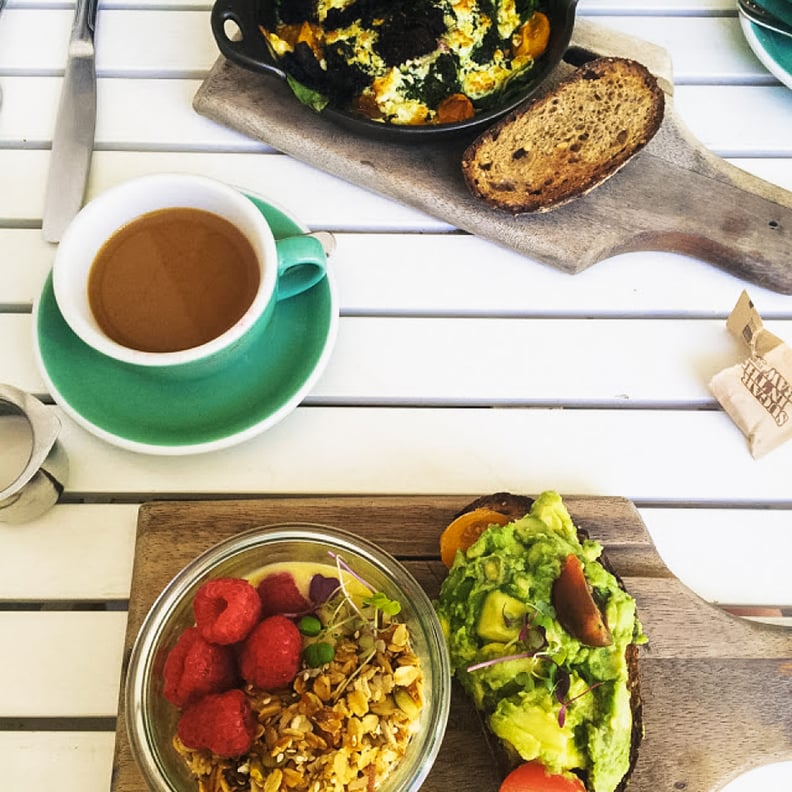 Best Spot For Mouthwatering Healthy Goodness: Bluestone Lane Collective Cafe
Need a healthy kick-start to your day but don't want to skimp out on delicious taste? Look no further, as Bluestone Lane Collective Cafe will deliver just that and more!
This Melbourne-inspired cafe not only serves up Australian-style espresso drinks, but also offers mouthwatering dishes. The food is so scrumptious, in fact, I wish you could taste the picture above. Eating here will be one of those times when you feast in silence, trying to chew really, really slow so you can savor every last bite.
With friendly, engaging service and an all-day breakfast menu, this might become your all-around new favorite spot. My advice? Get the Green Baked Eggs or the Brekkie Board (half avocado toast, half house-made granola!) Or both — no judgment!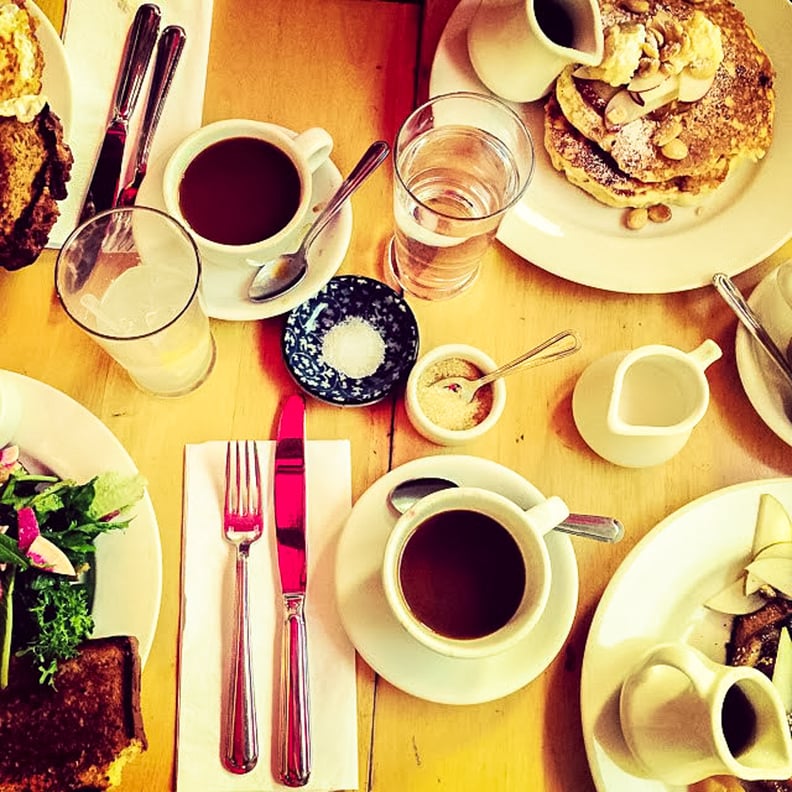 Best Spot For the Most Bang For Your Buck: Rose Water
Oh, Rose Water. It's no surprise why this popular eatery located in the family-friendly neighborhood of Park Slope is a go-to spot for so many brunch-lovers. Let's see, the food is impeccable. The atmosphere is warm. The portions are HUGE. And with a $17-prefix menu — including an entree and a drink — it's pretty hard to beat this great deal, especially given the high quality of the food.
Because the ingredients are as locally sourced as possible, the dishes are always fresh and the menu is constantly changing, making brunch a delightful surprise. Overall, this place is simply good for the soul, as well as your wallet.