13 Outrageous Fast Food Items Worth Traveling to Japan For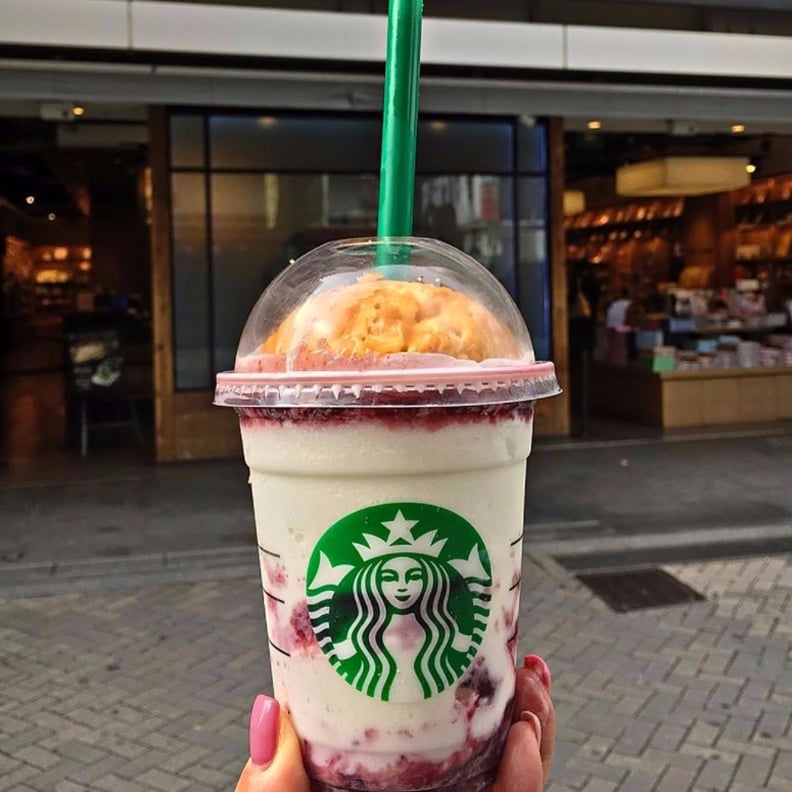 Let's face it: when it comes to fast food, Japan gets all the best stuff. And if you haven't already made it a goal to travel to Japan to try all the best Frappuccinos, cheesy creations, and adorable snacks from some of your favorite international brands, you will after finishing this post. We've rounded up more than 10 of the best fast food and junk food items you'll only find in Japan, from places like Starbucks, McDonald's, and more. Take a mini vacation as you read about each of the drool-worthy menu items, and prepare to get a serious case of FOMO. You'll have plenty of new items to add to your bucket list the next time to plan a trip to Japan.
Starbucks Matcha Pudding
Is this Starbucks Matcha Pudding one of the cutest snacks you've ever seen or what ? The mini pudding was added to Starbucks Japan menus in April 2017, and each of the three variations comes with an inspirational quote: "Each day is a gift," "It's time to start!," and "Make someone's day."
McDonald's Sakura Blossom Float
The McDonald's Japanese Sakura McFloat is a cherry soda topped with vanilla ice cream, and it's the most fitting beverage for cherry blossom season. It's been on the McDonald's menu for years in Japan, and it has reappeared just in time for Spring.
Hello Kitty Buns at Universal Studios
Hello Kitty steamed buns are hands down one of the cutest Hello Kitty-themed foods ever, and they're not just served at restaurants in Hong Kong. You can also find them at Universal Studios Japan.
American Cherry Pie Frappuccino
Kind of funny that an American Cherry Pie Frappuccino is only available in Japan, right? We're salivating just thinking about this cold Starbucks drink that's loaded with cherry compote and has a pie crust "lid."
Burger King Belgian Chocolate Pie
One of the newest items from Burger King Japan is the Belgian Chocolate Pie, a handheld dessert that looks kind of like a churro but is filled with creamy chocolate ganache.
McDonald's Shaka Shaka Chicken
Japanese McDonald's wants customers to do some of the work with Shaka Shaka Chicken: place the fried chicken piece in a paper bag, add your choice of seasonings (red pepper, lemon, or cheese), and shake it for a flavorful bite.
Starbucks Sakura Blossom Frappuccino
This gorgeous Starbucks Japan Sakura Blossom Frappuccino is not only the perfect shade of millennial pink, but it's also topped with festive pieces of shaved chocolate "petals," making it arguably one of the most creative Frappuccinos we've seen.
Alien Mochi at Tokyo Disney
There's a long list of foods from Tokyo Disney that we're dying to try, and at the top of the list are these insanely adorable alien mochi!
KFC Chizza
Chicken plus pizza equals the KFC Chizza, which is essentially just fried chicken topped with mozzarella cheese and cheese sauce.
There's a Hawaiian Chizza topped with pineapple and ham, too.
Chocolatey Banana Cocoa
One of many international Starbucks drinks that you unfortunately won't find in the US is the Chocolatey Banana Cocoa from Starbucks Japan. Kind of like a milkshake, it's chocolate, milk, whipped cream, crumbled banana sponge cake, chocolate sauce, and chunks of banana pieces roasted with sugar.
Bulgogi Pizza From Pizza Hut
Pizza Hut flavors in Japan include Tuna Corn, Bulgogi, and Double Cheese, proving that Japan just might do pizza better than America does.
Japanese Kit Kats
The candy from Japan is reason enough for anyone with a sweet tooth to make a trip. In particular, the Kit Kats — which are available in tons of flavors like Wasabi, Matcha, and Strawberry — stand out as some of the most unique sweet treats you could find.