As POPSUGAR editors, we independently select and write about stuff we love and think you'll like too. If you buy a product we have recommended, we may receive affiliate commission, which in turn supports our work.
Ah, the versatility of tea! From your morning cup of energizing Earl Grey to your nightly cup of relaxing chamomile, teatime can be all the time — if you're as obsessed we are. For many of us, tea is what gets us excited to start the day. For others, we grab that steaming cup when life begins to feel just a bit too overwhelming. That first hint of warmth can calm us down during a hectic moment and give us that needed pause that brings us back into the present.
Of course, not all of us have the time and energy to sit down for that classic Downton Abbey tea time that we all so envy. For those of us who can sit down for tea and crumpets, more power to you, but every tea drinker's needs are as varied as the tea leaves themselves. Some of us crave that quick and easy electric kettle boil, others want that ear-splitting whistle that brings us back to past tea times with our parents and grandparents. No matter your aesthetic or demands, we've got you covered with this list of 11 of the best tea kettles on the market right now.
To cover all of our bases, we've included both classic and electric tea kettles, as we know everyone's preference is different. Keep reading below to get the ultimate round-up of top-rated kettles that offer anything from light and airy builds to quick and easy brews. Cheers!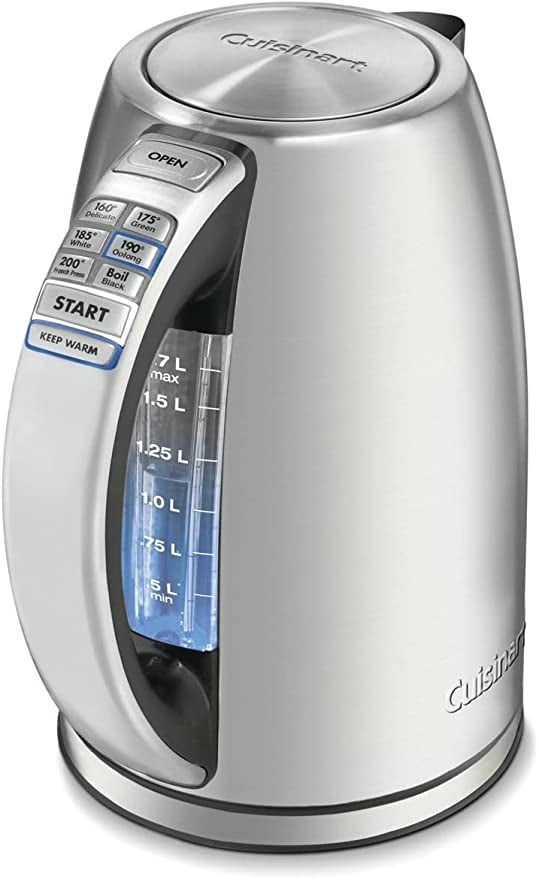 Best Overall Electric Tea Kettle
Cuisinart Electric Kettle ($100)
There's more to the art of making tea that meets the eye. Tea experts will tell you that each type and blend require a particular temperature to bring out the best flavor and aroma. That's where the Cuisinart Electric Kettle comes in. With six preset temperatures for different tea strains, you'll be able to steep the perfect cup. Additionally, the "keep warm" option allows for temperature maintenance for up to 30 minutes - no more forgetting and coming back to a cold cup.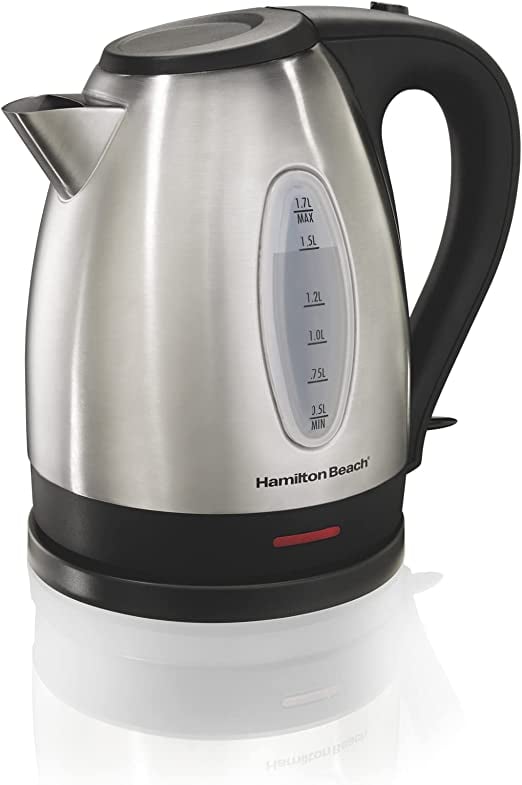 Best Affordable Electric Kettle
Hamilton Beach Electric Tea Kettle ($37)
You really can't go wrong when it comes to electric kettles. The Hamilton Beach Electric Tea Kettle offers everything you need for your home brews, including a rapid boil feature that, according to Hamilton Beach, boils water faster than a conventional microwave. Once the kettle boils, the system automatically turns off to avoid boiling over and burning, making it the perfect and easy budget-friendly choice for all kitchens, including dorm rooms for forgetful students.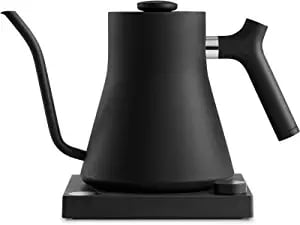 Best Gooseneck Electric Tea Kettle
Fellow Stagg EKG Electric Gooseneck Kettle ($164)
Gooseneck kettles have become all the rage in the past few years, and for good reason. Gooseneck kettles are not only sleek and pleasing to the eye, but allow for a controlled and steady pour that traditional electric kettles lack. The best part? The Fellow Stagg EKG Electric Kettle allows for to-the-degree temperature control so that you can have total say over your desired steep. And, for those of us with busy lives and forgetful minds, the "keep warm" setting allows for up to 60 minutes of temperature control so that you can return to a fresh, piping hot cup of tea. This tea kettle can also be used to prepare your pour-over coffee, making it versatile for all of your beverage needs.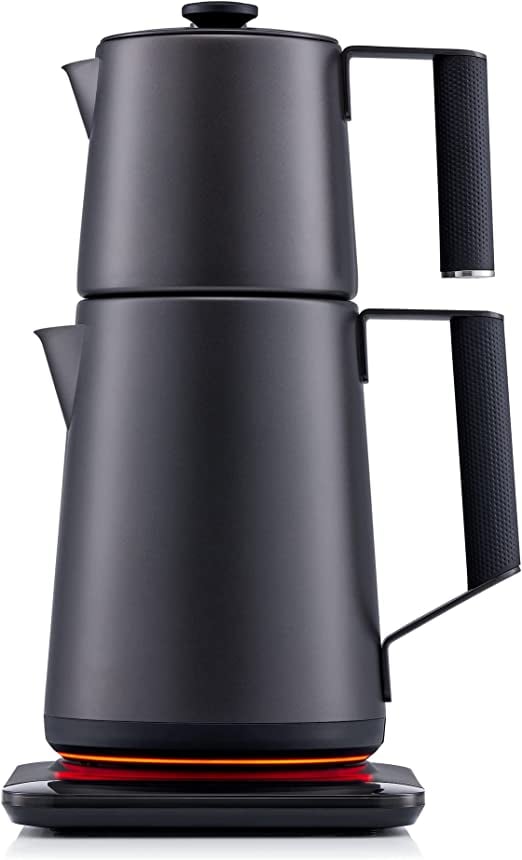 Best Two-In-One Electric Kettle
SAKI TeaSmart Electric Turkish Tea Maker ($150)
Now this is something you don't see every day: the SAKI TeaSmart Electric Turkish Tea Maker is the ultimate two-in-one system that includes both the electric tea kettle itself and a smaller teapot for the table. This is also a great pick for those who enjoy loose-leaf, as the tea pot comes with a built-in strainer featuring 100 micro-holes to ensure that no pesky leaves escape into your cup. Additionally, reviewers rave about the kettle's temperature intelligence: "After you brew the tea and add cold water into the [electric kettle base], it starts automatically to boil again," one happy customer writes. In other words, you can add water to your heart's content without having to begin the boiling process all over again. In sum, this kettle is just downright cool.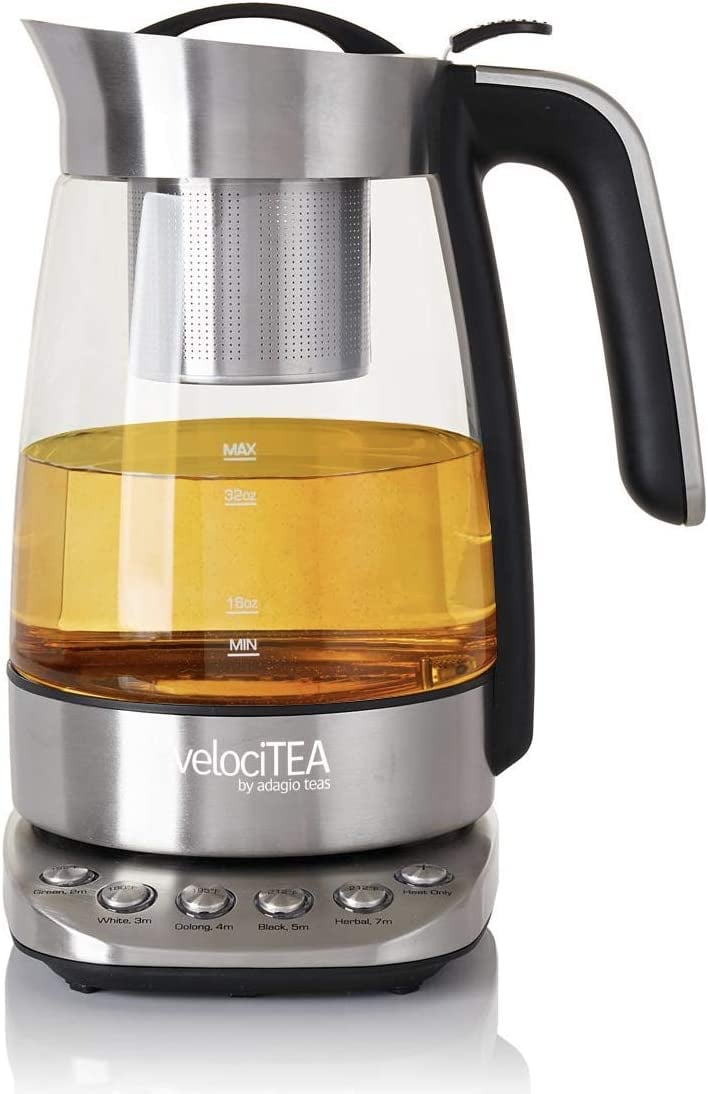 Best Electric Tea Kettle With a "Keep Warm" Feature
VelociTEA Electric Tea Maker ($99)
This variable temperature kettle makes the perfect cup of tea. It has a 'heat only' function to simply boil water, and it keeps water at the desired temperature for up to an hour. To make your tea, simply fill the VelociTea Electric Tea Maker with water, add leaves, and select your tea variety. The kettle will heat water to an ideal temperature and then steep the leaves for an ideal duration.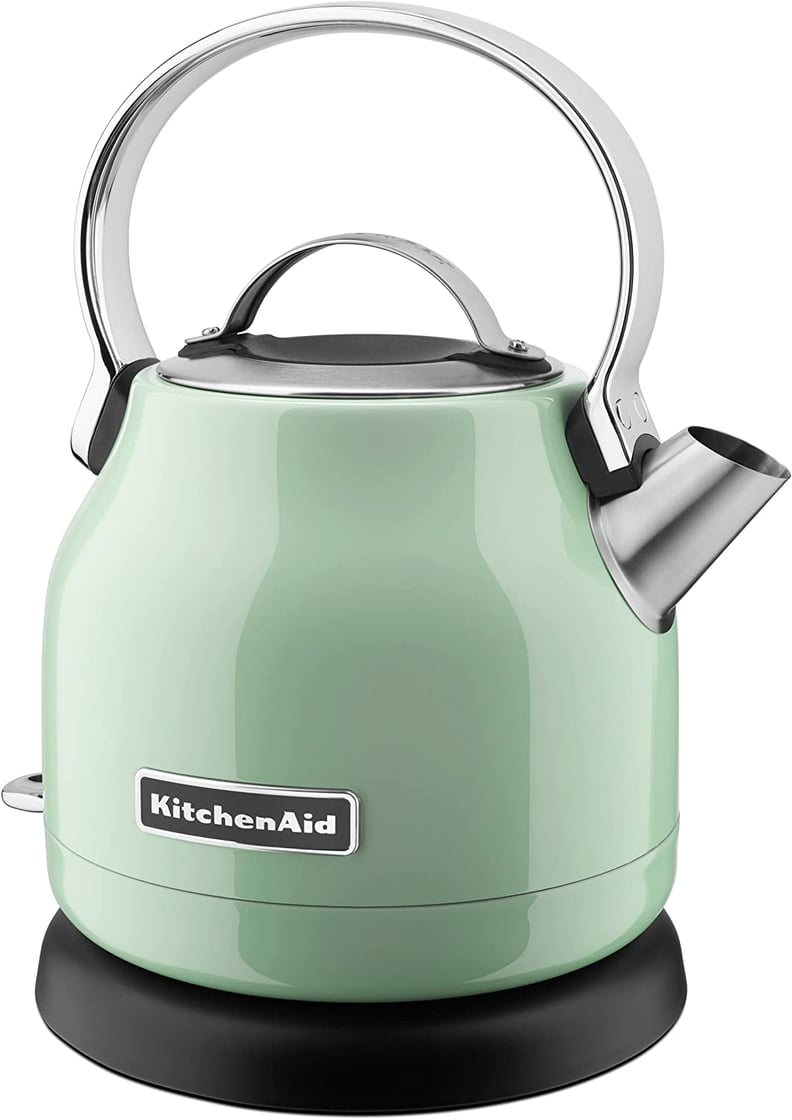 Best Compact Electric Tea Kettle
KitchenAid KEK1222PT 1.25-Liter Electric Kettle ($100)
Compact? Check. Adorable? Double check. The KitchenAid 1.25-Liter Electric Kettle looks like it just popped out of a Wes Anderson Film (and that's all the rage now, right?). At 1.25 liters, this compact electric kettle fits perfectly on a dorm room counter or in a small apartment kitchen. Its abilities are straight to the point - a fast boil for that quick before-class brew. Additionally, the spout includes a built-in limescale filter to soften that hard dorm room water that we all dread.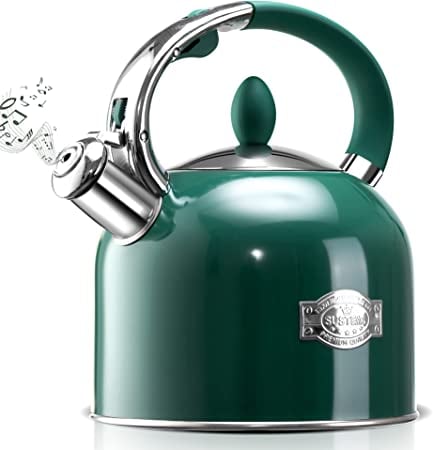 Best Affordable Stovetop Tea Kettle
Susteas Stove Top Whistling Tea Kettle ($31)
The Classic Susteas Design is both sleek and durable - and perfect for the tea connoisseur on a budget. This vintage-looking stainless steel kettle is enough for the whole family with a maximum boiling capacity of 2.64 quarts, and Amazon reviewers are quick to note that they do not experience the time-worn ick-factor of darker teas due to nickel leaching as they do with other budget kettles. Overall, this kettle is a great choice for those not ready to make that triple digit investment.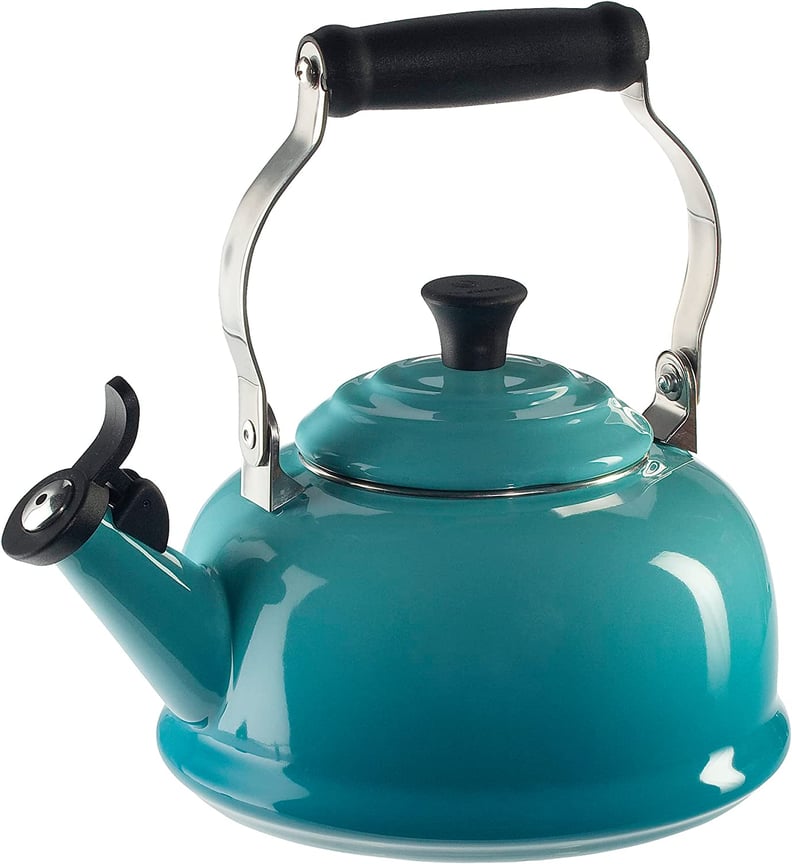 Best Overall Stovetop Tea Kettle
Le Creuset Enamel On Steel Whistling Tea Kettle ($115)
Perhaps it doesn't come as the biggest surprise that we chose the classic Le Creuset design as our top pick for stovetop kettles. There's a reason that Le Creuset has stood the test of time - its simple design is durable, and aesthetically pleasing for any and all kitchens. This kettle is compatible with all stovetops, and the porcelain enamel is non-reactive and non-porous to guarantee longevity despite constant usage. As a bonus, Le Creuset offers five-year warranty on all their kettles, so you can rest assured that you're investing in a quality piece.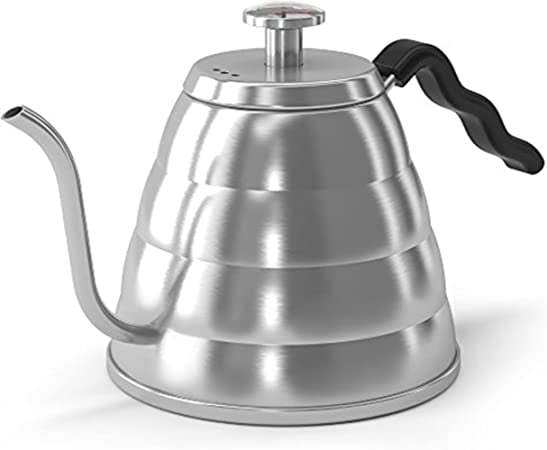 Best Gooseneck Stovetop Tea Kettle
Coffee Gator Gooseneck Kettle with Thermometer ($28)
Don't let the name fool you - gooseneck kettles, although originally intended for pour-over coffee brewing, are also very handy for the perfect cup of tea. This stovetop gooseneck kettle is frills-free, sleek, and affordable, making it the best classic gooseneck choice out there. Made with lightweight stainless steel, this kettle comes with a built-in top thermometer that tells you the exact temperature of our boil, which, for those who want the fullest flavor from their tea leaves, is an essential component (especially if you're switching between different strains like white, green, or oolong).
Best Stovetop Tea Kettle With Fast Boiling Feature
OXO BREW Classic Tea Kettle ($50)
"This kettle is the best that I have EVER used" says one Amazon reviewer. This timeless OXO Brew kettle is made entirely from stainless steel (save the silicon handle for a burn-free grip, of course), and because of the single-metal design, the OXO kettle is one of the faster boils available on the market. This timeless, 1.7 quart classic also features a rotatable spout for easy storage. Also worth noting is that many reviewers say the whistle is loud but not "grating" - that's always a win for a peaceful kitchen!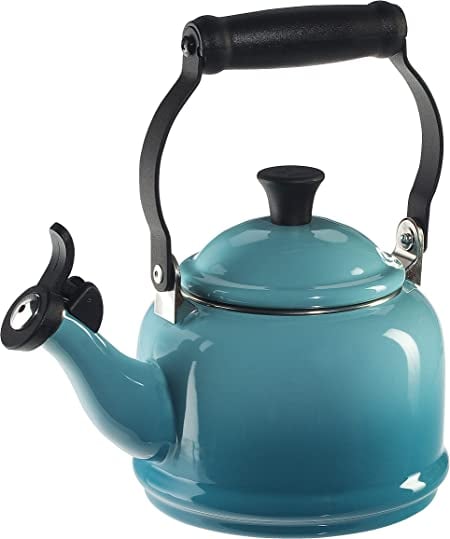 Best Compact Stovetop Tea Kettle
Le Creuset Enamel On Steel Demi Tea Kettle ($84)
Many don't know that the classic Le Creuset 1.7 quarter has a little sibling, the 1.25 quart "Demi" tea kettle. This kettle offers all of the benefits of the larger tea kettle, including the durability and strength that's the hallmark of Le Creuset design, but allows for more kitchen space, especially if you're not making large pitchers of tea on a regular basis. And, with an assortment of colors, you're bound to find one that matches your tastes perfectly.