I Love Going to Theme Parks, and These Are My Top 20 Treats From Parks Across the US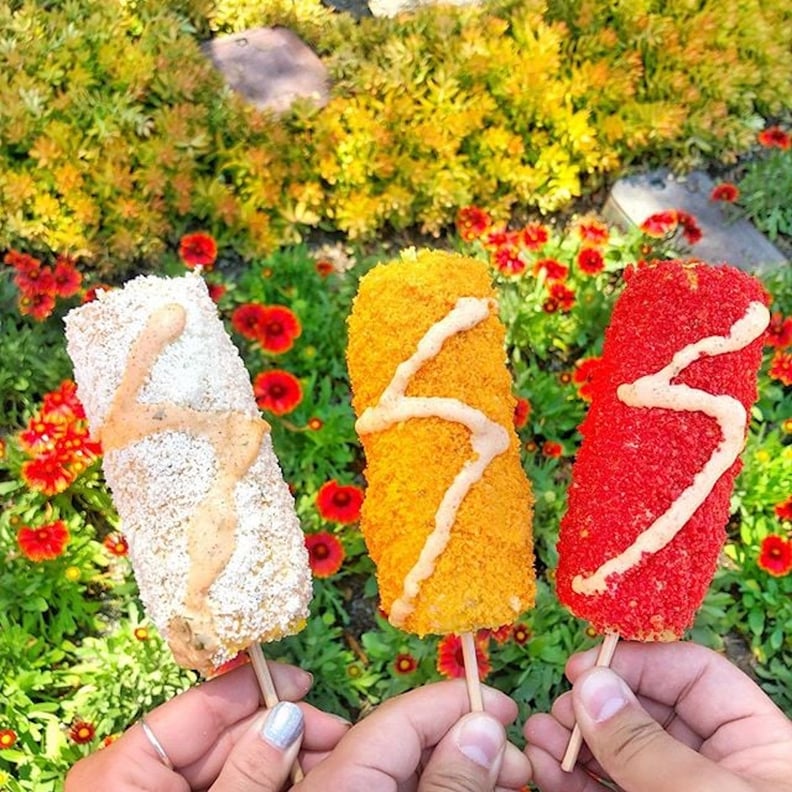 Snacking and theme parks really do go hand in hand. In fact, some of our all-time favorite foods come from theme parks! From over-the-top sweets to savory snacks, we've rounded up some of our favorite eats at 20 different theme parks all across the US. We're talking things like cheese-puff-covered elote, ahi tuna wonton crisps, beer caramel dip, and more! After checking out this list, we're sure you'll agree that going to a theme park just for the food is an extremely valid reason to go. Keep reading to see all of the fun treats and find out where you can get them.
01
Hamburger Spring Rolls
Traditional spring rolls get a major upgrade at Walt Disney World. These are filled with cheese, ground hamburger, and dill pickles!
Where to find it: Adventureland, Magic Kingdom, Walt Disney World
02
Blueberry Cream Cheese Mousse
Disney's Animal Kingdom is filled with unique snacks, but we can't recommend this blueberry cream cheese mousse enough! It's super Instagram-worthy, and is the perfect balance of sweet and tart.
Where to find it: Pandora - The World of Avatar, Disney's Animal Kingdom, Walt Disney World
03
Ahi Tuna Wonton Crisps
Crispy fried wonton wrappers are loaded with sushi grade ahi tuna and select toppings for this delicious snack.
Where to find it: SeaWorld San Diego
04
Frozen Butterbeer
If you leave Universal Studios without trying the frozen butterbeer, you've missed out on a great treat! The concoction is made with butterscotch and butter cookie flavors and topped with a thick, creamy foam.
Where to find it: The Wizarding World of Harry Potter, Universal Orlando Resort and Universal Studios Hollywood
05
Butterbeer Ice Cream
When ice cream and butterbeer combine, you know it's going to be magic. You can get this soft serve ice cream in a waffle cone or in a cup.
Where to find it: The Wizarding World of Harry Potter, Universal Orlando Resort and Universal Studios Hollywood
06
Granny's Apple Fries
Legoland is really stepping up their snack game with these Granny's Apple Fries. The bucket comes loaded with deep fried apple sticks, which are tossed in cinnamon sugar and topped with whipped cream.
Where to find it: Legoland Florida
07
Pepperoni Pizza Pretzel
A priority at SeaWorld should be getting your hands on this pepperoni pizza pretzel. A traditional soft pretzel is loaded with gobs of cheese and slices of pepperoni for a filling savory snack.
Where to find it: SeaWorld Orlando
08
Churro Toffee
Churro toffee is truly a heavenly combination! This super indulgent treat takes classic English toffee and covers it in white chocolate and cinnamon sugar so it tastes just like a Disneyland churro.
Where to find it: Candy shops throughout Disneyland Park, Disneyland Resort
09
Loaded Funnel Cakes
Funnel cakes have always been part of theme park cuisine, but Six Flags is taking it a step further with their loaded funnel cakes that come in a few different varieties, all of which feature ice cream, fruit, and whipped cream.
Where to find it: Six Flags Magic Mountain, California
10
Banana Slushy
After an afternoon spent swimming with dolphins, a refreshing icy drink usually hits the spot. This banana slushy from Discovery Cove is the best combination of tropical and refreshing for a day in the water.
Where to find it: Discovery Cove, Orlando
11
Thrill Shake
Thrill Shakes are the most Instagram-worthy snack at Busch Gardens Tampa Bay. There are multiple varieties and toppings to choose from, but we really love the overloaded chocolate one here.
Where to find it: Busch Gardens Tampa Bay
12
Crazy Corn Elote
A unique twist on traditional elotes can be found at Disney California Adventure. Options include cojita cheese, crushed cheese puffs, and crushed spicy cheese puffs.
Where to find it: Cars Land, Disney California Adventure, Disneyland Resort
13
Fried Green Tomatoes
Southern comfort at a theme park can be hard to find, but not at Dollywood. These fried green tomatoes are a park snack staple, and they're definitely delicious.
Where to find it: Dollywood, Tennessee
14
Honk Honkers Gourmet Cotton Candy
If you've ever wanted to create your own cotton candy, this is the treat for you! At Honk Honkers, you get to choose your flavor and any mix-ins you want to create something totally unique. We love mixing in sprinkles and popping candy!
Where to find it: Honk Honkers, Islands of Adventure, Universal Orlando Resort
15
Boysenberry Cookiewich
We're drooling at how good this cookiewhich looks! It features two boysenberry ice cream between two chocolate chip cookies and rolled in mini chocolate chips.
Where to find it: Knott's Berry Farm, California
16
Peanut Butter Buckeyes
A yummy snack to eat in-park or to take home are these peanut butter buckeyes. These upgraded chocolate peanut butter balls even get a seasonal twist in the Fall with pumpkin spice.
Where to find it: Kings Island, Ohio
17
Outpost Mix
Star Wars: Galaxy's Edge is full of great snacks, but the Outpost Mix is definitely unique. The popcorn is a blend of sweet blueberry pound cake and spicy chili-lime flavors.
Where to find it: Star Wars: Galaxy's Edge, Disney's Hollywood Studios, Walt Disney World
18
Housemade Bear Claws
Donut lovers, rejoice! Over at Silver Dollar City, they're making their own house-made bear claws and they look so yummy. The bear claws are covered in a sweet icing glaze for even more decadence.
Where to find it: Silver Dollar City, Missouri
19
Caramel Beer Dip With Pretzel Nuggets
If you love sweet and savory snacks, you're going to want to get this caramel beer dip, which comes with pretzel nuggets. Real snack pros will hunt down a pretzel cart and get an additional giant pretzel to go with the dip since there's so much of it.
Where to find it: Germany pavilion, Epcot, Walt Disney World
20
Creation Station Sundaes
Nothing sounds better during a hot day in a theme park than an ice cream sundae! Even better is being able to completely customize your own sundae starting with either a brownie or cereal treat base, like with this Creation Station Sundae.
Where to find it: Hershey Park, Pennsylvania