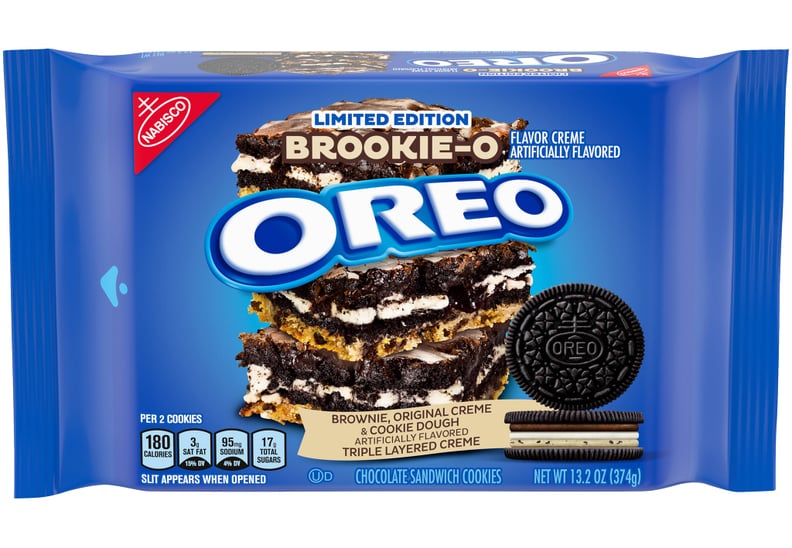 Oreo
It looks like 2021 is already off to a great start, 'cause Oreo is officially ringing in the new year with a limited-edition Brookie-O flavor. If you have yet to bless your taste buds with a Brookie, it's a half-brownie, half-cookie hybrid that essentially combines the best of the two desserts. Imagine Oreo's classic creme filling thrown into the sweet mix, and you have your Brookie-O Oreos, which hit shelves in January.
Unlike most Oreos, the newest flavor has three whole creme layers, including cookie dough, brownie, and the original Oreo stuf. Instagram user @junkfoodleaks_, who got an early taste of the Brookie-O, described it as a "powerful cookie" that "packs a punch of a number of flavors in one." He continued, "it might be one of the most balanced flavor profiles in a mashup like this."
If you're like me and drooling just reading about the cookie, make sure to keep an eye out come January, wherever you regularly buy your traditional Oreos. The company already has some exciting roll-outs planned for next month, including new chocolate hazelnut, java chip, and gluten-free Oreos that are permanently joining the brand's lineup. The Brookie-O Oreos, on the other hand, are only available for a limited time and in the US, so be sure to get your hands on a pack while supplies last. Take a closer look at the newest Oreo flavor ahead.