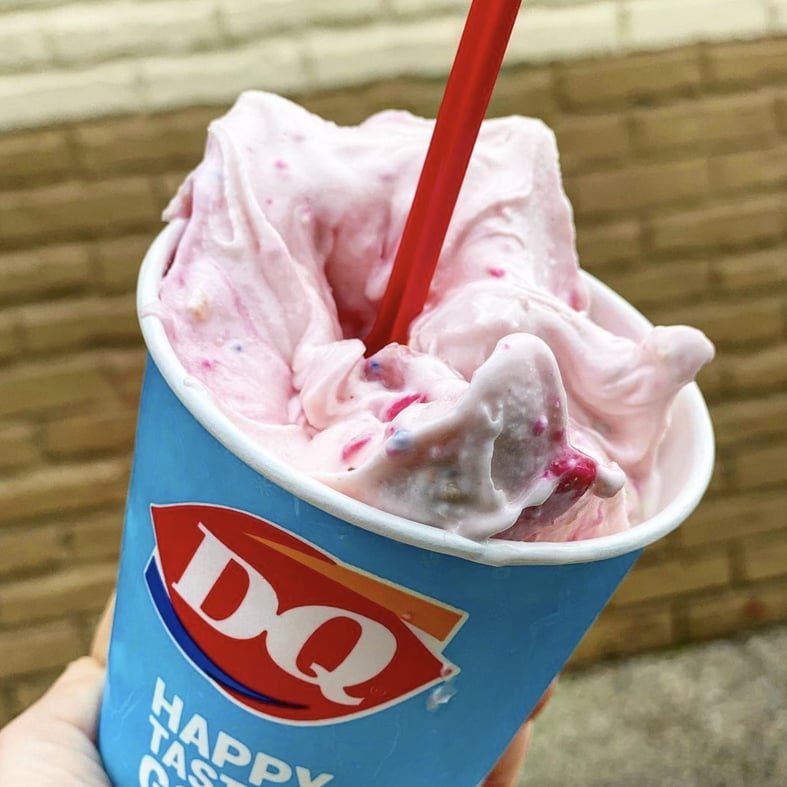 Going to Dairy Queen for a blizzard is one of my favorite summer activities. It was a treat when I was a kid and it still has yet to lose its delicious charm. From the heavenly blend of ice cream with candy, brownies, or cookie dough to the all-too-familiar dilemma of picking a flavor, Blizzards give me so many good feelings. And this summer's flavors do not disappoint!
While I'm pretty loyal to my Reese's and cookie dough Blizzard (yes, you can ask for combinations like that!), I'm hyped up about Dairy Queen's six summer 2021 flavors. Some will send you straight back to childhood (especially the Frosted Animal Cookie Blizzard) and some just sound wonderfully decadent (I'm looking at you, Brownie Batter Blizzard). Some flavors are returning from last year, so if you didn't get to try them all, now is your chance to make your very own Blizzard bucket list. Keep reading for more details on each.
01
Girl Scout Thin Mints Blizzard
This pick is a combination of two amazing desserts: Girl Scout cookies and Blizzards! It's a blend of the cookies themselves, cool mint, and vanilla soft serve.
02
Brownie Batter Blizzard
Brownie batter tastes better than actual brownies in my opinion, and that's a hill I'd die on. That's why I'm so pumped about the Brownie Batter Blizzard, which is made with brownie batter, brownie dough pieces, and vanilla soft serve.
03
Nestle Drumstick With Peanuts Blizzard
Rather than put ice cream in a cone, this Blizzard puts a cone in ice cream! This vanilla Blizzard is filled with choco-covered Drumstick cone pieces and chopped peanuts.
04
Frosted Animal Cookie Blizzard
If you want to feel like a kid again in all the best ways, this Blizzard is the perfect choice. It mixes frosted animal cookie pieces, pink confetti frosting, and vanilla soft serve for a delicious dessert.
05
Raspberry Fudge Bliss Blizzard
For a fruity option, try this Blizzard made with real raspberries, soft fudge pieces, and chocolate chunks blended into vanilla soft serve. I totally get why "bliss" is in the name.
06
Cotton Candy Blizzard
Cotton candy sprinkles blended into Dairy Queen's vanilla soft serve? Summer desserts don't get much better than that.
Dairy Queen's Summer 2021 Blizzard Flavors