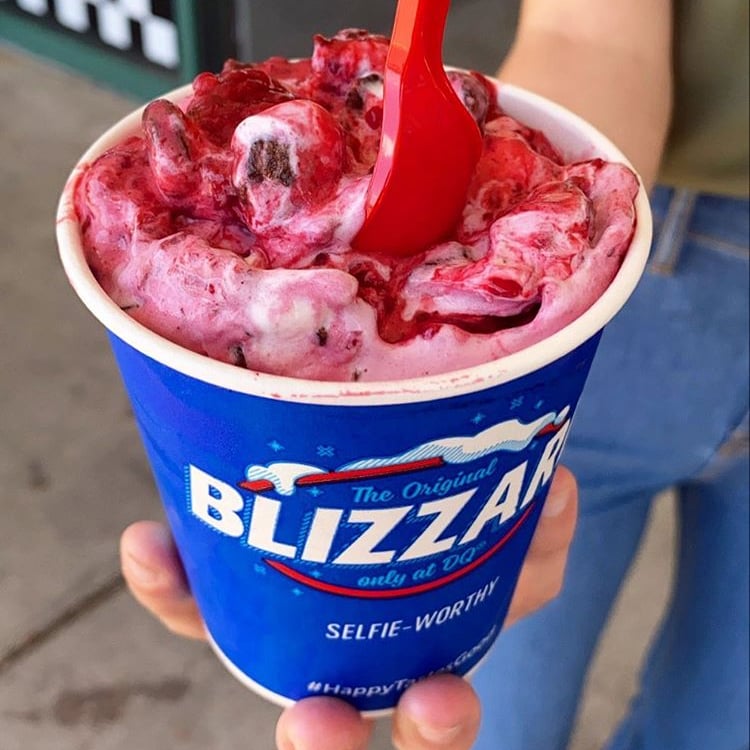 The arrival of summer absolutely means it's time to eat a ton of ice cream. You have to cool off somehow, right? Dairy Queen created a few new Blizzard treats especially for these long, hot days — like this frosted animal cookie one — and we highly recommend you try each and every one of them. Whether you want something chocolatey or fruity, there's a perfect option for you. But if Blizzards aren't your thing, there is also a new cotton candy shell for ice cream cones that you can try, too. If you're anything like us, though, you'll spend all summer trying every single frozen treat on the menu! The iconic ice cream shop will also have a Blizzard of the Month each month of the summer, so don't forget to try those, too.
01
Oreo Cheesecake Blizzard
Dairy Queen combined two of its popular Blizzard flavors to make the Oreo Cheesecake Blizzard. The soft serve is blended with Oreo pieces and cheesecake pieces to make the ultimate treat.
02
Frosted Animal Cookie Blizzard
You'll really need a sweet tooth to tackle this Blizzard! It has frosted animal cookie pieces blended into the soft serve with frosting for the ultimate decadent dessert.
03
S'mores Blizzard
Who doesn't love s'mores in the summertime? This fan favorite is packed with marshmallow-filled chocolate pieces and graham crackers to take your s'more from a piping hot snack by the fire to a cool treat by the pool.
04
Raspberry Fudge Bliss Blizzard
The Raspberry Fudge Bliss Blizzard is as blissful as it sounds. DQ's signature soft serve is blended with real raspberries, fudge pieces, and chocolate chunks for a rich snack.
05
Cotton Candy Blizzard
Another fan-favorite Blizzard that was brought back for the summer is the Cotton Candy Blizzard. This colorful treat is a swirl of cotton candy pieces and DQ soft serve that puts a whole new twist on your favorite carnival treat.
06
Wonder Woman Cookie Collision Blizzard
In a dessert fit only for a superhero, the Wonder Woman Cookie Collision Blizzard has chocolate chip cookie dough, chocolate cookie dough, and fudge all blended together in the soft serve. Take it to the next level by ordering it made with chocolate ice cream instead of vanilla!
07
Nestle Drumstick Blizzard
DQ's Nestle Drumstick Blizzard is a Blizzard of the Month for a limited time this Summer. The tasty Blizzard combines DQ's ice cream with another fave ice cream treat — Drumsticks. The soft serve is blended with Drumstick pieces, peanuts, and chocolate.