Fancy Oatmeal Recipe | TikTok Video
Four Words: Caramelized Honey Infused Oatmeal —Do We Have Your Attention Now?
It's nearly impossible to find one bad trait about oatmeal. The popular breakfast food is filling, comforting, nutritious, and can be prepared so many ways. And while oatmeal is usually thought of as pretty basic, it can actually be turned in a fancy as hell meal that'll make you feel like royalty when enjoying it!
TikTok chef Sad_papi (@sad_papi) is proving us right with his fancy oatmeal recipe: a beautiful, pear-flavored oatmeal infused with caramelized honey and topped with chopped hazelnuts and fresh blueberries. In his tutorial, he shared a fan of his had been dropping requests for "fancy" oatmeal in the comments; thus, this honey pear masterpiece was born. To the naked eye, this recipe may look extra high-end (we're talkin' worthy of Queen Elizabeth II oatmeal here), but if you're a true oatmeal-lover, you know it's all in the fruit and caramelization. You might even have most of the ingredients on hand, too.
This recipe is made for the everyday cook, so the next time you're craving a hot bowl of oatmeal, watch the video and follow the steps ahead for a truly *elevated* oatmeal experience.
Fancy Oatmeal
Sad_papi on TikTok
Notes
He doesn't specify the quantity of honey, butter, or cinnamon to include, so we recommended the following, but also feel free to use your best judgement.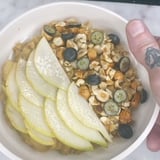 Ingredients
1 cup honey
1 orange
2 pears
2 tbsp butter
1 tsp cinnamon
1 cup water
1/2 cup milk
1/2 cup oat milk
Pinch of salt
1 cup oats
Chopped hazelnuts
Blueberries for garnish
Directions
Place honey in a small saucepan over low heat. Add a big squeeze of fresh orange juice. Cook until caramelized.
In a separate saucepan, melt butter over low heat. Peel one of the pears and cut into irregular shapes, then add to pan. Cook until the pears are roasted and the butter is brown. Then add caramelized honey and cinnamon.
Add water, milk, oat milk, and a pinch of salt. Bring it to a simmer; then add oats.
While it's cooking, grab the other pear and cut into thin slices. Set aside.
At the end, throw in a pinch or two of chopped hazelnuts into the oatmeal. Stir.
Serve oatmeal hot in a bowl. Garnish with sliced pears (brush with melted butter, optional), more hazelnuts, and fresh blueberries.
Information
Category

Breakfast/Brunch

Yield

1 serving