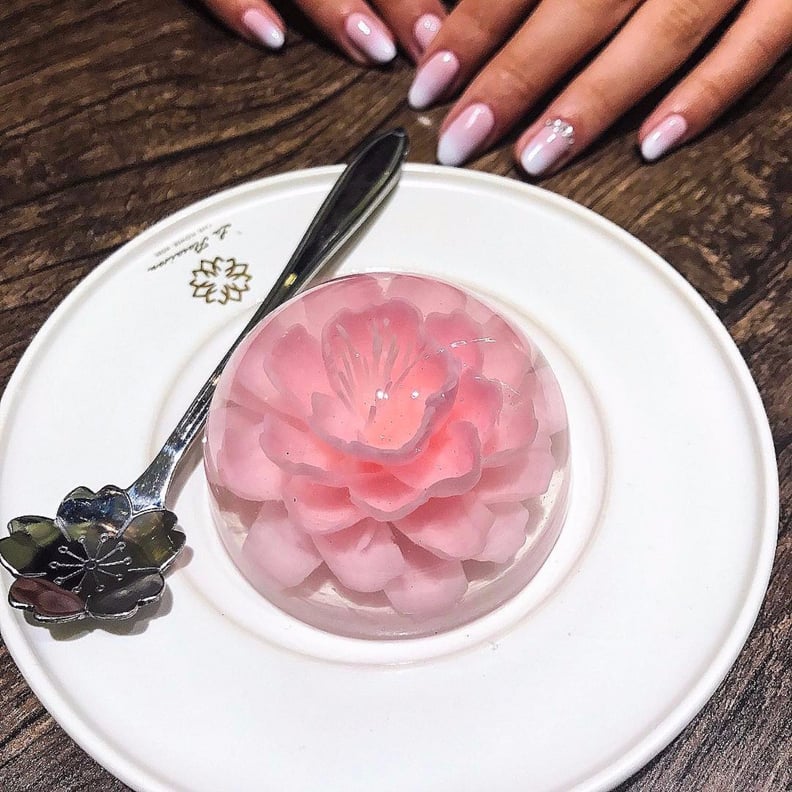 Mirror, mirror on the wall, which is the most Instagram-worthy dessert of them all? Our money's on the insanely pretty floral jelly cakes from La Floraison in Australia. At first glance, you probably thought, "Wait . . . how on earth can you even classify this gelatinous creation as a cake?" Well, dear reader, allow us to remind you of the Raindrop Cake served up at Smorgasburg in Brooklyn, NY. Considering how those blew up on social media, it comes as no surprise that these flower-infused versions are captivating people everywhere. But to be clear, they aren't totally a trend on the food scene, as sakura jelly desserts have been a lasting mainstay in Japanese culture.
We reached out to La Floraison to get the lowdown on the ingredients in these clear desserts, and they explained that agar-agar is used to make the jelly-like substance, whereas the flowers comprise coconut cream and milk. From what we can tell, they're about the size of a baseball and available with a variety of flower options, from sakura cherry blossoms and roses to chrysanthemums and even white and light blue flowers. It takes roughly nine minutes to design the flower petals, and each treat has a mild, slightly coconut flavor, although they will be adding new sauces for any customers who prefer a bit more flavor.
These babies are about as picturesque as it gets. I'm not sure if I'd swap this for my usual carb-filled, icing-covered cake, but hey, I have to admit they're prettier than me even on my best days. Ahead, swoon over 14 snapshots of La Floraison's flower jelly cakes and cross your fingers that these Instagram-ready desserts make their way to the States in the near future.