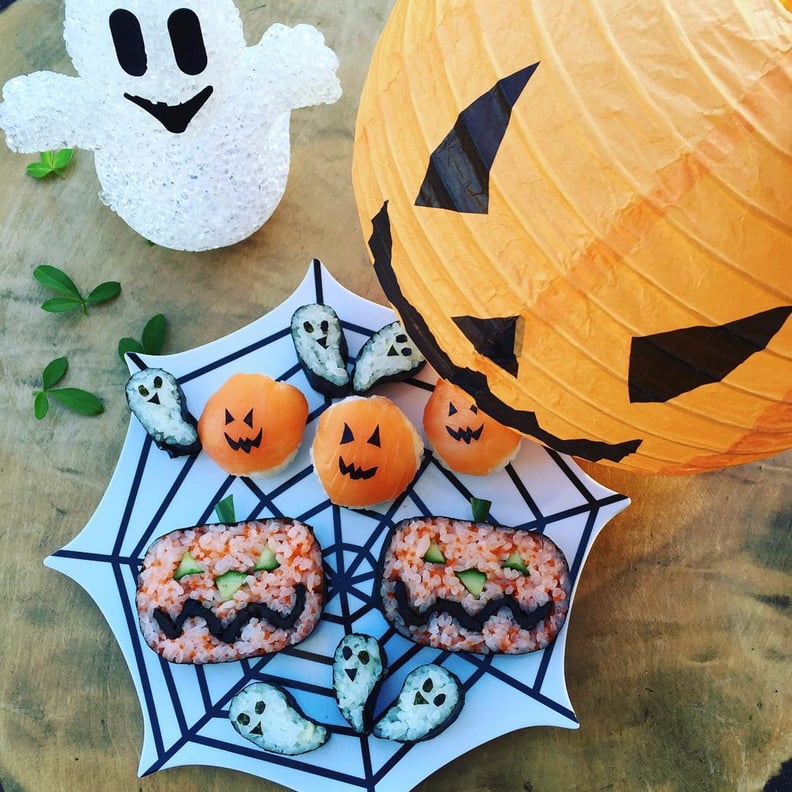 After all the sushi tacos, sushi doughnuts, and even sushi burgers, we're going back to basics with the sickest Halloween treat we've seen yet: Halloween sushi. Yep, you read that correctly. Halloween sushi is not only aesthetically pleasing (we're talking to you, Instagram aficionados), but it's the festive treat we can't wait to drown in soy sauce. Sure, you may not be able to pick up a bag of Halloween sushi at your local convenience store for trick-or-treaters, but it's basically just your favorite everyday rolls reimagined as pumpkins and zombies.
Whether you choose to make your own sushi at home, or your favorite neighborhood Japanese restaurant is spicing up the menu this spooky season, the results are the same. You can create pumpkins with fresh salmon and nori. Style spicy mayo and eel sauce for a dip-worthy jack-o'-lantern display on the side of a plate. Or even make Frankenstein nigiri with seaweed. The possibilities are endless!
The best part about Halloween sushi is that it's probably the only hauntingly delicious treat that won't require a dentist appointment for a cavity filling in the future. Read on to see some of the spooky sushi, and get your chopsticks ready.