Has anything been as revolutionary to the food world as the humble air fryer? It enables home cooks to enjoy deep-fried favorites — from crispy french fries to ooey-gooey mozzarella sticks to savory chicken wings — in a snap, without needing to mess with dangerous boiling oils. And it's also opened the door to what can be fried, allowing us to experiment with air frying healthy foods to see what the outcome is. (Spoiler: it's usually delicious.)
You see, unlike deep-frying cooking methods, air frying leans on the use of hot air that's circulated rapidly around the food, resulting in a crispy and fully-cooked meal or snack that satisfies even the fiercest fried-food craving. Best of all? Cleaning up after making air-fryer recipes is much less cumbersome than what you typically have to do after you deep fry. And who can't use a kitchen gadget that helps us skip tedious cleaning?
Healthy air-fryer recipes are not hard to come by, as most air-fryer dishes are at least a bit lower in fat than their deep-fried counterparts. But if you're new to the air fryer or looking to switch up your usual routine, these 12 healthy recipes for the air fryer are a great place to start.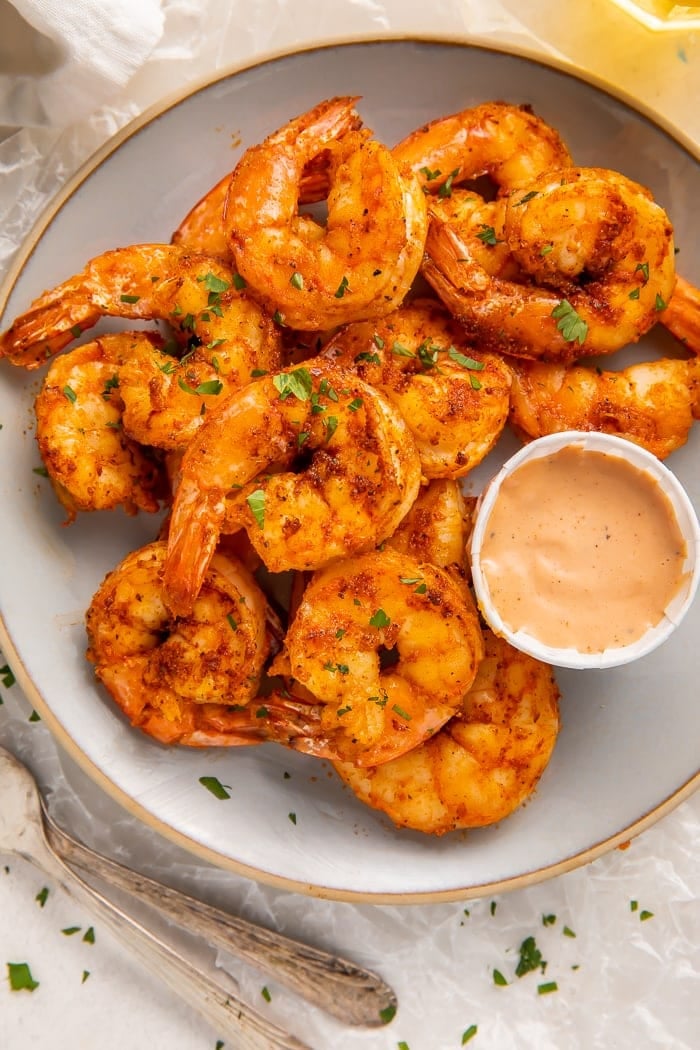 Healthy Air-Fryer Recipe: Shrimp With Comeback Sauce
Loaded with garlic, paprika, and extra virgin olive oil, these air-fryer shrimp will have you salivating as you smell the air fryer do its thing. Served with an optional "comeback" sauce (a mix of mayo, ketchup, hot sauce, and horseradish), this recipe will earn a spot in your regular rotation.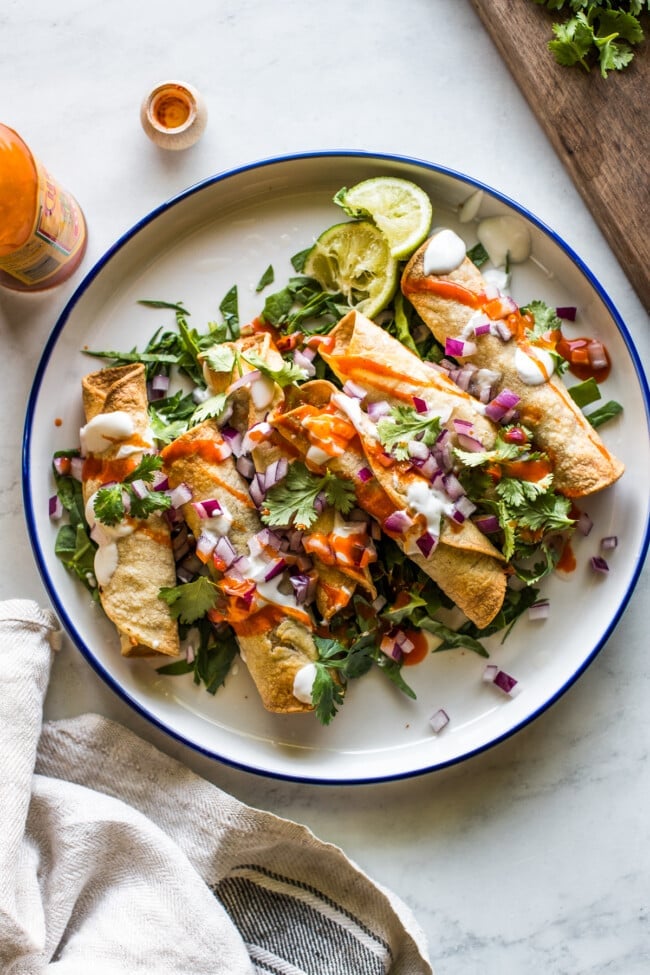 Healthy Air-Fryer Recipe: Air-Fryer Chicken Taquitos
These air-fryer chicken taquitos are packed with so much flavor. In under 30 minutes, you'll have delicious, crispy taquitos for an easy dinner any day of the week.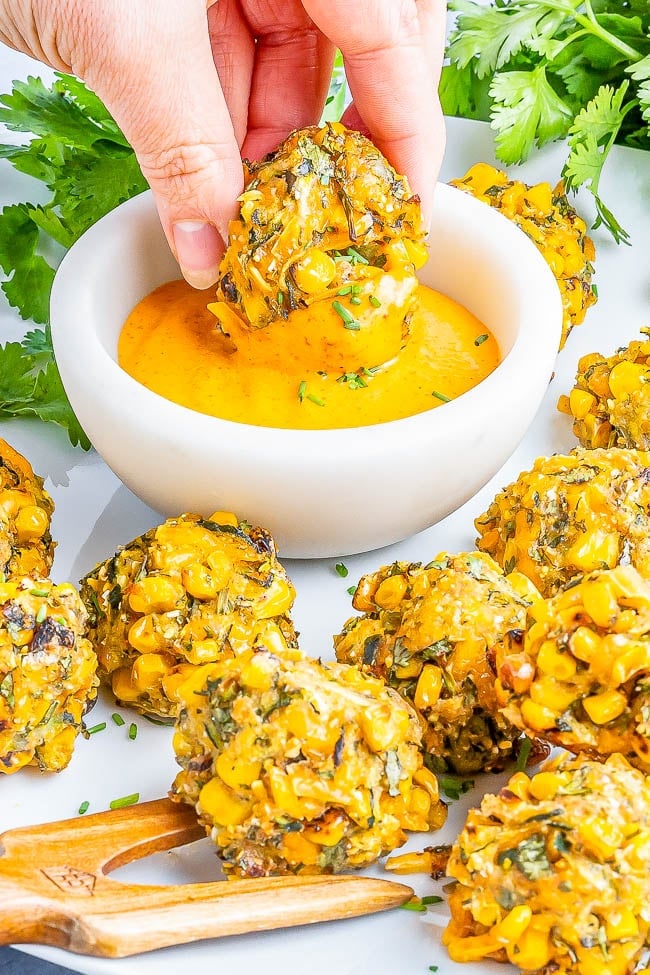 Healthy Air-Fryer Recipe: Baked Zucchini Corn Poppers
Packed with fresh veggies and herbs, these air-fryer baked-zucchini corn fritters are delicious for the whole family. For those who like a little heat, add serrano chiles or jalapeño peppers for an extra kick.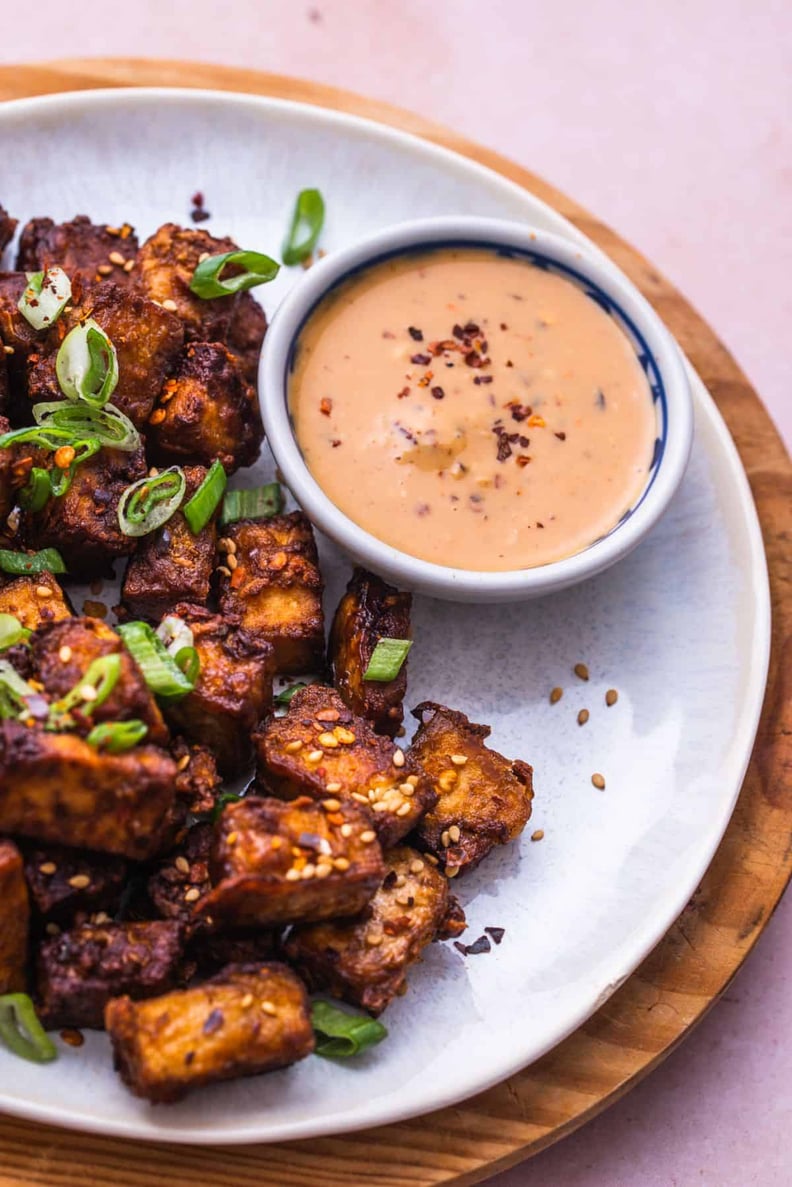 Healthy Air-Fryer Recipe: Crispy Tofu
Add garlic and ginger root for flavor and a side of seasonal veggies in this delicious crispy tofu recipe. Even if you're not a practicing vegetarian, tofu is a delicious protein option that gives you a break from meat.
Healthy Air-Fryer Recipe: Salmon and Asparagus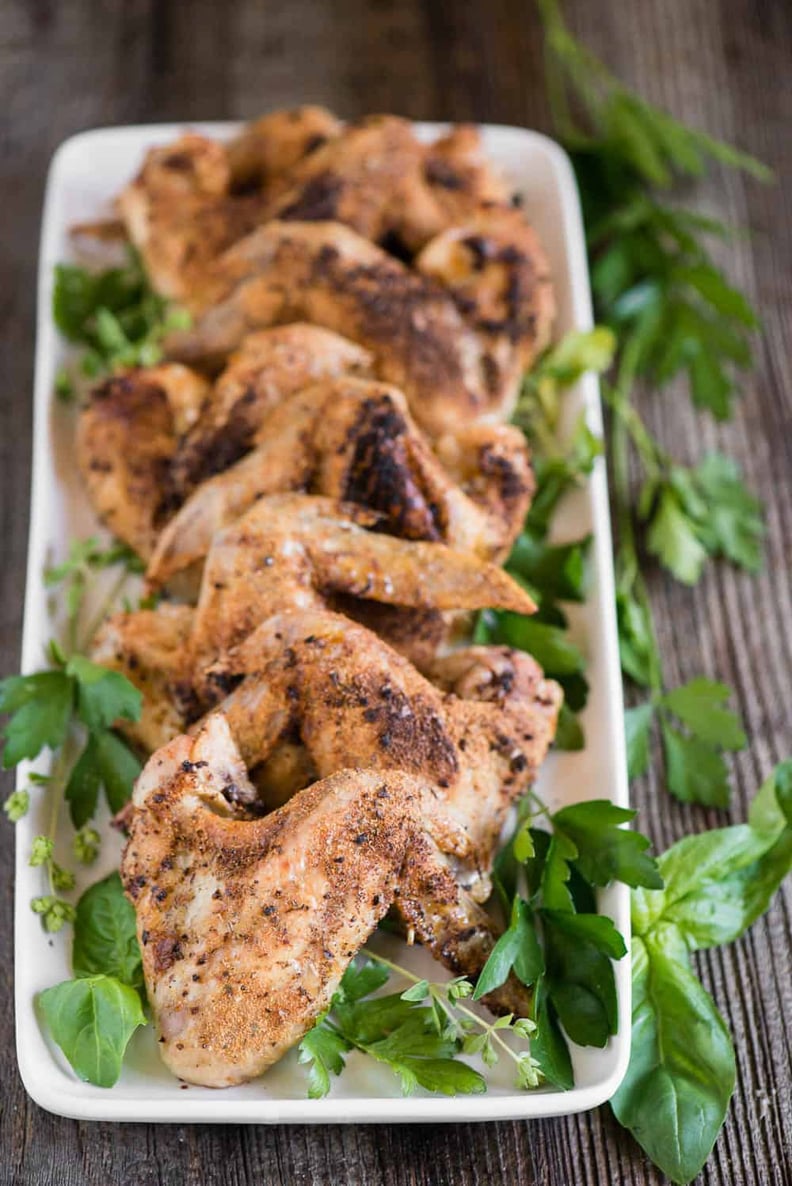 Healthy Air-Fryer Recipe: Air-Fryer Chicken Wings
Chicken wings are the perfect party food. In this air-fryer chicken-wing recipe, you won't need any additional oils to achieve that fall-off-the-bone consistency. Serve with celery for the perfect savory-fresh combo.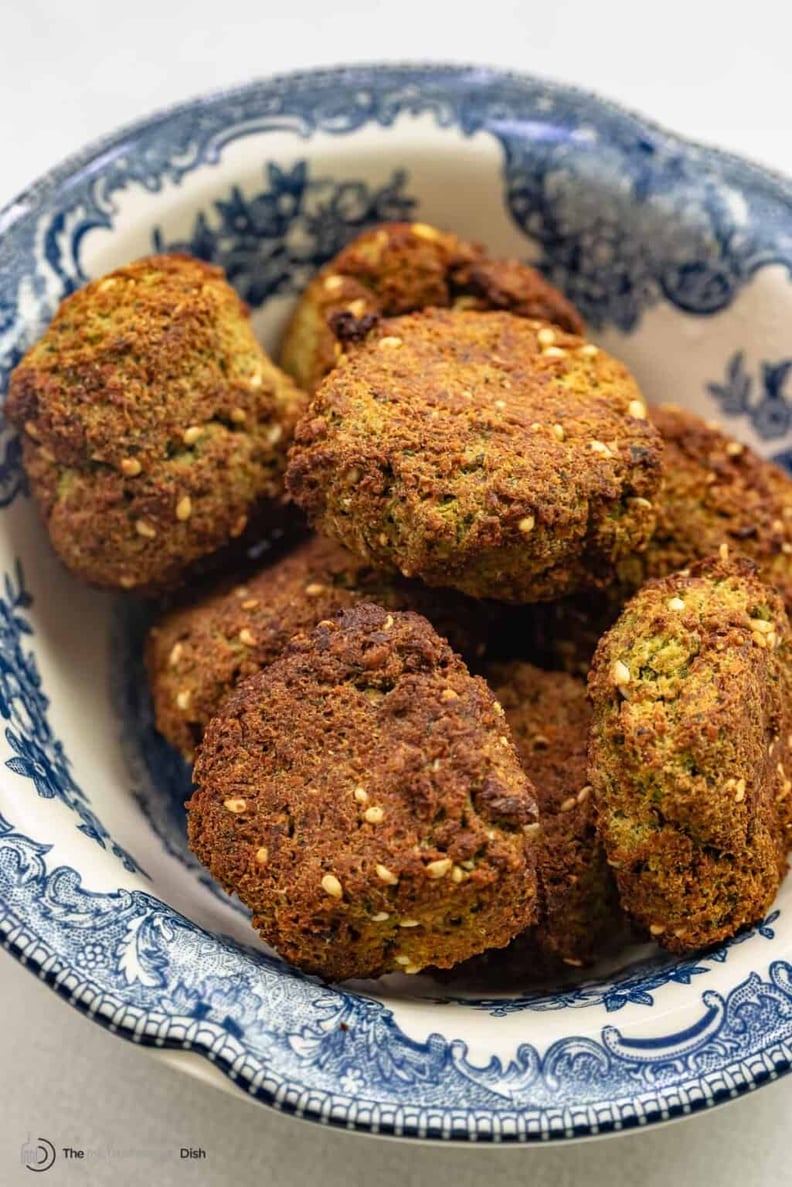 Healthy Air-Fryer Recipe: Air-Fryer Falafel
For those following — or dabbling in — the Mediterranean diet, these air-fryer falafels are the perfect protein to add to any meal (especially homemade salads). Loaded with garlic, cumin, coriander, and sesame seeds, you certainly won't be lacking flavor, and you'll leave the plate feeling full and satisfied.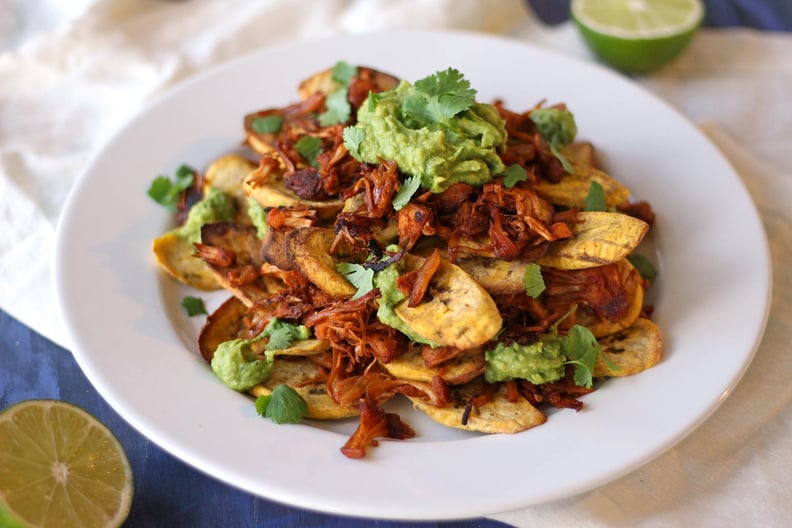 Healthy Air-Fryer Recipe: Jerk Jackfruit Plantain Nachos
For those following a plant-based diet, jackfruit is the perfect substitute for pulled pork or chicken. (No, seriously — and air frying the jackfruit takes the texture to the next level!) This air-fryer jerk jackfruit plantain nacho recipe is the ultimate flavor combo for those looking to add a bit more plant power into their daily routine.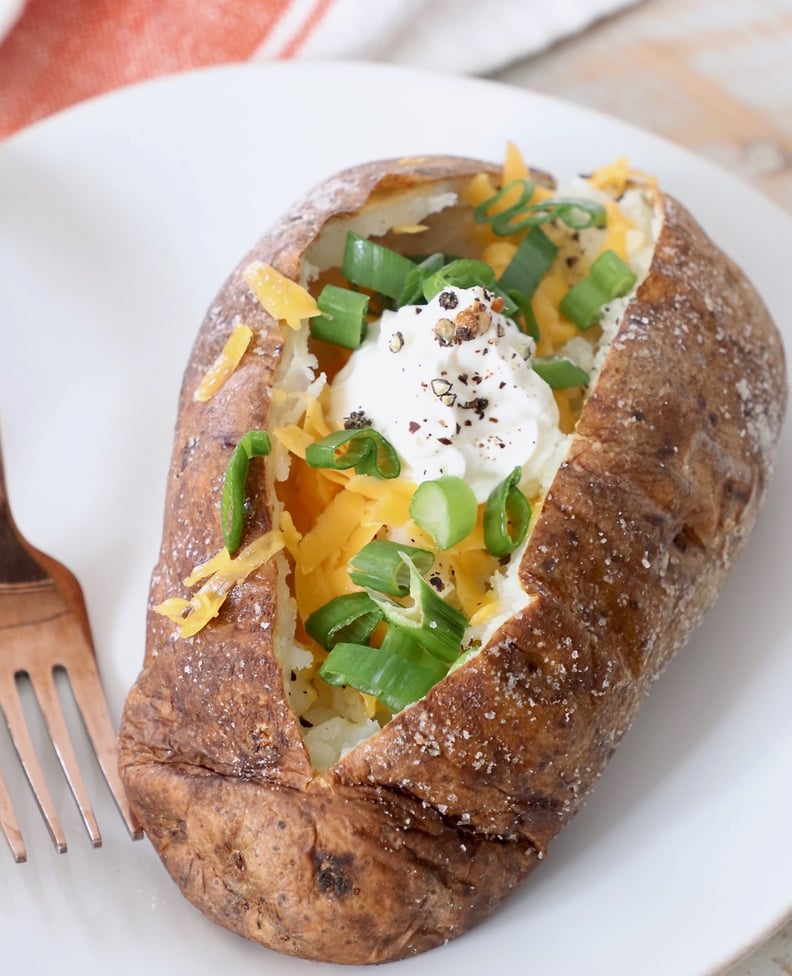 Healthy Air-Fryer Recipe: Air-Fryer Baked Potato
Believe it or not, you can cook the perfect baked potato in just 30 minutes using a traditional air fryer. These delicious spuds can be topped with veggies like chives and broccoli, or loaded with turkey chili for a fuller meal. And while white potatoes get a bad rap, they're actually quite nutritious — especially if you eat the (well-washed) peel.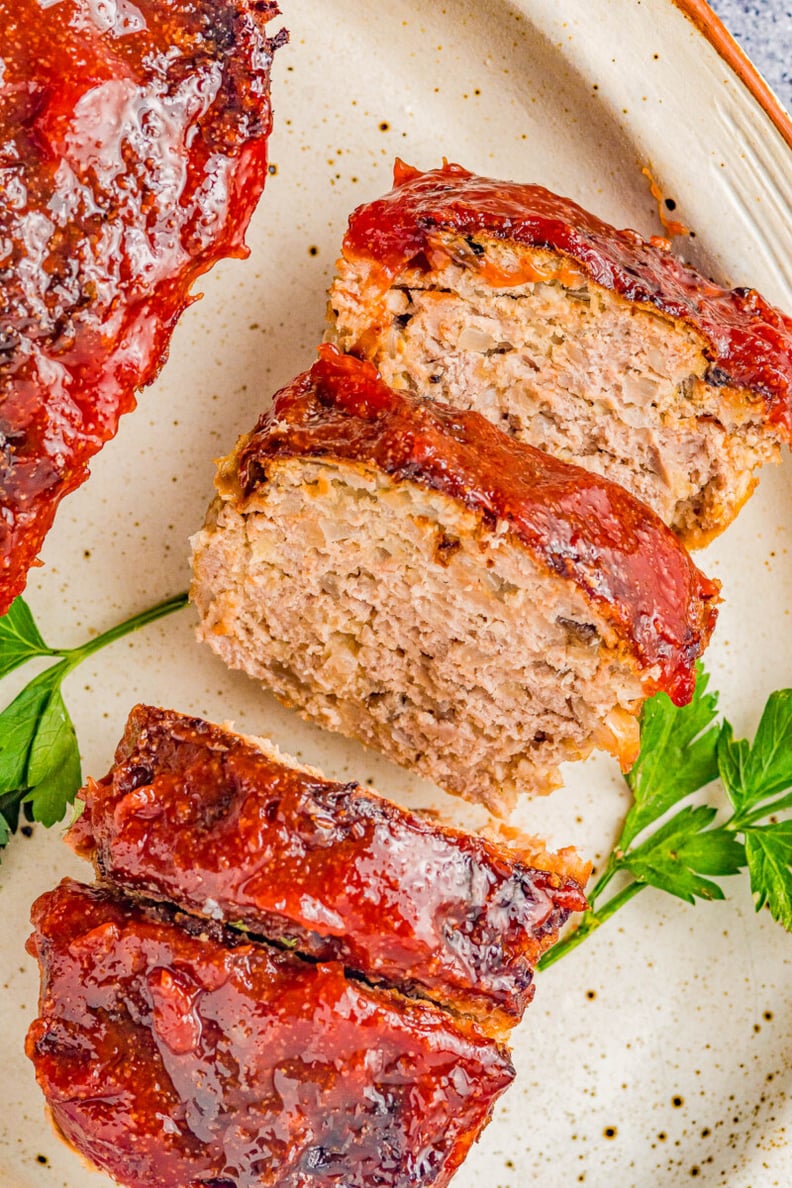 Healthy Air-Fryer Recipe: Air-Fryer Meatloaf
This air-fryer meatloaf recipe suggests swapping out traditional beef for ground turkey or chicken for a hearty, satisfying, and nutrient-dense midweek meal that's also incredibly easy to make. (The air fryer cuts your cooking time in half!) Serve with a side of seasonal veggies for the perfect well-balanced plate.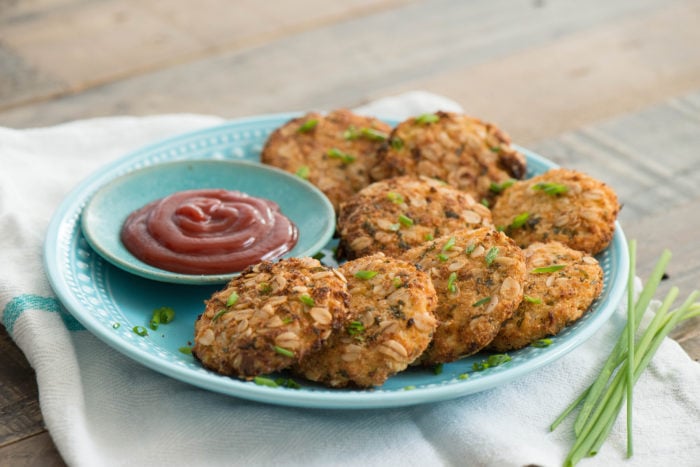 Healthy Air-Fryer Recipe: Cauli-Tots
Air-fryer cauli-tots are the perfect alternative to traditional tater tots — which might have the nostalgia factor, but in reality, are often soggier than we remember from our childhoods. Made with oats and plant power, these little treats will have you clamoring for more.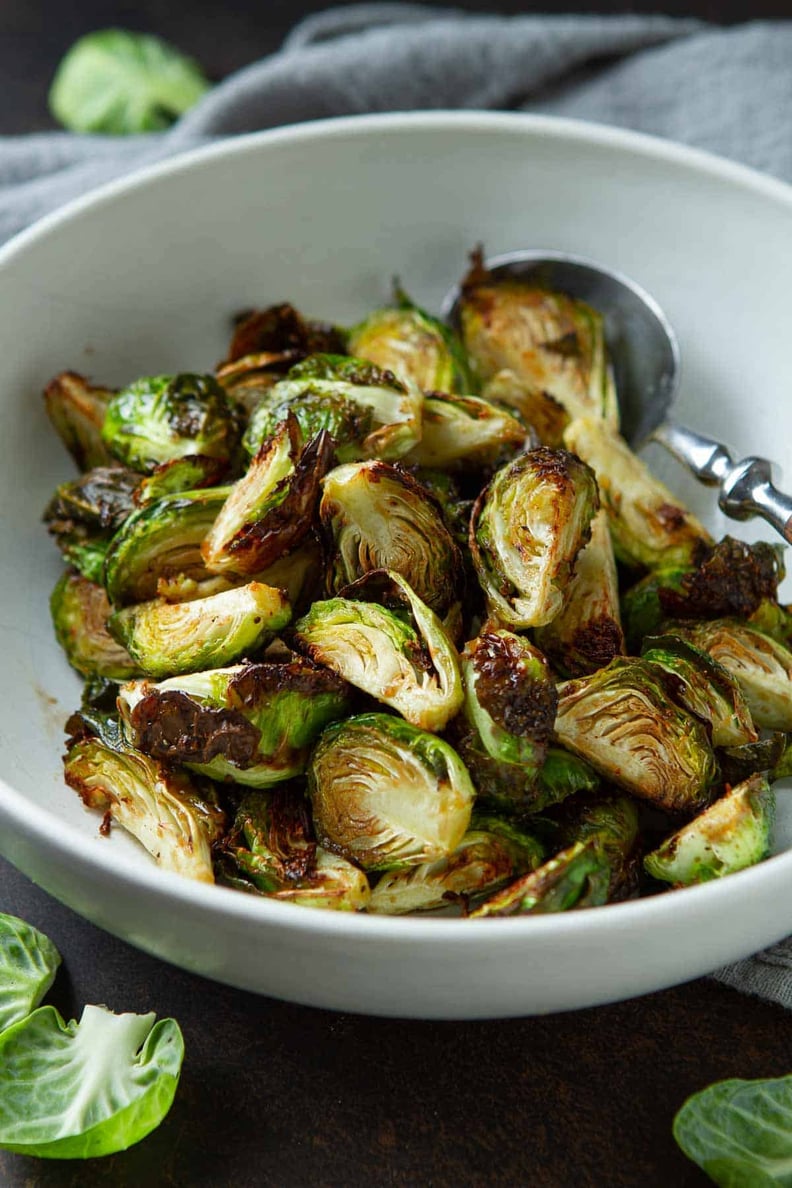 Healthy Air-Fryer Recipe: Brussels Sprouts
Roasted Brussels sprouts have become all the rage in past years, so to honor this leafy green comeback, try this air-fryer Brussels sprouts recipe. It delivers an impressively buttery flavor without overwhelming the Brussels-sprout taste we've all come to love.