Hailey Bieber's Air Fryer Chicken Wings Recipe
Hailey Bieber Promises Her Air-Fryer Wings Will Change Your Life — and TBH, We're Sold
In case Hailey Bieber's other YouTube series "Who's In My Bathroom?" didn't pique your interest, maybe her new cooking show "What's In My Kitchen?" will. Or, at the very least, the words "air-fryer chicken wings" might get your attention.
In the newest episode of her cooking series, Bieber shared her homemade wings recipe, and they're apparently so good, she's straight-up begging you to try them. "Please try these wings, 'cause I promise you they're really really good. I promise you these wings are gonna do something for your life."
Yes, Bieber is a megalebrity with a really nice kitchen, professional film crew, and not one but two air fryers on hand ("so that I can cook all of [the wings] at once") but being with her in the kitchen feels surprisingly down-to-Earth. She doesn't hesitate to get messy, dunking her hands into the raw chicken marinade ("supermodel" manicure and all) and even getting a little weird with us. "There are some people that really don't like touching raw meat, which I understand, because it feels bizarre. But I kinda like it. Is that weird?" It is weird! But we kinda like it.
After finishing the dish, Bieber goes as far as saying that the day of filming was the "best version of my wings I've ever made," calling them "a little slice of heaven" as she takes a bite. "Like 90 percent of the time, I'm a really good cook, and then sometimes we face like a little bit of disaster," she says. Luckily for both her and those of us who are going to try the recipe, "today, that was not in the cards," she says.
Bieber has already made breakfasts and Brazilian pao de queijo with her mom and nana in previous episodes, and future ones will include recipes for pizza toast and an at-home version of her famous Erewhon smoothie, per The Hollywood Reporter. And maybe, just maybe, we'll get the perfect side for these wings.
"Fun side dishes I would recommend with the wings? Maybe we'll make this on another episode, but I make this really yummy ranch potato salad," she says at one point in the video — and after seeing her wings, we're already drooling.
Hailey Bieber's Air Fryer Wings
YouTube: @HaileyRhodeBieber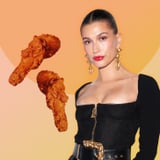 Ingredients
2 pounds chicken wings
For the buttermilk marinade:
2 pounds buttermilk
1 teaspoon onion powder
1 teaspoon garlic powder
1 teaspoon garlic salt
1 1/2 teaspoons 24 herbs and spices seasoning, such as Bragg
Black pepper to taste
For the coating:
1 cup flour, all-purpose or gluten-free
1/2 cup cornstarch
1/2 teaspoon onion powder
1/2 teaspoon garlic salt
1/2 teaspoon garlic powder with parsley
1 teaspoon 24 herbs and spices
2 eggs
Avocado oil spray
For the wing sauce:
1 cup barbecue sauce, such as Bachan's
3 teaspoons honey
1-3 tablespoons sriracha, to taste
Dash cayenne pepper, to taste
1 bunch scallions
Directions
In a large bowl, combine chicken wings with buttermilk. Season with 1 tsp onion powder, 1 tsp garlic powder, 1 tsp garlic salt, 1 ½ tsp 24 herbs and spices, and black pepper to taste.
Toss wings to fully coat them in buttermilk mixture and brine for at least one hour in the fridge.
In a large bowl, combine all-purpose flour, cornstarch, 1/2 tsp onion powder, 1/2 tsp garlic salt, 1/2 tsp garlic powder with parsley, 1 tsp 24 herbs and spices. Whisk together the dry ingredients until evenly combined.
In a separate bowl, whisk eggs.
Preheat your air fryer to 380°F.
Remove the wings from the fridge, mixing them once more to coat with brine. One at a time, dip to coat wings in the egg wash and place in the dry coating, tossing until completely covered. Place coated wings on a baking tray.
Once all wings are coated with egg and the dry mixture, generously spray both sides of the wings with avocado oil. Spray the inside of the air fryer with avocado oil as well.
Place the wings evenly spaced in the air fryer, and cook for 15 to 20 minutes. Keep an eye on the wings, flipping them occasionally. Once they start to turn golden brown, increase the temperature to 400°F and cook for five more minutes on each side.
While the wings are cooking, prep the wing sauce. In a medium bowl, combine barbecue sauce, honey, sriracha, and cayenne pepper. Whisk together until evenly combined. Chop scallions.
When the wings are done, place them in a large bowl and cover with sauce, tossing until evenly combined.
Plate and sprinkle with scallions. Enjoy!
Information
Category

Poultry, Appetizers

Yield

2 servings

Prep Time

2 hours

Cook Time

30 minutes

Total Time

2 hours, 29 minutes, 59 seconds
Image Sources: Image Sources: Getty / Jerritt Clark / Pexels / Andres Seguro and Photo Illustration: Aly Lim